Last updated on April 26th, 2021 at 03:59 pm
Ad tech is an extremely dynamic business that keeps on evolving with new technologies and ad formats jumping into the fray every other day. While ad networks operated the entire ad tech industry some years back, the advent of programmatic advertising and ad exchanges has somewhat changed the scenario. Programmatic advertising is a technology in which the process of selling and buying of desktop display, video, FBX, and mobile ads is streamlined by automation using real-time-bidding, and thus removing human intermediaries from the process. This results in better ROI for marketers and the buying platforms are designed to minimize the cost of every impression bought by routing them through the exchange which has the lowest advertiser competition. The rise of some of the biggest ad exchanges has reduced the dependence of direct publishers for marketers and the programmatic technology behind the DSPs allows the marketers to track the right audience and show them the relevant ads in real time based on intent targeting and other sophisticated technology. 
An ad exchange is a digital pool of ad impressions that publishers and advertisers use to sell and buy ads respectively, through real-time bidding. Demand-side Platform (DSP) and Supply-side Platform (SSP) are two platforms used by marketers and publishers respectively to buy or sell ads.  Publishers make the ad impressions available through ad exchanges, and DSPs automatically decide which impressions an advertiser should buy, depending on certain attributes such as where they're served, and which specific users they're being served to. An SSP is a software used by publishers to sell ads by connecting their inventories to multiple ad exchanges. Through real-time auctions, the highest bidding advertiser wins the impression.
Advertisers prefer ad exchanges as they can buy ads from a range of publisher sites at once, as and when needed, and the entire process is very transparent. RTB marketplaces differ from ad networks in that advertisers bid on inventory directly from each publisher, without a third party managing their campaign for them. Similarly for publishers, with the option of setting price floors, ad exchanges ensure that the RPM will never go below a certain point. Using a managed SSP platform can further increase the value of impression for publishers as the SSP will be able to route the impression via the Ad exchange that is giving the highest bid for the publisher impression. So, if the impression is auctioned via an SSPs and 3 Ad exchanges bid for the impression out of a plethora of them, and let us assume that AdEx1 made a bid of $1.5, AdEx2 made a bid of $2, and AdEx3 bid at $3. So, the ad from the AdEx3 will be served to the publisher website. If the publisher was working with ADEx
So, ad exchanges make the process of digital advertising easier for both publishers and advertisers. In this article, we are going to list the top 10 best ad exchanges that are favored by all publishers. Here is a list of some of the biggest and best ad exchanges which you should know for better yield optimization. 
Top 10 Best Ad Exchanges List of 2019 for Publishers
The idea of listing the top 10 biggest ad exchanges is to give publishers the idea of some sources of revenue apart from AdSense as these new monetization sources are necessary for publishers to know as they scale their traffic to higher volumes. However, keep in mind most of these best ad exchanges have high traffic requirement and you should be hitting close to 5 million page views a month to get approved on most of these exchanges.
1. AdPushup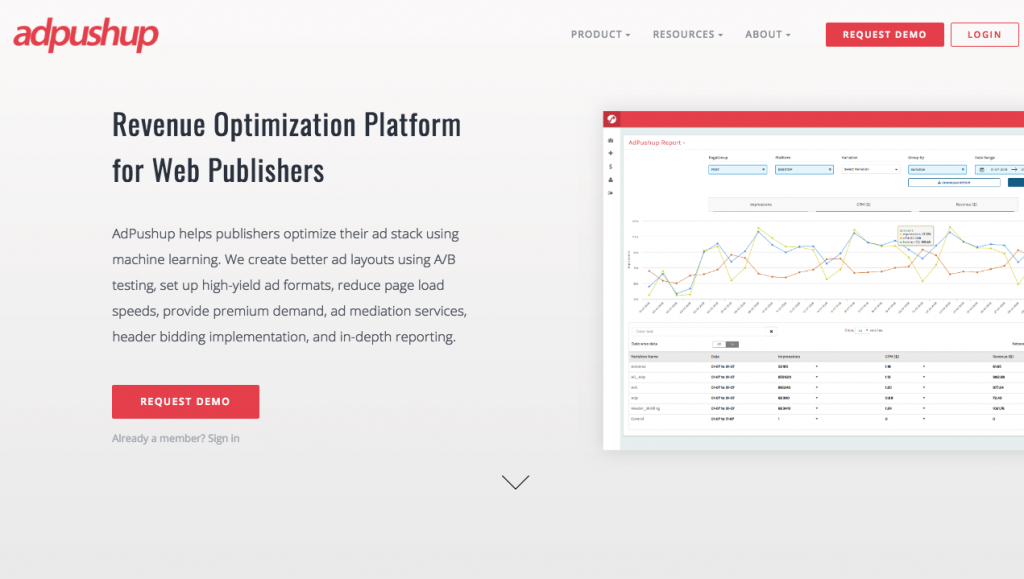 AdPushup is a revenue optimization platform that helps publishers increase their ad revenue using ad layout optimization, header bidding, innovative ad formats, ad mediation, adblock recovery, and accelerated mobile pages. AdPushup has partnerships with top-tier ad networks and exchanges across the world including Google AdX, AppNexus, Rubicon, and Criteo. They help publishers of all sizes access to this premium demand, including the best global buyers and high-yield ad campaigns.
AdPushup drives an average revenue uplift of 33% for their publishing partners, and their clients include known brands like Newsweek, Reddit, CNET, NDTV, Network 18, Punjab Kesari, GSM Arena, and Axel Springer, among 300+ others.
Eligibility: Monthly ad revenue from display> $1000
[quick_offer id=4107]
2. DoubleClick Ad Exchange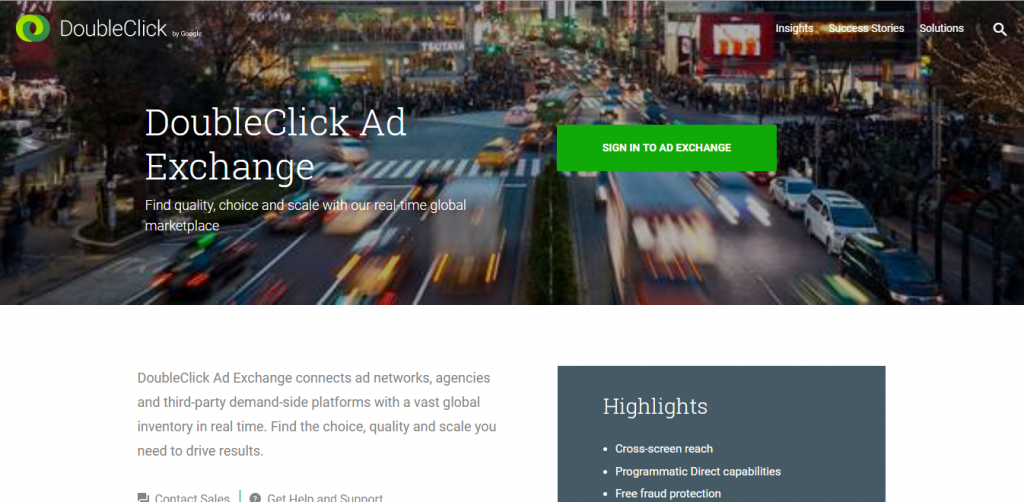 DoubleClick Ad Exchange is one of the biggest ad exchange and one of the best ad exchanges in the world too. It is a global ad marketplace for ad networks, agencies, and third-party technology providers. Interesting features of AdX include a dynamic price floor, which automatically adjusts the price floor for ad inventory based on demand from buyers, and more than 40 unique data signals for advertisers. Publishers can make use of price floor optimizations to increase their overall ad revenue. However, you need to have close to 50 million impressions to be directly eligible for an Ad Exchange account. Features like these make Google ADX one of the top ad exchanges of all time. Otherwise, you can to get in touch with Google Certified Publishing Partners and get a sub-adx account via them. We have seen publishers earn significantly more when they set up video ads and auto-refresh ad units after ADX approval. If you need them to be set up for your sites to increase your website revenue by close to 50-100%, do get in touch with us. 
Minimum Traffic Eligibility: 20 million page views per month (Google may directly contact you)
CPM Rates: 30 cents for worldwide traffic, USD 1 and above for tier 1 traffic
Seat Cost: NA
3. Media.net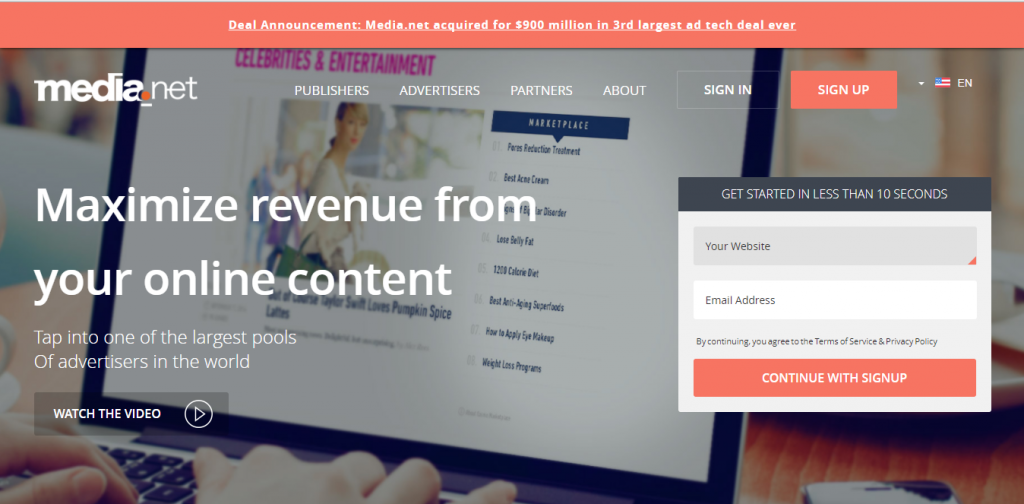 Media.net is a contextual ad network that works particularly well on niche websites which gets a majority of their traffic from US, UK, and Canada. The network has a huge advertiser demand from Yahoo and Bing and boasts of high CPMs on niche websites which are focused on insurance, health, finance, loans, and more. There are a number of big publishers who are earning good revenue with media.net contextual ads. 
Media.net CPM Rates- CPMs can go as high as USD 10 and above
Media.net Minimum Traffic Requirement- Flexible traffic requirement based on website niche. Usually 2,000 pvs/day
Media.net Payment Methods- They give the money on a NET 30-day basis, and their minimum payout threshold is $100. The payments are made via Payoneer.
[quick_offer id=416]
4. OpenX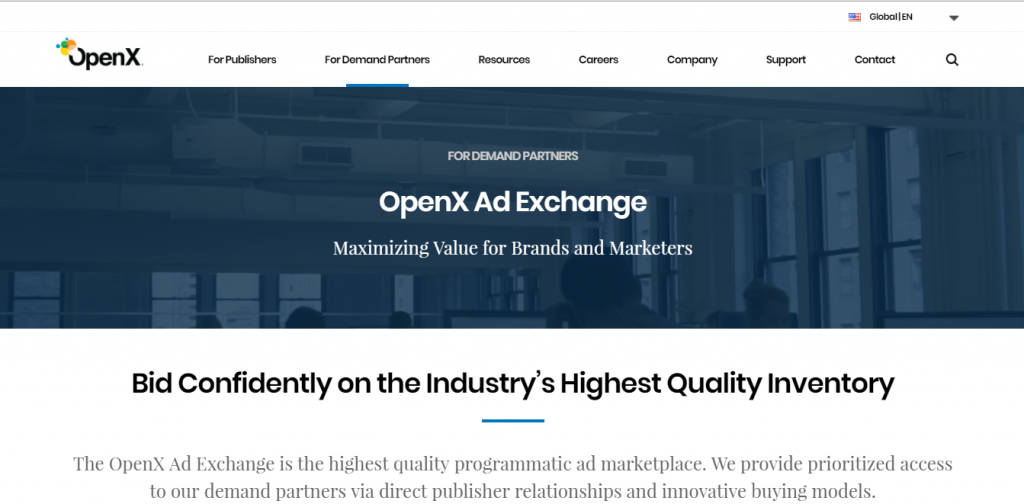 OpenX is a large, highly powerful ad exchange that is favored by all premium publishers for its highest-quality and independently-rated inventory. OpenX has a variety of premium advertisers and established brands willing to pay top dollar to reach high-quality audiences. However, you need to have a good volume of traffic ( in the range of 10 million) to have an access to Openx. This ad exchange is known to provide a global fill rate for publishers and thus known for its scale. The CPM rates for Openx tends to be around USD 1 and above. 
Minimum Traffic Eligibility: 10 million page views per month
CPM Rates: 20 cents for worldwide traffic, USD 1 and above for tier 1 traffic
Seat Cost: Customized to publisher needs
5. AppNexus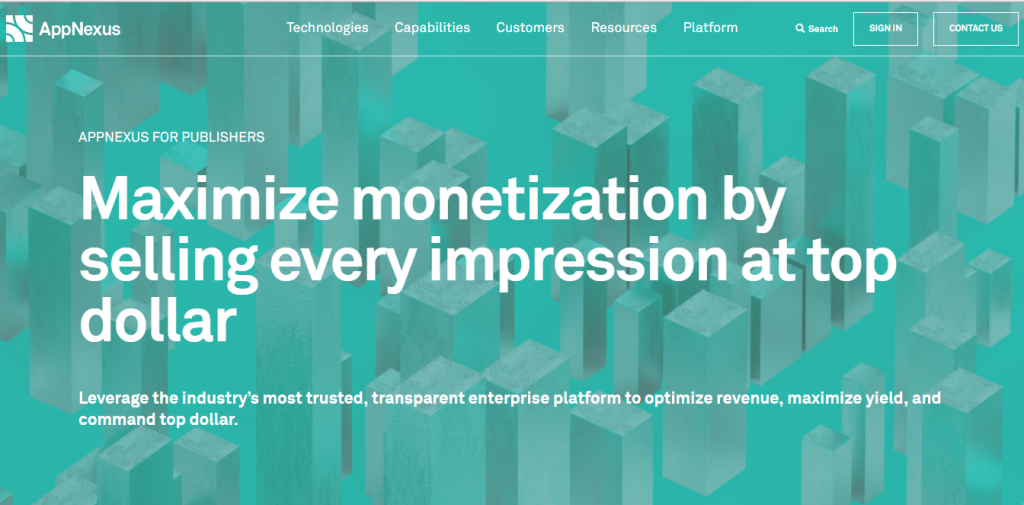 Its open, unified, and powerful programmatic platform empowers customers to more effectively buy and sell media, allowing them to innovate, differentiate, and transform their businesses. As the world's largest independent ad tech company, AppNexus is led by the pioneers of the web's original ad exchanges. It has a plethora of tools both for the publishers and marketers. Appnexus has a solid presence in the US especially since it is backed by the advertising giant WPP and offers solid revenue streams for publishers who are looking to additionally monetize their ad impressions via the exchange. It is one of the top ad exchanges of 2017 and will continue to be on the top list for the year 2018 as well. Appnexus was the first to pioneer header bidding technology to ensure that publishers get the maximum out of every impression and continues to innovate growth with offices spread across the globe. The CPMs can range between $1-$2 and branded publishers can gain higher revenue with Appnexus. Definitely one of the best ad exchanges in our list for top news publishers. 
Minimum Traffic Eligibility: 10 million page views per month
CPM Rates: USD 1.5 and above for tier 1 traffic
Seat Cost: Customized to publisher needs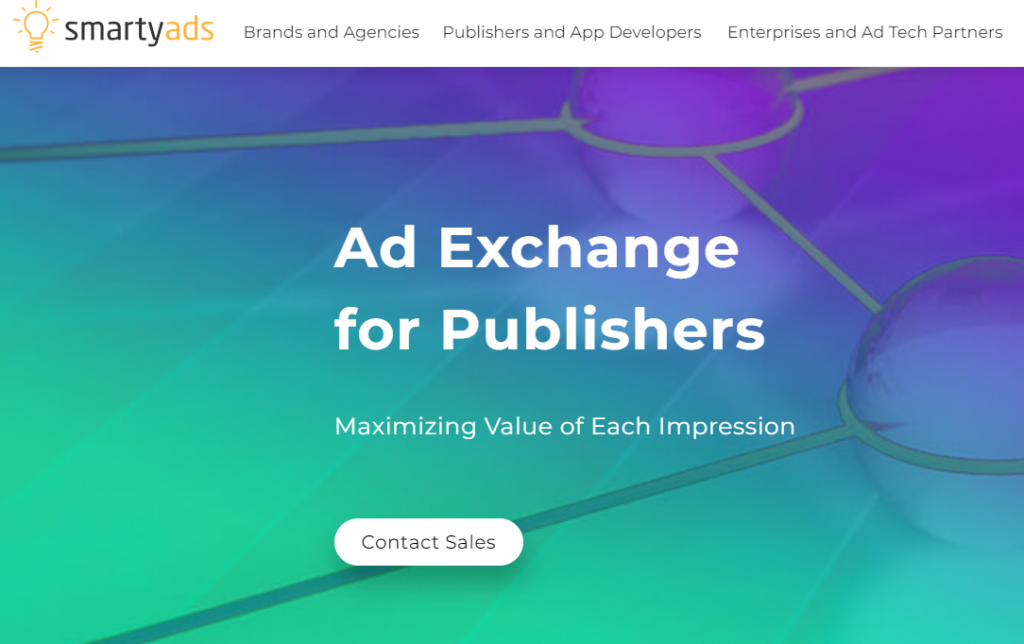 SmartyAds Ad Exchange is a global-scale programmatic advertising marketplace that helps supply and demand partners to maximize ROI across millions of sites.
SmartyAds Ad Exchange is partnered with AdColony, Pubnative, InMobi, other top-notch supply sources, ad networks, and ad exchanges. Since marketplace is a part of the full-stack programmatic SmartyAds infrastructure, it's also integrated with in-house SSP and DSP which serve advertising campaigns across geos, screens, formats, and business verticals.
Having 9K+ advertisers, 25K + premium publishers, 50+ SSPs, and 250+ DSPs onboard, the marketplace delivers over 80 Billion impressions monthly. Also for publishers SmartyAds offers SSP with dynamic price floor optimization that automatically protects the publisher's yield according to the inventory price defined by the publisher. The header bidding increases publisher's revenue by close to 90%, maximizing eCPM and fill rates.

The Benefits:

Quality: Premium and high quality

Geos: Global reach, tier 1 countries

Brand-safe environment (we scan all requests with Protected Media and Forensiq)

All Ad Formats supported (Rewarded Videos, Interstitials, Native Ads, Banners and others)
7. One by AOL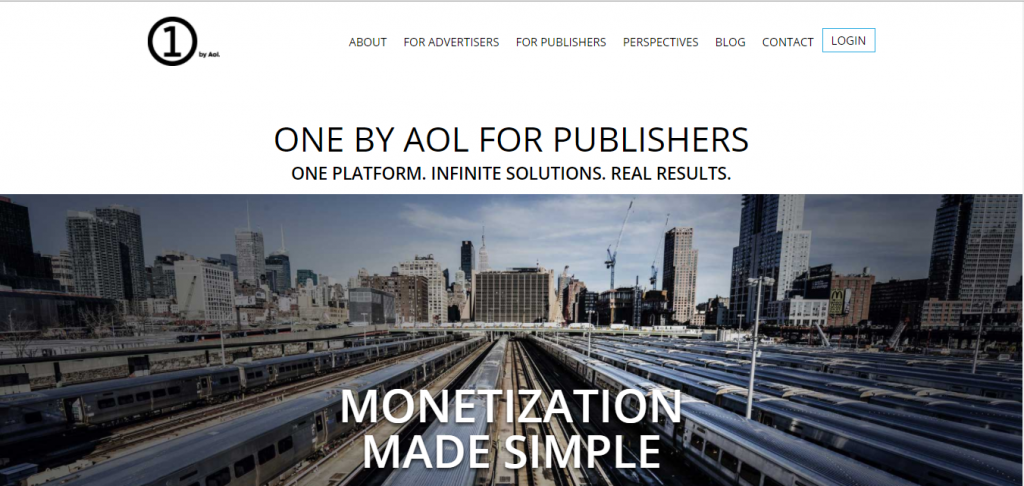 One by AOL is a real-time bidding ad exchange that lets publishers access a huge collection of leading brands and advertisers to monetize their content. With transparent reporting and controls for publishers, AOL is a good option for mobile publishers that want to attract brands and established advertisers. With the acquisition of Yahoo, The AOL exchange is now not only limited to display, but also video and native ads can be served. If you've strong volume of US traffic on your blog, I recommend AOL, since this exchange has a strong presence in the US, and can offer high CPMs. Both Appnexus and AOL are the best ad exchange for US traffic. 
Minimum Traffic Eligibility: 3 million page views per month
CPM Rates: USD 1 and above for tier 1 traffic
8. Smaato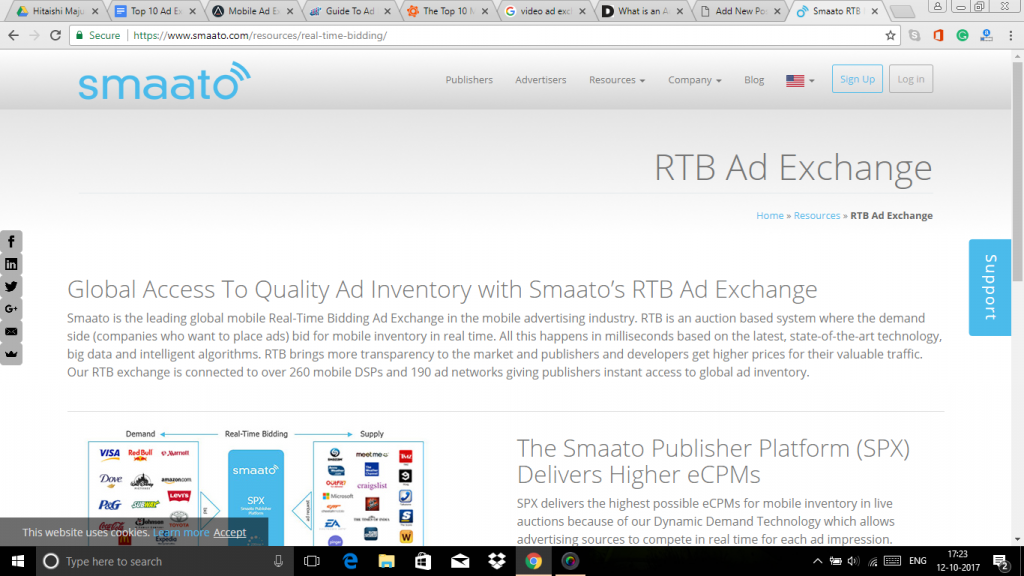 Smaato is the world's largest independent mobile ad exchange, with over 260 demand-side platforms and 190+ integrated ad networks in addition to its private ad marketplace. Publishers have full control over monetization, with minimum pricing options and built-in optimization. One of Smaato's biggest benefits for publishers is that it works extensively to optimize for the highest possible RPMs. Smaato is a mobile-first ad exchange that offers premium inventory for mobile web traffic as well. You can run it in parallel with your ADX ads by setting up a line item for the same. Smaato is one of the largest mobile ad exchange that helps publishers increase their overall ad revenue from mobile apps and mobile web. 
Minimum Traffic Eligibility: No minimum monthly page views limit
CPM Rates: 20 cents for worldwide traffic
Seat Cost: Self Serve
9. Rubicon Project Exchange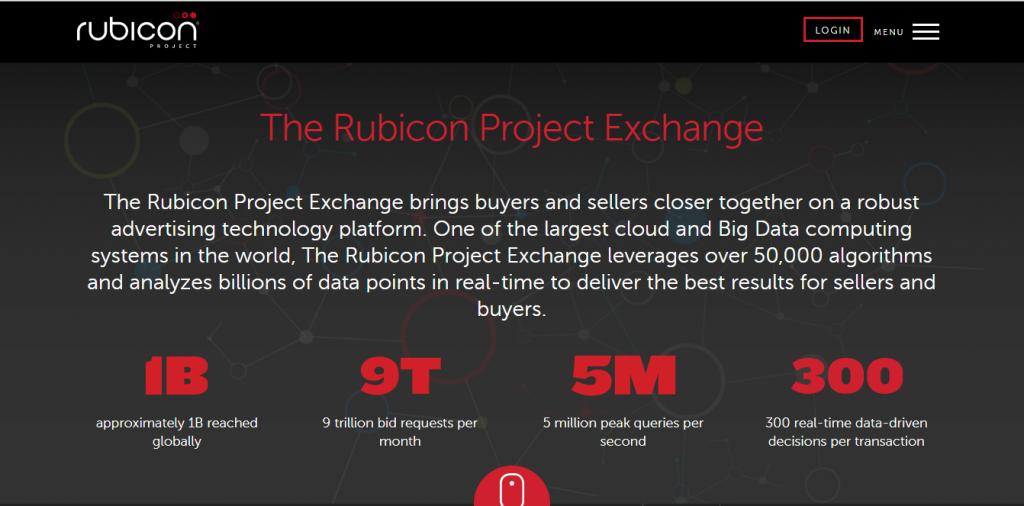 Rubicon Project Exchange started as an SSP with the purpose of yield optimization, but once they had enough inventory, they migrated to being an ad exchange. Rubicon Project Exchange has high-quality inventory and is favored by publishers the world over. They work at a scale with publishers and advertisers and almost works with all the top publishers and news brands globally. Also, Rubicon is the pioneer of video header bidding and have a number of solutions for premium publishers. Rubicon has also removed buyer fees to build a more robust ecosystem and continue to be more focused towards the sell side in the long run. It is one of the best ad exchanges that primarily focuses on the publisher side. 
Minimum Traffic Eligibility: Estimated 5 million page views per month
CPM Rates: USD 1 and above.
Seat Cost: Customized to publisher needs
10. MoPub
Built specifically for mobile publishers, MoPub is the world's leading ad exchange for mobile application publishers, designed to drive the highest level of ad revenue. The MoPub Marketplace calls itself the "largest RTB exchange for mobile apps" and is built to help publishers easily manage their mobile ad inventory. Using MoPub, publishers can identify top-performing sources of demand in a variety of OSes and countries. MoPub also lets publishers transparently see which advertisement is winning each auction, giving them a direct look at the ad creatives displayed within their apps. Mopub offers integration capabilities with DFP and can be used as a mediation to increase your overall ad revenue.
Minimum Traffic Eligibility: No minimum monthly page views limit
CPM Rates: 15 cents and above for worldwide traffic for in-app banner ads. Expect good fill rates.
Seat Cost: Self Serve
There are quite a number of other ad exchanges spread across video, native, and display ad formats. Most of the ad exchanges are in their early stage and slowly maturing with more number of transactions, deals, and offerings. The ones that are popular and growing includes Connatix, Teads, Pubmatic, vserv and more. Hope you enjoyed reading the list of top ad exchanges of 2018. If you've signed up with any of these ad exchanges and have been using them, do share your experience with us in the comments section. Now that you know about some of the biggest Ad exchanges in the market, it's time to chose the best SSP platforms that can increase your overall yield since getting approved on all these top ad exchanges individually might require high traffic commitments, and that's where an SSP comes in play. Do check out our article on some of the top handpicked Sell Side Platforms that can increase your ad revenue drastically.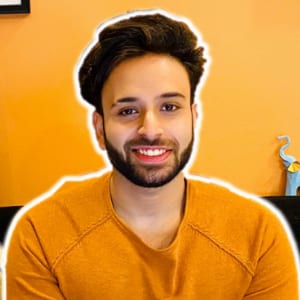 I and my team research various ad networks and can help you increase your overall ad revenue; so you could rake in more greenbacks with the best monetization platforms. Tap into the power of the online publishing business with me. I am just a mail away, so reach out to me if you want to scale up your website revenue. mail: [email protected]