Last updated on January 26th, 2023 at 04:46 pm
Over the last few years, we have seen tremendous growth in native ads. The origin of native ads can be attributed to contextual search advertisements which Google started long ago even before the term "native" blew the advertising industry. Today, there are a lot of advertisers who are finding success with native advertising and content recommendations. While the challenges for native advertising are still high, both for publishers and advertisers, we are seeing some limelight as the industry is getting prepared for native at scale. In today's post, we are going to discuss the top native supply-side platforms (SSPs) for publishers and will discuss in detail how publishers can be benefited from these platforms. Before, we take a deep dive, let us re-run ourselves on the benefits of a supply-side platform and how native SSPs can be a boost for publishers.
Benefits of Native Supply Side Platforms for Publishers
SSPs allow publishers to connect their inventory to multiple ad exchanges, DSPs, and networks at once. This, in turn, allows a huge range of potential buyers to purchase ad space — and for publishers to get the highest possible rates. When an SSP throws impressions into ad exchanges, DSPs analyze and purchase them on behalf of marketers depending on certain attributes such as where they're served, and which specific users they're being served to. The idea is that by opening up impressions to as many potential buyers as possible — often through real-time auctions — publishers can maximize the revenue they receive for their inventory. Because of this, SSPs are sometimes referred to as yield-optimization platforms.
With native, the need for supply-side platforms could have never been more since most of the native ad networks have market domination at specific geographies and doesn't really offer competitive global fills. Assume you're using a widget from Revcontent which doesn't have great rates on EU traffic. However, the CPC rates for Adnow on EU traffic are extremely high. Unless you have an integrated demand source, you cannot leverage maximum yield optimization. While this is possible to a certain extent for display ads since Google's AdExchange can fill ads globally, the same doesn't apply to native ads since there isn't one supreme network to fill it all. Even if it is there, there is still a chance that local players will continue to dominate certain geographies and would only continue to evolve thus a native SSP truly overcomes these issues. Listed here are the benefits of native supply-side platforms for publishers
Higher yield optimization due to more yield partners.

More advertisers result in more competition for your impression and thus higher returns.

Widget optimization offers higher CTRs for native ads will increase the overall revenue.
Top 8 Best Native Supply Side Platforms (SSPs) for Publishers
Now., let us take a look at the top 5 best native supply-side platforms for publishers. Most of these native platforms offer demand integrations from Taboola, RevContent, Outbrain, Adnow, Mgid, Media.net and many others. Some of these SSPs also offer yield optimization for native video ads and can further be used to increase your overall ad revenue. We request you to take a look at these native SSPs in detail and choose the best according to your traffic levels and traffic sources.
SmartyAds: Best Native Ads Monetization SSP
SmartyAds Supply Side Platform is a publisher-centered media-selling platform that allows digital publishers to monetize all of their traffic utilizing best-yielding advertising formats including banner, video, rich media, and native in particular. Connecting to the top advertisers globally, SmartyAds Supply Side Platform helps publishers sell advertising inventory through RTB, programmatic direct or unified header-bidding auction available for mobile, in-app, and desktop platforms.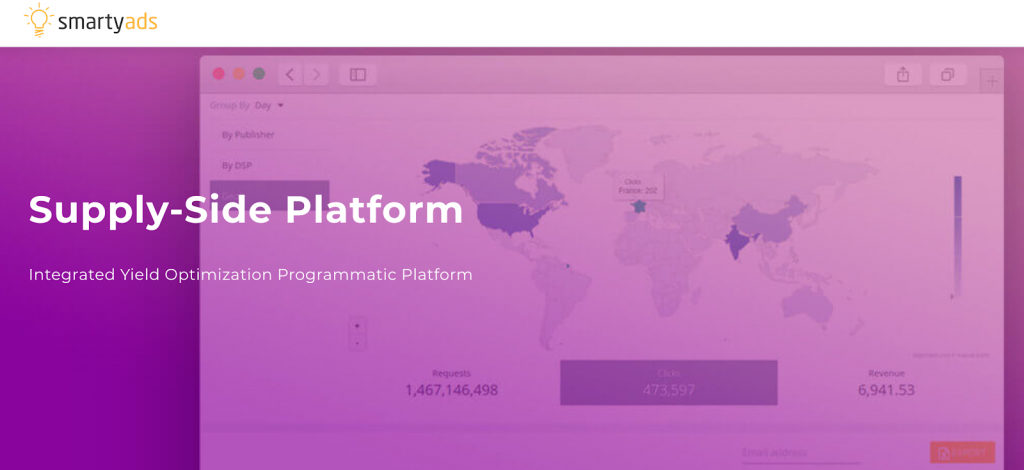 Key Platform Features:
Widest range of native ad formats.

In-feed ad units, mobile web native ads, in-app native formats, recommendation widgets,

custom native ads

, are available for publishers who want to maximize yield and drive higher user engagement.

Header-bidding

. Reveal true inventory value in unified auctions where the competition is maximized.

Flexible selling models. Monetize native ads in any convenient way: choosing between RTB, open marketplace, private marketplace or programmatic direct and preferred deals.
Real-time optimization. Obtain real-time analytics of your inventory performance. Find out the best working placements, deals, geos, and demand partners to optimize the media-selling process. Boost the fill rates applying whitelists and dynamic floor price optimization.
Lightweight IOS and Android SDK.

Integrate lightweight SDK for IOS and Android. Obtain the highest price for your premium mobile in-app inventory, manage demand partners easily and render advertisements smoothly.
CPM Rates and Payment Methods
CPM rates:

USD 2 and above for Tier 1 traffic.

Minimum Traffic Requirement:

Estimated 5 million page views per month.

Payment Method:

The total earning is obtained during 60 days (NET 60 basis), with $50 min. limit on publisher's account.
Teads: Best Native Video SSP
Teads native video SSP is the first of its kind in the industry that allows publishers monetize their inventory with premium in-read and outstream ad units. You can join 500 of the world's most premium publishers including The Washington Post, Time Inc., Conde Nast, Tribune, Business Insider. Mashable, The Guardian, The Telegraph, etc, using Teads SSP to monetize from native video ads. It can be used for both direct and programmatic sales. Additionally, you can use Teads demand to fulfill your remnant inventory through a waterfall model.
CPM rate- USD 15 to USD 20
Minimum Traffic Required- 1 million page views per month
Payment Methods- They pay on a NET 45-days basis, and the minimum payout threshold is $50. The payment options are Paypal & Wire Transfer.
Sharethrough for Publishers aka STP is a product suite specially designed for publishers who are aiming at serving direct native ads on their websites. These publishers should have their own native ad demand or direct advertisers with whom they can negotiable direct deals. It gives publishers access to content engagement ads, view ads, sponsored pages and private marketplaces. Also, publishers can monetize their remnant inventory through Sharethrough exchange or their mediation platform. The mediation platform can work with publisher's native ad network tie-ups and thereby result in an overall increase in their ad revenue. The sharethrough exchange allows publishers to tap into programmatic native advertising and get premium rates for their ad inventory. Additionally, you can use Sharethrough's expert managed services to access exclusive demand. Some of their publisher partners include Time Inc, Forbes, Men's Health etc.
STX brings unprecedented cross-platform scale to buying platforms offering native supply. With over 3 billion monthly impressions across 270 million global uniques, any audience can be reached with impactful native ads. Be a part of the growing 21 Billion dollar native ad industry.
Adsnative (Polymorph): Best Premium Native SSP
Adsnative provides a premium ad serving suite for its publishers. You can create your own ad format across display, video, and native. Their server-to server ad serving evaluates bids net of revenue share from hundreds of exchanges, DSPs, networks, and direct sources of demand in real-time and provides a unified reporting to the publishers. It offers a white-level self-serving media buying tool along with the ability to target users based on interests, demographics, frequency, gender, device type and more. Additionally, Adsnative is integrated with 45 demand sources to help publishers make the maximum of each ad impression be it native, video or display. DSPs buy native units programmatically which can increase the overall ad revenue of a publisher who is using any of the native ad units be it Taboola, Revcontent or any other network. This ensures that those native ads are shown which offers the highest CPM bids. With adsnative, you can run controlled experiments to run your own native ad networks or native ads served through Polymorph's programmatic exchange. Some of Polymorh's demand partners include Criteo, Mediamath, Powerlinks, Stackadapt, Bidswitch etc.
TripleLift: Best Native Programmatic SSP
Triplelift help publishers maximize their ad revenue with programmatic native ads. Getting started is simple. All it takes is one line of lightweight code and you're ready to go. Your audience deserves great looking ads. TripleLift's technology is there to help. TripleLift is integrated into the largest programmatic buying platforms in the world, so brands can access your native inventory with their programmatic buying. Once you request a demo, Triplelift's team understand your site and your site's audience, thereby implementing the best native strategy for your site. Once done, you're asked to preview the ad placements and integrate a one line code to get started. Triplelift offers creative ad formats like Instant video play, click to play, carousel, cinemagraph, scroll, image and more. These native formats offer higher engagements for brands and offer additional ad revenue to publishers. The company has successfully worked with publishers like Digg, eHow and more.
Pubnative: Best Mobile Native SSP
Pubnative is the first independent mobile native SSP targeted to provide higher revenue to mobile application developers with its robust mediation platform, ad optimization engine, and pubnative exchange. PubNative's Mobile Native Mediation solution provides unified access to an extensive selection of mobile native demand sources. Additionally, you can bring your own demand and there will be live auctions and the winning demand will serve a native ad with the highest auction price. Their ad optimization engine constantly optimizes the ad formats across multiple demand sources and provide the best-suited ads on publisher ad inventory. With an ever-increasing number of ad partners, real-time cross-format optimization is essential to ensure publishers gain the maximum revenue from each impression. Publishers are only required to provide the ad space or the ad container while Pubnative's technology will choose the best ad format.
The PubNative Exchange help publishers make maximum opportunity for their inventory with powerful programmatic selling functionalities across OpenRTB, DEAL ID, and PMP. Selling inventory through Real-Time Bidding results in higher priced auctions and result in more transparency and improved quality of native ads and overall user experience.
DFP: Best Premium Native SSP
DFP announced serving native ad capabilities earlier this year. Starting August 1, 2017 publishers can now serve native ads programmatically. However, this feature is only available to DFP Premium publishers. The demand platform of Doubleclick (aka Doubleclick Bid Manager) now allows advertisers to buy native ads from Doubleclick Premium publishers programmatically. This allows DFP Premium publishers to monetize their inventory with premium native ad units. Also, if you've direct buyers of native ads, you can use Doubleclick platform to serve native ads programmatically to them and back-fill the remaining impressions with other native ad networks. While Doubleclick is not exactly an SSPs, but it's integration with Bid manager provides a platform where both advertisers and publishers can transact native deals and make money from the impressions.
CPM rate- 30 cents to $5.
Minimum Traffic Requirement- 50 million page views per month.
Payment Method- NET 30 days, Minimum $100
Avocarrot: Best Leading Programmatic Native SSP
Avocarrot is the leading programmatic native ad exchange & mediation solution for mobile publishers, powered by Glispa Global Group. By combining real-time bidding technology and automatic traffic optimization across the most relevant demand sources, Avocarrot is an all-in-one platform for optimizing and monitoring mobile ad revenue. Avocarrot is dedicated to app developers who want to increase their ad revenue with mediation and advanced flooring system.
Adyoulike: Best AI-Powered Native SSP
Adyoulike is the first native ad server powered by AI. Publishers can monetize their ad impressions by plugging into Adyoulike demand which consists of a number of premium brands like Paypal, ebay, BMW, Dropbox, Spotify, Toyota, IBM and more. Either you can bring in your own demand or direct advertisers, or you can use Adyoulike's premium exchange to fill 100% of your ad impressions. Set under a programmatic environment, publishers can make the most of Adyoulike platform.
Thus, we see that native SSPs are growing across all channels be it- video, web or mobile app. As the native ad industry scale and grow to more than 20 billion dollars in ad spend, we would likely to see more ad tech solutions tailor-made for native advertising. Currently, these platforms have a high screening in terms of page views and tech fee as most of the early adopters of native SSPs are top publishers across the globe who have their own direct advertisers and demand. However, we well that this place will slowly find a way for small and mid-sized publishers and more mediation platforms and SSPs emerge to help publishers make the maximum revenue from their impressions. Keep checking out Blognife for more interesting content on website monetization and we strive to explore the boundaries of Adtech.
Note: We would like to mention that we haven't gathered the operating/technology fee or seat cost of these native SSPs/ rev share because they are customized to the demands and would depend highly on the services that you're looking to avail.