Last updated on April 27th, 2023 at 06:14 pm
Launched not long back, in 2014, Earnify is known to be the best self serve native advertising platform available in the market that brings high-quality traffic to your landing pages, creates a name for your brand and makes use of the leading tech to bring the best possible results. The network currently has more than 800 active advertisers and has over 9000 campaigns running and serves hundreds of billions of bid requests across its network of publisher sites each month. This is an excellent Demand Side Platform that puts you in touch with all the major native advertising networks, to help you increase the reach of your campaigns quicker than ever. Advertisers particularly use it to put to advantage the DSP to streamline and balance the native media spend. What can be established from the given is the fact that it is an excellent platform with a lot to offer to their users. Here, in this article, we would analyze the same and provide in detail both their pros and cons.
Earnify: What's Unique/ Benefits for Advertisers
Earnify brings an array of benefits for their advertisers which includes-
They have direct programmatic integration with over 30 networks that accounts for about 20 billion bid requests that get processed each day by the DSP.
They practice absolute transparency and provide in-depth reports and analytics and show you the websites that you are bidding on.
Their dashboard is easy to use and a one-stop solution to all the managerial activity of the native advertising campaign.
They scan all requests using a variety of fraud detection technologies to make sure that you bid on quality traffic only.
Instead of having you put in extra effort in using two platforms with two different campaign creation processes, they allow you to easily copy the campaign and target.
They offer a variety of bidding models to assure that you find what suits you the best. It includes- CPC, CPM, and more.
You can manually sort it too and create whitelists and blacklists with the changes in bids as per the site.
They provide extra reach by allowing you to buy more from their supply partners by using their real-time bidder.
Their teams work at all times and ensure that your ads are reviewed quickly.
Their system is equipped with the best machine learning tech, so that, they can automatically favor the publishers that drive more leads for you.
They work specifically with advertisers and assure a dedicated account manager at all times.
Joining Requirements for Advertisers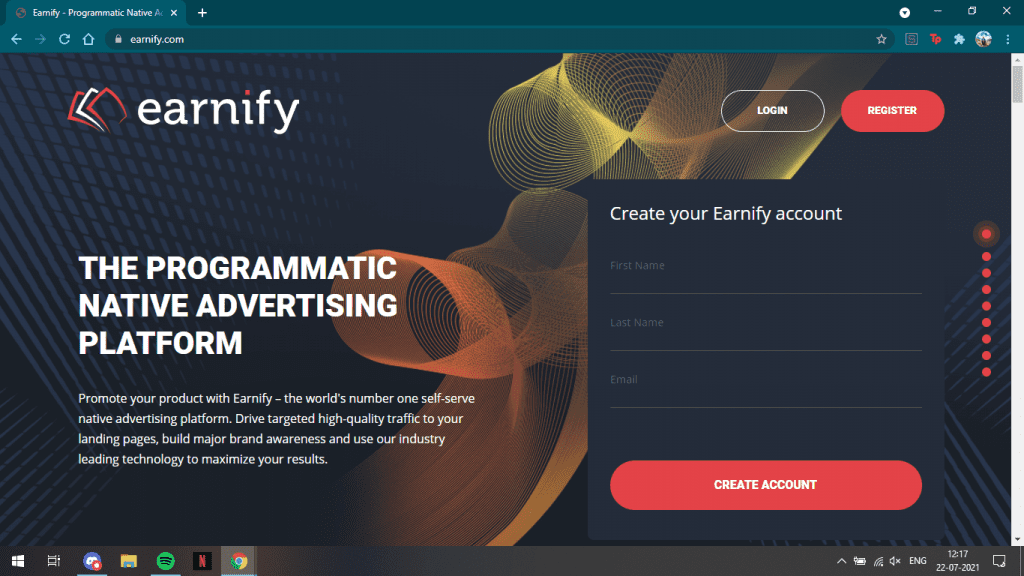 They have not specified any criteria that an advertiser must fulfill to become a part of their team, so, in case of any queries, one should contact their team.
Earnify: How Does It Work?
Earnify is integrated with the major native advertising networks, which allows you to even your campaigns better and in real time and helps manage native advertising campaigns across multiple platforms, in one place. Working with it quite easy.
For starters, you need to shape your campaign and customize and create it in accordance with your product using their backend.
Prior to that, you need to create your native add by adding content, headlines, images and such.
On doing that, you would start to receive traffic from their premium publishers.
Getting Started Guide and Setup
Getting started with Earnify is quite a breeze. They extend help at all times and one of their members helps in the launch of the first native advertising campaign on their platform. It just requires three simple steps. You need to start with making your own account which would not require much, except basic details about you. On doing that, you would need to configure your campaign as you want it and then add content to it. After that, you could go live and get traffic.
Earnify: Pricing Models
Earnify primarily is a CPA native advertising platform but also offers a fair share of other options like CPC/CPM (Native) and CPC (Push) and more. Also, it is the only advertising company that offers the revenue share of 80/20 with a choice to split test CPA vs. CPC to gather the best possible revenue rates.
Media Buying Rules/ Ad Targeting Options
Earnify is specifically known for its superior targeting and unmatchable revenue shares. Their traffic quality too is top notch, which helps is getting better deals for both the publisher and the advertiser. They assure that your targeting reaches potential customers and increases both the conversion rate and ROI. Their conversion tracking tech immediately favors publishers that generate the most leads for you. Also, if you are already purchasing from their supply partners, with the use of their real-time bidder, you could buy more. Also, when you buy via a DSP, rather an individual network, you get a consolidated billing, in one profile.
Advertiser Dashboard Overview
Their dashboard is the one stop solution to all the data that you have been looking for. It shows you exactly what the days spend was, and the number of clicks and impressions for the day. Other than that, it shows how much of it was generated from different platforms and countries. Other than that, they provide detailed reports and analytics and all the data regarding your campaign and funds.
Minimum Deposit and Payment Methods
You have you deposit a minimum of $100 at Earnify and the payment method they offer includes Wire Transfer, Payoneer and CC. The payment frequency that they abide by is NET30 days, that is, your amount would be due and payable after a month of purchase or so.
Best Performing Niches for Advertisers
The top converting niches for advertisers using Earnify are e-commerce, finance, health, nutra, and more. Since it is integrated into all the major native ad networks, the platform and its targeting should equally work well for any niche.
Contact Details: Advertiser Point of Contact
As an advertiser, if you have any queries or troubles starting with Earnify or so, you could easily contact their team. You could get in touch with them on phone at 07 3303 8575 or send them an email at [email protected] and they will revert soon. If not that, you could speak with their specialist at https://www.earnify.com/.
[quick_offer id=5374]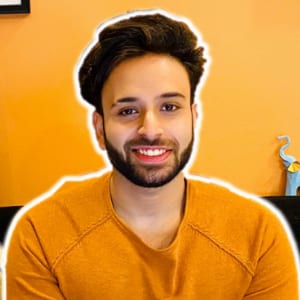 I and my team research various ad networks and can help you increase your overall ad revenue; so you could rake in more greenbacks with the best monetization platforms. Tap into the power of the online publishing business with me. I am just a mail away, so reach out to me if you want to scale up your website revenue. mail: [email protected]