Last updated on January 26th, 2023 at 04:50 pm
Revcontent is one of the fastest growing content recommendation and native advertising platform for business as it improves their return on investment. They follow the recent trend of native advertising compared to conventional ads posting system, especially through a revolutionary native ad networking system. Their widget maximizes website monetization for publishers with a high revenue share. Revcontent is backed by strong algorithms which show relevant native ads to publisher sites and brings quality traffic on advertiser's landing pages and websites. The network helps increase overall revenue for publishers and delivers the highest return on advertiser's spending, ensuring a clean ecosystem. In this article, we are going to discuss Revcontent's CPC rates for 2023 which can give you an idea whether you want to use this native ad network or not. 
Table of Contents:: Summary
Hide
Publishergrowth: The Revenue Acceleration Platform for Publishers
Blognife is elated to announce the launch of Publisher Growth- a community of publishers that helps you actively accelerate your revenue. This platform assists publishers in growing their traffic and revenue. As publishers, you can share and read reviews of ad networks and hosting companies. You can connect with other publishers to build links for growth and monetization hacks and more. This platform will help you stay up to date with the advertising and publisher ecosystem.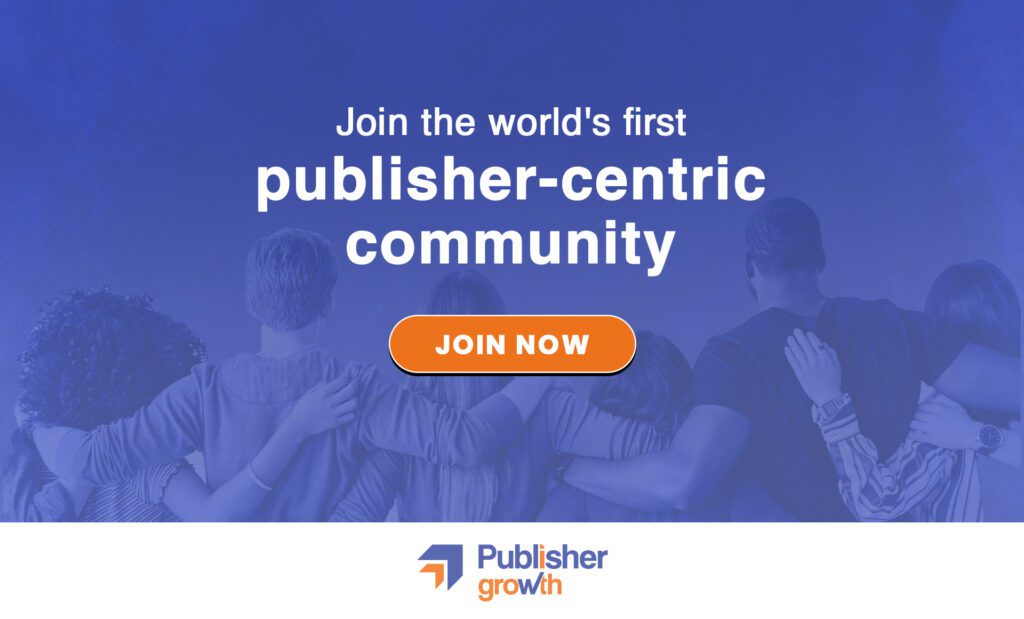 Features:
List of 200+ ad networks to monetize your site across all verticals.
Personalized site audit upon signing up on the platform that can increase your revenue.
Find all upcoming adtech conferences, webinars, and events in one place.
Stay informed with the latest adtech news across the globe.
Revcontent Model: Hybrid (A Mix of CPC and CPM)
Revcontent runs on a mixed model where advertisers can either choose a campaign as CPM based or CPC based. A CPC campaign would be appropriate if you're looking to drive traffic to your landing page. While a CPM campaign would be relevant for advertisers who are just looking to create a brand engagement and build awareness of the brand. Thus, as a publisher, you can earn both from CPC and CPM model. To ease things for the publishers, the metric that Revcontent uses to calculate revenue is RPM. This is the revenue per 1000 widget views. The network offers a strong revenue model for publishers who are looking to monetize their website with higher revenue.
Revcontent CPC Rates for US Traffic
If you have a good volume of US traffic, Revcontent can be a good source of additional ad revenue. This network has high advertiser base in the US and can give you high page RPMs for your traffic. Revcontent's CPM rates for US traffic tends to hover around 10 cents to 30 cents. If you've premium traffic you can even earn more from Revcontent. Also, Revcontent offers advertisers the ability to target site-specific audience and if any advertiser target your site to display ads your overall CPC rate can further increase. Revcontent doesn't have any exclusivity pact so you can use Revcontent with other native ad networks. Also, Revcontent is recommended for social sites where AdSense revenue isn't that good due to lack of contextual targeting.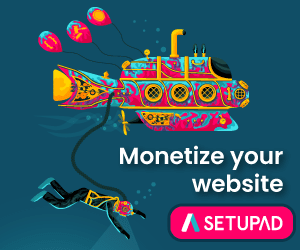 Revcontent CPC Rates for Indian Traffic
CPC rates are based on demand vs supply and vary based on seasonality, the number of advertisers targeting the same traffic and more. Generally, the CPC rates for Indian traffic is lower compared to the US. Publishers can expect a CPC of around 1-5 cents for clicks coming from Indian traffic. In order to increase the overall revenue, you need to target a better click-through-rate by putting the Revcontent widget in high viewable zones. You can use the following Revcontent ad widget to increase your overall earnings.
Revcontent in-article widget
Revcontent after content widget
Revcontent sidebar widget
Revcontent video ad widget
Revcontent CPC Rates for UK traffic
There is a global demand of UK traffic and Revcontent has a good base of advertisers who are targeting UK traffic. As a result, you can earn strong CPMs from your UK visitors. The Revcontent widget also allows video ad views which are measured on engagement basis and can further increase your overall ad revenue. The CPC rates for UK traffic is above 10 cents.
Revcontent CPC Rates 2023
We've seen an overall decrease in CPM and CPC rates in 2023 as advertiser spends are more tuned towards video. However, given the higher revenue share of Revcontent with publishers (80/20), publishers can still earn higher rates with this network in comparison to other native ad networks like Taboola, Outbrain, Disqus, Adsnative and more. Also, the widget offerings from Revcontent is more varied when compared to its competitors. This ensures better click-through rates and overall engagement which further increases to net revenue of the publishers. Here we are sharing the CPC rates for Revcontent for the month of January 2023. Please note that the CPC rates for Q1 are generally low since most advertisers have spent huge budgets in Q4. You can expect the average rates to be around 1.5 times the current rates.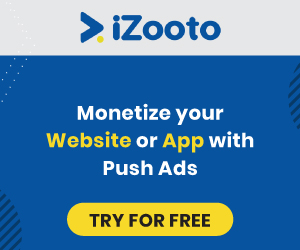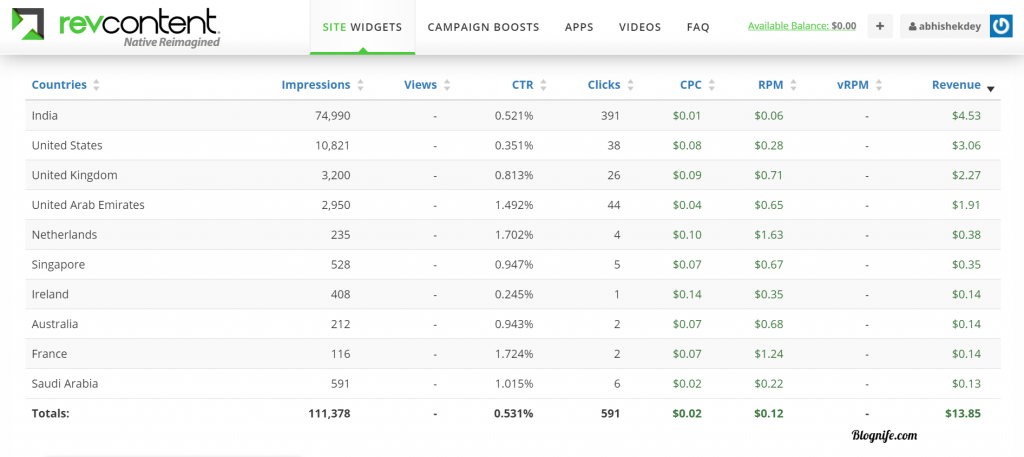 Revcontent offers a global fill rate, almost reaching 100% across all geographies. The network is strong in regions like US, IN, UK, Canada and other parts of the world as well. Revcontent CPC rates is high in Europe where Taboola is not very strong. Also, they have a number of widgets that can help publishers maximize the overall revenue by showing their ad widget at prime positions. Social publishers seem to be benefited from Revcontent's widget ads. They have vouched for this native ad network and explained why Revcontent is able to pay them higher revenues than AdSense. This is possible because the engagement level for social visitors tends to be on viral topics and Revcontent has a huge advertiser base who are themselves publishers looking to drive quality traffic to their viral articles and links. Thus, we see that Revcontent is one of the most promising native ad networks out there in the market. However, the publisher requirements to be accepted are quite high. There hasn't been a mention of the same on Revcontent's website and thus we contacted Revcontent to know more about what kind of websites they tend to approve.
RevContent Traffic Minimum and Publisher Requirement
Revcontent is highly picky when approving publishers to run their ads widget. Listed here are some of the information that can give you a better idea of what kind of publishers and traffic Revcontent is looking for–
RevContent works with premium publishers like newsweek.com, westernjournalism. foxnews, christianpost – they deny approximately 90% of the applications submitted to them due to their strict criteria needed.
Revcontent evaluate publisher applications based on website's quality and volume of traffic, content, targeted GEO's, audience and layout. All sites should have good layout, design and relevant pages and information.
Alexa ranks of the websites should be below 20k with a minimum of 100,000 impressions per day (3 million per month) and matching GEO targets (US, UK, CA, FR, IN, NZ & AU). IN Alexa must be 7k or under.
Affiliates websites can ONLY run ads; they are not permitted to run widgets.
Thus, websites which are generating more than 100,000 page views per month are only accepted in the Revcontent publisher programme. If your site has lower page views then we suggest an alternative native ad network called Spoutable.
How to Join Revcontent Native Ad Network?
If you happen to meet the following criteria, go ahead and click on the Signup link to go the Revcontent website and create an account. This signup link will give you 5% greater revenue share than directly signing up with Revcontent.
You need to provide your site URL, traffic (here you should select the option of 1 million+) and where you're an advertiser/publisher/both. Once done, you can move ahead with the other options here.
Here, you need to further provide the additional details and make click on the submit button. Once done, Revcontent publisher team will review your application. Due to the high volume of the applications submitted, it would take around 7 days to process your application and you should be hearing back from them via a mail with your approval status. Once your website is approved you can log in to Revcontent dashboard and start creating your first ad widget. Here is a screenshot of how Revcontent widgets looks like-
Revcontent offers a total of 8 widget types along with an option to create your own widget type with custom API. They recently launched an in-feed video widget which shows relevant videos on publisher websites to further boost the overall revenue. You can also use Revcontent API to customize the native ads according to your site's requirement. For this, you need to contact your Revcontent representative directly.
We believe that this article on Revcontent CPC rates 2023 for publishers was useful in validating the network's earning potential and you'd be looking forward to getting started with Revcontent. If your site is receiving around 20k- 30k views per day, it would be unlikely that your application will be approved. As an alternative, I would recommend you Spoutable.
Our Recommended Tools for Publishers:
Looking to Increase your Ad Revenue:
Get in touch with me for a personalised consultation and increase your ad revenue across native, display, video (instream and outstream), in-app and other verticals. I also assist in customized DFP setup, header bidding, and content creation strategy. My skype id is:
ronniedey
. Feel free to connect!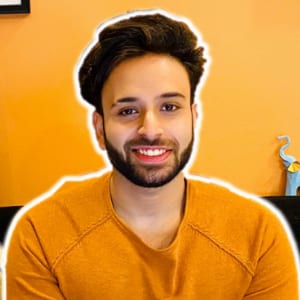 I and my team research various ad networks and can help you increase your overall ad revenue; so you could rake in more greenbacks with the best monetization platforms. Tap into the power of the online publishing business with me. I am just a mail away, so reach out to me if you want to scale up your website revenue. mail: [email protected]