Last updated on May 16th, 2022 at 05:14 pm
Native advertising is fast becoming the go-to advertising technology for many as it is bridging the gap between brand publishers and advertisers with its quality and scalability. Native advertising is a type of paid media in which the ads follow the form and function of the publisher websites; in this way, the user experience is supposedly not hampered and the ad technology manages to bring returns for both the publishers and advertisers. Banner ads often suffer from banner blindness; native advertising provides a feasible solution in the form of either an article or video, produced by an advertiser with the specific intent to promote a product. In this article, we are going to discuss some solutions for publishers that can help boost their overall ad revenue.
15+ Best Native Ads Platforms for Publishers to Boost Revenue in 2022
Before we get started with these top native monetization platforms, you should understand that the native advertising industry is growing and there are a lot of native ad networks in addition to these. However, the ones listed here are the best native or full-stack monetization platforms which publishers can use in addition to making substantial revenue. Please note that the list doesn't have an order or ranking and the numbers mentioned alongside are just for aesthetic purposes.
1) AdPushup: Best Native Advertising Network for Publishers
AdPushup is a revenue optimization platform that helps publishers increase their ad revenue using ad layout optimization, header bidding, innovative ad formats, ad mediation, Adblock recovery, and accelerated mobile pages. AdPushup has partnerships with top-tier ad networks and exchanges across the world including Google AdX, AppNexus, Rubicon, and Criteo. They help publishers of all sizes access this premium demand, including the best global buyers and high-yield ad campaigns.
AdPushup drives an average revenue uplift of 33% for their publishing partners, and their clients include known brands like Newsweek, Reddit, CNET, NDTV, Network 18, Punjab Kesari, GSM Arena, and Axel Springer, among 300+ others.
Eligibility: Monthly ad revenue from display> $1000
2) VDO.AI: Best Native Video Ad Network for Publishers
VDO.AI's native units are designed to be non-obtrusive and provide a seamless way for publishers to leverage the power of video. A lot of publishers see more revenue from a single VDO.AI unit compared to multiple banners and traditional native units. VDO.AI is headquartered in Mountain View, CA. With VDO.AI's native video widget, you can see an increment of almost 50% of your regular earnings on sites which are typically known to perform well with video ads. The setup usually takes less than a day to get started go live once your site gets approved from the demand partners. Blognife recommends this video native ad network to maximize your ad revenue. Listed below are the benefits of joining VDO.AI.
Easy integration using a single javascript

See an additional revenue of almost 50% of your regular earnings

One tag that sources the video demand from Google ADX, Appnexus, Sovrn, and other demand platforms.
Generate higher CPMs from native video ads
No player, video content or ad integration separately. Everything comes bundled in a simple js tag.
3) Evadav: Best Native Push Ad Network
EvaDav is a client-oriented native advertising network, providing cutting-edge solutions both to advertisers and publishers who are integrated into a single platform. It provides the best performance for the advertisers and embraces one of the most perspective markets of advertising formats – native advertising and push notifications.
EvaDav accepts traffic with any geo. The advertisers offer appropriate advertising campaigns and deals for any country. The platform offers the highest conversion rate on the market since aim at demonstrating to customers only the appropriate and relevant advertising based on the internal analysis tools. Advantages of cooperating with EvaDav:
only verified advertisers

wide selection of landing pages for any kind of traffic

development of custom LP's according to individual webmaster's requests

integration with plenty of trackers, such as Binom, Keitaro, BeMob, PeerClick

personal account manager available 24/7

it takes you 10 minutes to register and start off
4) SmartyAds SSP: Best Native Ad SSP
SmartyAds SSP is a programmatic monetization solution that boosts publisher's yield with holistic advertising technologies that incorporate desktop and mobile header-bidding, interactive ad formats (display, video, rich media, and native in particular), mediation through SDK, real-time reporting, and flexible filtering system.
Key Features of the Platform:
Interactive screen-adaptive ad formats

. In-app natives, in-feed social ads, recommendation widgets, mobile web native ad, custom resolution units and other ad formats are able to adjust to every desktop, in-app or mobile placement.

Smart optimization. Intelligent dynamic price floor optimization and filtering options ensure efficient inventory management and help to select only beneficial deals.
Direct and RTB deals.

Participate in RTB auctions and trade directly to maximize inventory value and avoid remnants.

Header-bidding

. Enhance competition with real-time bidding auctions that grow inventory value.

Lightweight SDK

. Easy to install SmartyAds SDK ensures smooth rendering of creatives in applications, supports seamless user experience, and effectively prevents latency.

Real-time analytics. SSP platform generates robust real-time analytics. Find out how certain native ads perform to select partners or native units that bring the best ROI.
CPM Rates and Payment Methods
CPM rates:

USD 2 and above for Tier 1 traffic

Minimum Traffic Requirement:

Estimated 5 million page views per month

Payment Method:

The total earning is obtained during 60 days (NET 60 basis), with $50 min. limit on publisher's account.
5) Outbrain: Best Native Advertising Platform
Outbrain is the best bet when it comes to monetizing a website in CPC model through sponsored content if the publisher has just the right quality of content. The network offers an RPM rate of 37 cents to USD 1.12 per thousand page views. It provides users to promote articles, videos, infographics, slideshows and other earned media. 80% of the world's leading brands use Outbrain. Some of them are The Guardian, Washington Post, Men's Health, Runner's World. Outbrain supports high-quality content. Therefore all the advertisements in the Outbrain network are directly approved by the editorial team. Hence the ad quality is excellent providing a transparent viewing experience to all visitors. Outbrain is the best native platform for monetizing US traffic. If you're a marketer, I suggest you to gets started with Outbrain since it is self-serve and the daily spend is also quite affordable.
Outbrain CPM Rates- 37 Cents to $3
Outbrain Minimum Traffic Requirement- 10 million page views per month
6) RevContent: Best Native Ad Network for Bloggers
RevContent, which offers almost 250 billion recommendations per month, is a versatile platform for media brands and advertisers. RevContent has fast become the best performing native ad network with the highest CPM rates in the industry and other features such as support for different geographic, contextual and demographic channels. Having some of the top international content marketers like Forbes, CBS, Reuters, International Business Times in its publisher list only validates that. This network is fully compatible with AdSense which again is a big advantage. The average RPM for RevContent is around 44 cents. CPM rates can go as high as USD 3. While other ad networks take a cut of 50-40% of the advertiser's earnings, RevContent's 20% revenue share has made this more profit-oriented for both advertisers and publishers. RevContent is good at monetizing the US and global traffic.
Revcontent CPM Rate- Can go as high as $3
Revcontent Minimum Traffic Requirement- 3 million page views per month.
Payment Method- The minimum payout threshold is $50, and they pay via Paypal.
7) iZooto: Best Push Notification Ad Network
iZooto allows publishers to tap into web push notifications for driving traffic and monetization using native content ads. Unlike conventional display ads, native content ads served on push notifications attract CTR's up to 2% – 3%. Publishers working with iZooto are now able to generate 15-20% of their traffic using push notifications and increase their revenue by 15%. As a publisher, you can subscribe to iZooto's Monetization plan which allows you to use use the product for free of cost and also helps you monetize push notifications. iZooto helps you in monetizing push notification inventory using native ads. iZooto has partnered with leading Ad-networks and exchanges including the likes of Taboola, Pubmatic, RevContent to name a few. The modus operandi is simple –
iZooto sources contextually relevant ad from it's Ad network partners.
These native ads are delivered via notifications to your subscribers.
iZooto operates on a CPC model and when your subscribers click on these ads, you earn revenue.
2 native content ads are pushed to subscribers. At an average CPC of 10 cents, publishers in the US could potentially start generating up to $1,000 per month in just a quarter. Check out this detailed calculator that will help you estimate your earning potential. It is one of the best native ad platforms and push notification networks bundled into one.
8)Media.net: Best Native Advertising Network
Media.net is a contextual ad network that works particularly well on niche websites that gets a majority of their traffic from the US, UK, and Canada. The network has a huge advertiser demand from Yahoo and Bing and boasts of high CPMs on niche websites that are focused on insurance, health, finance, loans, and more. There are a number of big publishers who are earning good revenue with media.net contextual ads.
Media.net CPM Rates- CPMs can go as high as USD 10 and above
Media.net Minimum Traffic Requirement- Flexible traffic requirement based on website niche. Usually 2,000 pvs/day
Media.net Payment Methods- They give the money on a NET 30-day basis, and their minimum payout threshold is $100. The payments are made via Payoneer.
9)Taboola: Best Native Advertising Platform
Taboola is one of the best native ad platforms, serving over 200 billion recommendations to over 550 million unique visitors every month on some of the Web's most innovative publisher sites, with USA Today, Business Insider, Chicago Tribune, and The Weather Channel. It is the largest content marketing platform in the world and offers a 50% revenue share to publishers which is quite steep when compared to industry standards. This network has a strong regional advertiser base across the world which results in great variety in creatives and nature of the ads. Taboola has some of the biggest brands like Forbes, NY Times, TMZ and USA Today on its publisher list. Taboola is a PPC network where publishers only get paid for clicks. The RPM of a Taboola ad can up to $2 and more depending on the traffic quality and location. Taboola has a fill rate of almost 100%. Taboola monetizes global and Indian traffic very well.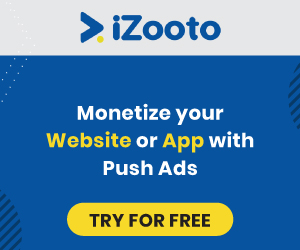 Taboola CPM Rates- Higher than $2
Taboola Minimum Traffic Requirement- 1 million page views per month.
Taboola Payment Methods- They give the money on a NET 45-day basis, and their minimum payout threshold is $100. The payments are made via Payoneer.
10) Gemini: Top Native Ad Network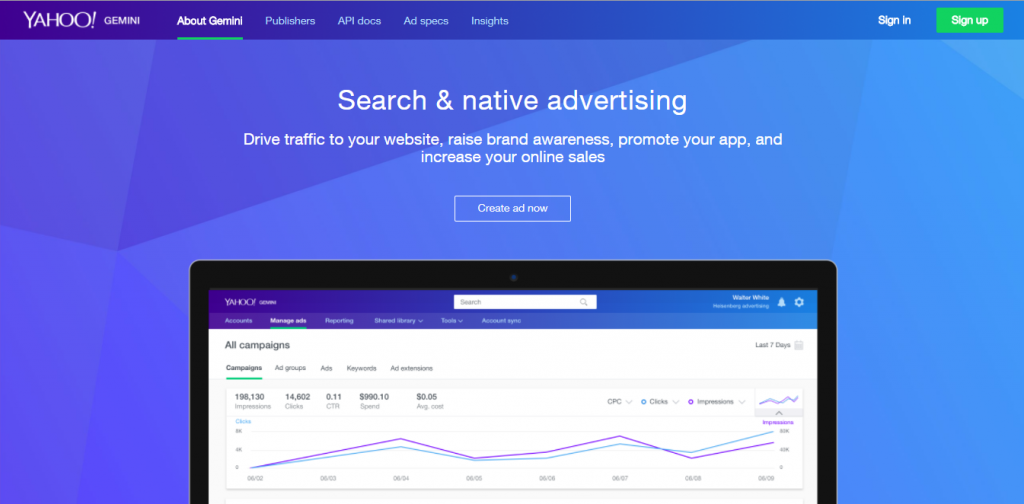 Gemini is the native advertising product of the Yahoo! Bing network. We generally find the cost-per-clicks to be significantly lower on Gemini versus the other platforms. This makes sense as there is less competition on this newer platform. Gemini does offer mobile and tablet inventory for your search text ads with native ads being offered on all devices. A native ad may appear within a stream of content including the search engine results page on Yahoo.com. Basically, it is a way to blur the lines between online content and advertising that is less abrasive and to the consumer, feels like a more natural way to digest the information. Gemini typically monetizes US traffic.
11) MGID: Best Native Ad Network for Bloggers
MGID is one of the oldest advertising networks around and enjoys a huge global market share, with some of the top international publishers and advertisers across its network. Blinkbox, Tradedoubler, Snakkle and Organic Authority are some of the many quality publishers partnering with MGID. The CPM rates of MGID are in the range of 1 to 5 cents, which increases for tier-1 traffic. News and viral sites have the highest CTR with an average RPM of USD 1. MGID is a safe option for monetizing traffic from Asia and Latin America. It is one of the recommended native ad platform for marketers who are into traffic arbitrage.
MGID CPM Rates- 30 cents to USD 2
MGID Minimum Traffic Requirement- 10,000 page views per day, or 300,000 views per month.
MGID Payment Method- NET 30, the minimum payout threshold is $100. and the payment options are Paypal, Wire Transfer and Webmoney.
12) AdNow:
AdNow, established in 2014, is a widget-based native advertising network with a network of over 150,000 publishers and 4 billion monthly impressions in just a little more than 2 years. One downside of the AdNow network is the poor quality of its ads. There is barely any diversity in the creatives and nature of the ads, with most of them being product-based and related to the health niche. AdNow, although a comparatively new ad network, has managed to get Amazon, eBay, PeerFly and others on its publisher list. We have seen Adnow perform well for EU traffic. Adnow CPC rates are particularly high across the whole of Europe. AdNow is also good for monetizing traffic in India and Thailand.
Adnow CPM rate- $0.1 to $2
Adnow Minimum Traffic Requirement- No traffic requirement.
Adnow Payment Methods- They pay on a NET 15-day basis, and the minimum payout threshold is $20. The payment options are Paypal, Wire Transfer, and Webmoney.
13) Spoutable: Best Native Exit-Ad Network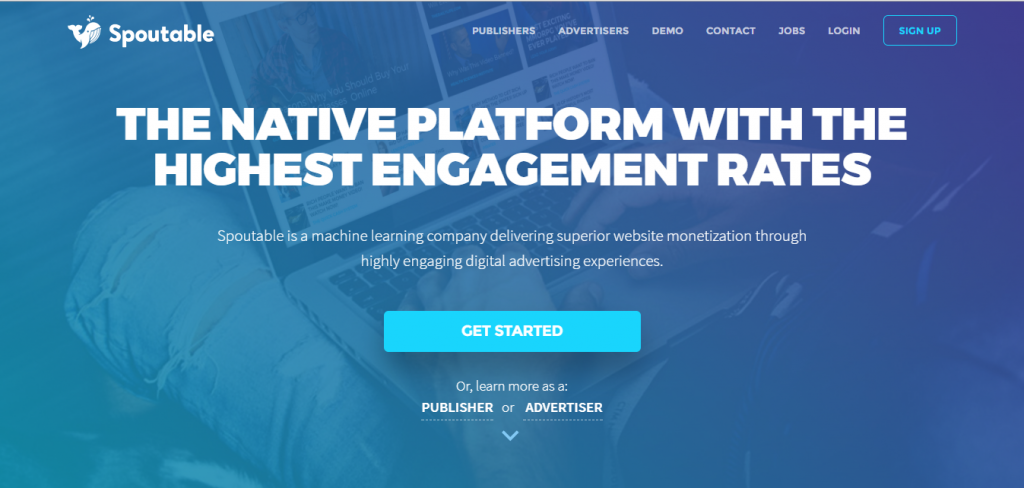 This is a very interesting native ad network. They analyze user behaviour and their ads are triggered on exit intent. Spoutable serves ads through its own and partner networks which include RevContent. It is a CPM-based digital ad network. The average eCPM that is earned by the publishers is in the range of 29 cents to 40 cents. If there is traffic coming from the tier 1 countries like the UK, USA, Canada, and Australia, then the rates obtained can be as high as USD 3. It works quite well for Asian traffic as well. Spoutable has a fill rate of almost 100% for most of the countries. They have an excellent support centre. They provide the publishers with easy installation, clean and responsive ads.
Spoutable CPM Rates- 30 cents to 3 dollars
Spoutable Minimum Traffic Requirement- No traffic requirement.
Spoutable Payment Methods- They pay on a NET 20-day basis, and the minimum payout threshold is $100. The payment options are Paypal, and Wire Transfer.
14) Disqus: Top Native Ad Network
Disqus is a comment plugin available for websites and blogs. It places native ads tagged with the comments and revenue is generated when visitors click on those ads. It is the most popular comment plugin network and can see huge bursts of traffic. But as a native ad network, it lags behind many of the others in the industry. The CPM rates offered by Disqus are lower than that of Taboola and other networks and the viewership percentage is also not great due to its poor quality ads. The Disqus ads report an RPM of $0.30. Disqus is good at monetizing global traffic.
Disqus CPM rate- $0.30
Disqus MinimumTraffic Requirement- No traffic requirement
Disqus Payment Methods- They pay on a NET 90-day basis, and the minimum payout threshold is $100. And the payment options are PayPal, Wire Transfer, eCheque, Cheque, and ACH
15) Sharethrough: Best Native Ad SSP Platform
Sharethrough, which started out as a video ad company but has become focused on in-feed native ads, is trying to encourage better content with a new feature that actually scores the quality of ads. It's not analyzing the content itself, but instead looking at factors that indicate whether or not people actually like it — views, clicks, social sentiment, and the relevance of the story to the current news and social media conversation. The company has a number of products that can help publishers and advertisers increase their overall revenue and ROI from native ads. Sharethrough is a mobile-first, content-driven platform for advertisers to engage users with quality content, combined natively to each site it lives on for publishers to convert into or express in the form of currency with premium ads while maintaining a high-quality user experience.
16) Adblade: Best Native Ad Platform
Adblade is the largest content-style ad platform on the internet and their ads are distinguished from native ads only by the 'advertisement' label in the corner. Adblade is the largest content-style ad platform on the internet and their ads are distinguished from native ads only by the 'advertisement' label in the corner. Adblade ads are displayed on some of the biggest content-driven sites like Yahoo!, Esquire, BusinessWeek and Fox News. Adblade mostly offers 50 cents to $1 per click, depending on the vertical. The CPM rate is usually $2 on average. CPA and CPM rates are lower for Asian traffic. Adblade also has a 100% fill rate for US traffic. So, Adblade is one of the best native ad networks to monetize US traffic.
CPM rate- $2
Minimum Traffic Requirement- 500,000 monthly page views.
Payment Method- They pay on a NET 30 basis and the minimum payout threshold is $100. The payment options are Paypal and Wire Transfer.
17) AdSense Native Ads: Best Native Ad SSP Platform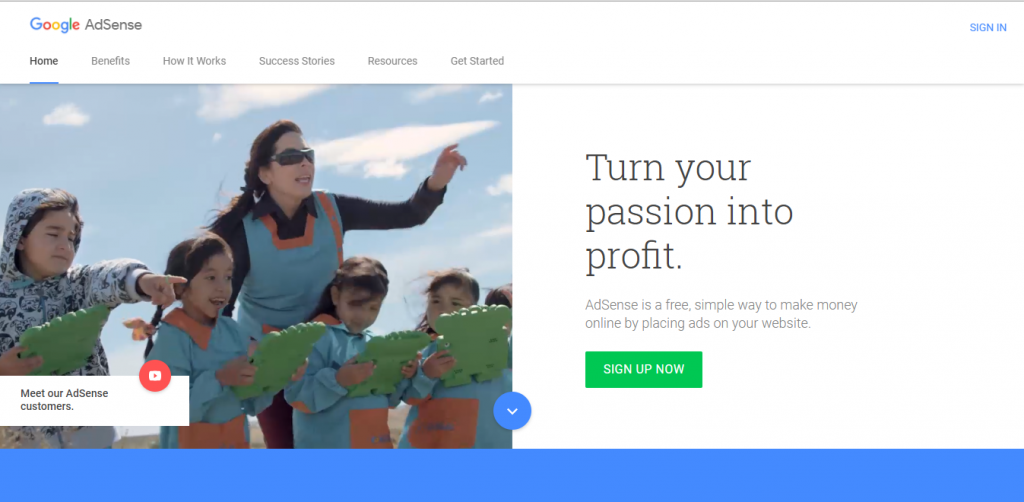 Google AdSense is considered to be the largest and best ad network by many. Google AdSense delivers very high-quality ads of all its brand advertisers across all its publishing networks. This is a huge factor that makes it hard to beat the network. AdSense supports a variety of ad formats. AdSense has an unparalleled global reach and is used by everyone ranging from large companies to medium-sized businesses to small-time users. Mashable, Times Network, eBay, HubPages are a few of its top publishers. The average AdSense ad RPM lies in the range of USD 5 to 10 for a broad niche. In the case of competitive niches with greater CPC, the rate is around a much higher USD 100. AdSense has a fill rate of 100%. The performance and eCPMs provided by Google AdSense are unmatched and getting started with it is not much of an issue either. This is the reason that AdSense has such a large network of almost 14 million websites.
AdSense Native Ads CPM Rate- 40 cents to $3
AdSense Minimum Traffic Requirement- No traffic requirement.
AdSense Payment Method- They pay on a NET30-day basis, and the minimum payout threshold is $100. And the payment options are cheque, Western Union, EFT and Rapida.
18) Content.ad: Best Content Recommendation Ad Network
Content.ad is one of the best native advertising networks. It provides content marketing services to online advertisers. Content.ad calculates the revenue on the basis of eCPM and eCPC advertising. It delivers higher rates for worldwide traffic. The RPM offered is in the range of 5 cents to USD 2. It has proven to be a source of steady earnings to its publishers with a good volume of tier one traffic. The platform works well for all types of niche websites because they have a good advertiser base in that segment. It offers a full 100% fill rate to its publishers. It has the potential of good traffic and works best for users coming in from Europe. It is advisable to use Content.ad along with Google AdSense to increase the revenue earnings.
Content.ad CPM Rates- 5 cents to $2
Content.ad Minimum Traffic Requirement- 30,000 page views per month.
Content.ad Payment Method- They pay on a NET 30-day basis, and the minimum payout threshold is $50. The payment options are PayPal, Wire Transfer, cheque, and Hold My Payments.
19) Gravity: Best Native Ad Network
Gravity is a content recommendation engine backed by the AOL network and has some of the biggest publishers like about.com, Huffington post etc. Gravity is one of the world's most advanced personalization companies. Using its branded Interest Graph, Gravity semantically understands each user's individual interests, estimates the strength of those accessories over time and returns recommendations designed to optimize engagement and user experience. This native ad platform is best suited for the monetization of US traffic.
20) Native Ads: Best Native Advertising Network
Native ads claim to be a premium native advertising network, which can be run along with AdSense. They have a moderated approval process and responds to your approval status within 12 hours. While I haven't tried this network, I have heard in the comments that they don't pay good rates per click, typically revolves around 1 cent to 2 cents a click. This network can monetize global traffic.
21) Facebook Audience Network: Best Native Ad Network for Mobile
Facebook's Audience Network allows you to run native ads for the mobile web. Although you may not get a 100% fill rate with them, it's worth a try especially if you have good mobile traffic. The CPM might hugely vary from blog to blog, but since it comes under the umbrella of Facebook, overall revenue should be good. Facebook is one of the biggest names in today's digital sector and displays high-quality advertisements in its audience network across all mobile devices. Publishers include AppNexus, media.net, Index Exchange etc. It is generally in the range of 50 cents to USD 3. The more the advertisers bid for that audience, the higher will be the CPM. Strong CPMs can be seen if the majority of the site's traffic is mobile-based and from tier one countries. The performance is good for Asian and global traffic and high eCPMs of USD 1 to 5 can be obtained. Facebook Audience Network is one of the best options to monetize global and US traffic. If you're an Indian regional content publisher, you should try Adgebra.
Facebook Native Ads CPM Rates- 30 Cents to 80 Cents.
Payment Method- They pay on a NET 30-day basis, and the minimum payout threshold is $100. And the payment options are Pay Pal, Credit or Debit Card, and other Local Manual Payment Methods.
Out of these popular native ads platforms, the ones we suggest marketers and advertisers experiment with their native advertising campaigns are- Google Bid Manager (for AdSense native ads), Outbrain, Facebook and Yahoo Gemini. Publishers who are looking for the best native ads platform to increase their native revenue should start with AdSense, Outbrain, Taboola and definitely Spoutable. Alternatively, you can use a content SSP like Whizzco to further increase your ad revenue. We hope this list of the best native ad networks for publishers and advertisers was helpful.
Our Recommended Monetization Partners:
Looking to Increase your Ad Revenue:
Get in touch with me for a personalised consultation and increase your ad revenue across native, display, video (instream and outstream), in-app and other verticals. I also assist in customized DFP setup, header bidding, and content creation strategy. My skype id is:
ronniedey
. Feel free to connect!
I and my team research various ad networks and can help you increase your overall ad revenue; so you could rake in more greenbacks with the best monetization platforms. Tap into the power of the online publishing business with me. I am just a mail away, so reach out to me if you want to scale up your website revenue. mail: [email protected]