Last updated on July 19th, 2021 at 07:08 am
Being one of the fastest-growing companies in America, Sulvo has already demonstrated its strong position in the marketplace with 100% quarter over quarter publisher growth.
Mission:
Increase the flow of capital from big corporations to independent publishers.
How Does Sulvo Work?
Let me tell you a little bit about what Sulvo really is and how it helps publishers today. The Sulvo platfom utilizes our patent-pending price prediction algorithms that help publishers to raise their CPM rates. These algorithms analyze the value of the impression before the advertisers give us any information about their buying criteria. Publishers coming from Adsense experience a 25-250% lift in the matter of hours.
Monetize Your Video Content
Video is absolutely great and some innovative formats are in the work as of right now. If you own video inventory then we can supply the biggest brands with the same patent-pending price-prediciting algorithms that we have on display. Publishers without video inventory can still apply because in a few weeks we will be releasing a video product that works without having to have your own video content.
Minimum Publisher Traffic Requirement at Sulvo
Minimum requirements vary because of different revenue potential of each site, which is usually tied to the geo make-up of the users sites' portfolio. During registration there is a traffic verification step that all publishers are required to pass before they can be considered for a Seller account. The general rule of thumb for a starter account is about 1 million page views/month.
Buyers and Partners
Mediamath, Turn, Casale Media, Ignition One, Adform, TradeMob, Revcloud, Sociomantic, IPONWeb, Nextperformance, Melt Demand Side Platform, Doubleclick, Adara Media, Metrigo, Splicky, Plista, OpenX, YD, LiquidM
Getting Started with Sulvo
Step 1: Head to Sulvo.com. On the top right of the homepage, you can see the signup button. Click on the Signup button and the signup form will appear.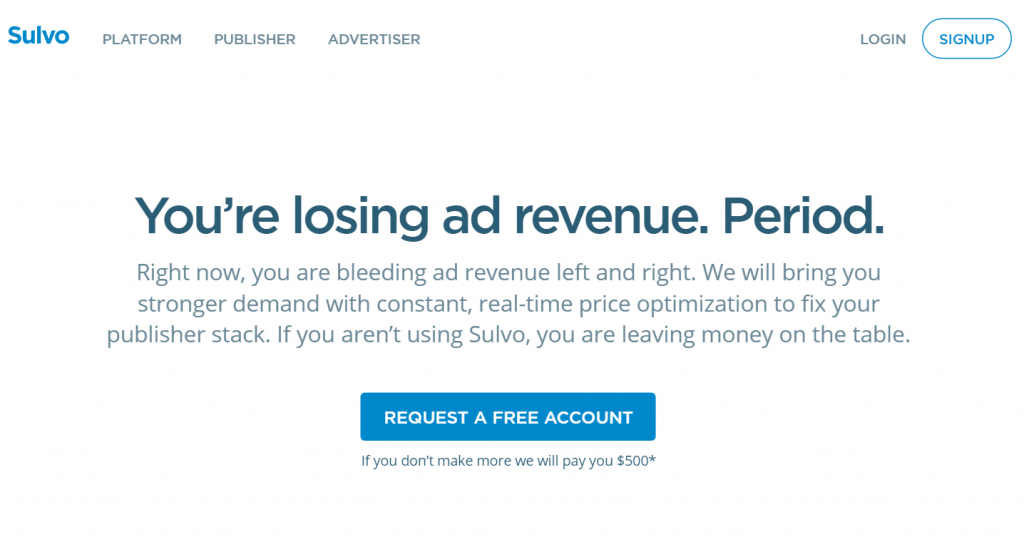 Step 2: You need to request for a new account with Sulvo. Add your first name, last name, email id and password along with the site details. Once done, click on the request an account button!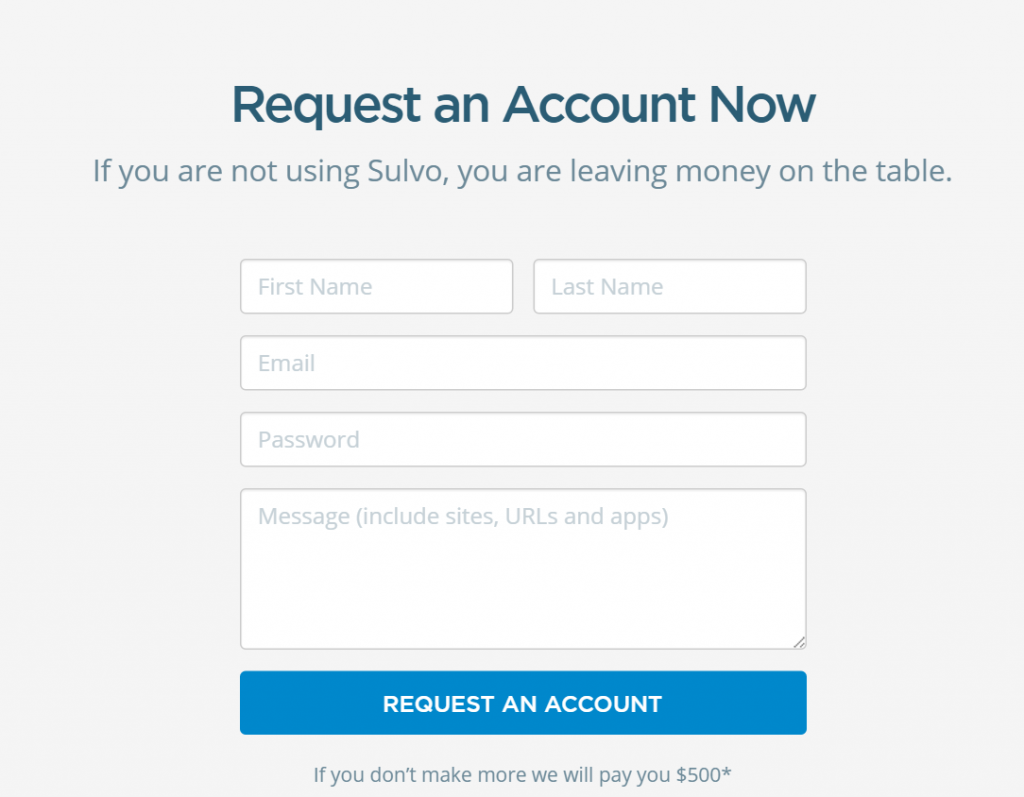 Step 3: Now you will be asked to complete your registration by filling up with domain verification. You need to add your domain name and the expected monthly traffic volume. Verify your domain and you will be prompt to partner registration like AdX etc.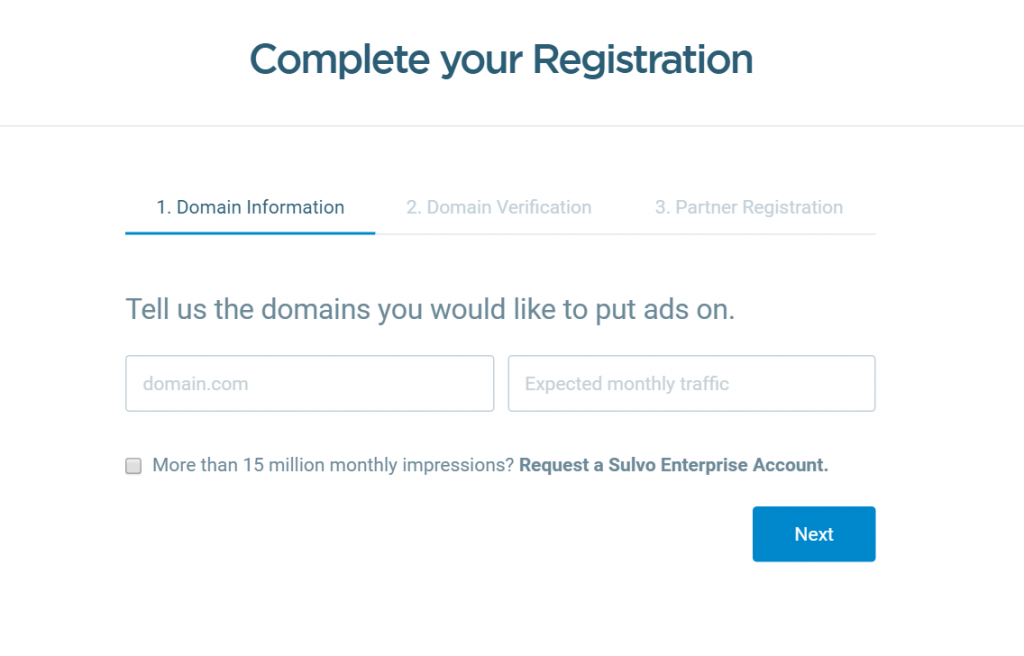 Step 4: Upon the completion of step 3, you need to wait for an email from Sulvo's Customer Success department. The email should read is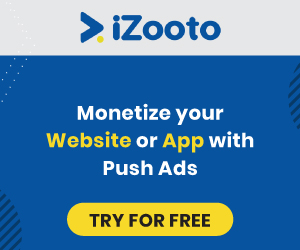 Your request for a Sulvo Seller account has been approved for <your website name>!

You can get started with raising your ad rates at

https://surge.sulvo.com

with the username:

<your email id>

and the password you used during your signup request.

You should expect your earnings to go up by 25-250% and here are some important Settings and Best Practices to raise your ad rates: https://youtu.be/vPrgdnY27_g
Step 5: Login to your Sulvo Account to generate the ad codes. Your Sulvo dashboard would look like the screenshot below. The Reports tab lets you view your ad unit reports. The inventory tab consists of the ad tags or ad codes. The referral tab keeps a track of the number of publishers you refer.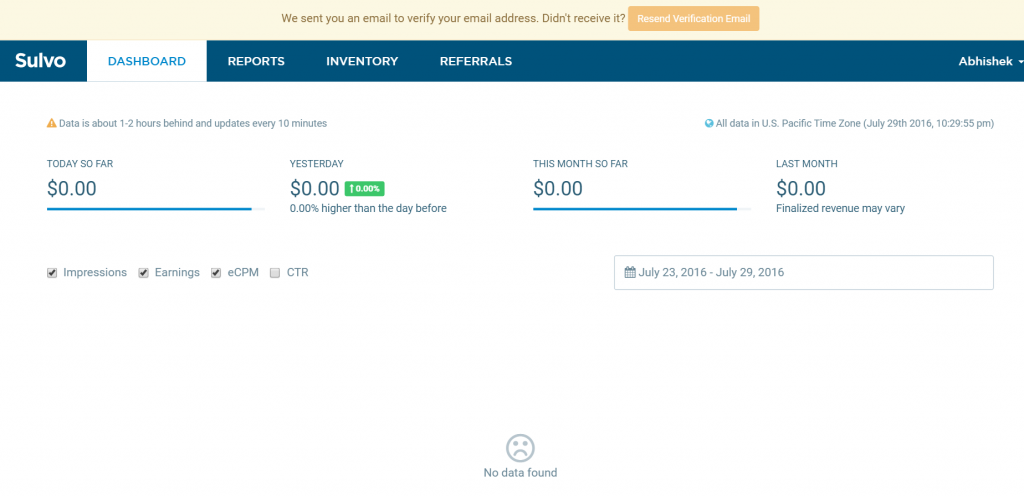 Step 6: To get started with ad unit creation, click on the Inventory tab. Then click on " New Ad Unit". Now in the "New Ad Settings" choose the ad type, display size, add a name and click on Next. Now you will be prompted to create a back up unit. The backup ad unit is a google ad unit, so you need to get the pub id and ad slot id for the particular backup ad and you need to insert it here. Once done your ad code will be generated.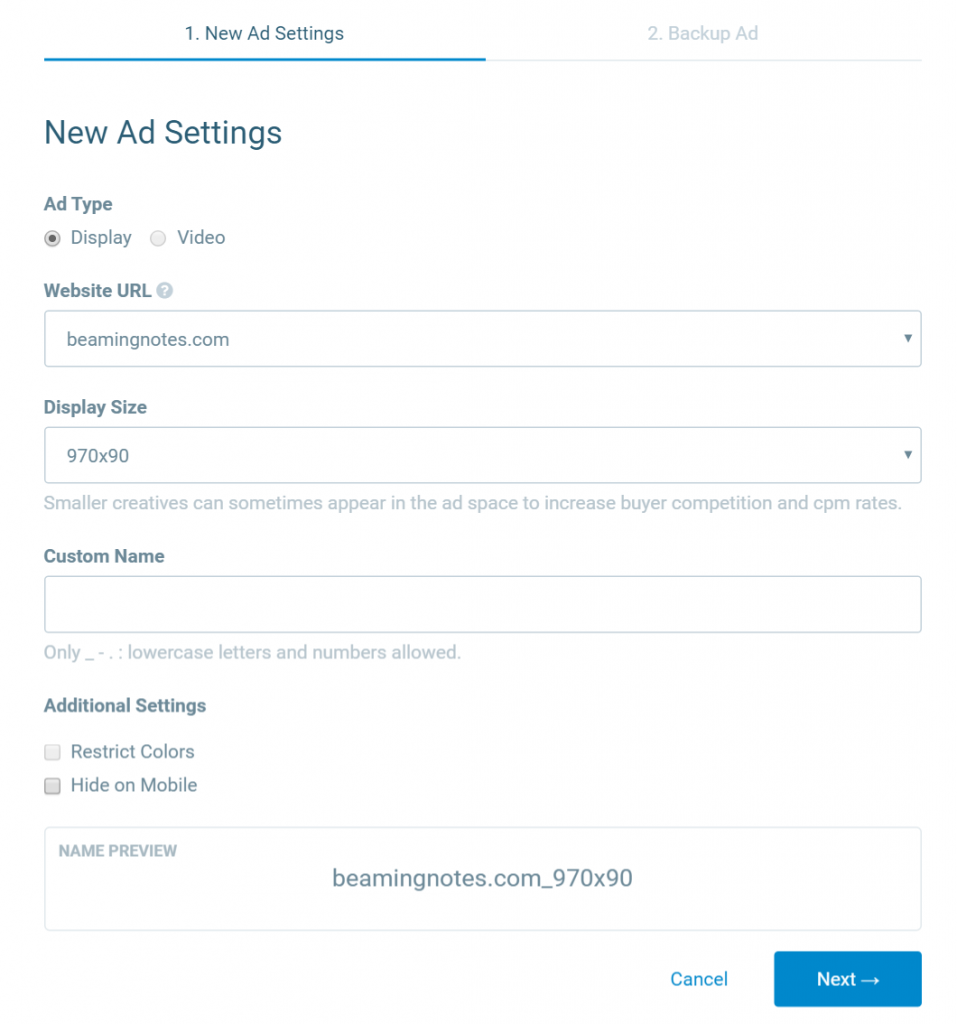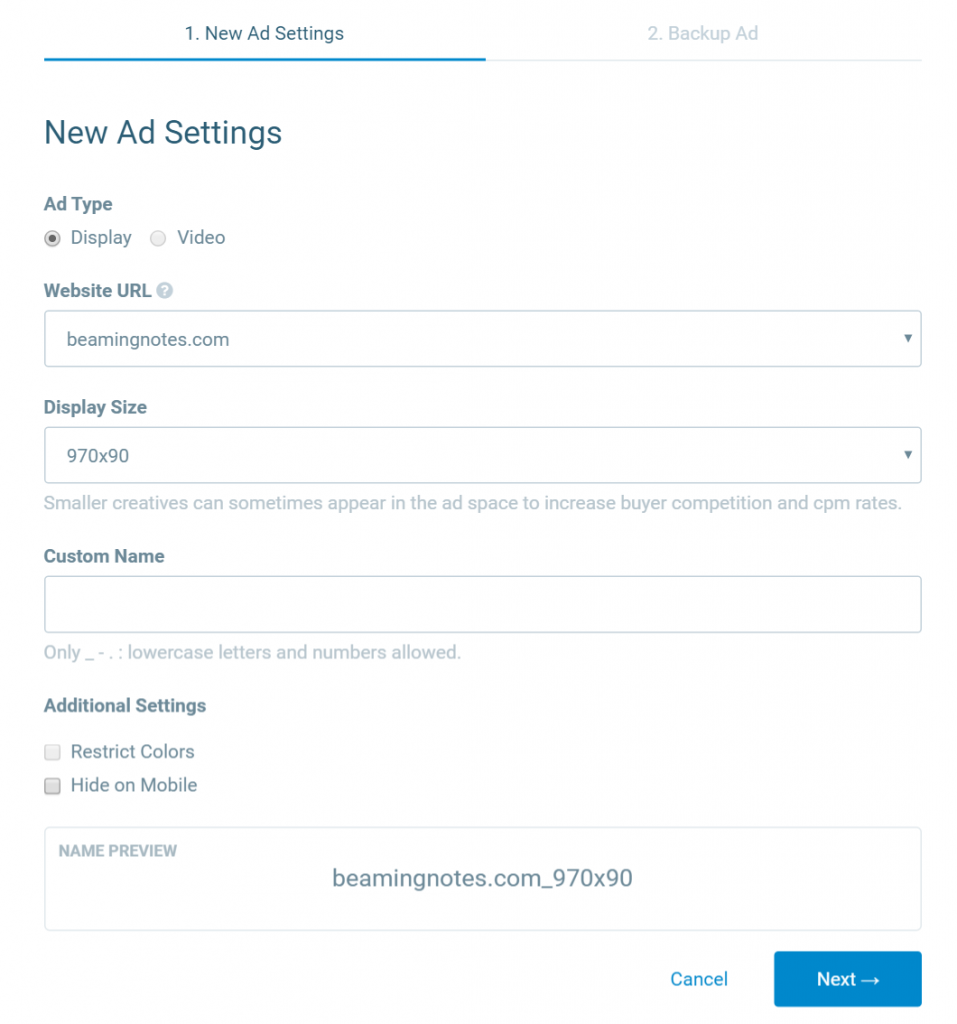 [wpsm_offerbox button_link="http://my.spoutable.com/signup/WhtbIf" button_text="Signup" title="Spoutable- Premium Native Ad Network" description="One of the top performing native ad network which can make you additional revenue. Earn high CPMs with Spoutable. Highly Recommended " thumb="http://blognife.com/wp-content/uploads/2017/01/spoutable-icon_purple-7f2509d2416f8fd14e985ff15ac5066a24115e3c312cb695692fe44514a013a7-1-1.png"]
Step 7: The ad tag has two elements. The first scripts needs to be placed in the global header of the file so that it is accessible from all locations/pages. You need to place the second script to a particular location where you want the ad unit to be visible.
Note:
Sulvo work on a price prediction algorithm and in order for the algorithm to work, the ad unit codes should be visible on the page. So if you're using any
WordPress plugin to place ads within the content
and the ads are directly not visible in the page source, Sulvo's technology won't work. So you need to keep a check on that! I have inserted the Sulvo ad
codes via
Advanced ads and Quick adsense plugin and they are working fine. You might need to check with the ad placement plugin you're currently using!
Key Things to Note while Setting up Sulvo Ad Tags
While creating a backup ad tag, you need to set the adsense ad unit RPM. Makesure you set the correct RPM. Keep in mind, sulvo will try to pay the best RPM and it is recommended you don't inflate the RPM value. (It will result in less fill rate)
You need to give 2 weeks for the price prediction model to optimize its working. However, the CPM uplift will be seen in a few hours once the ad codes are integrated.
Since Sulvo uses AdX as one of it's partners, you can place a sticky ad unit and upto 5 ads via Sulvo. However, you can only place 3 adsense backup ads. To know more about the guidelines to place sticky ads, click here.
My Performance Report- Sulvo CPM Rates
It's been just a day I have been using Sulvo and I am testing one desktop ad unit and so far the performance of the sidebar 300×600 has been good. I will update my performance report and Sulvo's CPM rates here very soon.
Update: I can now share my statistics here. I applied for Sulvo when my ad revenue was bleeding. I was making much less. Thanks to Sulvo for being the rescuer. I am yet to be paid by Sulvo, however, I am expecting a payout by the end of Sept.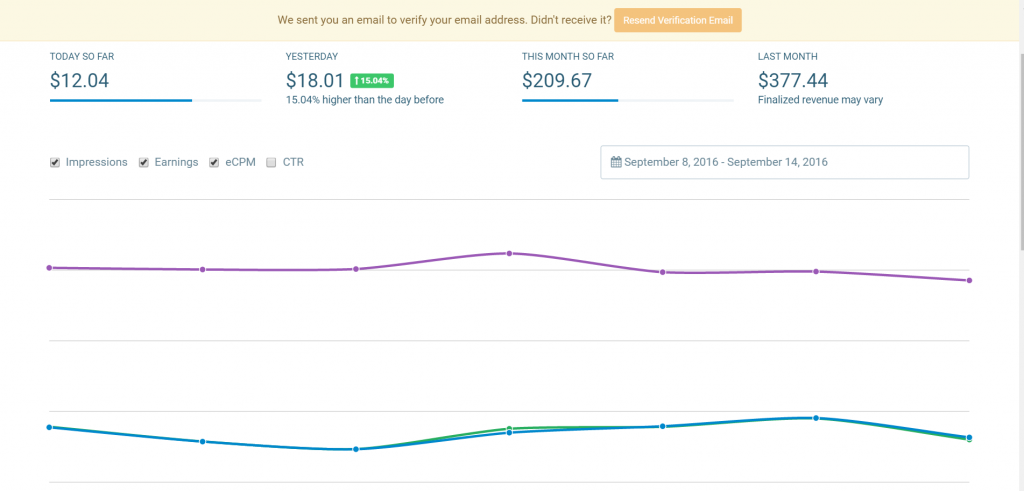 The
average CPM
for Sulvo has been more than $1. This is because Sulvo takes all my US impressions and also their price predicting algorithms helps in competiting with different DSPs in the action resulting in the delivery of the highest bid ad.
Conclusion
Sulvo has seen a a 100% quarter-over-quarter growth in 2016 so far and the new demand has pushed our limits to new heights. Backed by Google, the team of experience industry leaders aim to create something unique in the ad tech ecospace and as their mission says- we help to move dollars from the pockets of the big corporations into the hands of independent publishers. We hope Sulvo to be a key player in the ad tech industry!
[quick_offer id=1095]
Our Recommended Monetization Partners:
Looking to Increase your Ad Revenue:
Get in touch with me for a personalised consultation and increase your ad revenue across native, display, video (instream and outstream), in-app and other verticals. I also assist in customized DFP setup, header bidding, and content creation strategy. My skype id is:
ronniedey
. Feel free to connect!
I and my team research various ad networks and can help you increase your overall ad revenue; so you could rake in more greenbacks with the best monetization platforms. Tap into the power of the online publishing business with me. I am just a mail away, so reach out to me if you want to scale up your website revenue. mail: [email protected]