Ezoic is the first and one of the kind technology based certified partner of Google Adsense. It is a website improvement program that would help its publishers earn 50-200% revenue through Google Adsense by optimizing ad placements on websites automatically.

A typical Ezoic outreach mail would look like,
The reason I am writing is to let you know about Ezoic. Ezoic is the first Google AdSense certified partner headquartered in the US that helps sites increase AdSense earnings through layout improvement. Have you ever considered testing your site's layout and ad placements? I know it sounds implausible, but testing new layouts of the exact same content can increase your ad income 50-250% and significantly enhance the user experience, which is one of the most important ranking factors!
However, they ensure to visit your website and go through the content matter before mailing you to add a personal touch, which is way better than cold mails.
About Ezoic
Ezoic is a website development platform, headquartered in Camino Real, Carlsbad, California, United States. It is one of the first automated testing platform for content publishers. This technology based Google Certified Publishing Partner helps its publishers in gaining amazing results through online ad optimization and help them realize good revenue.
Ezoic is a multivariate venture-backed testing platform that improves the websites layout automatically based on user actions on desktop computers, tablet and mobiles. We offer our publishers the best tool to get scientific testing effortless and fruitful. 
Ezoic is passionate about building a better web presence. It spends its time working on a platform to help site owners transform their sites the best way possible. Ultimately publishers gain daily increase in ad earning with more traffic, more page views, more page ranks and improved user experience.
Requirements for a Publisher to Join Ezoic
Ezoic follows a technology that mediates between the website and its visitors. It takes less than 5 minutes to signup with the platform by simply filling out a registration form in its web portal. I don't see any minimum traffic requirement for a publisher which needs to be adhere to get accepted on Ezoic's platform. However, since the entire process is automated, testing with 1000s of ad combinations, I'd suggest your site to have at least 5,000-10,000 views a day to see substantial revenue uplift.
How Does it Work
Optimizing blogs are just not sufficient to maximize Adsense revenue, but publishers need to optimize their as slots, ad placements and formats to realize actual income. Ezoic is the best platform that allows its publishers to gain extra earning through ads without affecting website performance while concurrently enhancing user engagements. Most bloggers concentrate on site content, content marketing a content optimization, but fail to concentrate on ad sizes, location, format and color on the web page. This is where Ezoic takes over and it performs all ad optimization by itself and also tests it automatically to improve the click through rate of the website.

Ezoic offers ad testing platform for its publishers, using this platform a publisher is powered to test both layouts and ad positions of the website so as to maximize their revenue. Here is how it works,
It helps publishers to test thousands of ad positions on the publisher's website layout and on new layouts so help them earn double the average.
Testing new layouts helps in enhancing user experience through page visits, page views, bounce rates etc.
Improved user experiences results in improved search engine traffic and rankings.
It uses the best practice to enhance the speed of e website through its servers at 4 data centers around the world and CDN at 28 locations.
The system is non-intrusive and is completely automated, publishers do not have to do much work as Ezoic caters to all the technical aspects. If a publisher is not happy with its service, they are free to quit the service and their website would return to its normal layout, they would also get their fee refunded for the remaining time.
[wpsm_offerbox button_link="http://bit.ly/2jto2Bu" button_text="Signup" title="Media.net- High Paying Contextual Ad Network" description="Media.net is perfect for websites having US, UK and Canadian traffic. Enjoy high RPM close to AdSense.Use this  link to get a bonus of 10% on top of your regular earnings for 3 months." thumb="https://i0.wp.com/blognife.com/wp-content/uploads/2016/03/Media.net_.jpg"]
Tools which you can Use at Ezoic- 
AdTester- Utilize the advanced ad tester tool to find the best ad locations and sizes. According to Ezoic this can increase your ad revenue by 50-100%. However, if you have an already optimized ad layout, ad tester may not help you reach 50% increase, but definitely 25-30% increase which is again great! Ad Tester lets you create ad placements (each ad placement might test 100s of combinations of ad sizes, types, colours). You may create 8 ad placements and let the system test the various placements. Additionally you can set Google anchor ads and enable in-line ads (Infolinks).  The Ad tester also lets you create native ad units (vertical/horizontal) along with link units.
Layout Tester
DoubleClick AdExchange- Since this gives you access to access to a pool of premium advertisers, you can achieve a CPM uplift of 30-40%.
Ad Mediation- Link your existing ad network accounts and direct ad deals and have them all compete for your inventory.
Apart from these you can have a multiple number of apps, (mostly created if you're going to opt for layout testing)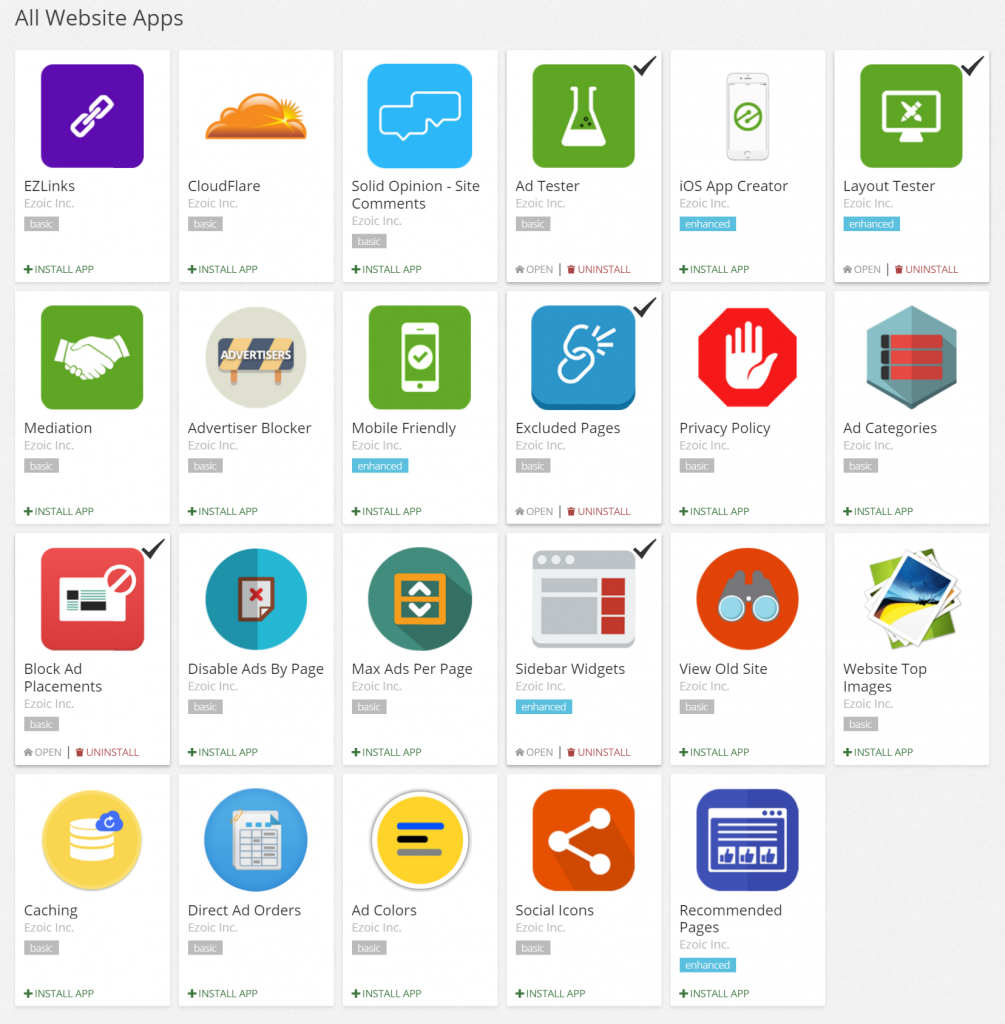 Publisher Signup Process
While it's easy to say that the signup takes less than 5 minutes, you may not get started showing ads in 5 minutes. The process requires enrolling into a few programs. During the signup process
You maybe asked to complete a link. This is to get you approved for Google ad exchange program (and gives permission for Ezoic to act on your behalf and handle ads/bids for you in the ad exchange). This is a Google form and is hosted by them.
You will be asked to join the Certified Publishing Partner Program. This program is built exclusively for AdSense partners (Previously called Google AdSense Certified Partner Program) and is highly recommended. It will help the system optimize more quickly and enable us to serve your original site with your original ad tags – which will be used as the experimental 'control'.
Also, you maybe asked to grant a google analytics access.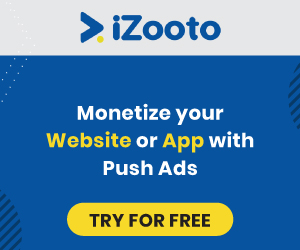 Patience is the Key with Ezoic
As a publisher, if you're looking to increase your ad revenue through optimization, remember- Patience is the key! Since the entire learning curve is data driven and depends on how much page views you can feed in to the system, the process takes sometime. It won't be overnight. If you have a daily traffic of 20,000 to 30,000, you should wait for a week for the optimization to work best for you. Typically, the system can pick up placements (and ad variations) on a typical page type once it has been fade with 150,000 page views. SO, if you've a blog that gets 5,000 views a day, you should consider testing the system for a longer time.
Setting Up Ezoic Lite
The way Ezoic lite works is you select ad units and place the Ezoic ad tags on your site. The system will then test out the different units in the various locations to see which ones improve your revenue.
Here
is an article on getting started, and
here
is one on best practices. I want to point out that the best way to use the system is to select many ad units for each location, so that the system has a lot of options to work with and test out. The system won't show more than one ad per location, so you don't need to worry about having more than one unit per location.
I would suggest you test their Ad Tester first and if you see good results, then you can try their ad layout.
Ezoic's Pricing Structure
Ezoic offers a 30-days no questions asked trail followed by a very competitive
pricing
.
Ezoic's pricing model works like this: After a 30 days of a free trial (when you keep 100% of the site's earnings), Ezoic then keeps the revenue from adding a single ad at the bottom of the page.

Our system is therefore ad supported (paid for by ads generated by the system). And because most publishers still make 50-200% more ad income (net – even after the Ezoic system keeping the revenue from a single ad), Ezoic is paying for itself and is essentially free.

There are no out-of-pocket costs, no contracts and no tie-ins of any kind. You are free to come and go as you please.  The reason we don't ask for any tie-in is because we are confident that the results will speak for themselves.  If you're unsatisfied you can leave the platform at any time. If you do not want to opt for using the ad supported version, you can opt for a fixed monthly fee as well.
Getting an ADX account
With ADX, you can run upto 5 ads on your site and have access to the premium advertisers and the whole  Ad exchange network. AdX typically allows you to earn high CPM rates. Also, the revenue share for Google ads via AdX is 80:20 and via AdSense it is 68:32.

Ezoic Lite can definitely work to improve your revenue, but it will take time just like using Ezoic full. With Ezoic Lite you can also set what percentage you want to test with as well.
[wpsm_offerbox button_link="http://my.spoutable.com/signup/WhtbIf" button_text="Signup" title="Spoutable- Premium Native Ad Network" description="One of the top performing native ad network which can make you additional revenue. Earn high CPMs with Spoutable. Highly Recommended " thumb="http://blognife.com/wp-content/uploads/2017/01/spoutable-icon_purple-7f2509d2416f8fd14e985ff15ac5066a24115e3c312cb695692fe44514a013a7-1-1.png"]
Pros
Its CDN servers help in improving the website loading speed.
It helps publishers to recover their lost revenue through its ad position testing tools.
Ezoic creates and test new page layouts so as to improve page views of its publishers.
Its website optimization techniques help in enhancing user experience.
Its Asynchronous Ad loading techniques help to improve user integration
Its automatic ad monetization and optimization techniques help its publishers earn double the average.
It offers more page views and better user experience to its publishers to drive more traffic towards the website and to improve its search rankings.
Cons
Publishers have to wait for at least 30 days to see positive results from the Ezoic ad network
By altering the site layout, there are chances of the network to make the website look clumsy.
Publishers need to pay fees after the free trial service to continue their service.
Payment Structure and Payout
Ad monetization tools of Ezoic make use of artificial intelligence to optimize the website CPMs and displays the highest paying Adsense Ads on the website. All empty boxes and blank spaces in the website are removed so as to not lose even a single impression. Thus it helps in enhancing the website Ad revenue and helps its publishers earn through its affiliate program as well. Publishers would be credited with a sale immediately when somebody starts using Ezoic on the publisher's website.
The minimum payment threshold is $20 and it accepts a number of payment methods. The Preferred payment portal is Payoneer where money gets deposited into the recipient's domestic bank account, Through PayPal, Check and through Dwolla ID.
Referral Program
Ezoic has introduced a new affiliate program for its publishers to promote the Ezoic platform among its users and get compensated for its efforts. It is possible to earn a monthly commission by referring people through publisher's blog or website. Publishers will earn 3% of their affiliates Ezoic earnings in their lifetime and they would be able to track their progress through its Tapfiliate interface. From the first minute a publisher starts using the Ezoic platform and start collecting revenue through the system, their referrer would formally be credited with the conversion and start earning the commission. There is no referral limit as well and a publisher could have as many converts as needed.
It is easy for publishers to become a part of Ezoic as they have to promote Ezoic with their testimonials, reviews and Adwords campaigns. Publishers have to include the 'referral link' at some place in their web pages. These links would carry a unique tracking ID, so as to trace back who signs up with the website. Ezoic offers text links and creative for its publishers and they only have to publish them on their page. All applications would be reviewed and approved by its team before partnering with them. All publishers are auto approved as affiliates.
Conclusion
Ezoic is the first certified partner of Google Adsense headquartered in the United States that helps websites increase their Adsense earnings with the help of layout improvements. It helps publishers to test their websites layouts and ad placements so as to increase their ad income up to 50 – 250%. Publishers are also able to significantly enhance their user experience and rank high online to generate additional revenue.
Recommended
[wpsm_offerbox button_link="https://wpadvancedads.com/?ref=ronniedey" button_text="Recommended" title="Advanced Ads- Must have WordPress Plugin" description="Use Advanced ads WordPress plugin to increase your ad revenue by showing interstitial ads, floating ads, affiliate ads, sticky ads and target specific locations etc " thumb="http://blognife.com/wp-content/uploads/2016/08/sticky-ads-placements-1-1.png"]
Our Recommended Monetization Partners:
Looking to Increase your Ad Revenue:
Get in touch with me for a personalised consultation and increase your ad revenue across native, display, video (instream and outstream), in-app and other verticals. I also assist in customized DFP setup, header bidding, and content creation strategy. My skype id is:
ronniedey
. Feel free to connect!
I and my team research various ad networks and can help you increase your overall ad revenue; so you could rake in more greenbacks with the best monetization platforms. Tap into the power of the online publishing business with me. I am just a mail away, so reach out to me if you want to scale up your website revenue. mail: [email protected]