Last updated on July 29th, 2022 at 06:16 pm
Content. ad is a native advertising network that displays promoted content of other websites, similar to Outbrain and Taboola, but does not demand a million impressions like them. It pays its publishers on a CPM basis and Cost per click basis. Take a look at this detailed Content. ad review below.
Table of Contents:: Summary
Hide
Publishergrowth: The Revenue Acceleration Platform for Publishers
Blognife is elated to announce the launch of Publisher Growth- a community of publishers that helps you actively accelerate your revenue. This platform assists publishers in growing their traffic and revenue. As publishers, you can share and read reviews of ad networks and hosting companies. You can connect with other publishers to build links for growth and monetization hacks and more. This platform will help you stay up to date with the advertising and publisher ecosystem.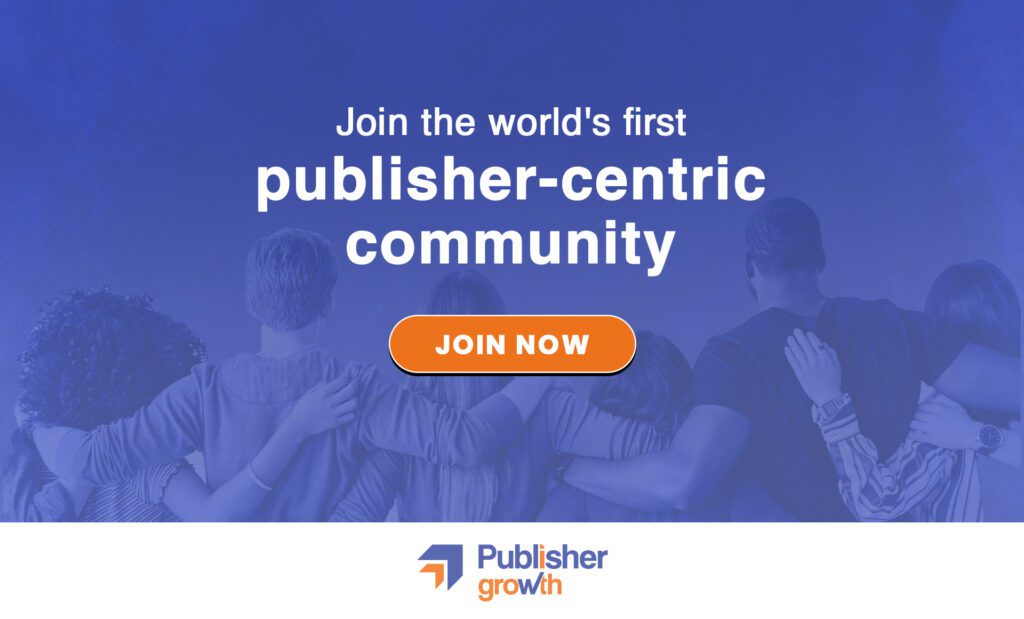 Features:
List of 200+ ad networks to monetize your site across all verticals.
Personalized site audit upon signing up on the platform that can increase your revenue.
Find all upcoming adtech conferences, webinars, and events in one place.
Stay informed with the latest adtech news across the globe.
Content.ad – About Sponsored Content Platform
Content. ad was the first company to offer a successful content marketing service to its online advertisers and has strong roots in direct marketing. It is one of the largest native sponsored content networks in the world that helps advertisers channel their business costs on creative ad placements to realize a positive return on investments.
Content. ad is one of the largest and most trusted sources of online sales and traffic for a huge lot of advertisers and their success secret lies behind their technology and people. They deliver the highest earnings in the industry for their publishers and continuously offer them cutting-edge features and tools to make the entire process of ad integration a cakewalk.  They have been in the business of content marketing for about ten years now and they combine technology with their knowledge and expertise to help their publishers generate revenue through their content.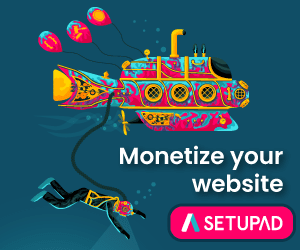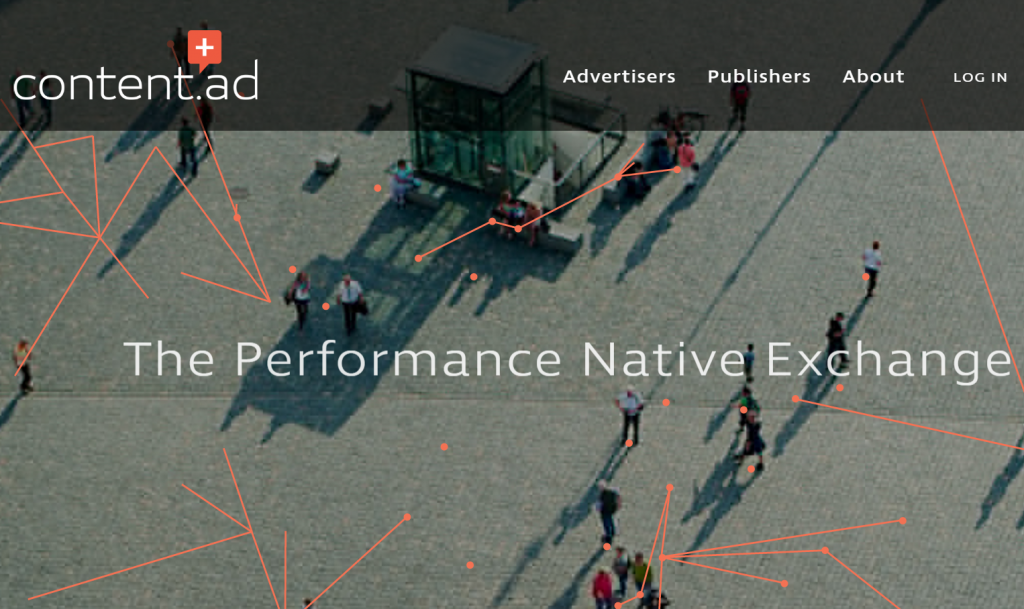 Content. ad Publisher Requirements: Minimum Traffic and more
The content Ads content marketing network allows its publishers to customize their native content so as to match the sensibilities of the website. It offers its publishers a 100% fill rate and the best revenue rates in the industry as it conducts its business with a deep pool of advertisers. Its ads are completely responsive on tablets, mobiles, and desktops, and could adapt automatically to the web pages. Its eminent customer support team offers personalized implementation support for its publishers.
It reviews every website before approving it and usually takes two business days to make its approval/reject decision. Once approved, publishers have to add the JS code or HTML code on their website to show recommendations. WordPress websites could access the network through plugins and either the plugin or widget would slow down the publisher's website. Content recommendations start to work instantly once the code has been installed successfully, but content ads take their time to study the website completely and to show its relevant recommendations, however, internal links are being posted meantime.
Publishers can earn a lot of money through its modern optimization algorithm, content ads have the best CPM in the industry and the company is generous in its revenue sharing algorithm to ensure the best profits for its publishers. Its ad sizes are flexible, and content.ad post ads of different sizes and styles so as to be both website and device compatible. Being a large ad network, it is exposed to a big pool of advertisers to quantify the content with relevant ads and the need to target ads based on location is also minimized. Content ads believe that the website owner is free to do whatever one wants to do with the website and does not persuade the publisher to use other ad networks to monetize the site.
[wpsm_offerbox button_link="http://bit.ly/2jto2Bu" button_text="Signup" title="Media.net- High Paying Contextual Ad Network" description="Media.net is perfect for websites having US, UK and Canadian traffic. Enjoy high RPM close to AdSense.Use this  link to get a bonus of 10% on top of your regular earnings for 3 months." thumb="https://i0.wp.com/blognife.com/wp-content/uploads/2016/03/Media.net_.jpg"]
Content. ad: How Does it Work
Content. ad integrates branded content into the publisher's environment seamlessly to enhance website performance, revenue, and user experience for both the publisher and the advertiser. It helps in promoting content on every device, from anywhere in the world with a 100% fill rate.  Its high-performing native ad exchange platform delivers millions of clicks to thousands of advertisers all over the world, and easily creates campaigns in the ad exchange. It is quick to use, flexible on different devices, and specific as it targets websites by Geolocation and operating system.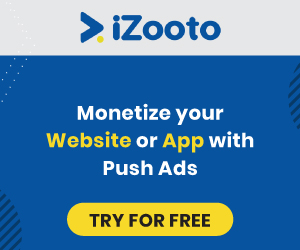 Its rich technology adjusts bids by traffic source with the help of powerful conversion-driven optimization tools and prompt reporting services. A dedicated support team and a personalized account management system are ready and eager to help publishers at every step of the way. Content ad ensures real and consumer-driven clicks on the website that is being guaranteed by the state-of-the-art filtering system with performance and behavior metrics. The network also helps its publishers create quality content to educate and convert its customers and scale up their campaigns. It's quality and sponsored content help in educating the consumer on a product/service and direct high converting traffic to the landing pages. It helps in optimizing the best performing copy of creative assets to every traffic source at major native platforms such as Google, Facebook, and Yahoo. The Content. ad review will be incomplete without discussing the pros and cons, so let's take a look at them.
Content. ad Review: Pros
Its content delivery system offers a 100% fill rate for publisher websites
It carries high eCPMs rates and updates recommendations automatically with new content.
It is easy to get installed, fits well on all gadgets, and offers responsive and clean recommendations for its publishers.
Offers high-quality sponsored content with approved material and topics.
It offers its publishers complete control over the ads. They are free to filter these ads based on rating and categories
It works absolutely fine with other ad networks such as Media.net and Google AdSense.
Publishers could customize the appearance of the widget and could use two recommendation widgets on their websites and tests them to implement the most revenue-fetching one.
Content.ad Review: Cons
Some publishers experience fewer earnings as revenue depends on ad placements, traffic, and widget styles.
Audiences could find the recommendations worthless if they are not relevant to the content.
Content ads do not have an affiliate program.
Content.ad: Payment Structure and Payout
Content.ad pays its publishers based on both costs per click and cost per million impressions basis, payments (Content. ad payout) are made on a Net 30 basis that is within 30 days after the last day of the billing cycle. The minimum payment threshold is $ 50. Its automated optimization techniques help to maintain high CPM rates to enhance the revenue-building potential of its publishers. Its payments are fast and reliable and are made through different payment portals such as PayPal, ACH or direct depots for US publishers, eCheck/ Global ACH for non-US publishers, Wire Transfer and Check. To transfer money via Wire Transfer, it takes a fee of 15 for US publishers and $ 20 for non-US publishers. Thus we see, Content.ad provides quite a number of payment options for publishers.
Content. ad: CPM and CPC Rates for Content Ad
While the CPC for native ads hugely varies based on the traffic and conversions, one can expect the Content.ad CPC to be around 3 cents to 6 cents with Content.ad. Based on the page CTR, the Content.ad  RPM can be anywhere around $0.5-$2 or even more in some cases.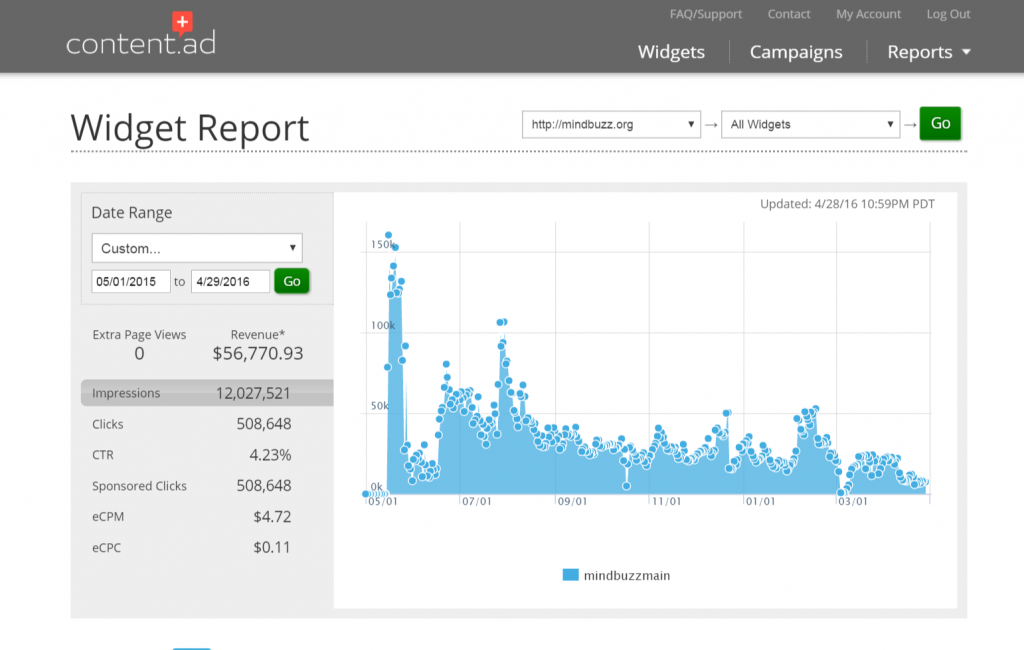 Content.ad: Publisher Traffic Requirement
As such there isn't a traffic requirement for Content.ad, however, they don't accept all websites. Typically, their moderation team selects websites based on the advertiser demand and if your niche doesn't have relevant advertisers they might deny your application.
Conclusion
Online marketing is a highly competitive industry where people spend a lot of money to foresee no results. Content.ad helps to connect the right advertiser with the right publishers. They help advertisers understand how they should spend on the campaign and help them determine the right mix to realize a positive return on investment. The network is legitimate, takes interest in its publisher's revenue-building potential as well through rich reporting and publisher controls, and also pays them on time. We hope this Content.ad review for 2021 has been helpful to you.
Recommended Native ad networks
Adnow, Spoutable (this will let you make additional revenue since their native ads are triggered on exit intent)
Read our Top 20 Native Ad Networks List
Our Recommended Tools for Publishers:
Looking to Increase your Ad Revenue:
Get in touch with me for a personalised consultation and increase your ad revenue across native, display, video (instream and outstream), in-app and other verticals. I also assist in customized DFP setup, header bidding, and content creation strategy. My skype id is:
ronniedey
. Feel free to connect!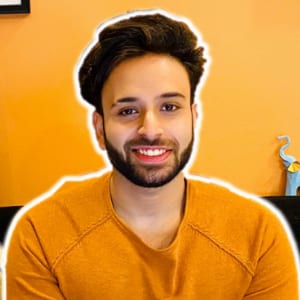 I and my team research various ad networks and can help you increase your overall ad revenue; so you could rake in more greenbacks with the best monetization platforms. Tap into the power of the online publishing business with me. I am just a mail away, so reach out to me if you want to scale up your website revenue. mail: [email protected]