Native advertising is a form of paid media where the ad experience follows the natural form and function of the user experience in which it is placed.  There are many native ad networks out there which give out varying rates of revenue. As a user, it may be difficult for you to find out the right ad network to monetize your website to its full potential. AdSense is a program run by Google that allows publishers in the Google Network of content sites to serve automatic text, image, video, or interactive media advertisements, that are targeted to site content and audience. These advertisements are administered, sorted, and maintained by Google. The Content.ad network pays publishers to display high quality promoted content on their websites, across the web and on mobile applications.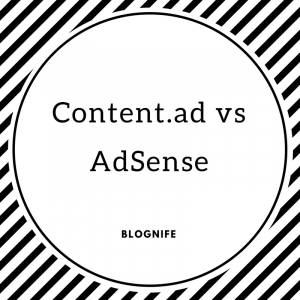 In this article, we are doing a comparative study of two native ad networks –  Content.ad vs AdSense. We will be looking at their individual parameters like minimum traffic requirement, CPM rates, payments and earnings report and help you to figure out the right fit for your website.
Content.ad vs AdSense : Minimum Traffic Requirement
Content.ad has a policy of reviewing every website before approving it and the entire process takes around two business days. In order to get the approval, your website needs to have a good volume of European and tier 1 traffic. The site also needs to have around 30,000 monthly page views. Once the website gets approved, publishers have to integrate the JS code or HTML code. There are plugins and widgets available for WordPress websites. If the traffic is from Europe, then there is a possibility of getting approval with lower traffic metrics.
[wpsm_offerbox button_link="https://adbuff.com/amp/index.php?rp=2921″ button_text="Signup" title="AdBuff- High Paying CPM Network" description="AdBuff is a high paying CPM network if you've majority traffic from US, UK and Canada" thumb="http://blognife.com/wp-content/uploads/2017/01/Adbuff-AdSense-Alternative-Ad-Network-CPM-CPC-Ads-1-1-1.png"]
AdSense does not present any condition for a minimum traffic requirement. However substantial content related to the advertisements need to be frequently posted on the website. It only works on websites with content written in the languages supported by Google.
Content.ad vs AdSense : Revenue Sharing Percentage
In any given calendar month, 60% of all gross revenue received by Content.ad is given to the publishers. The revenue is obtained from the advertisements displayed on the Publisher websites via the Content.ad Network and the Content.ad Widget. The rest 40% is retained by the network.
If publishers use AdSense to display content advertisements, they receive 68% of the revenue recognized by Google in connection with its service. The share is 51% if the network is used for search. The rest is kept by Google. The percentage of share does not vary with the geographic location and does not get averaged between publishers.
Content.ad vs AdSense : Ad Quality
Content.ad hosts low cost CPC ads which direct the user to traffic arbitrage sites. Most of their advertisers generate from Europe. Therefore, their global fill varies accordingly with medium quality advertisements.
Google has a global network which helps AdSense to reach everywhere. This helps the publishers to monetize their ad revenue with high quality advertisements.
Content.ad vs AdSense : Publisher List
Content.ad is chosen by top publishers around the world like Reader's Digest, photobucket, 123 Greetings and abc News Network.
AdSense is used by renowned international marketers like Mashable, HubPages, Times Network and eBay among others.
Content.ad vs AdSense : CPM and RPM Rates
The CPM for native ads depends on the traffic and conversions. Content.ad has a CPC of around 3 to 6 cents. The RPM offered is in the range of 5 cents to USD 2. It has proven to be a source of steady earnings to its publishers with a good volume of tier one traffic. The platform works well for all types of niche websites because they have a good advertiser base in that segment. It offers a full 100% fill rate to its publishers.
Google AdSense has a higher CPM rate of USD 1 to 3. The average RPM offered for broad niches is about USD 5 to 10 while it increases to about USD 100 for competitive niches.
Content.ad vs AdSense : Payments and Earnings Report
Content.ad provides a good profit for publishers if they have niche websites with EU traffic. They provide payment on a monthly basis after USD 50 has been earned. Their revenue share is beneficial for publishers as well as advertisers. They pay based on cost per clicks as well as cost per million impressions basis. The publishers get the payment every 30 days. The different portals through which payment is done are PayPal, ACH or direct depots for publishers based in the USA, eCheck/Global ACH for non-USA based publishers. Wire Transfer is also supported for which the company charges a fee of USD 15 for US publishers and USD 20 for non-US publishers.
AdSense also follows a monthly payment cycle.  The total earnings get estimated over the course of a month. At the beginning of the next month, the earnings get finalized and are posted to the balance. The minimum payout threshold for AdSense is USD 10. There are various payment options available which include transfer through check, EFT, Western Union, and Rapida.
Verdict
Native advertising is the newest form of marketing. It has proven its importance in this era where digitization is everywhere. In this comparison of Content.ad vs AdSense, we have seen that both have a good chance of consolidating their market share. Content.ad has the potential of good performance but it works best for EU traffic. On the other hand, AdSense has a global approach and therefore will provide faster returns.