Last updated on April 26th, 2021 at 04:46 pm
Google AdSense is one of the oldest and largest running advertising networks still in existence. The performance and eCPMs of AdSense ads are tough to beat, and the initial setup is also quite simple. With a lot of changes happening in the ad tech world, AdSense continues to maintain its pace and innovate at the same time. In this article, we look at the Google AdSense CPM Rates for 2018, along with the average CPM rates and earning model of the network. Over the years, we have seen many ad units coming up like in-article ads, in-feed ads, auto ads, and more. Here, we tried to discuss the CPM rates for these units to see if they are the right fit for your website or not.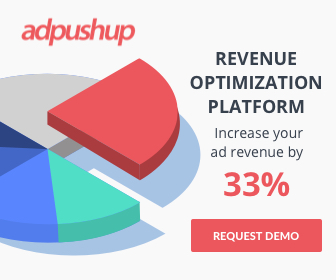 Brief of the Company
Adsense is a program run by Google which allows publishers in the Google Network to display automatic text, image, video, or interactive media advertisements. These are targeted according to the site content and audience. All the ads are administered by Google. Revenues get generated on a per-click or per-impression basis. The platform is popular with both advertisers and publishers because of its performance. Over 14 million websites use AdSense. AdSense has several ad types and formats, and extensive reporting to help publishers increase their overall ad revenue from their existing ad inventory.
AdSense Ad Unit Types
Google uses its technology to serve advertisements based on the content of the website, the user's geographical location, and a few other factors. There is no minimum traffic required to become a publisher. The network supports the display and video advertising types. Display ad units of the following sizes are available: 300×250, 250×250, 336×280, 120×600, 160×600, 300×600. Additional to display ad units, AdSense has link ad units, matched content ad units, in-article ad units, and in-feed ad units. 
To create a new display ad unit in AdSense, simply follow the steps below.
Click the ""My Ads"" tab in the sidebar.

Click on ""Content"" and then click on ""+ New Ad Unit"".

You can then name and customize the new ad unit's size, style, custom channel (for tracking purposes), and more.

Finally, simply copy and paste the HTML code into your web page.
Earlier Google used to limit the number of ads to three ads per page, but the policy has been removed now. Now, Adsense publishers can place an unlimited amount of AdSense ads on a page but need to ensure that the text-ad density is not above the roof. The advertisements get implemented using HTML and JavaScript technology. Third-party WordPress plugins are available to further customize the placement of the Ads.
AdSense Earning Model
Publishers earn using a Cost-Per-Click (CPC) model, that is, based on the number of clicks on the advertisement from the traffic of the website. If the CPC is USD 5, it means that every time someone clicks on the ad, the advertiser pays Google that amount of money. CPC varies based on the popularity of specific keywords and other factors. Google charges the advertiser and splits the revenue obtained with the publisher. The percentage shared is 68% if AdSense is used to display content ads while the share drops down to 51% if it is used for a search. Many website owners who want to increase their revenue with AdSense usually target words which have a higher CPC.
Average Display CPM Rates 2018
CPM stands for ""cost per 1000 impressions"". Advertisers who run CPM ads set their desired prices per 1000 ads served and pay each time their ad appears. Publishers earn revenue each time a CPM ad gets served on their page and viewed by a user. CPM advertisements compete against CPC ads in the AdSense ad auction. The network displays whichever ad is expected to earn more revenue for the publisher. The fill rate is 100%.
AdSense offers high CPM rates which are in the range of USD 1 to 3. For specific niches, the average RPM lies in between USD 5 to 10. For competitive niches which have a higher CPC, overall page RPM can go as high as USD 50 and more. Now, let us take a look at Google AdSense CPM rates for 2017. 
Google AdSense CPM Rates for 2018: Overview
If a publisher is running a forum, social network or directory of non-business information, chances are that the AdSense income, in all probability, will not be more than USD 3 for 1000 page impressions. This is usually due to either ad blindness of returning visitors, or the information isn't connected with products and won't attract visitors. The average Google AdSense RPM rate for unspecific and generic content is the range of 25 cents to USD 3. Content-rich sites like blogs perform much better with AdSense. A high frequency of new visitors and ad placement close to the main content leads to decent RPM of USD 5 to 10. However, if the website is product related, like a blog about products and services, review products, or a business directory, the RPM is much more than USD 10. Also, the overall CPM of AdSense depends on the traffic geography along with the niche of the website. If your visitors are coming from the desktop, chances are higher that you are going to make more money. If they are coming from mobile, the revenue can drop a little. Let us now take a look at AdSense CPM rates for various ad formats.
AdSense CPM Rates for Display Ads 2018
AdSense display ads are the ones that will make you maximum revenue. The CPM rates can vary based on your site's traffic and the click-throughs. However, the impression CPM ranges from $0.30 to $3. The ad sizes which generates the maximum CPMs are 300×600, 336×280, 300×250 and 160×600. Make sure you're using these ad formats. We suggest publishers using 300×250 ad units on mobile devices. Publishers can also use 300×600 ad size on mobile. If you're looking for a premium plugin with great customization, I would suggest you try WP Advanced Ads WordPress plugin.
Here in the screenshot attached, you can see the impression CPM is around $0.20 because the majority of the traffic is from India and it served as a fallback network.
AdSense CPM Rates for Link Ads
AdSense link ads are those which are displayed as text links. They should not be confused with display-text ads. They are a separate ad unit type and works well for specific niches like APK, Andriod, Shopping niches and others.
We have seen link units to perform quite well in specific niches. Some of the niches like Andriod can give you as high as $10 CPM from link units if you've US traffic. However, a lot depends on your user type for link units. They don't perform well for all niches and websites, but if you're not using them, I would highly recommend you to test them out.
AdSense CPM Rates for Matched Content Ads
Matched content ads are the ones which are shown along with related articles widget. The matched content widget can increase your website traffic and additionally boost your overall revenue. While, this unit can't help you improve your income a lot, but still works for high CPC based sites. Matched content widget especially increases the engagement rate on your website and is aimed at increasing your earnings per visitor.
AdSense CPM Rates for In-Article Ads
In-article ads are additional ad unit formats which are responsive in nature and blend with the website look to provide a native experience to the users. These ads are directly served through Adwords and Doubleclick and come as a part of the growing family of native ad formats. Publishers can use these ad formats, besides, to display banner ads to further increase their ad revenue. If you're not using these ad formats, I highly recommend you to it.
In-article ads are known to increase the overall revenue of your site by more than 30%. The responsive and native nature of the in-article ad can further enhance your global revenue potential. Using a mix of display and in-article ads is the way to go forward to maximizing your ad revenue from Google AdSense in 2018.
AdSense CPM Rates for Page-Level Ads
There are two types of page-level ads- Anchor ads and Vignette ads. Overall, the revenue from page-level ads won't be that much, however, still, they can be an additional component of your overall income from AdSense. The CPM rates for page-level ads vary based on the click-through rates. The AdSense CPM rates for page-level ads also vary based on the niche of the website. Here, take a look at the page-level ad reporting. As you can see, the overall revenue is extremely low in comparison to the monthly income of the website. However, the CPM rate is around $0.71 majorly because vignette ads tend to have higher CPC.
AdSense Payment Proof and Earnings Report
AdSense has a monthly payment cycle. The estimated earnings are accrued over a month, and then at the beginning of the following month, the profits are finalized and posted to the balance. The minimum payout threshold is USD 100. This means that the publisher needs to have at least that amount of money in the AdSense account, before being allowed to make a withdrawal. The various payment methods available include Check, EFT, Western Union, and Rapida.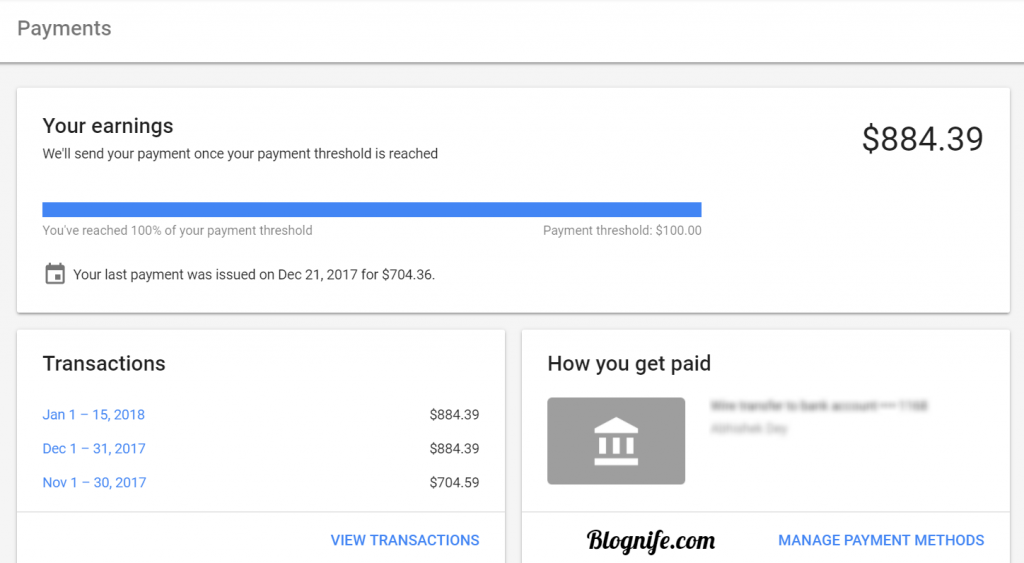 One of the significant advantages and highlights of Google AdSense is their reporting system. Unlike some networks which report with a lag of 24 hours or more, AdSense delivers results in real-time. The dashboard offers publishers the ability to break down their earnings by site, ad unit, and day, among other various metrics. There are also some advanced features which help publishers analyze results even further. Payments are generally paid by 25th of the following month for earnings accrued. 
Signup with our Partner: AdPushup
Looking to bump up your ad earnings this year? Our partner AdPushup can help you increase your ad revenue using ad layout optimization tool, header bidding, high-yield ad formats, and global demand from partners like Google AdX, AppNexus, Rubicon, Criteo, and others. Just select the ad units you want to run, generate the ad codes, and they'll start serving ads from the best brands, advertisers, and campaigns on your website. Sign up here to request a demo.
[quick_offer id=2830]
SmartyAds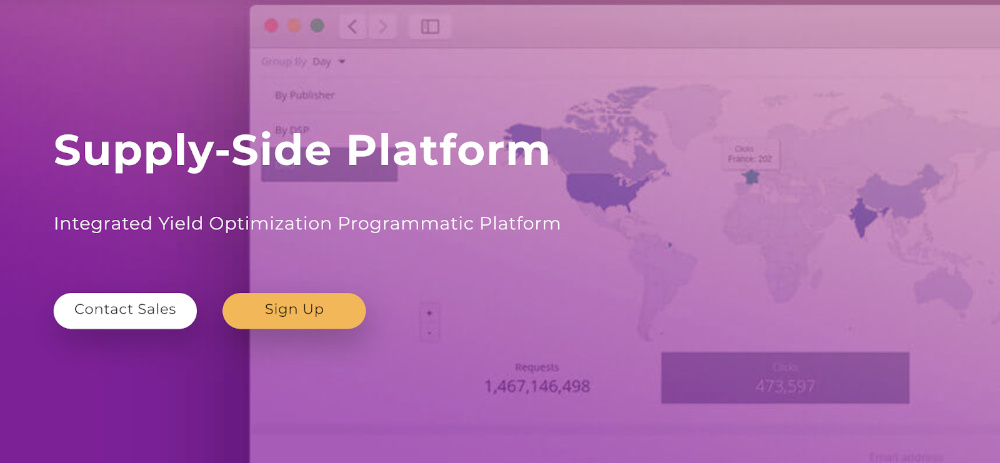 Also, SmartyAds SSP is an affordable alternative to Google AdSense that offers web and mobile publishers an opportunity to maximize their yields with server-to-server header-bidding solutions that substantially maximize Fill Rate and eCPM. With lightweight SDK, interactive ad formats (rewarded, interstitials, native, video, banners), can be rendered on mobiles seamlessly and without latency. Additionally, mobile publishers obtain access to cutting-edge mobile mediation solution. Applying campaign restrictions, publishers can serve impressions according to their own preferences: configure the floor prices, white and blacklists, original position. With SmartyAds SSP publishers can access the best RTB and private marketplace deals connecting to top demand partners worldwide (ad networks, ad exchanges, DSPs.) Monetize all types of inventory through an omnichannel platform that features CPM rates varying from $10,5 for top-tier countries and fill rate close to 100%.
Conclusion
Google's AdSense network is one of the most popular advertising networks for publishers who want to monetize their sites. The network offers a large number of advertisers. The technology can rotate through a wide variety of ad types until it finds a specific category of ads that perform well on the website. Thus, Google AdSense RPM rate can deliver a revenue per thousand page views metric which exceeds the vast majority of publishers. If you've a good volume of US traffic, we recommend you try Media.net, which is one of the best AdSense alternatives for publishers. Hope this article on AdSense CPM  rates for 2017 gives you a detailed overview of the ad rates and gives you the confidence to explore the various ad formats.
Editor's Pick: Tools Recommended by Blognife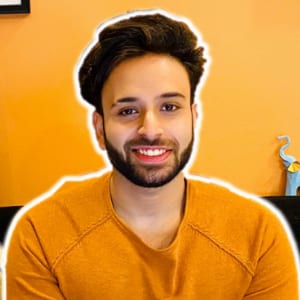 I and my team research various ad networks and can help you increase your overall ad revenue; so you could rake in more greenbacks with the best monetization platforms. Tap into the power of the online publishing business with me. I am just a mail away, so reach out to me if you want to scale up your website revenue. mail: [email protected]