DoubleClick for Publishers (DFP), formerly called Google Dart, is an ad server that helps publishers serve impressions to their websites. It also provides a variety of built-in features for managing the sales process of online ads using a publisher's dedicated sales team. Should a publisher not sell out all their available ad inventory, it can choose to run either other ad networks or AdSense ads as remnant inventory in DoubleClick for Publishers. Also, Ad Exchange can be linked to directly compete with other ad networks.
In this tutorial, we are going to learn how we can link your AdSense account with DFP. For those who are completely new to DFP, let me tell you that DFP is an ad serving platform from Google which is free to use till 90 million impressions and is named as DFP Small Business.
Let's take a closer look as how to link your AdSense Account with DFP.
How to Link your AdSense Account with DFP?
Firstly, you need to be logged in to your AdSense account. Now, use the following DFP link to sign in to your DFP account.
Once logged in, you're in the Doubleclick for Publishers Dashboard Screen. Go ahead and click on the gear icon which will take you to the Admin tab on the top right. Now click on "Global Settings" tab on the top left and scroll down to Link accounts. Now, you need to click on "All Network Settings"".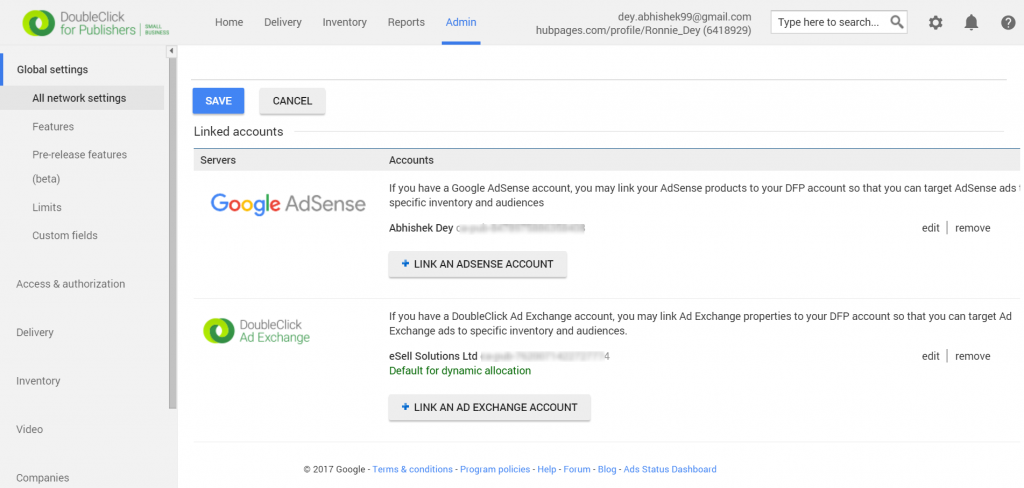 Here, click on "Link an AdSense account" button. A pop-up box appears. Add the AdSense property code ca-pub-xxxxxxxx where it is asking for the web property code.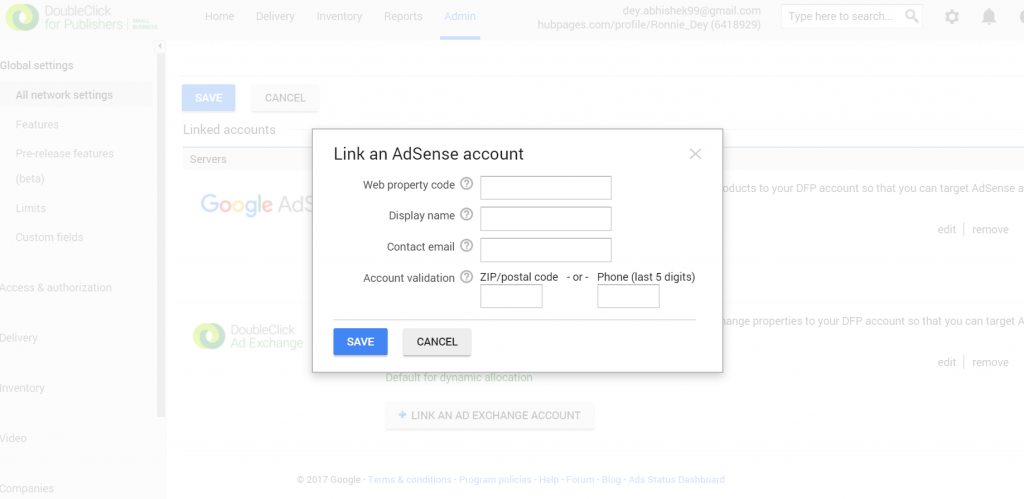 As you can see here, you need to provide the Display name which is an alias to be shown in DFP. The contact email id and the pin code would be similar to that of your AdSense account. Once you've filled the necessary details, your AdSense account will be linked to the DFP account.
DFP is crucial for publishers who want to monetize their ad revenue and have in-house or direct advertiser relationships. Even, publishers can integrate a number of ad networks to run in parallel with DFP to further optimize their ad revenue. To do so, you need to connect both, your AdSense account and your Ad Exchange account.