Earnify is a leading programmatic native advertising platform that help advertisers and marketers promote their products across a network of premium publisher sites via OpenRTB. The network currently hosts more than 800 active advertisers and has over 9000 campaigns running. According to Earnify, last month it has served 372 Billion bid request across its network of publisher sites. From a publisher point of view, Earnify is one of the best native ad network if you've a niche that works well with its campaigns and advertiser base. It is said to perform better that AdSense for certain publishers mainly due to the niche of their websites. Earnify runs on a cost per click model with the soul of a CPA. This means that publishers will be paid on cost per click and the CPC value will only continue to remain high if the clicks/visitors from the publisher site are actually converting for the advertiser. If not, then the CPC would gradually decrease dramatically, leading to low overall earnings for publishers. In this article we are going to discuss Earnify CPM rates and see if it is a good fit for your blog. 
Earnify for Publishers
As a publisher you can use Earnify to increase your native advertising revenue. The network is known to be one of the strongest in Europe with a number of advertisers completing for premium traffic. Thus you can make good revenue from Earnify if your website is on product related topics. Also, their base of advertisers is gradually increasing for Asian traffic and thus we recommend Earnify even if you have Asian traffic.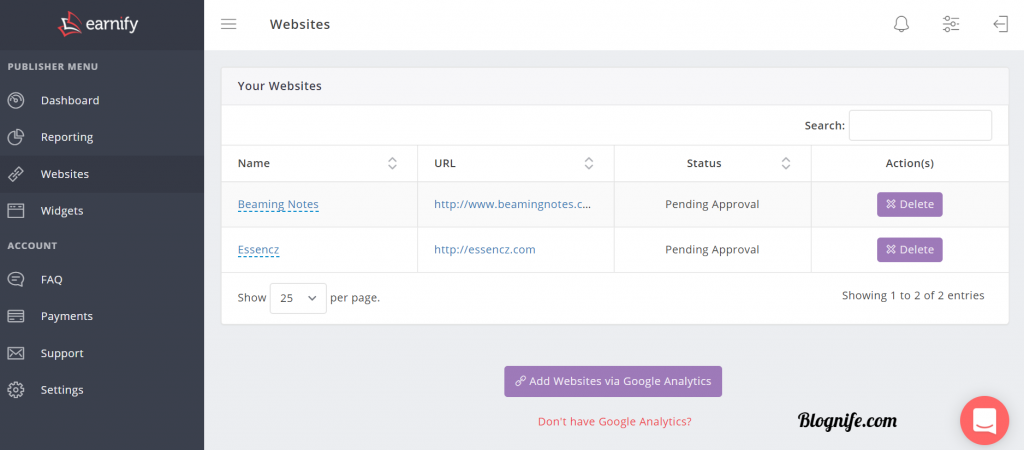 If you have good volume of traffic, it is always advised that you get in touch with their account manager or support executive and get the best campaigns from them at premium rates. Although this is unlikely for normal webmasters, but if you have some niche traffic that can convert well for them, you are good to go.  
Benefits for Publishers on Joining Earnify
Publishers are benefited with the following once they join Earnify native ad network.
Consistent high fill rates across EU and tier one traffic along with good fill for Asian traffic.

Attractive CPM rates across all geography and high converting traffic.

Enjoy scheduled payouts every month.

Dedicated support and account manager who can get in touch with you to discuss things further.
Earnify Dashboard Overview
We always suggest you try new ad networks to see the scope and potential of your traffic. You be earning a CPC of 3 cents with one ad network while switching to another might give you a CPC of 6 cents. That is almost double of your overall earnings. Since it is very difficult to guess which network works well because everything comes down to campaigns and converting traffic in the ad tech world, and thus, constant optimization and testing is the way forward for publishers and website owners.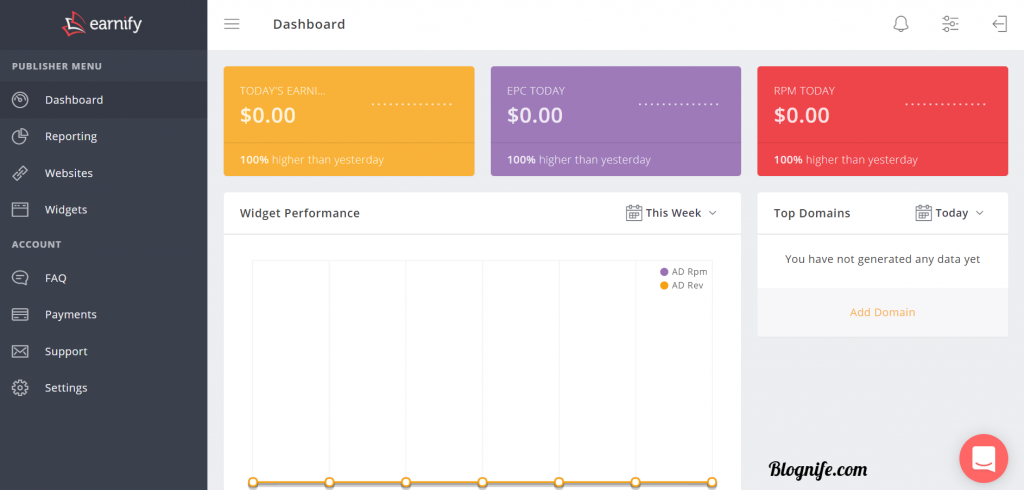 Earnify Dashboard
Since Earnify is a reputable native ad network, lets go ahead and sign up with this ad network. Go to Earnify using this link and you'll get 5% additional of your regular earnify earnings. Now, click on the register button on the top and fill the following details. You can either opt as a publisher & advertiser or choose "I want to monetize my site" option and signup with Earnify. You will be receiving a confirmation and an activation mail after this and will be prompted to login to their dashboard. Once logged in, on the left sidebar, you can see the publisher menu. Here is a screenshot attached to give you an idea of Earnify's dashboard. Now, before we go for Earnify CPM rates, let us take a look at the ad formats offered by Earnify. 
Earnify Ad Formats
Earnify provides two ad formats to its publishers- native widget ad units, exit overlay units. The exit overlay units runs on user intent and gets displayed when an user happens to exit your browser. These high impact ad formats can perform really well if you've high converting traffic on your website.
Earnify Publisher Requirements
Publishers who are looking to place Earnify widget on their website needs to have content which is family friendly and advertiser complaint. You need to have at least 500,000 page views per month to be eligible to run Earnify widget ads. This is the minimum traffic requirement necessary for publishers to get started with Earnify. Additionally, Earnify can reject your website if it contains the following.
  sites with 5+ banners and pops on a single page

  Adult, pornographic content

  Alcohol

  Adware/Malware

  Violence

  Hate speech, offensive language

  Illegal downloads (piracy)

  Illegal drugs

  Anything illegal activities whatsoever
Also, you should be the owner of the website or have written permission to represent the website on behalf of the publisher. Now, time to take a look at Earnify CPM rates 🙂
Earnify CPM Rates 2018
The CPM rates offered by Earnify are competitive and matches with industry giants. It is said to beat AdSense on certain niches. Earnify can offer you high CPM rates on product centric blogs with primary traffic coming from Europe and parts of America.
The CPM rates with Earnify will not be consistent but most like to be good. Since the revenue comes from conversions, you will see erratic CPM rates. On some days, the CPM rates can be quite high, and on other days, the CPM rates can be jaw dropping. With Earnify, you should take a look at the overall CPM rate which is a good parameter to review. I would suggest you stick with Earnify for at least a weeks time to see how your Earnify widget is performing.
According to publisher feedbacks, Earnify can make almost 40% of what adsense is making for your website but again they work on CPA mode and not on CPC mode. Thus, you will only be getting paid if your traffic is able to bring out conversions for them.
Publishers have reported that the first few days with Earnify is good any gradually the rates go down and the learning curve will slowly optimize itself based on your traffic. You can expect the Earnify widget CPM to be anywhere around USD 1-3. So, if you're running 2 Earnify widgets per website, you can make anywhere around USD 2-6. The rates will vary based on the niche, traffic, and conversions. Since it is a CPA based network, making an exact guess would be difficult. There will be sites that are earning anywhere around 30 cents while there will be sites which are earning way above $5 in page CPM. It's all comes down to testing your traffic and optimizing it for high CTR and conversions. We are currently testing Earnify on one of our blogs and should be coming up with our Earnify CPM rates soon! Do check back this section after sometime!
Conclusion
We recommend Earnify to publishers who have a good volume of US, UK, EU, and Canadian traffic. If your site is not on an AdSense approved niche, or if your website is rejected by AdSense, Earnify stands as a good alternative to monetize your traffic and gain good revenue. Well, a lot depends on niche when it comes to Earnify, so you should definitely check them out if your site is having 500,000 page views a more. I would like to mention that you need to have google analytics installed on your website and sites need to be added via Google Analytics for approval process. Enjoy Earnify's high CPM rates and let us know how this network performed for you. Signup using the link to get a bonus of 5% above your regular earnings. 
[quick_offer id=5374]
Blognife's Recommended Monetization Partners:
Looking to Increase your Ad Revenue:
Get in touch with me for a personalised consultation and increase your ad revenue across native, display, video (instream and outstream), in-app and other verticals. I also assist in customized DFP setup, header bidding, and content creation strategy. My skype id is:
ronniedey
. Feel free to connect!