Last updated on January 26th, 2023 at 05:22 pm
Hello guys! It's been long that I haven't been able to update the blog regularly. However, I am glad that I finally had time and I am going to write an interesting post. All these while we have been speaking a lot about banner ads, but we haven't delved much into other monetization opportunities, apart from native ads. In today's post, we are going to discuss about the best CPM video ad networks that can help you monetize your blog. Indeed, it is going to be quite interesting. This list of video ad networks consist of networks which can monetize both mobile and desktop traffic.
Table of Contents:: Summary
Hide
Publishergrowth: The Revenue Acceleration Platform for Publishers
Blognife is elated to announce the launch of Publisher Growth- a community of publishers that helps you actively accelerate your revenue. This platform assists publishers in growing their traffic and revenue. As publishers, you can share and read reviews of ad networks and hosting companies. You can connect with other publishers to build links for growth and monetization hacks and more. This platform will help you stay up to date with the advertising and publisher ecosystem.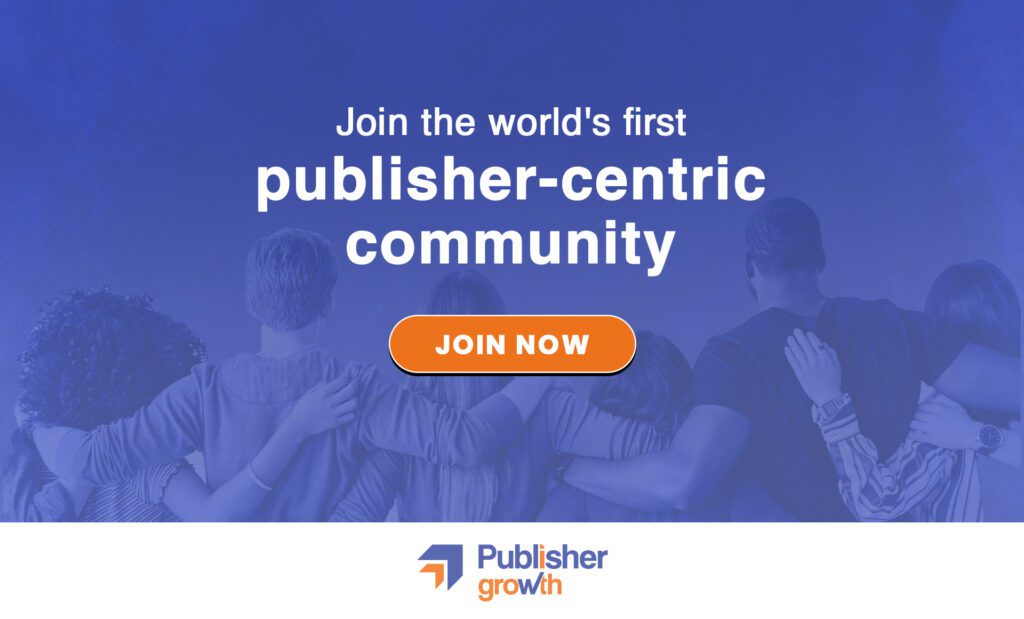 Features:
List of 200+ ad networks to monetize your site across all verticals.
Personalized site audit upon signing up on the platform that can increase your revenue.
Find all upcoming adtech conferences, webinars, and events in one place.
Stay informed with the latest adtech news across the globe.
The Rise of Video Ads
Whenever, you see a YouTube video, an ad appears either before the video or somewhere in the video if its long. These are in-stream ads for while advertisers pay Google. Mostly video ads are measured in CPE (Cost per engagement) i.e. how engaged the user is with the video ad- whether he is viewing the entire video, or a part of it… Today, apart from Google and Facebook, there are a lot of other ad networks which have come up with their video networks. Mostly, these video ad networks are not as omnipresent as Google and hence cannot guarantee a 100% fill rate and at times not even 50%. But, due to direct partnerships with advertisers and agencies, they can provide you a premium rate for whatever fills they can provide.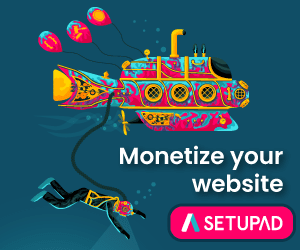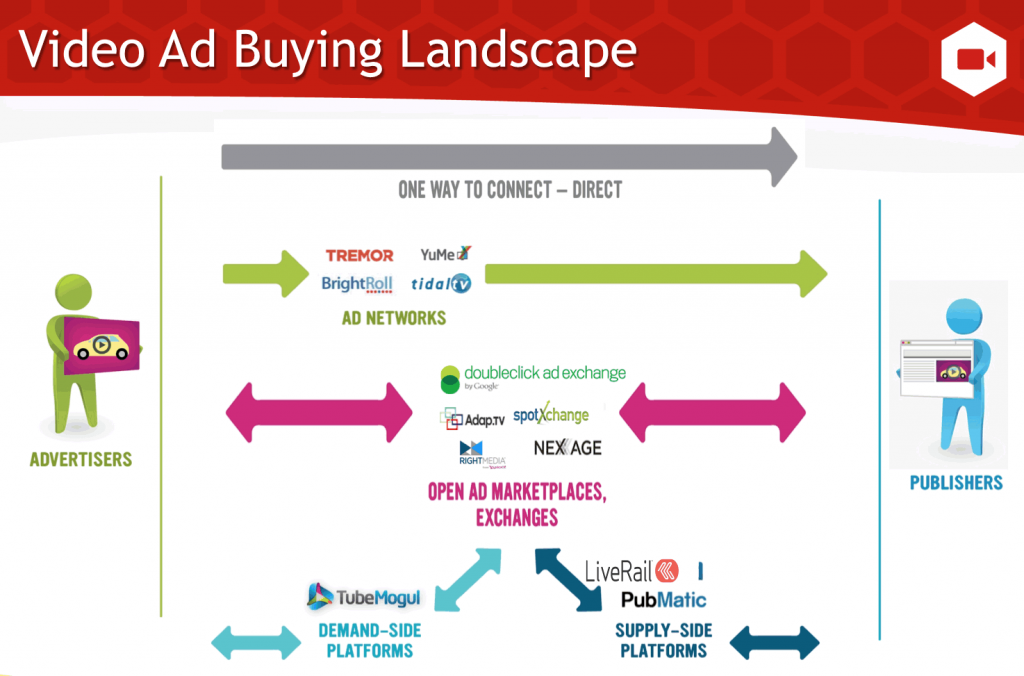 The bottom line is: Creating a waterfall model becomes extremely important and crucial if you're aiming to monetize your video ads. In today's post, we are not only going to discuss about the popular video ad networks, but also we will discuss the solutions to get you started. But before we do that, let us look at some of the popular video advertising networks.
Best CPM Ad Networks for Publishers
1. VDO.AI (Blognife Recommended)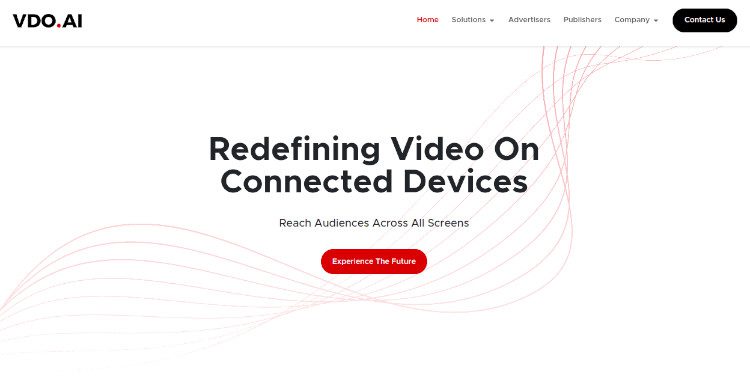 VDO.AI's native units are designed to be non-obtrusive and provide a seamless way for publishers to leverage the power of video. A lot of publishers see more revenue from a single VDO.AI unit compared to multiple banners and traditional native units. VDO.AI is headquartered in Mountain View, CA. With VDO.AI's native video widget, you can see an increment of almost 50% of your regular earnings on sites which are typically known to perform well with video ads. The setup usually takes less than a day to get started go live once your site gets approved from the demand partners. Listed below are the benefits of joining VDO.AI
Easy integration using a single javascript

See an additional revenue of almost 50% of your regular earnings

One tag that sources the video demand from Google ADX, Appnexus, Sovrn, and other demand platforms.

Generate higher CPMs from native video ads

No player, video content or ad integration separately. Everything comes bundled in a simple js tag.
2. AdoTube
AdoTube is an in-stream video advertising solution that delivers interactive brand experiences, uniquely designed to achieve maximum impact and optimal user engagement. It is a division of Exponential, the global provider of advertising intelligence and digital media solutions to brand advertisers. Exponential offers solutions in 22 countries worldwide and reaches more than 450m unique users every month.
Pros
High CPMs
Comparatively higher fill rates than AOL but less than ADX
Cons
CPMs might vary based on the availability of the campaigns.
If high paying campaigns stops, you may experience drastic decrease in CPM rates
Traffic Minimum: You need to have somewhere around 1-2 million page views per month.
3. BrightRoll
BrightRoll is a unified programmatic video advertising platform and a subsidiary of Yahoo. It provides publishers and advertisers the tools to make the most of digital advertising. Additionally, the BrightRoll exchange connects publishers with advertisers for display, native and video ads. If you've good traffic from US and Canada, BrightRoll can be a good option.
The BrightRoll exchange is meant for premium publishers only.
[wpsm_offerbox button_link="https://adbuff.com/amp/index.php?rp=2921″ button_text="Signup" title="AdBuff- High Paying CPM Network" description="AdBuff is a high paying CPM network if you've majority traffic from US, UK and Canada" thumb="http://blognife.com/wp-content/uploads/2017/01/Adbuff-AdSense-Alternative-Ad-Network-CPM-CPC-Ads-1-1-1.png"]
4. Cedato
Cedato creates predictive digital video advertising software that enables native video to run on any screen and placement. Cedato's unified cross-screen video technology delivers the most valuable and consistent video experience across any screen, placement and device, seamlessly connecting to any trading platform. Use Cedato's smart video player with a simple HTML/JS-embed tag, or use our smart VAST tag to load on existing video player configurations.
Cedato operates on a Software as a Service model, providing underlying technology for video delivery (player and API, as well as a smart aggregator tag) enabling to run in-stream/in-banner/in-app video ads on desktop and mobile with minimal latency, automatically optimized for yield and fill rate by a strong predictive algorithmic engine. We keep you in full control over inventory and campaigns, delivering the best results and fastest time to value in the industry. Our unique predictive optimization technology manages unlimited number of demand and supply sources in real time, with effective fulfillment from all major video platforms. We do not sell media, but if you need help with demand or supply, we can connect you with a network of partners running on our private marketplace platform.
Their NET payment terms is 30 days. Cedato's marketplace powers 10 billion video videos every month.
5. Komli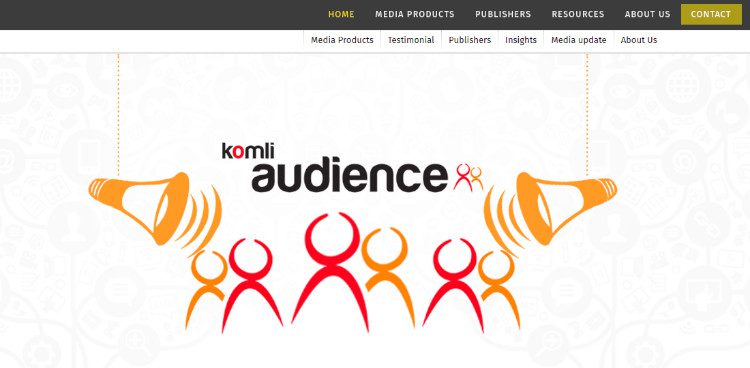 Komli Engage works with over 500 advertisers across 4,000 campaigns and has 7+ years of exp to help them reach and engage with their audiences. Komli Engage works with over 500 advertisers across 4,000 campaigns and has 7+ years of exp to help them reach and engage with their audiences and meet their performance and brand objectives using a host of social media advertising solutions across PMD solutions, Facebook and Twitter. Komli provides several media products and they have a huge requirement for video ads. Komli is particularly good for Indian and South Asian traffic.
Pros
Good fill rate for South Asian traffic
Cons
Payments can be delayed
CPM rates aren't too good
6. Millennial Media
Millennial Media is the leading mobile ad marketplace, making mobile simple for the world's top brands, app developers, and mobile web publishers. The company's data and technology assets enable advertisers to connect with target audiences at scale, while driving monetization for publisher and developer partners. AOL acquired Millennial Media on October 23, 2015. Millennial Media boosts AOL's global, mobile capabilities and scale across ONE by AOL for advertisers and agencies, and offers the most attractive monetization platform for app developers.
Millennial Media is especially caters to app developers, but they also support mobile web videos.
7. SpotXchange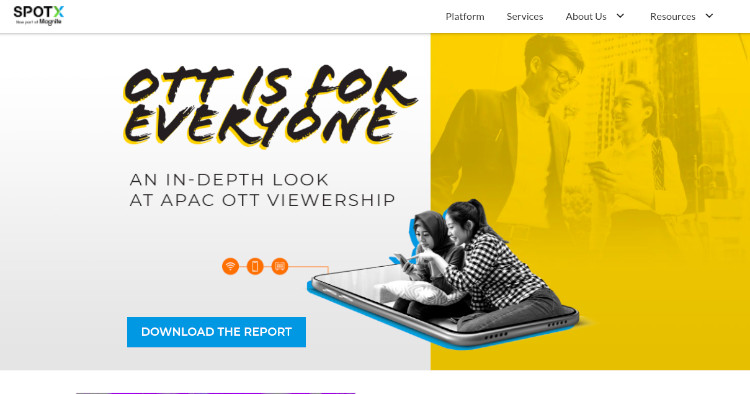 SpotX is a video inventory management platform for premium publishers and broadcasters, helping them manage all of their demand sources from one place, and monetize content across all screens. The SpotX platform offers publishers unprecedented transparency and insight, creating a safe, controlled environment that allows them to connect with advertisers, and achieve the highest revenue possible.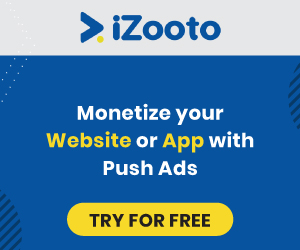 Premium publishers and mobile app developers trust SpotX as the independent solution that helps them better understand the buying behavior of today's leading brands and maximize inventory yield across private marketplace, programmatic direct and open marketplace deals. SpotX's ad serving, leading programmatic technology, and open and extensible architecture help simplify the complex digital video ecosystem for global publishers.
8. VDopia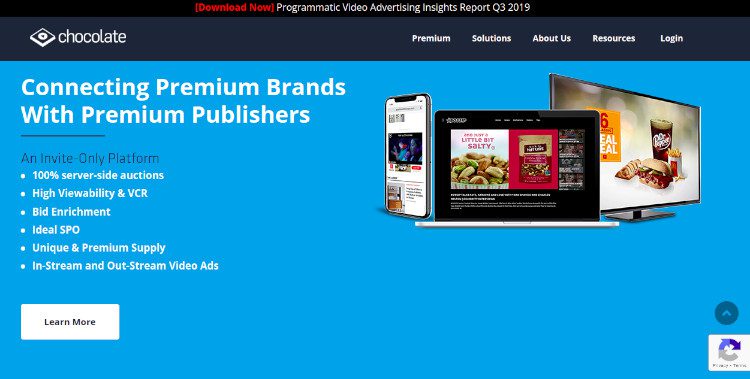 Vdopia, Inc. is a global programmatic buying and selling platform for mobile video advertising. It is the first company to offer the .VDO mobile video format, a proprietary technology which enables brands to create scalable mobile video ad campaigns on mobile web and apps. Vdopia's programmatic platform, 'Chocolate', integrates top technology partners from across the spectrum to give a unified one-stop platform for complete planning, buying and measurement of mobile video ad campaigns. Vdopia's clients include Coca-Cola, Walt Disney, McDonald's, Intel, Microsoft, Ford and hundreds of other leading global brands. Vdopia Inc. is a privately held, venture-backed company headquartered in Silicon Valley with offices in Fremont, CA, New York, Los Angeles, Chicago, London, India, Singapore and Australia.
VDopia is good for South Asian traffic!
9. Yume
YuMe, Inc. (NYSE: YUME) is a leading provider of global audience technologies, curating relationships between brand advertisers and consumers of premium video content across a growing range of connected devices. Combining data-driven technologies with deep insight into audience behavior, YuMe offers brand advertisers end-to-end marketing software that establishes greater brand resonance with engaged consumers. It is the evolution of brand advertising for an ever-expanding video ecosystem. YuMe is headquartered in Redwood City, CA with European headquarters in London and 17 additional offices worldwide.
10. Teads.tv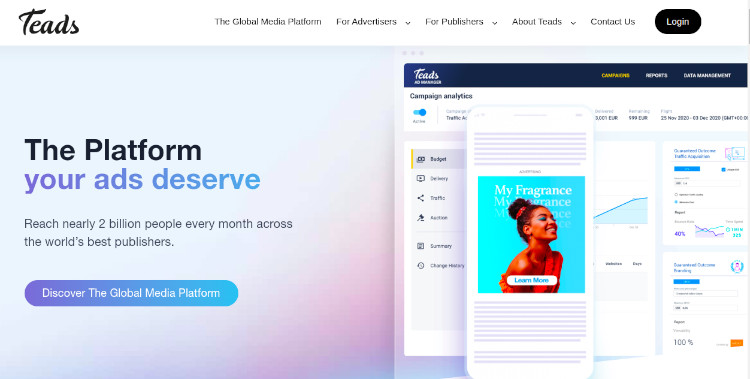 Teads, founded in 2011, is the inventor of native video advertising and the leading Outstream Video Ad Exchange. Publishers work with Teads to create brand new Outstream video inventory, monetizing it through programmatic buying, their own sales force, or third parties including Teads Demand. Teads is pioneering advertising experiences that are respecting the user, and creating unprecedented levels of premium inventory which did not exist before. Brands, agencies and trading desks can access this top-tier, premium inventory, available on the web and on mobile, in the Teads Exchange. Through our managed services capabilities, the Teads team execute on their client's behalf using its platform.
Teads's is popular for its in-read video ad formats which are displayed on top sites including CNN, Huffington post, About.com to name a few. Content quality is takes seriously when it comes to approve a publisher. So, if you're news site with rich content, Teads can be a great source to monetize your website with premium rates. They are also one of the top mobile video ad networks.
11. Google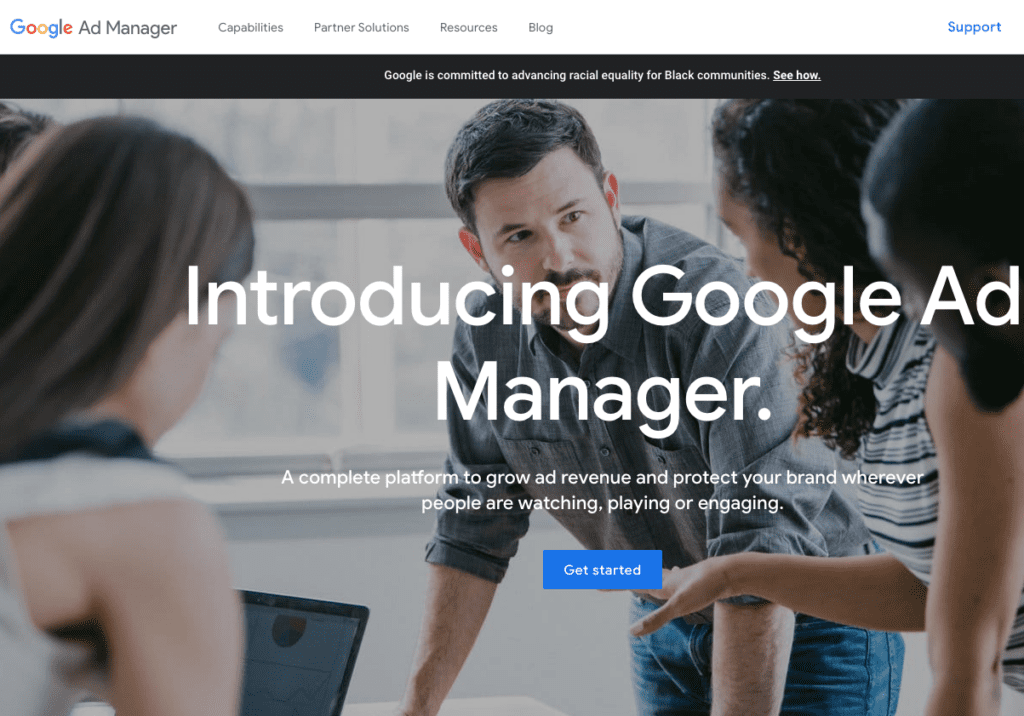 The Google DoubleClick Ad Exchange Service is a service for managing multiple monetization sources of online display advertising inventory. In the Ad Exchange Service, advertisers and ad networks are considered "Buyers", and publishers and publisher networks are considered "Sellers".
ADX also provides video tags which can be integrated with a player to make the video inventory available. You can request for ADX video tags from any of the Google Certified Partner.
12. Playwire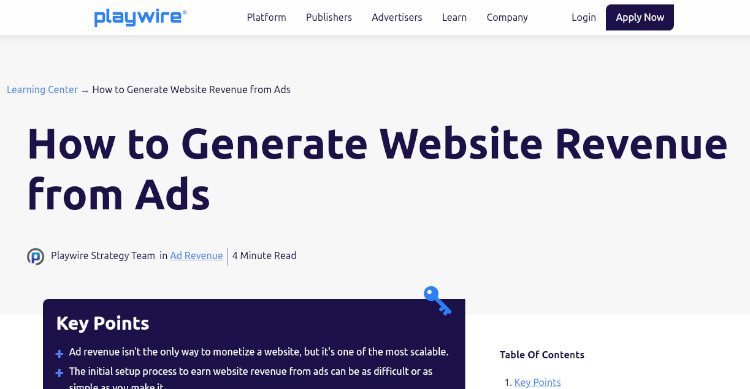 Playwire is one of the top leading professional online video platforms complete with a built in video SSP. Playwire's comprehensive and unique video hosting platform offers everything you need for online video publishing. With Playwire both publishers and advertisers now have one place where they can encode, host, syndicate, stream and monetize their videos in one simple-to-use video platform as well as competitively buy and sell their video inventory. Playwire specializes in superior profitability and ROI for all publishers. Our unique built-in video advertising module is composed of the largest video ad networks that use Playwire™ technologies to automatically target, manage and optimize your video ads.
With Playwire, you can host the videos, use their player to embed the videos on your site and monetize your site's content. Playwire is integrated with top video advertising networks and thereby, guarantee 100% fill rate across all your inventory.
13. Virool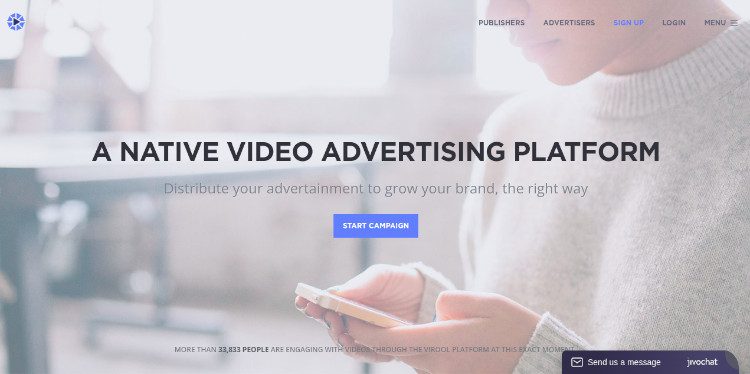 Virool is a video distribution platform for brand marketers that leverages programmatic technology to reach key influencers, making content more engaging and the ability to share easier than ever. Having served more than 75,000 global campaigns, Virool's robust ActivView product suite and in-article native unit, deliver fully transparent and insightful analytics that offers viewability guarantees, emotional resonance and fraud protection. Within our platform, users can leverage a proprietary DMP of 450MM unique profiles to build custom, addressable audience segments across all screens. More than 100,000 multi-channel sites have activated video content from Virool via partnerships including Rubicon Project and direct native placements. Founded in 2012, Virool has raised $18.62M in funding from a collection of top VC firms and angel investors, including $6.62M in its seed round. It is the biggest seed investment that anymore Y-Combinator graduate has ever received.
14. AdMedia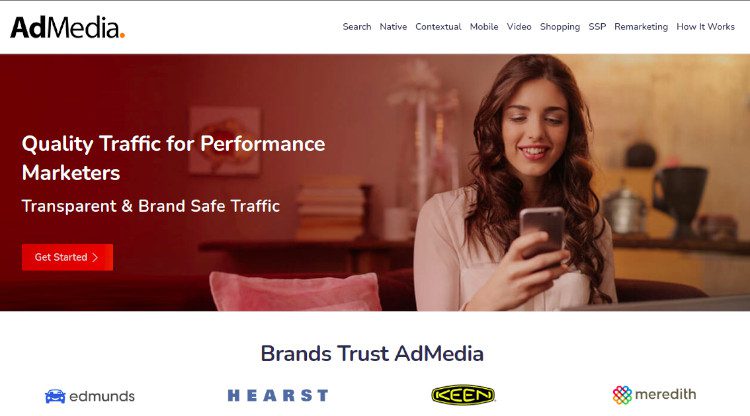 AdMedia's cross-channel advertising platform enables advertisers to purchase media across Video, Display, Search, Email, Social Media, Mobile and more, thus giving businesses numerous options to touch base with their customers. AdMedia is in business for quite a long time and has several video campaigns. If you've good US traffic, AdMedia can help you monetize it.
15. Flowplayer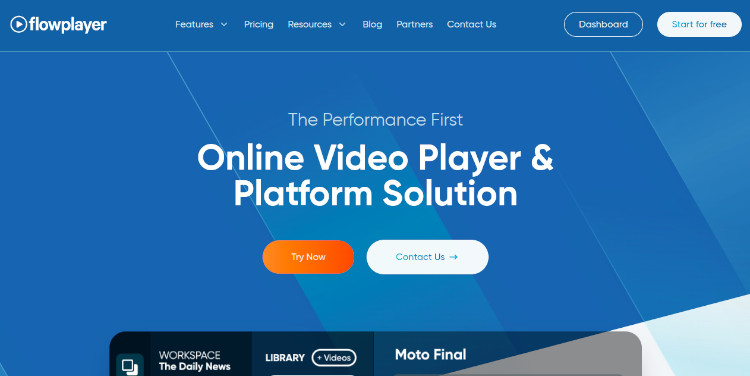 Flowplayer allows you to add their video player and monetize your video content through their ADX partnership. Flowplayer takes a 30% revenue cut, but also streamlines the entire process of video monetization.
Most of these ad networks provide pre-roll, mid-roll, post-roll and overlay ads (text, image and flash content). We will be focusing on video ad networks deeply in the coming blog posts so that publishers can make the most from video advertising.
Our Verdict:
If you're just getting started and don't want all that hassle, I would suggest you to start with Playwire. ADX is also a very good option, however, for that you need to host your own video and develop your own player. In our next article, we will be discussing how you can actually get started with serving video ads on your site, the average CPM you can expect from video ads and more.
Our Recommended Tools for Publishers:
Looking to Increase your Ad Revenue:
Get in touch with me for a personalised consultation and increase your ad revenue across native, display, video (instream and outstream), in-app and other verticals. I also assist in customized DFP setup, header bidding, and content creation strategy. My skype id is:
ronniedey
. Feel free to connect!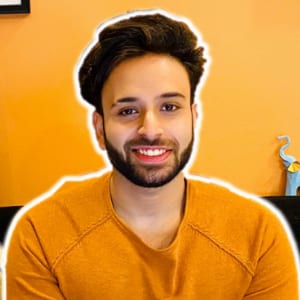 I and my team research various ad networks and can help you increase your overall ad revenue; so you could rake in more greenbacks with the best monetization platforms. Tap into the power of the online publishing business with me. I am just a mail away, so reach out to me if you want to scale up your website revenue. mail: [email protected]