Last updated on April 29th, 2023 at 06:28 pm
300 Million people globally use some sort of ad blocking and up to 30% of visitors are using AdBlocking extensions. Acceptable Ads are a middle ground between the internet user and the publishers that need to make money to survive. They are relevant and non-intrusive ads designed not to be annoying or destroy user experience on a website. With Ad Exchange, inventory will be available as branded, semitransparent, anonymous or a combination of any two. It is an invite-only platform that allows publishers to have more than 50 million page views per month and a strong business model that helps in developing the advertising ecosystem. Ad Exchange CPM rates are generally higher than normal AdSense rates. The CPM rates depend on the traffic geos and the type of content and ad clicks. It is always advised to put the ad tags at prime location for maximum CTR. There is a positive correlation between the CPM rates and the CTRs for the ADX tags. Ad Exchange offers more account level filtering like creative review, cookie and data usage blocking, ad technologies blocking. It offers an 80/20 revenue share where publishers get 80% of the amount that the advertiser bids for per impression. Whereas in AdSense, the revenue share is 68/32, and the publisher gets 68% of the amount per click.
Table of Contents:: Summary
Hide
Publishergrowth: The Revenue Acceleration Platform for Publishers
Blognife is elated to announce the launch of Publisher Growth- a community of publishers that helps you actively accelerate your revenue. This platform assists publishers in growing their traffic and revenue. As publishers, you can share and read reviews of ad networks and hosting companies. You can connect with other publishers to build links for growth and monetization hacks and more. This platform will help you stay up to date with the advertising and publisher ecosystem.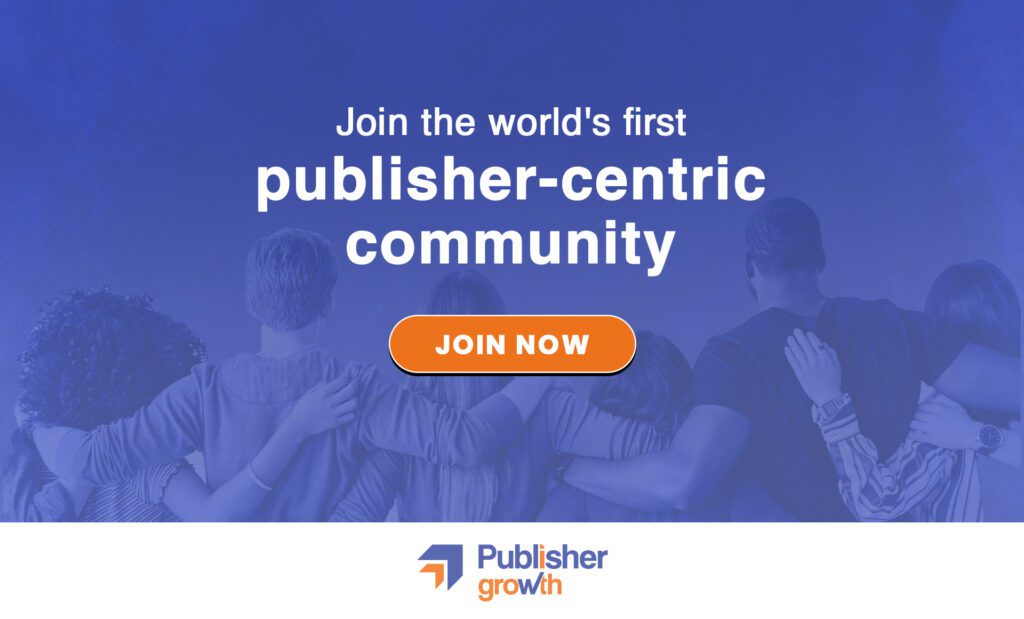 Features:
List of 200+ ad networks to monetize your site across all verticals.
Personalized site audit upon signing up on the platform that can increase your revenue.
Find all upcoming adtech conferences, webinars, and events in one place.
Stay informed with the latest adtech news across the globe.
How Media.net Can Help Your Regain Your Lost Revenue?
Media.net is a leading Adtech company which draws the demand from Yahoo Bing advertising pool and focuses on developing innovative monetization products for publishers. It runs the second largest contextual ads program globally and performs extremely well on product based niches. Contextual advertising is a very effective advertising technology involving customized ads according to site content, making them relevant to the users' interests. Media.net's contextual ad capabilities are complemented by unique native ad design. The ad network bring around 50-60% of what AdSense is bringing in terms of revenue. Quality of ads are high and various optimization techniques will help to make a significant amount revenue from hosted ads. Publishers must improve their search traffic and operate in niches that work well with Media.net to earn a decent amount. It allows publishers to place a maximum of 3 ads per page. The display to search (D2S) ad format, an advanced monetization method, is implemented by Media.net for best results and better revenue. D2S monetizes your display placements with inventory bought by advertisers on CPC. The biggest advantage of running Media.net ads is the personalized support obtained from a dedicated account manager who is just an email or a phone call away. He is an experienced ad specialist who not only proactively responds to all queries and requests but also suggests ways in which you can enhance your web monetization potential further. This proves to be very useful for all publishers especially for beginners. If any website receives a good traffic from tier-1 countries, mainly US and UK, there are good chances to earn more with the Media.net ad program. This is because of the high bids for keywords from these countries and the traffic from there will see the Geo-targeted contextual ads, that can pay higher.
List of Adblock Solutions for Publishers:

1. Media.net Ads: Recover your Adblock Revenue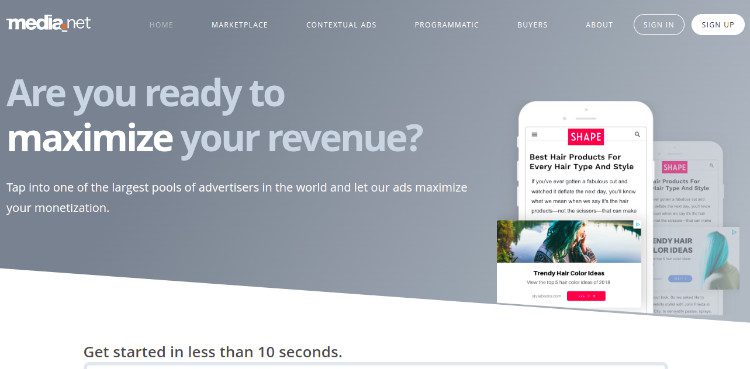 Their ads are AAX approved so even untapped audiences are available to premium brands. They leverage direct advertiser relationships and execute direct-sold campaigns. It offers a positive user experience with engaging, non-invasive ads. AAX is a viable way to monetize premium content, without disrupting the user experience.
AAX supports RTB, Acceptable Ads fallbacks, and direct advertisement.
It is easy to implement with zero maintenance.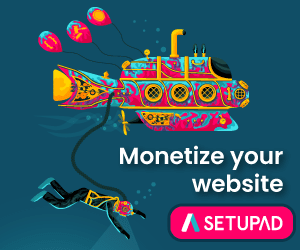 2. AdRecover: Recover your Adblock Revenue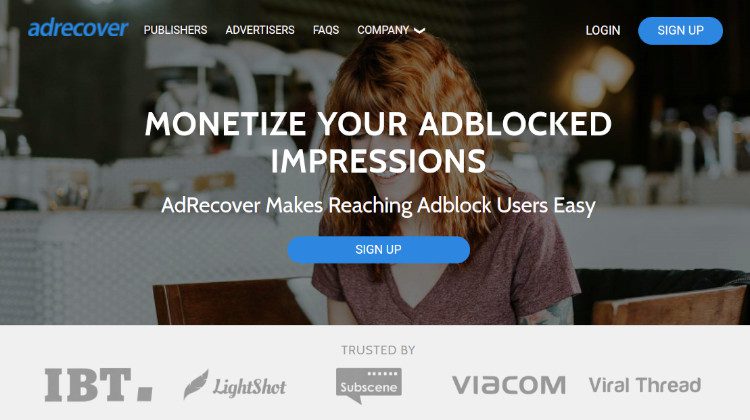 AdRecover is a platform that helps publishers monetize their Adblock inventories. Through AdRecover, users with non-intrusive ad formats can be targeted. 10-20% of the traffic use Ad Blockers and one can easily monetize this premium inventory with AdRecover at premium CPM rates. AdRecover's monetization solutions never compromise with the user experience by measuring key UX parameters. AdRecover CPM rates will be higher than the AdSense impression RPM because of the premium quality of the audience and the ad network stack.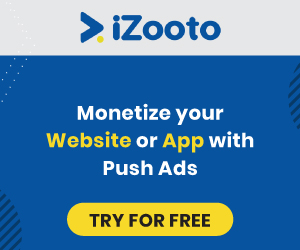 3. Blockthrough: Recover your Adblock Revenue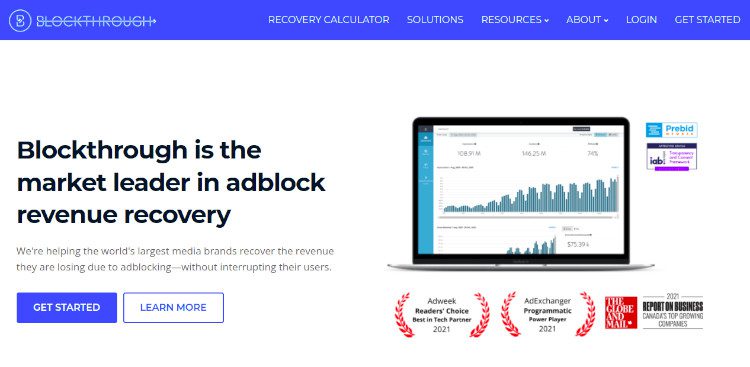 Blockthrough allows publishers to monetize their ad-blocking users, making ads undetectable to blockers and also providing users with a better advertising experience. Their patent-pending Accelerated Ad Reinsertion technology delivers ads that are indistinguishable from the publisher's own content also solving the key UX issues that drive users to block ads. Basic issues are disruptive ad experiences (pop-ups, unskippable pre-roll videos), Slow ad load times, risk of malware, privacy concerns. Publishers can accurately measure adblock rate with adblock analytics and generate new revenue with Bidthrough. Bidthrough is the world's first header bidding wrapper for the Adblock Web.
It is compatible with any SSP that has a Prebid adapter, and it provides an added layer of ad filtering to ensure your Adblock users get a better and lighter ad experience. It uses existing SSP partners, yields comparable to 70-80% of non-Adblock traffic, works on all browsers, Straightforward implementation.
4. BlockAdblock: Recover your Adblock Revenue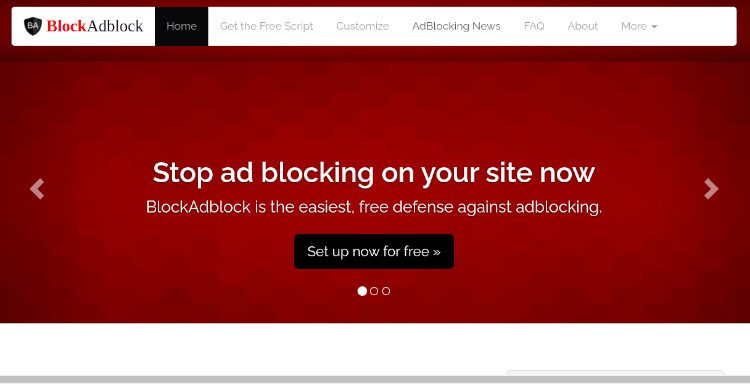 BlockAdblock is a free, easy to use anti-Adblock defence with a code-generator that takes the hassle of programming out of configuring ad-blocking countermeasures. It works in two ways:
Block mode- It keeps ad blockers out completely until they whitelist one's site.
Nag Mode- This, on the other hand, is bothering ad-blocking users only once per session, asking them to whitelist. If the ad-blocker is not turned off they can come in anyway.
All of the text and colours are easily configurable in the BlockAdblock configurator along with other options like on-screen copy, delay time, legal text and integration with Google Analytics.
5. Setupad: Recover your Adblock Revenue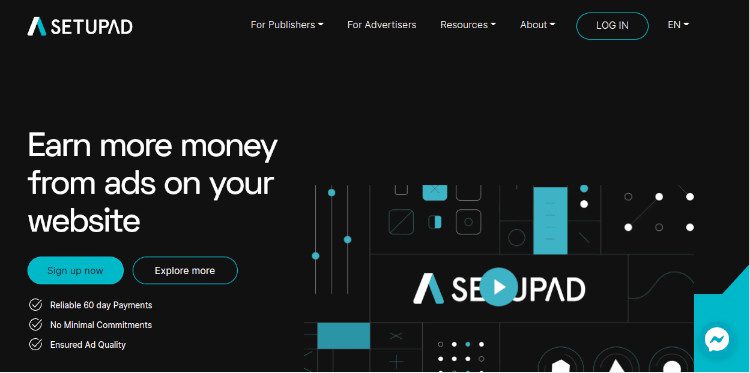 Setupad helps you monetize your traffic at higher CPMs when compared to AdSense or ADX. This adtech company is currently partnered with more than 15 ad exchanges and SSPs to ensure higher fill rates on publisher websites. It comes with an integrated Adblock solution so if you'VE a good volume of traffic coming from EU countries, this should be one of the most sought after CPM networks to try out. It offers header and server-side bidding to maximize the overall ad revenue and fill rates for publishers.
Roundup
People use ad blockers to eliminate ads due to which page load times are often decreased considerably in terms of reducing data usage. But millions of websites, from tiny blogs to huge corporates depend on online advertising revenues in order to operate. The positive side is that there are emerging solutions to the problem. One is separate scripts running that would auto-load and insert ads if one happened to get blocked. Another is for publishers to use their own server as an ad server. Ad Blocking is going to continue growing. Thus Publishers can only keep on committing to use better data to decide better about whom and when to target; and doing best to keep advertising relevant.

Our Recommended Tools for Publishers:
Looking to Increase your Ad Revenue:
Get in touch with me for a personalised consultation and increase your ad revenue across native, display, video (instream and outstream), in-app and other verticals. I also assist in customized DFP setup, header bidding, and content creation strategy. My skype id is:
ronniedey
. Feel free to connect!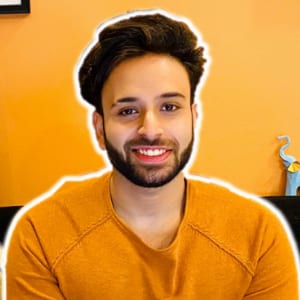 I and my team research various ad networks and can help you increase your overall ad revenue; so you could rake in more greenbacks with the best monetization platforms. Tap into the power of the online publishing business with me. I am just a mail away, so reach out to me if you want to scale up your website revenue. mail: [email protected]