Last updated on April 27th, 2023 at 06:06 pm
Digital advertising has been on a hike mainly because of the brilliant results that it caters to and also because it is the most preferred method for putting forward a new product or launch. Over the years, we have seen a swift transition from direct ad buyers to ad networks and agencies, and now the rise of SSPs/DSPs. Publishers both large and small are getting benefitted from the rise of these SSP's, which are termed Supply Side Platforms or Sell-Side Platforms. SSPs are technology platforms that are designed to help publishers increase their overall revenue by adding an additional layer of information and data which are deemed to be valuable to ad networks, DSPs, and Exchanges. This increases the worth of the inventory and enables publishers to have a higher monetary return. In a nutshell, SSPs act as yield management platforms for publishers and work to increase the overall CPM rate of the inventory, the fill rates, and more. In this article, we are going to discuss the 5 best supply-side platforms in India (those valuable for Indian traffic). 
Table of Contents:: Summary
Hide
Publishergrowth: The Revenue Acceleration Platform for Publishers
Blognife is elated to announce the launch of Publisher Growth- a community of publishers that helps you actively accelerate your revenue. This platform assists publishers in growing their traffic and revenue. As publishers, you can share and read reviews of ad networks and hosting companies. You can connect with other publishers to build links for growth and monetization hacks and more. This platform will help you stay up to date with the advertising and publisher ecosystem.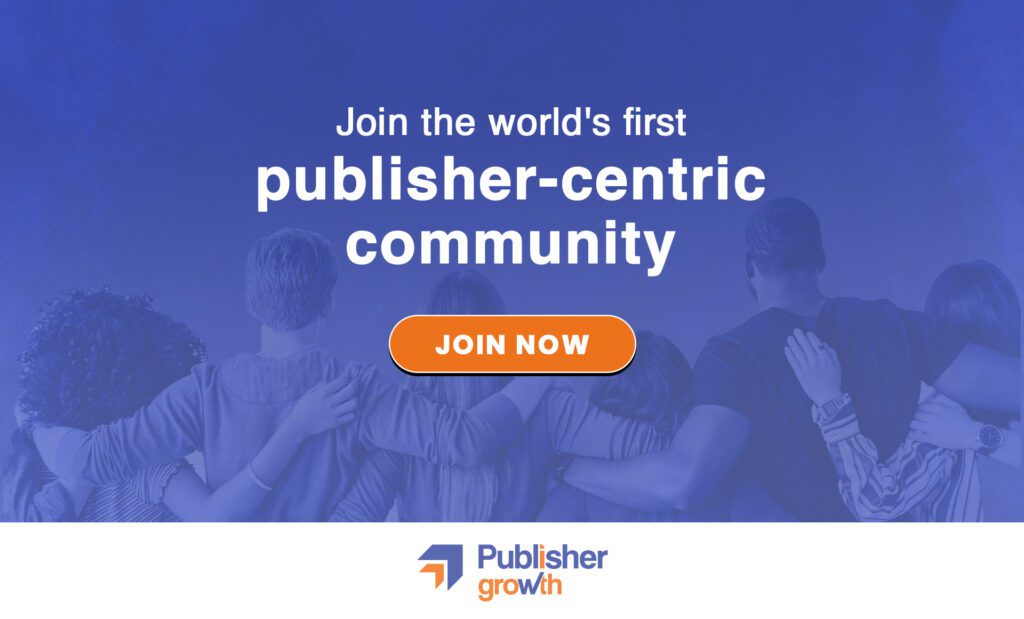 Features:
List of 200+ ad networks to monetize your site across all verticals.
Personalized site audit upon signing up on the platform that can increase your revenue.
Find all upcoming adtech conferences, webinars, and events in one place.
Stay informed with the latest adtech news across the globe.
5 Best Supply Side Platforms in India
Please note that this is not a listing and the numbers are just for formatting purpose and aesthetics. There is no connection between the popularity of the SSP platforms and the listing displayed here. However, we believe that the following supply-side platforms are robust enough to bring additional revenue for publishers who have a good volume of Indian traffic and thus forms a part of this list.
1) Pubmatic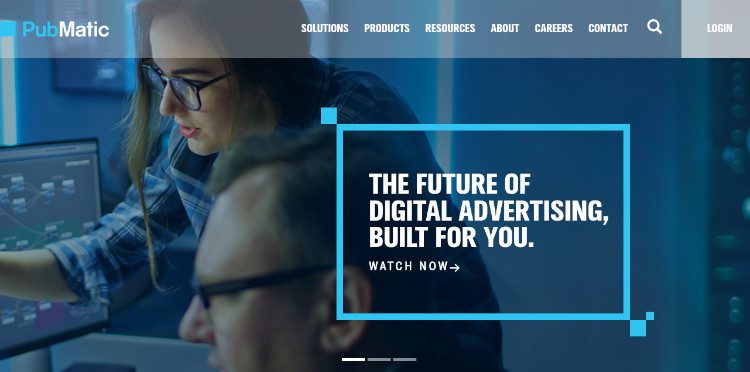 Pubmatic is a platform that develops and implements online advertising software and strategies for the publishing industry to gather better results and create the much-needed hustle about the products they want to sell or the products in the market. It has a good number of branches all around the world. They vouch to empower publisher and media buyers with powerful solutions across most channels, screens, and formats.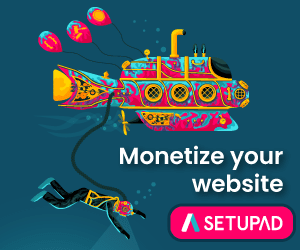 Publishers need to have a minimum of 100 million impressions to be eligible to use their platform.

PubMatic has kept its revenue share percentage absolutely secure not letting out the amount that it keeps in a deal and it varies from one publisher to another if the services offered are publisher driven like SSP solutions etc. Also, it has a separate platform, named PubMatic Seven, devoted especially to the management of revenue.

PubMatic is known for its far fetching, creative and innovative ads that have an exceptional global reach. It has kept up with its ad quality and has rather set the standards high.

PubMatic majorly focuses on Native Ads that are known to have engaged a huge number of the audience and is especially preferred for its feature of blending in and camouflaging rather than appearing totally out of the context. Though, it has more of ad formats.
2) Doubleclick Ad Server
DFP, DoubleClick for Publishers, popularly called Google Dart, run by Google that is an advertisement software as a service application which is considered as one of the best supply side platforms in India and globally. Other than the features of an ad server, it also manages the sales process of online ads through the publisher's dedicated sales team. DFP has a number of ad serving, scheduling and reporting features which are otherwise not available to many other ad servers, even the paid ones. DFP Small business is free for publishers whose monthly impression volume is less than 90 million. The technology help publishers serve the impressions at the highest rate and also the integration of Exchange bidding and first look give the ADX buyers an advantage to compete at the best possible inventory. 
DFP Small Business that helps growing publishers sell, schedule, deliver, and measure all of their digital inventory, free of cost and it has no minimum traffic requirement. Though for that, a Google account and a prior AdSense account is necessary. Contrasting that is DFP Premium that has the minimum traffic requirement of 90 million ad impressions per month.
There is a flat pricing for DFP Premium publishers which amounts to about $10,000 monthly and the Publishers making use of DFP Small, it is free. There are a number of DFP resellers who can offer DFP Premium at a reduced cost.

DFP, being run by Google has the kind of reach that is unavailable to other ad servers and its ad quality is majorly good. Also, it follows the guidelines of AdSense and similar restrictions are imposed to assure the good quality of the ad.

DFP has a huge array of ad formats for the advertisers to choose from that includes- Banner Ads, Interstitial Ads, and Native Ads. Other than that, it also has Video Ads that have gathered major impact over the last few years.
3) Sovrn
Sovrn Holdings was earlier called Federated Media/Lijit until the same was bought by LLN Media. It has been leaving people in utter awe ever since that because, after ten months of its launch, it was called the fourth largest network in the advertising industry by Quantcast. At the present, it is a CPM based ad network and serves of 20,000 publishers, globally and publishers find their header bidding solution to be extremely easy to set it up. Sovrn works with a lot of Indian publishers can is considered as one of the growing SSP companies in Indian market and globally.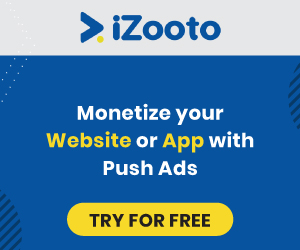 Sovrn has no specified minimum traffic requirement though it rejects sites with questionable or inappropriate content right on application and publishers should not be promoting illegal or morally opposed content or activities. Other than that, they do prefer if the Publisher language is English.

The one thing that has led to the growth of Sovrn is its ad quality that is very competent and very good in comparison with many other ad networks.

Sovrn has a variety of ad formats to offer which includes Display Banner Ads in various sizes, which also is one of the most engaging ones amongst what it provides, VAST and Pre Roll Video Ads and more.

Sovrn has a variety of payment methods available that includes PayPal, ACH, Check, eCheck and Wire Transfer and the payment terms is that of Net-45 days with the minimum payout threshold being of $25.
4) Sulvo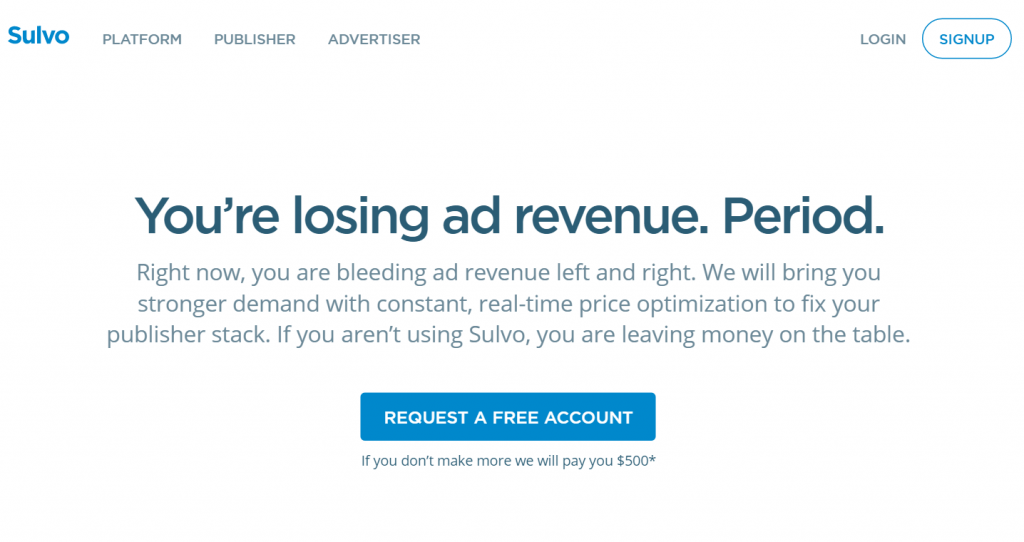 Sulvo makes use of an advanced price optimization technology that enables a publisher to generate more profit for every impression that it delivered. It is recommended to use Sulvo's sticky ad units like 320×100 for mobile, and 728×90/300×250 for desktop in addition to existing ad stack to increase your overall revenue from ads. Sulvo's fill rate is almost 70% for US traffic. Sulvo's technology helps publishers earn very high CPMs (150% to 250% high than the original) and not 1 cent or 2 cents. Publishers are asked to use their original tags as a backfill and Sulvo takes only those impression for which it is confident to give high returns to the publishers. Along with their in-stream ads which require a minimum monthly volume of 1 million page views, they run sticky multimedia ads that can earn well on publisher domains. It is one of the recommended networks in our list of 5 best SSPs in India.
They have the minimum traffic requirement of 5,00,000 page views per month that is rather a high one.

Their payment terms clearly dictates that of Net-60 days payment via PayPal.
5) Vertoz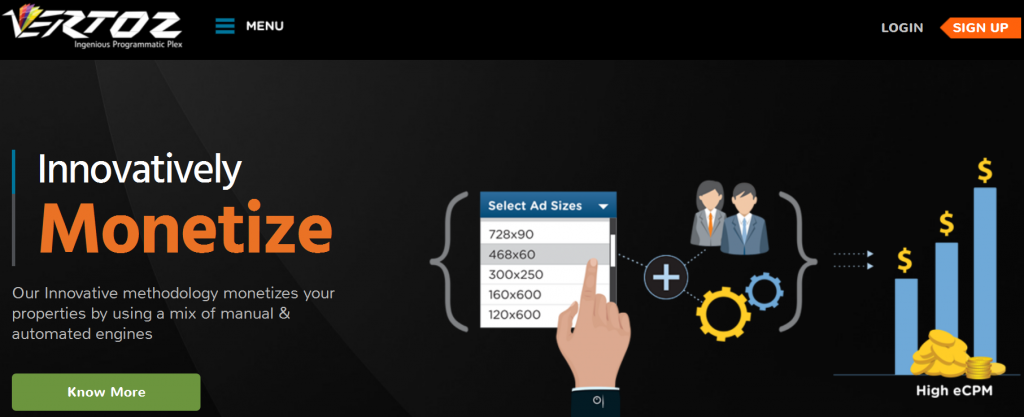 Vertoz stands by the idea of generating profits by linking your audience to advertisements they are likely to be interested in. Their unique "ingenious plex" formula stirs large digital media by using both customer data and RTB-enabled technology. It provides personalized attention and is a company dedicated to understanding publisher's needs individually. Vertoz provides innovative ad units like Outstream, In-banner video along with the traditional display tags. The company is also moving forward in the field of header bidding!
It has no minimum traffic requirement and no specified language requirement either.

It employs all the conventional ad formats that includes Display, Mobile and Video. It also has Innovative Rich Media Ads and more.

It has a network of publishers that is very wide and has more than 5000 Publishers.

The payment terms is of Net 45 days and the accepted modes include PayPal and Wire Transfer. The payment threshold for PayPal is $100 and the same for Wire transfers is of $1,000.
The demand is much higher for the US audience and the true sense of working with an SSP is realized only with tier one traffic since there are multiple numbers of advertisers who are looking to buy impressions programmatically and a true auction with audience data insights can enable higher returns for publishers. However, these top 5 best supply-side platforms in India are leading the innovation and hold a future where Indian publishers can look forward to programmatic technologies. If you're working with any major SSP and wish to share your experience, feel free to comment below.
Our Recommended Tools for Publishers:
Looking to Increase your Ad Revenue:
Get in touch with me for a personalised consultation and increase your ad revenue across native, display, video (instream and outstream), in-app and other verticals. I also assist in customized DFP setup, header bidding, and content creation strategy. My skype id is:
ronniedey
. Feel free to connect!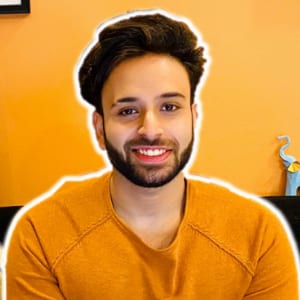 I and my team research various ad networks and can help you increase your overall ad revenue; so you could rake in more greenbacks with the best monetization platforms. Tap into the power of the online publishing business with me. I am just a mail away, so reach out to me if you want to scale up your website revenue. mail: [email protected]