Last updated on January 26th, 2023 at 04:14 pm
With the increase in technology, there have been quite some developments in every sector. It has exceptionally affected the advertising industry and the same has seen a lot of changes, owing to same to rapid developments. One such progress is the instituting of self-serve demand-side platforms. These provide the advertisers with features to buy ad placements in a time-efficient manner across a network of publisher websites. They provide the advertisers, agencies, and trading desks with the ability to concentrate on their desired audience, thereby taking care of the sophisticated technology which is geared towards ROI metrics as defined by the buyer. Self-serve demand platforms are effective for small advertisers to get started and also allow them to experiment before signing up with any contract-based DSP which requires a minimum spend. Here in this article, we discuss 8popular self-serve DSP (demand-side platforms) which marketers can take a look at.
Table of Contents:: Summary
Hide
Publishergrowth: The Revenue Acceleration Platform for Publishers
Blognife is elated to announce the launch of Publisher Growth- a community of publishers that helps you actively accelerate your revenue. This platform assists publishers in growing their traffic and revenue. As publishers, you can share and read reviews of ad networks and hosting companies. You can connect with other publishers to build links for growth and monetization hacks and more. This platform will help you stay up to date with the advertising and publisher ecosystem.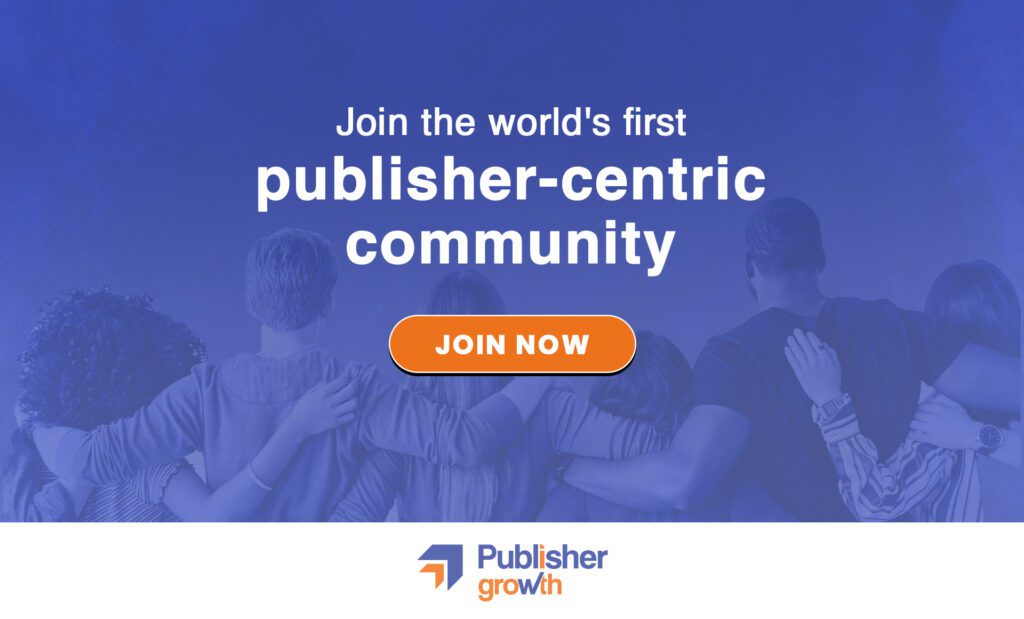 Features:
List of 200+ ad networks to monetize your site across all verticals.
Personalized site audit upon signing up on the platform that can increase your revenue.
Find all upcoming adtech conferences, webinars, and events in one place.
Stay informed with the latest adtech news across the globe.
10 Self-Serve DSP (Demand Side Platform) List 2023
It is always good to get started lean and small. We recommend self-serve DSPs if you're getting started with media buying and have limited knowledge about it. Also, it is a good frontier to venture into since there are very few media buyers who are doing this effectively! So, this list of the 8 best self-serve demand-side platforms is perfect for entry-level marketers.
1. Adlib: Best Self-Serve Demand Side Platform Software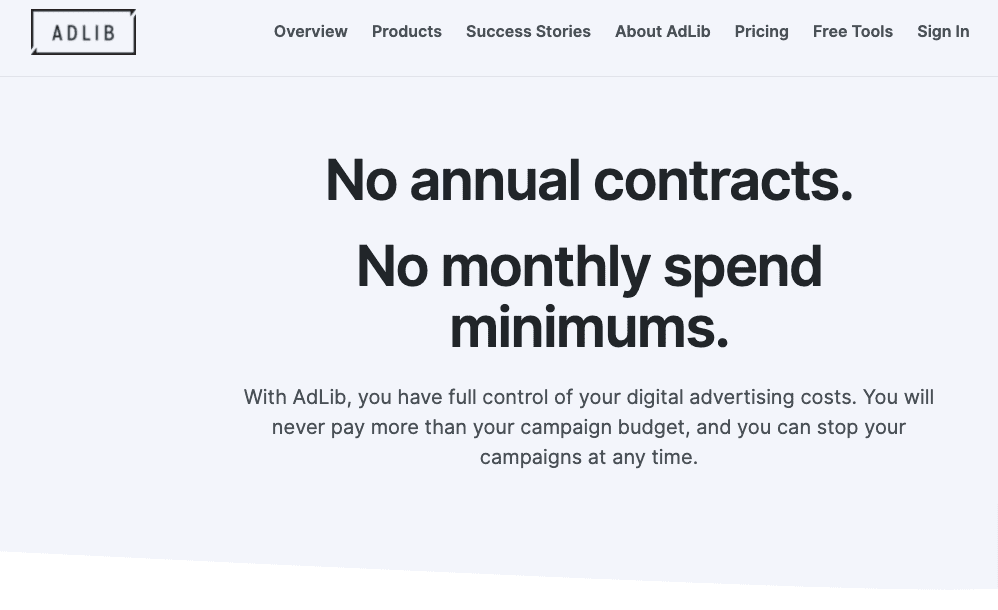 Adlib's superior AI and automation empower businesses to uncover more unstructured data to fuel insights to drive business change. AdLib is the premium DSP for everyone. Reach your audience on the world's most popular sites, apps, and streaming platforms. No Contracts. No Minimums.
Most marketers struggle to access premium programmatic advertising platforms because of high barriers to entry and complexities that demand a lot of your time and resources. AdLib removes those barriers and complexities allowing you to easily set up and launch successful programmatic campaigns at scale across all channels.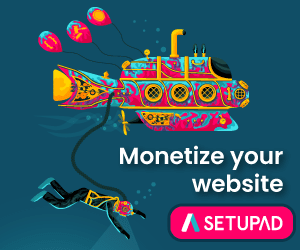 2. SmartyAds: Best Self-Serve DSP for Advertisers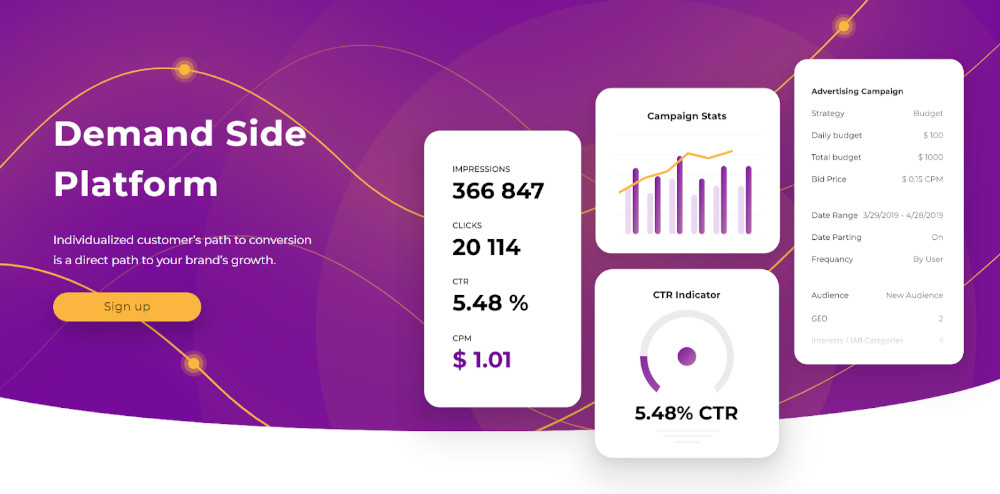 SmartyAds helps you reach your target audiences with high-quality display, mobile, native, and video traffic. Being part of the programmatic stack, SmartyAds self-serve DSP connects advertisers to 25K + publishers and app developers worldwide. The platform provides advertisers, media buyers, and marketers with access to industry-leading advertising technologies. Smart bid manager helps to automate purchasing process for different campaigns and close deals only for most advantageous impressions. With SmartyAds DSP, advertisers can increase brand awareness, continuously grow conversions, advertising ROI, and reach new audiences reducing the cost for their acquisition.
Benefits of SmartyAds self-serve DSP for advertisers:
Global cross-vertical reach.

Thousands of daily impressions are served across all business verticals and market segments in North America, Europe, Asia, and other geos.

Omni-channel formats. The platform manages to serve thousands of impressions per day in all possible formats: banner, rich media, video, native, and mobile formats, included playable, rewarded video.
Brand safety

. Thanks to IAS, Protected Media, Forensiq and proprietary traffic safety tools, your ads appear only in appropriate content and in brand-safe environment.

Cost efficiency. No hidden fees, minimum prepay and automatic bid attribution make the solution uber-competitive in terms of affordability and advertiser's costs protection.
Targeting and retargeting options

. 30+ targeting features for ad campaigns include: Geo, language, browser, OS, IP, dayparting, and more. With such a functional set, the effectiveness of digital campaigns goes up to 55% along with the likelihood of user conversion.

Vivid analytics. The platform visualizes the results of current and past advertising campaigns and generates the output every 1.5 seconds across metrics on demand: impressions, conversions, eCPM, Spend, etc.
3. Xapads: Best Self-Serve DSP for Advertisers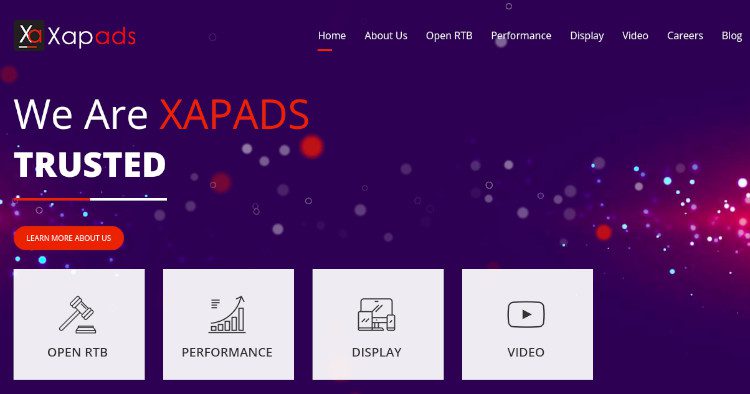 Xapads Media is a holistic programmatic ecosystem that helps connect brands with their respective publisher across all formats and devices. With a sound name in the market of online advertising, Xapads, is purely transparent, global and premium online ad network, that serves a combination of Innovative and engaging creatives that would be instrumental in increasing both the performance and demand metrics. They guarantee to advertisers maximum brand exposure with millions of quality ads, and for publishers, they assure global access to huge range of video ads from hundreds of demand partners across all geos & verticals.
They use a couple of models that includes CPM, CPC, CPA and CPV and use Revenue Share, Flat Fee, CPC and CPM to pay publishers.

They only allow publishers with a minimum of 10,000 traffic each month and 1,000 minimum monthly uniques.

They mostly make use of Video Ads but other Ad formats include Native Ads, In Banner Ads and Pre Roll Ads.
4. Epom Market DSP: Best Self-Serve DSP for Advertisers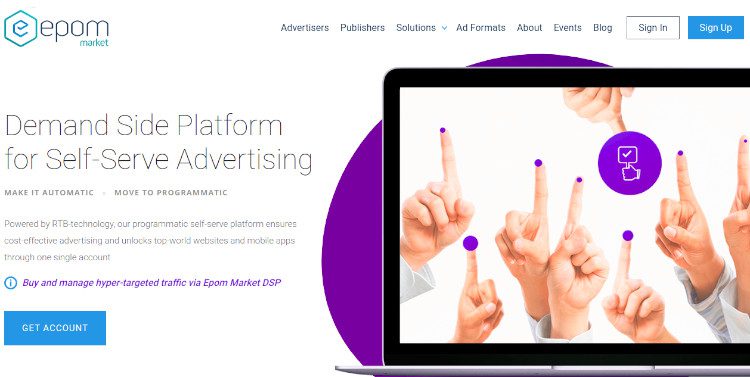 Epom Market DSP is a self-serve programmatic platform for buying quality traffic from top-rated websites and mobile apps. The platform enables marketers to run and manage dozens of video, desktop, mobile, in-app and pop ad campaigns. The platform helps to leverage your marketing strategies and launch retargeting campaigns. Epom Market DSP's proprietary optimization algorithm reduces all the manual work: set up your campaigns once, and it will optimize their ad performance to reach maximum ROI.
What's inside the Epom DSP Platform?
Programmatic buying on the CPM model;
Automated optimization algorithm based on "if this then that" model;
Free to use platform with only a $100 minimum deposit for ad campaign;
Perfectly suitable for launching/running performance-based campaigns (CPI, CPA etc)
Live analytics – analyze your clicks, conversions and other performance results within 1.5 secs
5. G2Mobi: Best Self-Serve DSP for Advertisers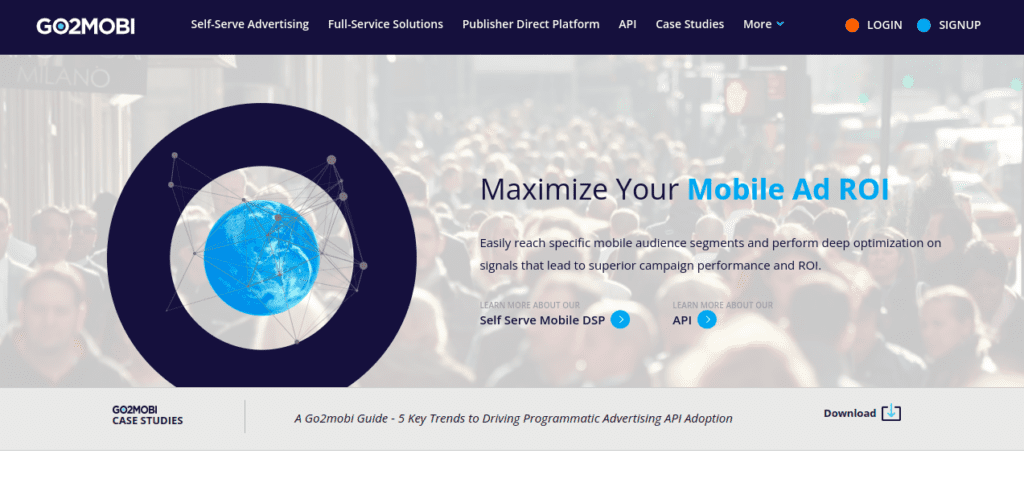 Go2mobi is a mobile advertising DSP that leverages first-party data to generate measurable returns on ad spend for brands, agencies, and marketing companies. Go2mobi has just released its one-to-many integration with BidSwitch, a powerful routing technology that enables access to 150+ supply partners. Advertisers can now access more users, through more channels, apps, and sites! It is more focused on the mobile sector, helping advertisers with better ROI opportunities with its robust targeting tools and advanced algorithms.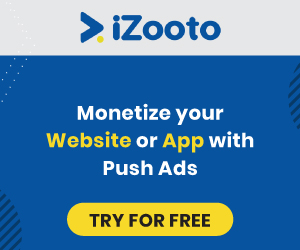 6. Targetoo: Best Self-Serve DSP for Advertisers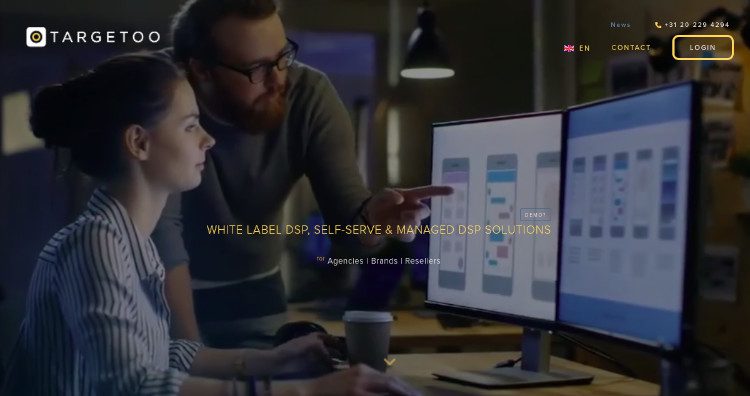 Targetoo utilizes, owns and operates intelligent tech features, which are essential for great Programmatic (Mobile) Advertising campaigns. Targetoo specializes in mobile advertising and is the leading Programmatic Advertising company with the technology of the highest standards for Demand Side Platforms in the market and they offer to their clients the opportunity to reach and target the right kind of audience, worldwide. They offer some special inventories like around 9 Billion daily impressions from mobiles.
They are based on a couple of models that include CPM,CPC, CPV and CPA.

The minimum spendi

ng

required to sign up for it ranges from $1 to $500.

They have a couple of Ad Formats that includes Banner Ads, Custom Ads, Interstitial Ads and more.

They make payments on the terms of Net 30 Days, using PayPal or Wire Transfer.
7. Basis: Best Self-Serve DSP for Advertisers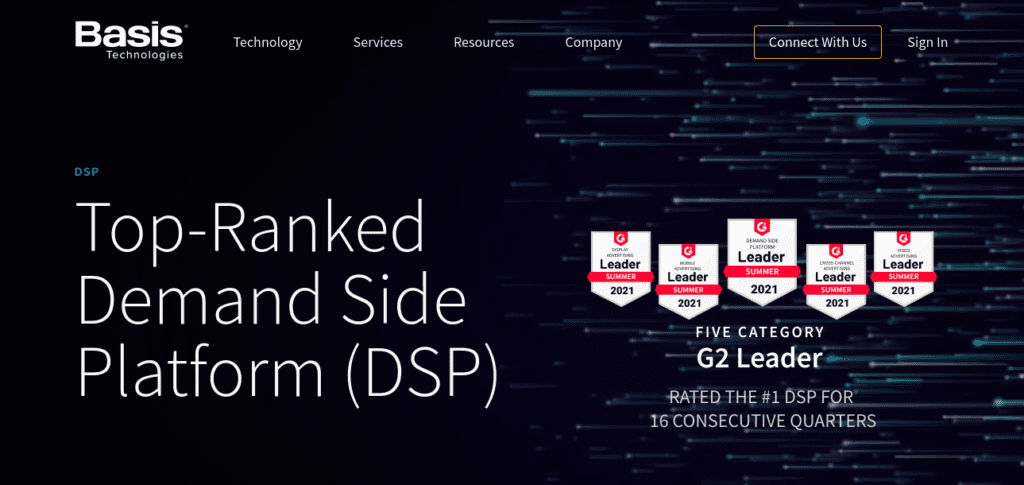 Basis Demand Side Platform is a programmatic ad-buying platform that allows marketers and agencies to manage mobile, desktop, video and social campaigns. It is one of the leading self-serve DSP in the market and hosts a number of advertisers, marketers, and agencies. It provides performance-driven optimization across search, social, programmatic and direct media buying.
8. Rubicon Project: Best Self-Serve DSP for Advertisers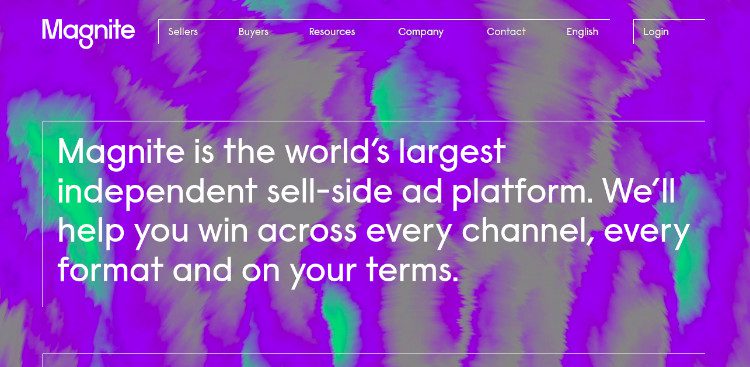 An online advertising technology firm with the mission to automate buying and selling for the global advertising industry, Rubicon constantly innovates to serve both the publishers and advertisers. It is used by the world's leading publishers and applications to connect with top brands around the world.
Rubicon requires 5 million page views per month for anyone to become a publisher so the quality of the supply is premium.

Rubicon keeps us with the ad qualities for good, and has certain Guidelines to ensure the same. This helps maintain the fairly good ad quality that it has.

Rubicon mostly makes use of Mobile Ads that is In Apps and Video Ads, both of which have proved very impactful and has engaged viewers to a large extent.
9. Peak 226 DSP: Best Self-Serve DSP for Advertisers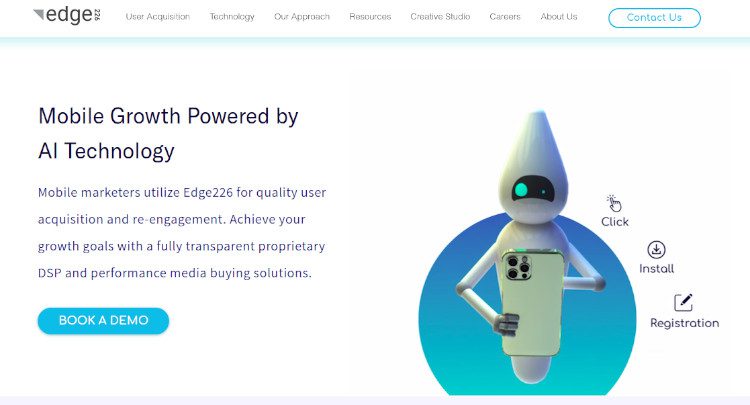 Peak 226 is an innovative Results Driven DSP enabling programmatic for both Display and Video at no risk for the advertiser. Peak DSP offers its' media partners integrations with top SSPs, a superior optimization algorithm that ensures CPV & CPC targets are hit efficiently & 100% transparency.
For Display, the platform enables programmatic buying towards CPI & CPLV for mobile web & in-app campaigns with banners, native ads, text ads and Rewarded Video. For Video, buy and pay in your defined CPV price with in-banner and interstitial across mobile in-app and mobile web.
Programmatic buying on CPC, CPV & CPM

Integrations with the worlds' leading SSPs

A superior optimization algorithm

100% transparency

Dynamic reporting
10. myDSP.io: Best Self-Serve DSP for Advertisers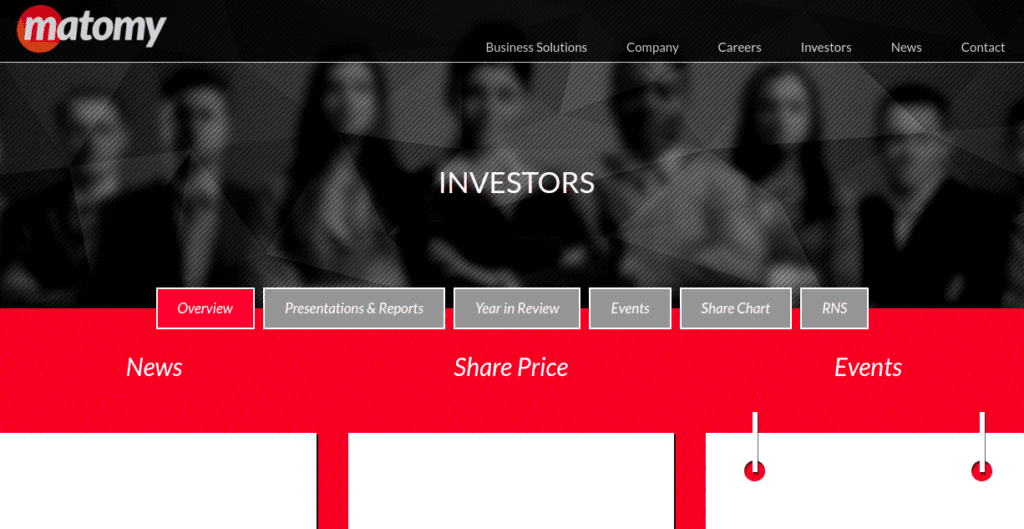 Also called Matomy, myDSP, is a self-serve, demand-side platform that provides everything advertisers would need to maximize mobile advertising's reach and results, which includes full transparency, data-driven audience targeting, custom automation, dedicated support, and direct access to the Mobfox SSP and other leading SSPs. If you're looking for CPA campaigns, you can target this DSP to maximize your revenue.
They are based on only the CPM model.

They have specified no minimum spend also, they have no minimum traffic requirements, allowing all kinds of websites to be a part of their team.
11. Platform.io: Best Self-Serve DSP for Advertisers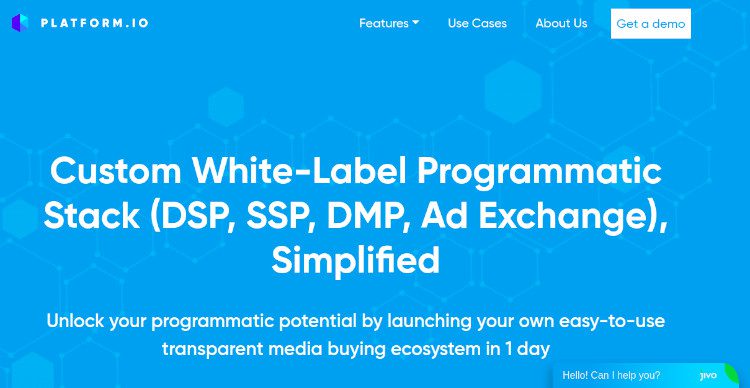 It is a self-serve, demand-side platform that stands by "focusing on business, and not its infrastructure" and assures connectivity between your Ad Exchange seats, SSPs, DMPs, and Header Bidding sources to ensure there are no hidden fees and margins. They offer customizable attribution and analytics, in a quick manner and allow exporting and importing of data.
It is based on CPM, CPA, and CPA model.
We hope this list of self-serve DSPs gives you some idea to go live with your campaigns with a small budget. Initially, while setting up it is always suggested to get started with someone who has hands-on experience with media buying! Since there are a lot of factors that come into play for media buying, you should start with low investment and then shall gradually increase your overall spending. Do check out our article on Media buying tips and tricks for dummies [hyperlinked soon] to get started. Feel free to share your experience with us if you've campaigns running on any of these DSPs.
Our Recommended Tools for Publishers:
Looking to Increase your Ad Revenue:
Get in touch with me for a personalised consultation and increase your ad revenue across native, display, video (instream and outstream), in-app and other verticals. I also assist in customized DFP setup, header bidding, and content creation strategy. My skype id is:
ronniedey
. Feel free to connect!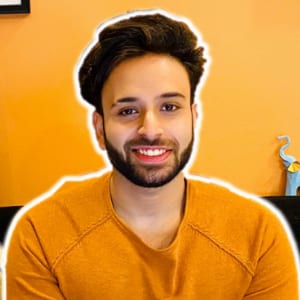 I and my team research various ad networks and can help you increase your overall ad revenue; so you could rake in more greenbacks with the best monetization platforms. Tap into the power of the online publishing business with me. I am just a mail away, so reach out to me if you want to scale up your website revenue. mail: [email protected]