Last updated on January 26th, 2023 at 04:09 pm
Over the years adtech has continued to grow and we have seen the rise of several technology companies to cater to the growing demand for online advertising. With machine learning coming to the forefront, a lot of things have changed and today, how we see and perceive media buying is altogether different from what it used to be. The growing number of technology companies has opened up several options for advertisers as well when it comes to media buying. Today, marketers continue to experiment and have their own arsenal to help them with success. In this post, we are going to talk about some of the best ad networks and exchanges that advertisers should keep an eye on while getting started with media buying.
Table of Contents:: Summary
Hide
Publishergrowth: The Revenue Acceleration Platform for Publishers
Blognife is elated to announce the launch of Publisher Growth- a community of publishers that helps you actively accelerate your revenue. This platform assists publishers in growing their traffic and revenue. As publishers, you can share and read reviews of ad networks and hosting companies. You can connect with other publishers to build links for growth and monetization hacks and more. This platform will help you stay up to date with the advertising and publisher ecosystem.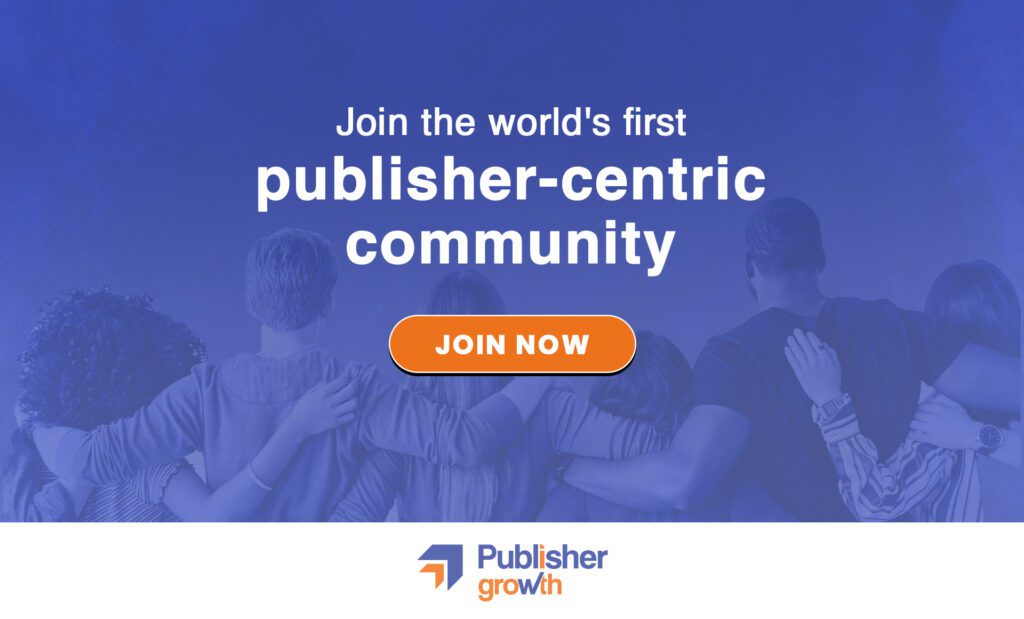 Features:
List of 200+ ad networks to monetize your site across all verticals.
Personalized site audit upon signing up on the platform that can increase your revenue.
Find all upcoming adtech conferences, webinars, and events in one place.
Stay informed with the latest adtech news across the globe.
Best Native Ad Networks for Advertisers to Buy Traffic
Native advertising has continued to grow in the last few years and the emergence of strong native advertising platforms like Taboola, Outbrain, and others have created a new dimension in the adtech ecosystem. A lot of advertisers prefer native advertising platforms when compared to other channels mainly due to better ROI. Native ads continue to be ROI effective across several niches and thus are recommended for media buying.
1. Taboola: Best Native Ad Network for Advertisers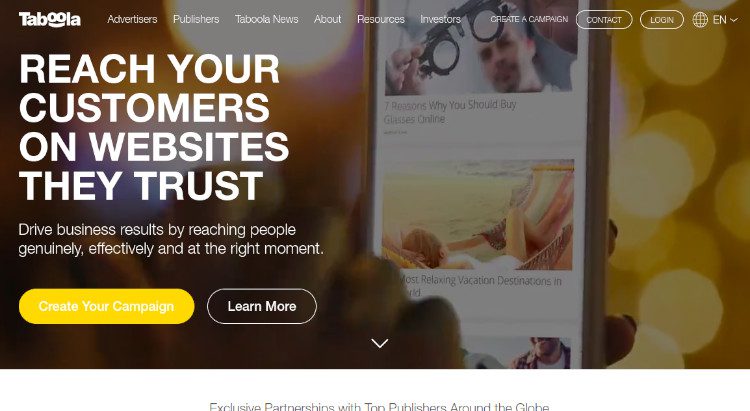 Taboola continues to be one of the preferred platforms for native ad buying due to the sophisticated targeting it offers in addition to its huge global supply. If you're looking to scale your campaigns across multiple niches, then Taboola can be a great fit for you. Also, it has a significant volume of tier one traffic that you can target.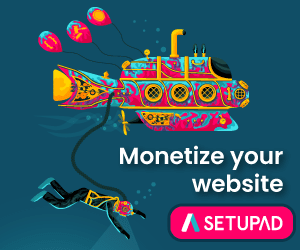 The CPC rates which you will be charged for tier one traffic can be anywhere around 7 to 15 cents. It can be a bit higher in specific niches like finance, investment, health, etc. However, the rates continue to be low in the entertainment niche. Creatives that have a very good click-through rate would generally cost much lesser on native ad platforms than those which have much higher click-through rates. Taboola's campaign budget starts from USD 3000 per campaign and is mostly associated with a representative. Thus, it is not a self-serve platform for advertisers.
2. Outbrain: Best Native Ad Network for Advertisers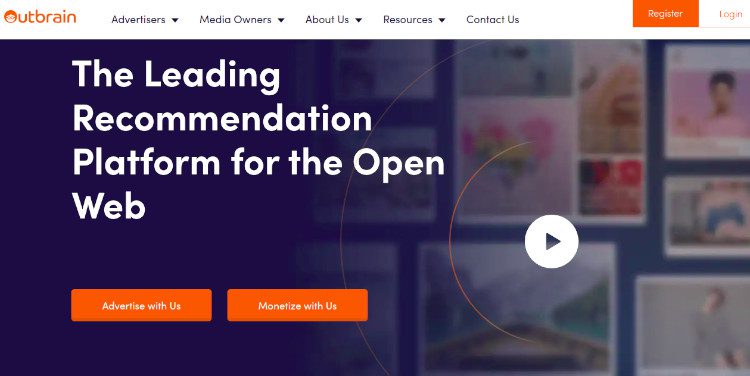 Outbrain offers a self-serve platform with a much lower advertising budget to get started. So, if you're planning to get started with your traffic buying, Outbrain can be a great introductory network. The overall interface is quite easy to get started and you can fine-tune your targeting to have a precise audience for your website.
The CPC rates for Outbrain are compared to Taboola and can be a bit higher if you're targeting premium websites. Outbrain maintains strict editorial standards and thus it is difficult for advertisers to promote anything under the sun with Outbrain.
3. Yahoo Gemini: Best Native Ad Network for Advertisers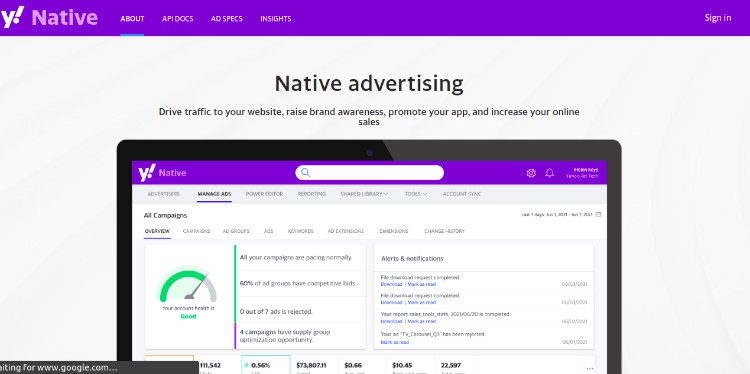 Yahoo's Gemini is a reliable source of traffic across several niches. A significant volume of traffic comes from Yahoo's partner websites and thus one can always vouch for the quality of the traffic. Gemini has a stronger presence across the US and if you're looking for converting traffic for tier one countries, this can be your preferred choice of native ad network. The CPCs can be on the higher side when compared to Taboola and Outbrain, but the overall conversion rates should be higher with Gemini. Thus, it is one of the reliable sources of driving traffic and advertisers love it.
4. Revcontent: Best Native Ad Network for Advertisers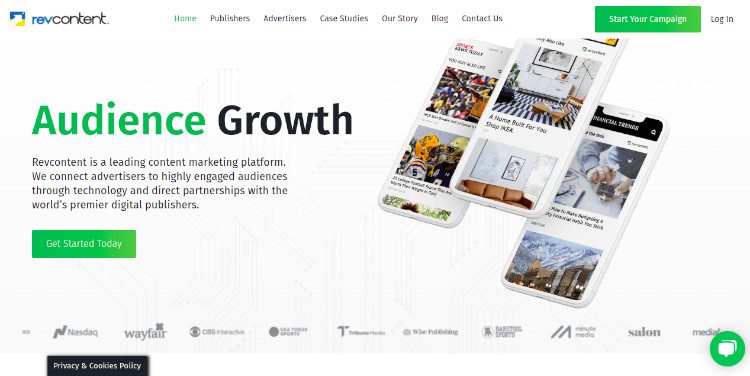 A lot has been said about Revcontent which has grown rapidly as one of the emerging native ad networks across the industry. It has tie-ups with some of the biggest brands as its advertisers and also has several premium publishers across its network. Although it is easy to get started with Revcontent and the CPCs are comparatively lower than Taboola and Outbrain, you have to do a lot of hard work to filter out non-performing traffic which is one of the key concerns while advertising with Revcontent. Other than that, it is a robust native ad network with strong technology solutions that can drive higher growth and ROI for advertisers. The CPC rates for tier one traffic hovers anywhere between 5 cents to 15 cents.
Best PPC Ad Networks for Advertisers to Buy Traffic
Apart from native ad networks, there are a few ad networks that have robust targeting when CPC-based media buying is concerned. One of the most crucial aspects of CPC-based media buying is to ensure the advertiser's ROI. Not all PPC networks have the technological sophistication to ensure that the amount which is invested in media buying promises a better ROI. Thus the options here are pretty limited and mainly include the following
5. Google AdWords: Best PPC Ad Network for Advertisers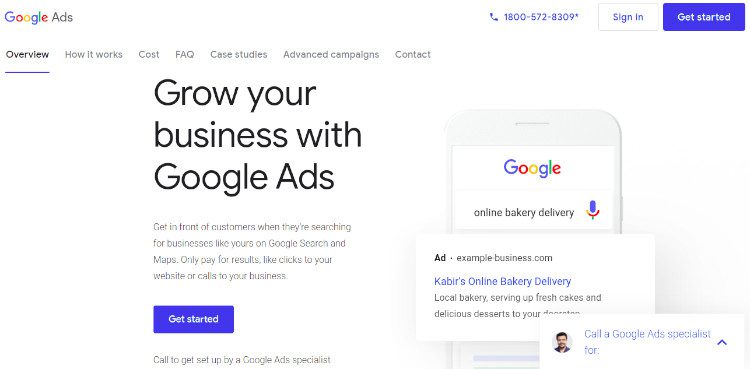 AdWords continues to be the industry leader in CPC media buying and majorly because it has taken extensive steps to ensure that the ROI of its advertisers is respected. Adwords continue to be the industry leader for small business media buying since it has millions of small business advertisers across the globe. The CPC rates on Google Adwords start from a few cents for tier one traffic and can go as high as $30 to $50 per click. The rates majorly depend upon the conversions, quality of traffic, and the keywords you're bidding. Buying traffic with Google Adwords can be costly if it is not conversion driven. However, the quality of traffic from AdWords is considered to be top-notch.
6. Microsoft Ads: Best PPC Ad Network for Advertisers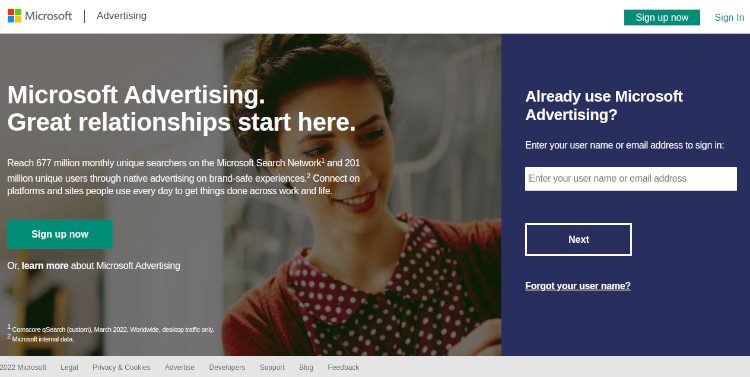 A lot of advertisers and marketers use Microsoft ads to drive traffic to their website and product pages and thus make money. The network has a strong presence across specific tier one countries like the US, Uk, Canada, and Australia. Advertising on Microsoft continues to be costly but less than that of Adwords. The CPC rates for tier one traffic mostly hover across a few cents to a few dollars.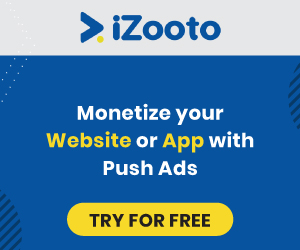 Best CPM Ad Networks for Advertisers to Buy Traffic
Media buying from open exchanges continues to be one of the most prominent bets for advertisers and marketers. With the rise of programmatic technologies in advertising, more advertisers are adapting to buying impressions via exchanges. This essentially promises a higher ROI to advertisers and also makes it easier for the advertiser to manage the entire process. Here are we listing some of the best ad networks for advertisers who are looking for programmatic media buying.
7. Doubleclick Bid Manager: Best PPC Ad Network for Advertisers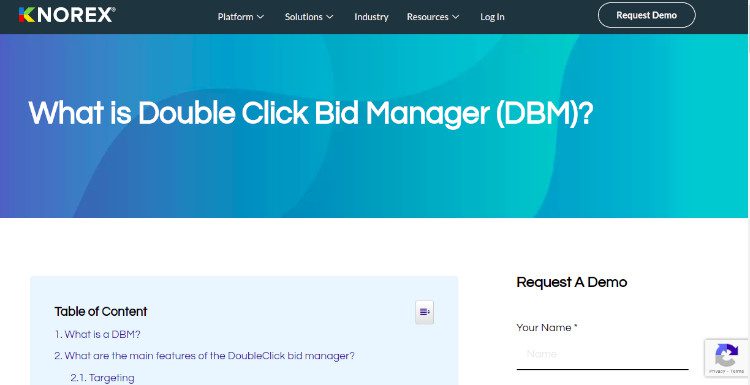 Google's Doubleclick is our first choice since it opens up an unparalleled inventory to advertisers. Advertisers have to option to buy impressions across mobile, web, and app across formats like native, display, video, in-app, etc. Along with it, advertisers can choose to do private deals with publishers and negotiate the rates from within the platform.
8. Facebook: Best PPC Ad Network for Advertisers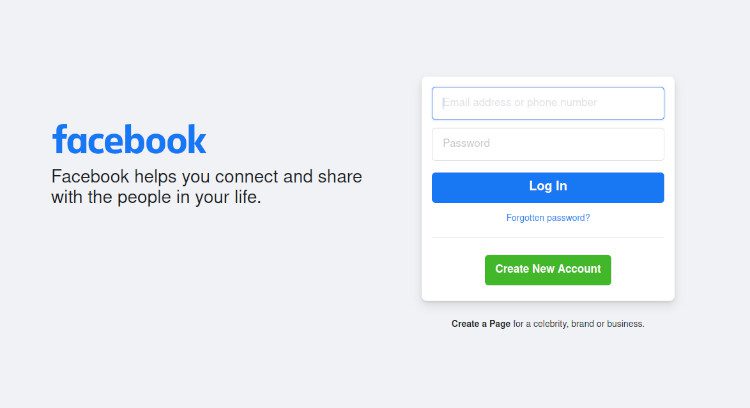 Facebook is one of the biggest advertising networks when it comes to targeting users across specific demography. The kind of user information that Facebook has is simply immense and all advertisers can reply to this information for better conversions. Facebook ads do drive great results across specific businesses and also the overall advertising ecosystem that Facebook has created makes it easier for anyone to get started.
9. Openx: Best PPC Ad Network for Advertisers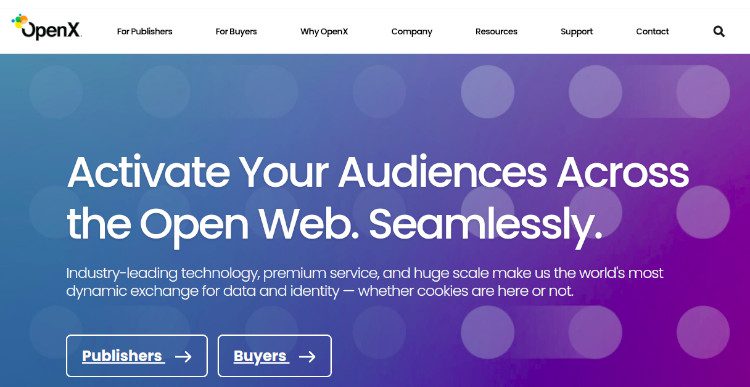 Open continues to be one of the leaders in adtech with a large number of advertisers and publishers relying on the platform. Similar to Appnexus and Google, it has developed its platform to help publishers and advertisers maximize their gains. However, these exchanges would require you to have a minimum monthly buying commitment which is often termed as seat cost to get started.
10. Appnexus: Best PPC Ad Network for Advertisers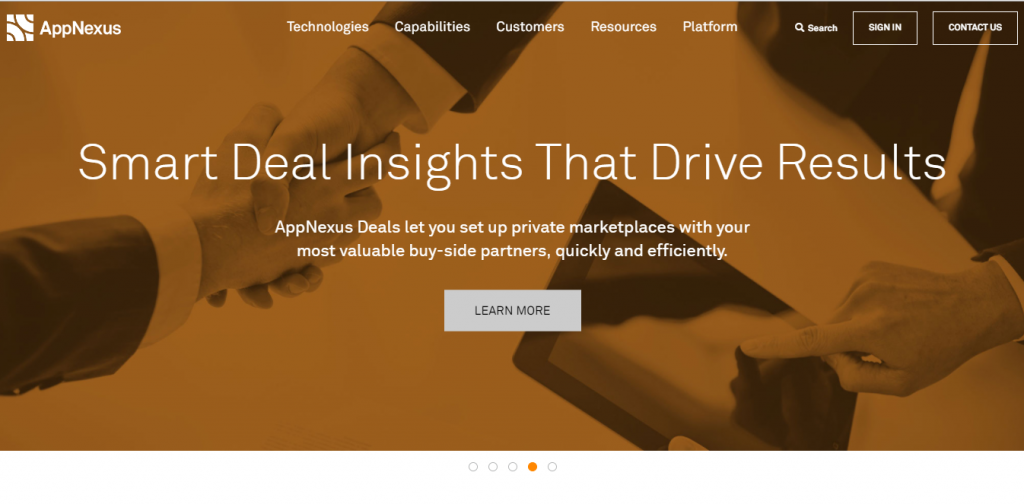 Appnexus is one of the biggest advertising networks that cater to several Fortune 500 companies as its prime advertisers. Also, Appnexus is closely tied with top trading desks and agencies that have a high volume of ads spent. It has several products for its buyers to ensure that the inventory bought in the open market is cost-effective and without fraud. The CPM rates for tier one traffic are anywhere from USD 2 to USD 6.
Best Ad Networks for Affiliate Marketers to Buy Traffic
Affiliate marketing forms an integral part of adtech, however a bit different from the traditional ecosystem. Over the years, we have seen a gradual rise of affiliate marketers and they continue to be one of the major segments where innovation drives. There are a lot of affiliate networks that work on CPL, CPS, CPE, and other models. A lot of successful internet marketers are in fact affiliate marketers. Here, we take a look at some of the top advertising networks that have been successful in driving conversions across several affiliate products.
11. Propeller Ads: Best Pop Ad Network for Advertisers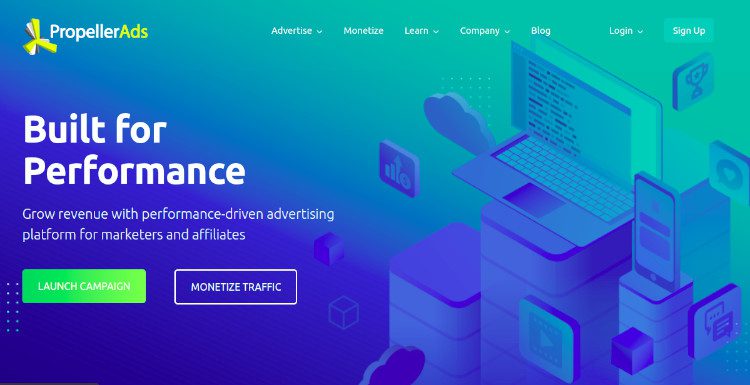 Although it's been a few years since its launch, propeller ads continue to be one of the most prominent ad networks when compared to other ad networks for media buying in the affiliate marketing domain. In this segment, the money is mostly in sweepstakes, anti-virus, mobile offers, etc which converts well on mobile devices via high-impact ad formats.
12. Adcash: Best Pop Ad Network for Advertisers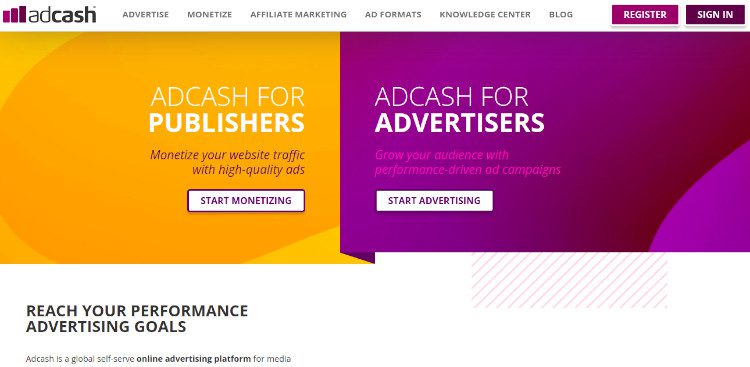 Adcash was founded in 2007 with a focus on delivering high-performing solutions to brand advertisers globally and online publishers. The Adcash platform gives advertisers access to deep-level targeting, such as mobile devices, operating systems, locations (including districts, counties, towns, and cities), and much more, allowing them to reach highly relevant audiences and get the best results. Combining this with 150,000 premium publishers from all over the world, covering a range of verticals, advertisers can find customers, anywhere and on any device. (source: business apps)
13. Popads: Best Pop Ad Network for Advertisers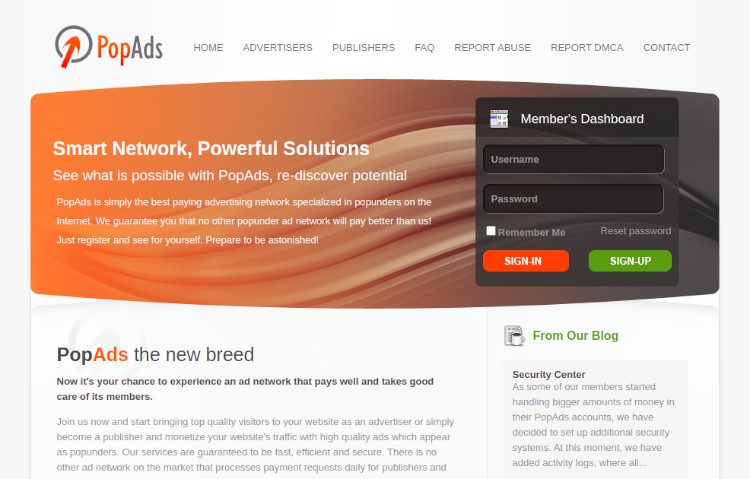 Popads is one of the most popular and old advertising companies that has survived the test of time. It has several buyers and publishers on its platform and offers high rates for its pop ad formats. PopAds offers lots of targetting options: category, keyword, country, and even time. You can change your maximum bid(how much you are going to pay for a popunder) anytime to control traffic speed and quality.
These are some of the best ad networks that advertisers can totally rely on. These have all been reviewed well and checked to assure that they will serve you well. You can definitely look into these if you want to buy traffic.
Our Recommended Tools for Publishers:
Looking to Increase your Ad Revenue:
Get in touch with me for a personalised consultation and increase your ad revenue across native, display, video (instream and outstream), in-app and other verticals. I also assist in customized DFP setup, header bidding, and content creation strategy. My skype id is:
ronniedey
. Feel free to connect!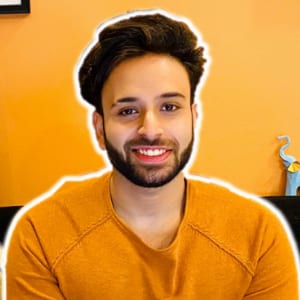 I and my team research various ad networks and can help you increase your overall ad revenue; so you could rake in more greenbacks with the best monetization platforms. Tap into the power of the online publishing business with me. I am just a mail away, so reach out to me if you want to scale up your website revenue. mail: [email protected]