Last updated on April 27th, 2023 at 09:39 am
An Ad Tracker is a software that can track the basic information about the ad campaign, which can be further used to understand the targeting audience & take better decisions. Such software can track Clicks, Conversions, IP, GEO, OS, device, etc. Some of the advantages of these software are:
Table of Contents:: Summary
Hide
Publishergrowth: The Revenue Acceleration Platform for Publishers
Blognife is elated to announce the launch of Publisher Growth- a community of publishers that helps you actively accelerate your revenue. This platform assists publishers in growing their traffic and revenue. As publishers, you can share and read reviews of ad networks and hosting companies. You can connect with other publishers to build links for growth and monetization hacks and more. This platform will help you stay up to date with the advertising and publisher ecosystem.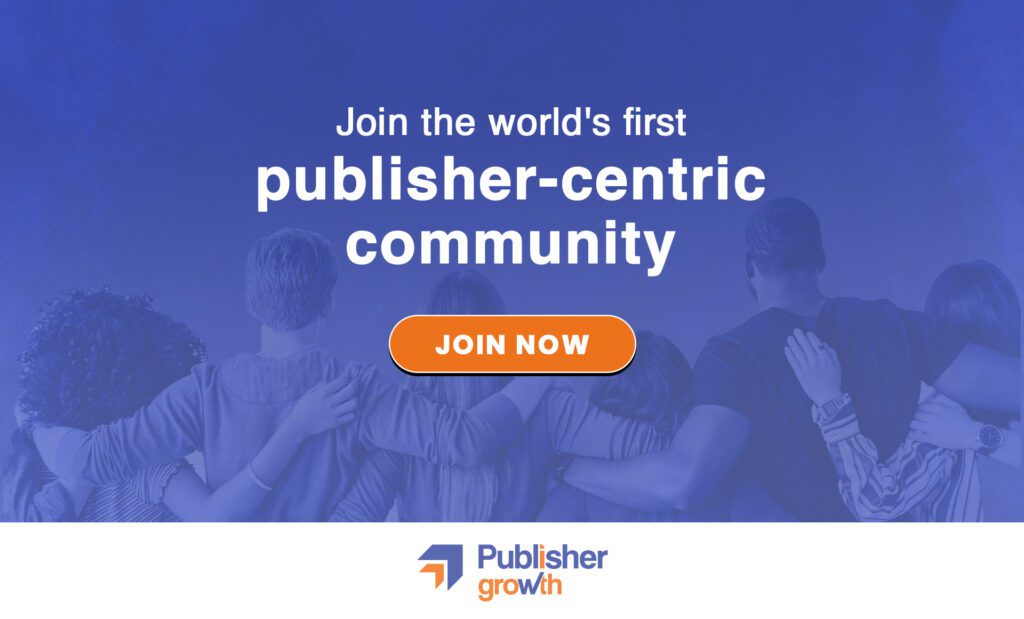 Features:
List of 200+ ad networks to monetize your site across all verticals.
Personalized site audit upon signing up on the platform that can increase your revenue.
Find all upcoming adtech conferences, webinars, and events in one place.
Stay informed with the latest adtech news across the globe.
Unified Tracking: Various campaigns from various affiliate networks can be tracked in one place.
Profit/Loss calculator: Instantly calculate profit or loss.
Easy optimization: Optimization can be done easily for factors like device type, OS, different networks, etc
URL Masking: One can hide the original traffic source using cloaking in order to mask the information about the campaign from the affiliate networks.
Split Testing: Split test can easily be performed to check which landing page works best.
10 Best Ad Tracking Software Tools of 2023
Here is a list of the 10 best ad tracking or link tracking software tools that can help you maximize the ROI across your digital campaigns.
1. Voluum: Best Affiliate Link Tracking Software Tool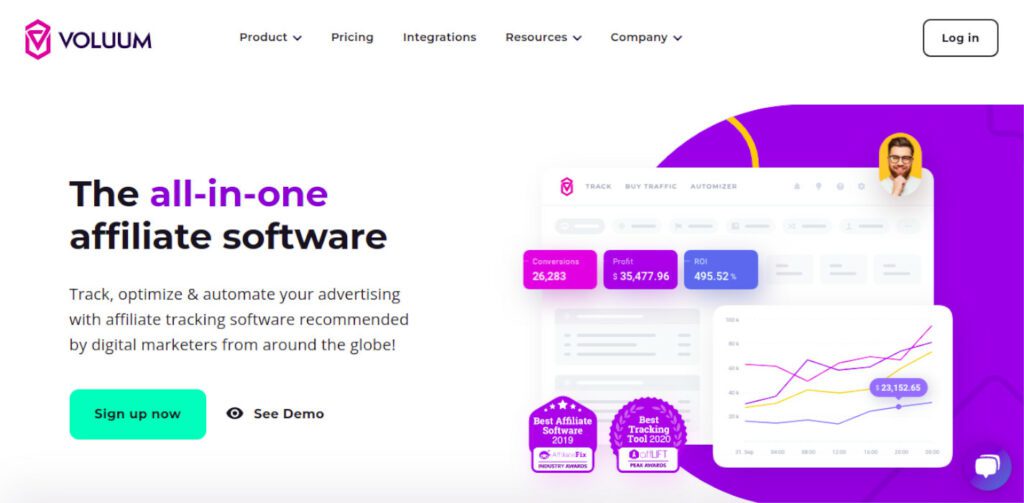 Voluum is an advertising tracking platform, especially for affiliate marketing campaigns. It is considered one of the world's best tracking software for its easy-to-use and interactive interface. For affiliate marketing campaigns, the software tracks the real-time updates and checks the data insights. Advanced filtering features with multiple user interfaces add more affiliates. They help you track, optimize, and automate your advertising with affiliate tracking software, recommended by digital marketers from around the globe. Voluum is arguably one of the best affiliate ad tracking software tools.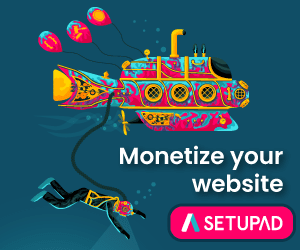 Features:
Real-Time tracking- It is built with an interface that you will get real-time results about the behavior of visitors and the conversion rates.
Traffic- Voluum provides seamless data continuously to the customers regardless of the number of users.
Device independence- Voluum has device independence to work on even mobile phones by just logging in to the account and checking the real-time analysis of the running campaign.
Security- Voluum has a strongly reliable interface with data security, firm encryption & authentication methods. In the situation of network timeout, it also keeps the campaign live.
Pricing: They have pricing starting from USD 99 to USD 999. USD 99 plan covers 1 million clicks and is charged at 0.00004 per click.
2. ClickGUARD: Best Ad Click Monitoring Tool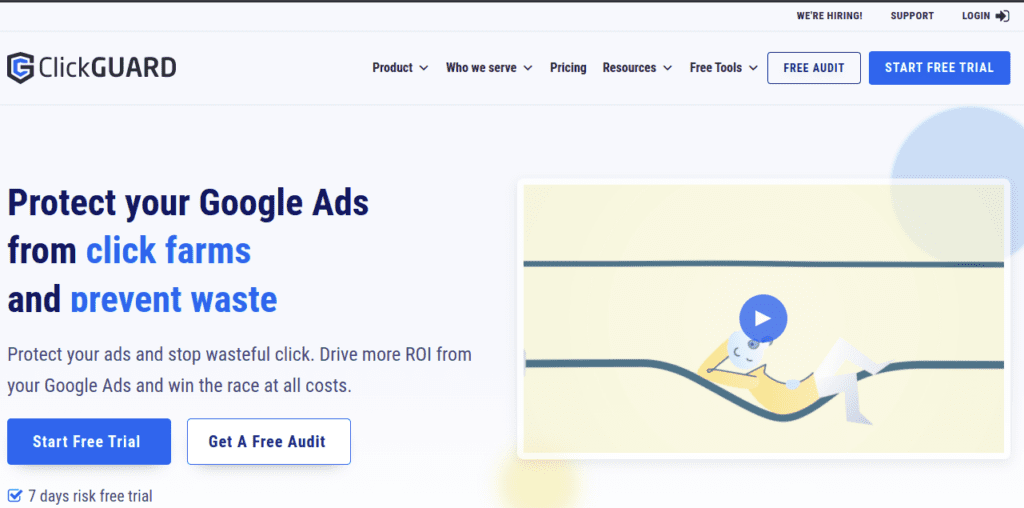 It is the best ad traffic monitoring and fraud protection tool mainly designed for Google Ads PPC. It is equipped with the most advanced protective algorithms for boosting campaigns. ClickGUARD's data-driven approach and highly customizable technology create a multitude of benefits for Google Ads users. It helps easily identify click fraud, bots, competitors, click farms, and botnets clicking on your Ads. You can improve your customer acquisition performance with Google Ads and increase ROI.
Features:
Device Fingerprinting
MCC Account Management
Network Forensics
Click Behavior Analysis
Campaign Forensics
Auto Source or Network Blocking
Proxy Recognition
Pricing: The starting is the Alert plan at $39, followed by Active Guard at $59, Premium at $79, and Elite plan at $99.
3. Bitly: Free Ad Link Tracking Software Tool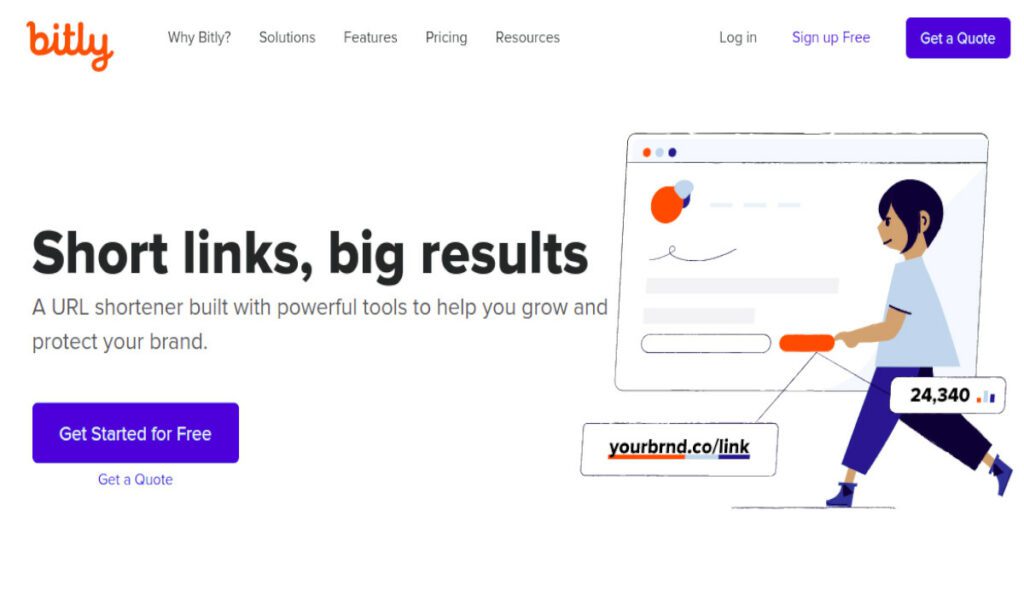 Bit.ly is a free ad tracking software that allows a user to store websites collected from the Internet to be stored as an online bookmark. Or links to be shared later. These links can be used on websites, emails, and other venues and can be tracked by the Bit.ly system. This could be greatly beneficial for promotional sites of a business. It helps you track and optimize every digital initiative using Bitly's best-in-class analytics tools. You can empower yourself with real-time data – all the way down to the local city level – on every click, tap, and swipe so you're armed with the information you need to share more of the content your audience is most excited about.
Features:
Unlimited storage- Users are able to store unlimited bookmarks for future use. These can be stored in specific groups.
Tracking facility- These links use a tracking code and will inform whether they have been clicked or shared.
Reminder notes- Notes can be added to each of the links stored in Bit.ly. Whenever the privacy settings are changed, login information and reminders can be stored in this note.
Easy sharing- The "Your Network" area allows friends, family, and followers who use Bit.ly themselves to share links by just signing up for an account.
Pricing: It is free software.
4. Google Analytics: Free Banner Ad Link Tracking Software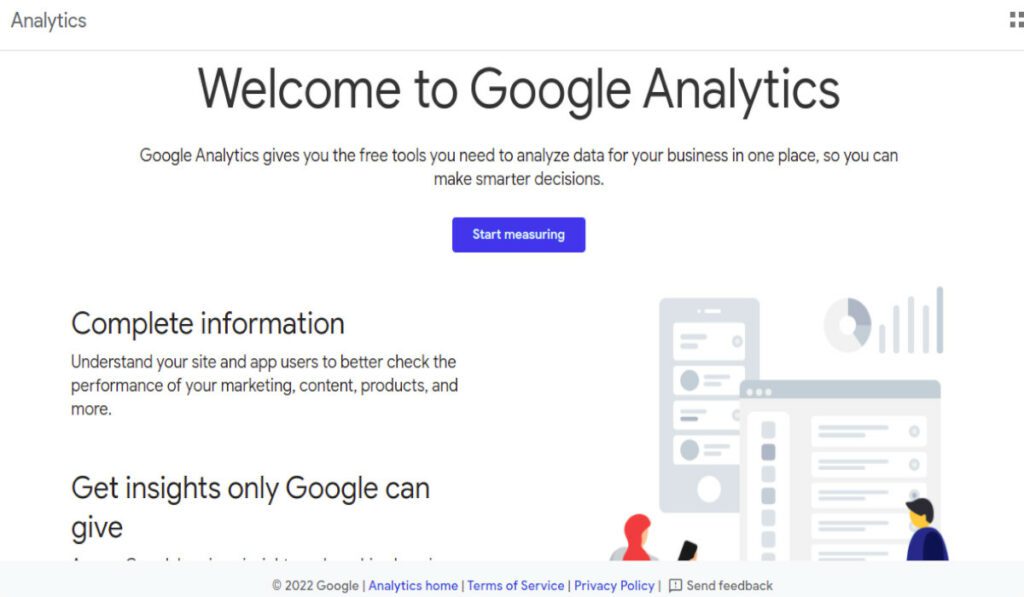 It is one of the most popular web analytics services in the world. Launched in 2005, Google Analytics provides website insights very easily collected and reported in detail. It is suitable for websites of all sizes. The audience engagement pattern and allocation in digital marketing can be easily monitored and managed by this tool. It gives you the free tools you need to analyze data for your business in one place, so you can make smarter decisions. You can set up 'conversions' inside GA and can track any banner image links on your existing website. Thus you can perform an analysis of the highest click banners on your site.
Features:
Monitoring website referrals.
Extensive data analysis capabilities.
Improved eCommerce integration for more detailed data reporting.
Useful Demographic information on the website's audience.
Helpful AI system to spot data-reporting problems and trends.
Well-designed mobile application.
Pricing: It offers a free service.
5. LinkTrackr: Best Ad Link Tracking Software Tool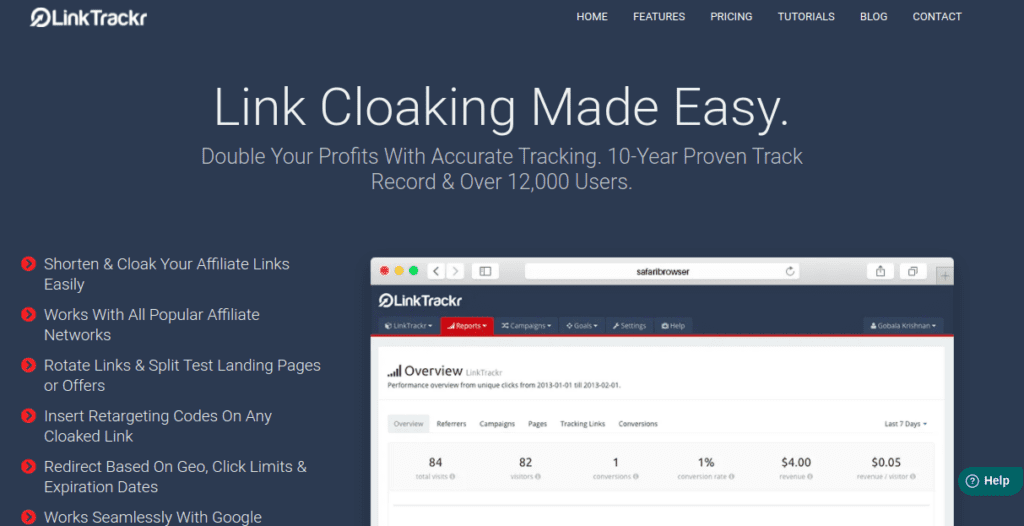 It is a web-based effective link tracking tool designed to monitor and track clicks efficiently. It makes affiliate marketing easier by making unlimited links, and unlimited clicks by logging in to their free or premium account. They help you easily identify the source of your conversion by creating campaigns to track banner ads, solo email ads, links on your website, and much more. Their system helps you avoid duplicate conversions with intelligent conversion tracking. Their reports show you how much you've spent to get that conversion, your profitability, ROI, and other critical metrics. LinkTrackr is one of the best ad tracking software.
Features:
Real-Time Clicks Tracking – LinkTrackr will display your click stats instantly on the dashboard with no delays.
Affiliate Links Cloaking- One of the popular features of this tool is the ability to use a custom domain to cloak and track affiliate links.
Affiliate Links Optimization- For each link created in LinkTrackr, it will automatically fetch data from your affiliate link and display it with unique meta information for search engines to treat them as unique content.
Converting Keywords To Links- One of the unique features of LinkTrackr is to automatically convert keywords into affiliate or tracking links. The tool also offers a link cloaking & tracking plugin for WordPress that you can install instantly on your site. These plugins also store the links on your site database, which will increase your website size with time.
Pricing: There are various ranges of plans starting with the Basic plan at $9 per month. The most popular is Pro for $19 per month. Others are Hyper at $39 and Extreme at $69. There is also a 30-day moneyback guarantee offer.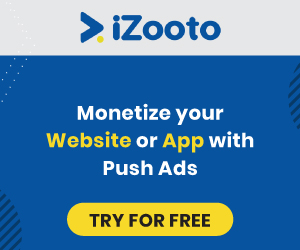 6. ClickMeter: Best Ad Link Tracking Software Tool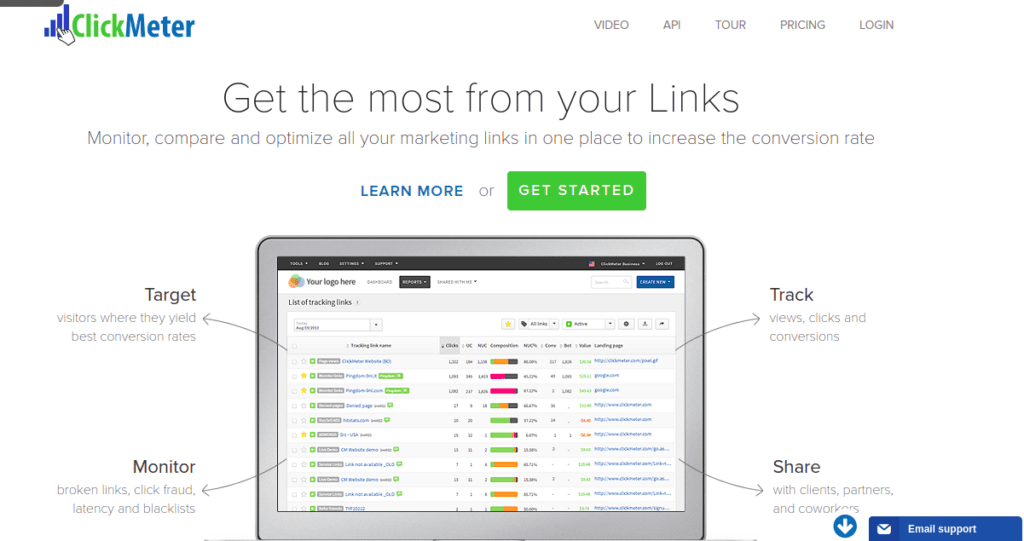 It is an online link tracking solution that initially worked on customization by different agencies to effectively count & track their web marketing actions. The solution records activities that occur in different channels and provides a full report about their status. Clickmeter is one of the most affordable ad tracking software in the market.
Features:
Easy Usage – ClickMeter is quite easier to use with a simple setup. Anyone can utilize the tools with ease to monitor and understand their marketing efforts.
Campaign Monitoring – Agencies, advertisers, affiliates, and publishers can monitor and compare their campaigns.
Fraud Protection – Click fraud is advertising malpractice that drains advertisers of their revenue. To ensure the safety of the campaign, ClickMeter ensures that only legal clicks are recorded and monetized.
Real-Time Results Sharing – ClickMeter helps agencies and marketers provide their clients with the most updated information with real-time data that they can share instantly through private or public channels.
Integrated Solution – API tools are used for users to connect several platforms to their favourite systems.
Pricing: Clickmeter starts its Medium plan from $29 per month following large & X-large with $99 per month.
7. RedTrack: Best Campaign Link Tracking Software Tool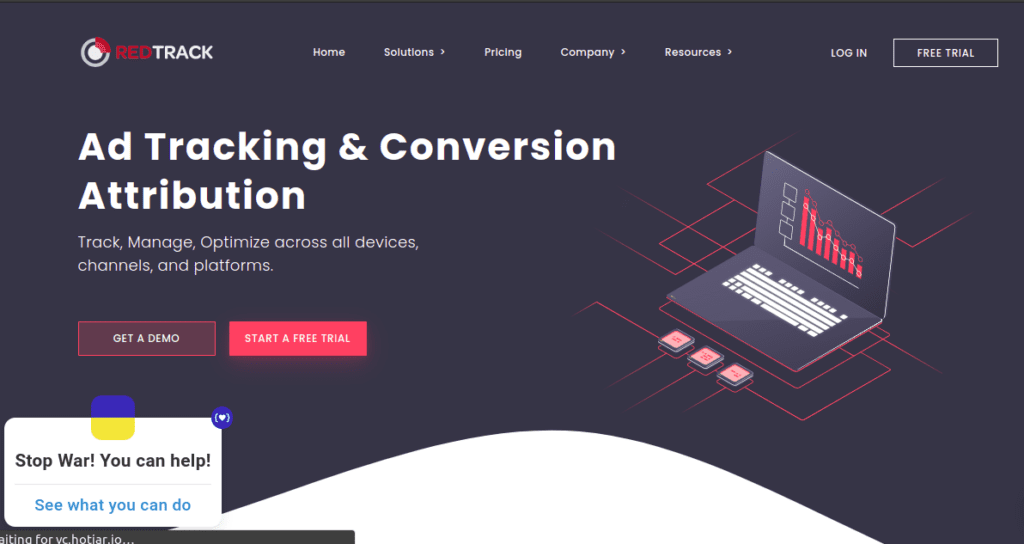 It is a performance campaign tracking platform mainly used for affiliate marketing. The tool employs machine learning technologies to enable users to automate and optimize campaigns. It was founded in Lithuania in 2015 to help affiliates and media buying agencies around the world to get higher ROI. It is the industry-leading ad tracking and conversion attribution solution trusted by media buyers and affiliate marketers to increase efficiency and revenue. It provides accurate data for each impression, clicks, and conversion in real-time. It allows you to connect your team within one platform, and save hours with shared views and reports for peers, partners, and customers. It is one of the best ad tracking software for marketers.
Features:
Custom Dashboards- These enhance the tracking and reporting with features like a detailed performance log for clicks, conversions, etc.
Multiple cost models- RedTrack supports multiple Affiliate cost models and verticals like CPC, CPA, CPI, RevShare, and CPM.
Diverse analytical data points- It tracks the source, network, offer, campaign, lander, GEO, OS, browser type & version, device, connection type, IP address, click date & time, and referrer for each click.
Custom Domains- It allows the use of a custom domain for tracking purposes and enhancing branding.
Unique visitor cap- Visitor cap limiting enables you to limit the number of times an offer is shown to the same visitor for a definite period of time..
Smart streams- A user can craft multiple streams for different objects like traffic distribution, and A/B testing based on preset or custom parameters.
Auto Scaling- With increased traffic, there will be no extra effort to be given in upgrading. Redirects will be real-time and faster as usual with no loss of traffic.
Pricing: The starting price is $29 per month.
8. ClickMagick: Free Ad Tracking Software
ClickMagick is a useful link management software that employs tools like click tracker, rotator & manager to monetize your advertisement campaign. It is a cloud-based platform that can iterate faster to maintain the quality of traffic. ClickMagick is much more than just a "link tracker", and you can use it to easily track and optimize even the most elaborate sales funnel. ClickMagick Audience Optimization™ makes it super easy to send your conversion data to the platforms you advertise on, so they'll have more accurate data to work with. ClickMagick campaigns with audience optimization are fully integrated with Facebook's Conversion API and sends your conversion data to Facebook in real-time.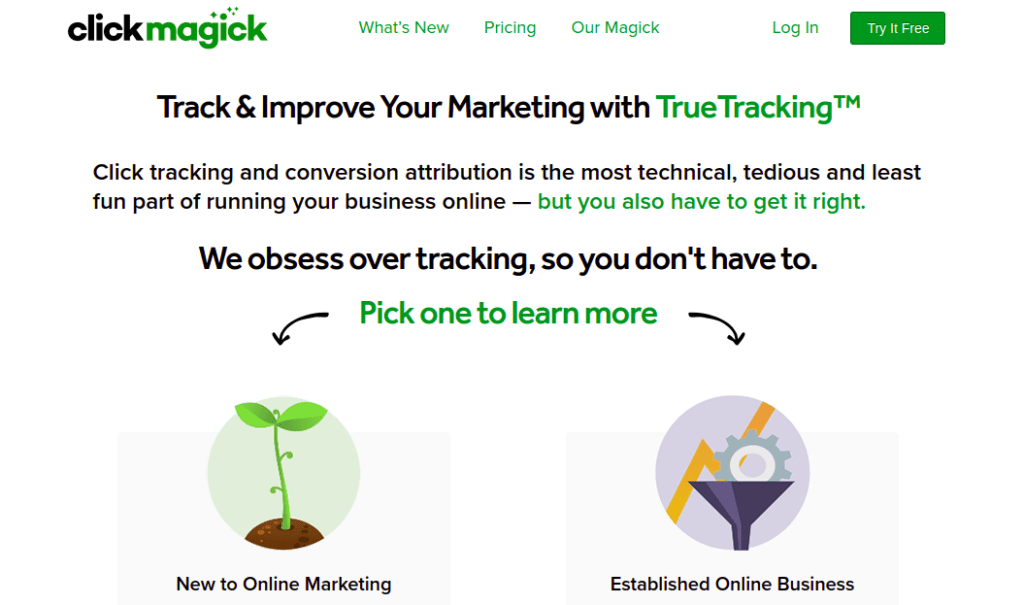 Link cloaking is masking the URL or affiliate link)
Geotargeting- include or exclude certain countries by checking/unchecking them from the drop-down list.
"Bad clicks" are filtered out from the tracking, or blocked completely.
Secure a link for exclusive access to users who know the password.
Organic Tracking- By using the code provided to your website, you can track organic traffic.
Rotators- This is a unique tool for traffic providers where more than one affiliate link can be set under one link, and it "rotates".
MagickBars- It is a bar that appears either at the top or bottom of a webpage designed by visual editors enabling the addition of images and tables, embeds YouTube videos, makes it sound-enabled, makes the background transparent, or colored, adds a speech bubble, also a countdown timer.
Timers – The countdown timer is to urge the readers to take action.
IP Lookup tool- This tool allows you to view the history and activity of any IP addresses.
A/B Split Testing- Once the setup is done which is quite easy, the traffic will be randomly split between all the pages​ along with individual statistics.
Pricing: starter plan is the basic at $29, followed by the Standard plan at $33 and the pro plan at $66.
9. TrackingDesk: Best Ad Tracking Software for Marketers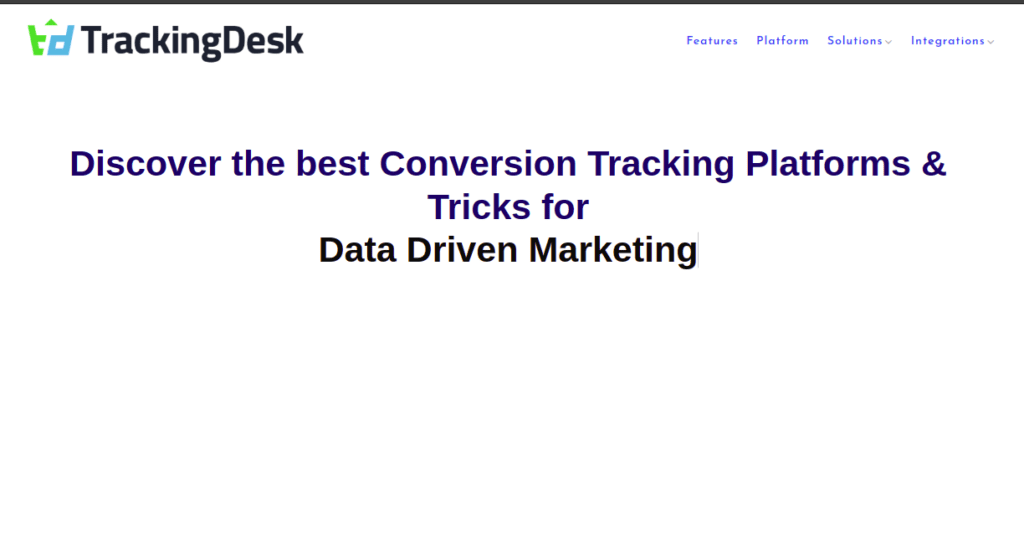 It is an affiliate marketing platform for media buyers with several ad networks for accurate tracking and optimization of ad campaigns. This cloud-based software was founded by Laurent Malka. TrackingDesk makes it easy to see what traffic networks, sources, devices, and countries monetize better at the most profitable rates. Their ever-expanding ad network's integrations allow you to instantly add new networks and precisely attribute conversions. They offer prebuilt templates to integrate your favorite affiliate networks. You can leverage Zapier integration, to connect your campaign data with the apps and services you use every day.
Features:
Easy Set-Up- TrackingDesk predefined affiliate networks and traffic sources makes set up a lot easier through a few clicks.
Fallbacking- TrackingDesk enables you to automatically redirect your traffic to relevant sites through a single click ideal for running multiple campaigns.
Landing Page Rotation- Being able to optimize a campaign on a tracking platform marketers can rotate landing pages and A/B test them to see which performs the best.
Affordable Tracking- With a unified platform and various pricing plans it is suitable for everyone from beginners to media agencies.
Easy Analytics- TrackingDesk gives you easy analytics data that is required without searching for it.
Pricing: The starting price is $50 per month for each user.
10. HyperTracker: Best Ad Tracker Software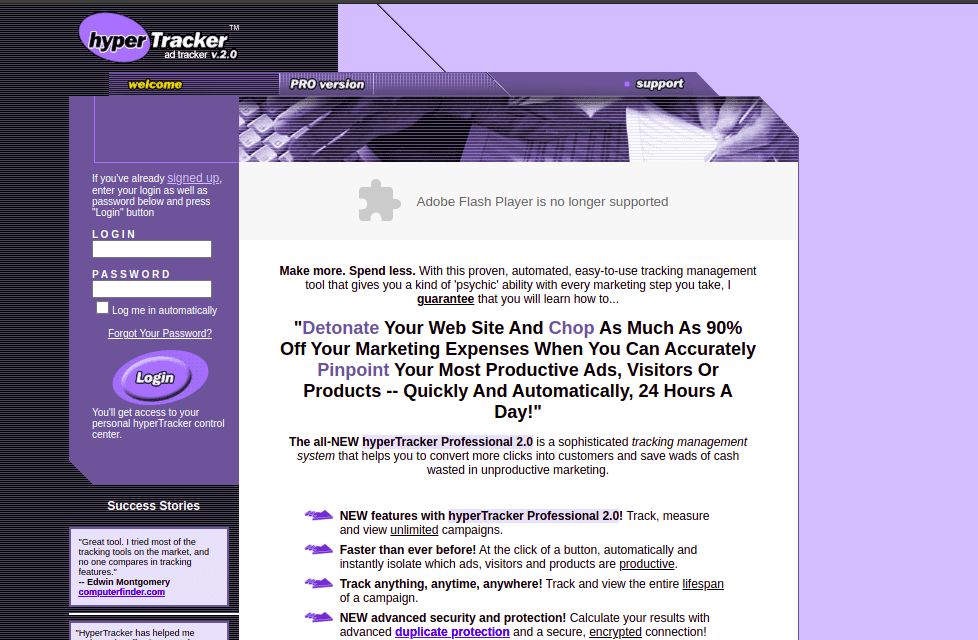 HyperTracker 2.0 is a brand new version of the affiliate marketing tracking software. Its premium, best-in-class management platform will minimize the cost enhancing the strength of advertisement campaigns. This is a sophisticated tracking management system that helps you to convert more clicks into customers and save wads of cash wasted on unproductive marketing. It provides you with a variety of statistics for analyzing the success of each campaign. It's fully automated, works around the clock, and offers all the vital statistics you need to make important decisions.
Features:
Instant comparison of the success rate of your past and current ads.
Count the number of unique visitors in relation to each ad campaign- Know how effective your campaigns are.
Track the number of sales, clicks, and actions generated by your ads. Know which ad design and placement converts better.
Indicate which ads generate more volume of traffic, actions, and sales. Find out what is the best location for your ads.
Provide a way for you to take a look at your previous, current, and new ads
Pricing: It is free for a 14-day Trial Period. Then comes the Gold plan at $14.95 every year, the Silver plan at $17.95 every 6 months, and the Bronze plan at $19.95 per month.
Roundup
Ad tracking software is essential for businesses and marketers because it ensures the exact conversation attribution and also helps in cookie-less tracking. It helps you determine which ad variation, lander, or offer brought you conversions and effortlessly optimize your campaign flows for even more ROI.
Our Recommended Tools for Publishers:
Looking to Increase your Ad Revenue:
Get in touch with me for a personalised consultation and increase your ad revenue across native, display, video (instream and outstream), in-app and other verticals. I also assist in customized DFP setup, header bidding, and content creation strategy. My skype id is:
ronniedey
. Feel free to connect!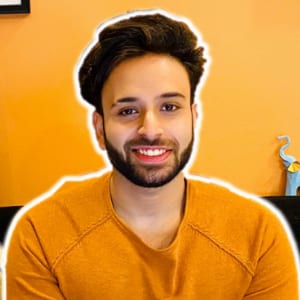 I and my team research various ad networks and can help you increase your overall ad revenue; so you could rake in more greenbacks with the best monetization platforms. Tap into the power of the online publishing business with me. I am just a mail away, so reach out to me if you want to scale up your website revenue. mail: [email protected]