Last updated on April 29th, 2023 at 06:39 pm
A supply-side platform or sell-side platform (SSP) is a technology platform to enable web publishers and media owners to manage their advertising space inventory, fill it with ads, and receive revenue. Supply-side platforms (SSPs) allow publishers to make money from their websites by creating and selling ad inventory to marketers on an impression-by-impression, or visitor-by-visitor, basis. By selling ads in real-time, publishers can provide advertisers with better visibility into individual impressions and gain instant clarity into advertising demand.
Table of Contents:: Summary
Hide
Publishergrowth: The Revenue Acceleration Platform for Publishers
Blognife is elated to announce the launch of Publisher Growth- a community of publishers that helps you actively accelerate your revenue. This platform assists publishers in growing their traffic and revenue. As publishers, you can share and read reviews of ad networks and hosting companies. You can connect with other publishers to build links for growth and monetization hacks and more. This platform will help you stay up to date with the advertising and publisher ecosystem.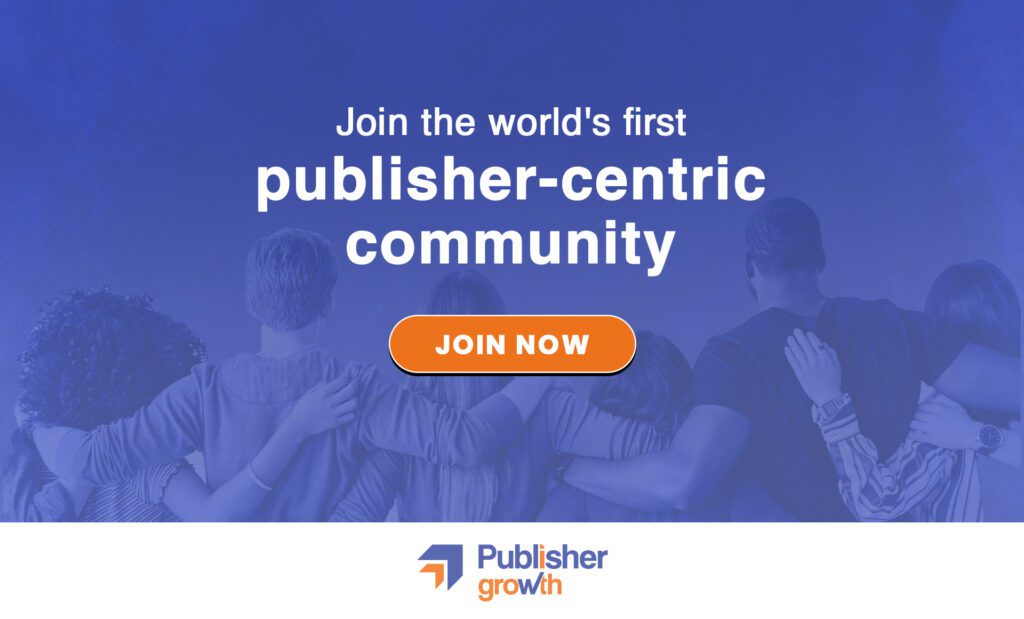 Features:
List of 200+ ad networks to monetize your site across all verticals.
Personalized site audit upon signing up on the platform that can increase your revenue.
Find all upcoming adtech conferences, webinars, and events in one place.
Stay informed with the latest adtech news across the globe.
This ensures that publishers sell their inventory at the most optimal price point and leverage their ad inventory to the fullest extent. SSP Platforms are used in conjunction with publisher ad servers—either as a single product or two separate integrated products—that provide the functionality to manage ad inventory. SSPs, in turn, give publisher ad servers the ability to sell their advertising inventory in real-time through advertising exchanges or directly to advertisers' demand-side platforms (DSPs). In today's post, we are going to discuss 20+ best supply-side platform companies (SSPs) for publishers to take a look at in 2023.
1. ReklamStore: Best Full Stack SSP Platform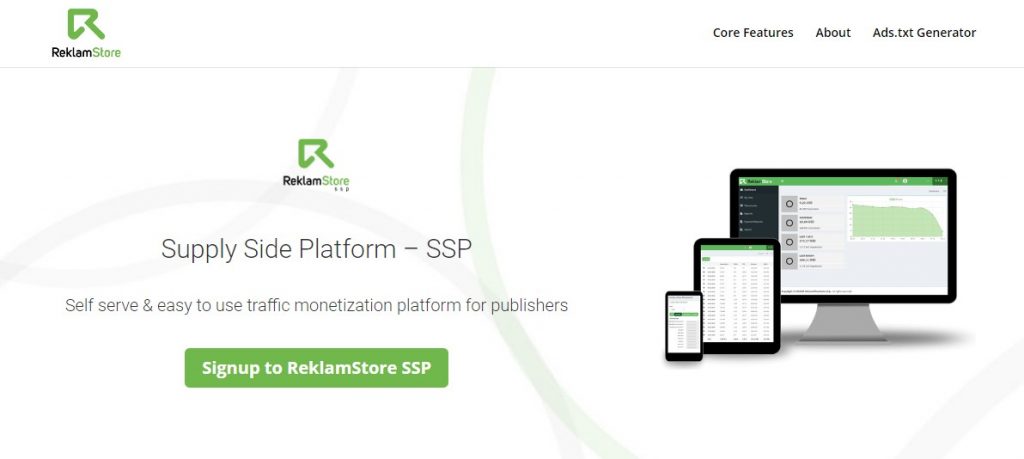 ReklamStore SSP is one of the best supply side platforms for small and medium size publishers. With the efficient advertising optimizations and ad placements, you will increase your eCPM and have high fill rate all the time. Using proprietary algorithms, ReklamStore SSP shows relevant ads to your users by analyzing your website. Dozens of different demand side platforms, ad exchanges, and direct buyers are integrated into ReklamStore SSP's network with header bidding technology.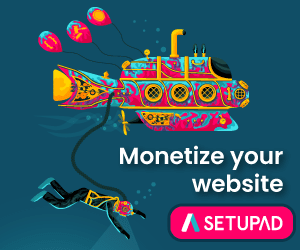 Working on CPM/CPC basis.
Standart, sticky, scroll, postitial, in-read and many other ad models.
High eCPM & high fill rate.
Unlimited demand for all GEO's and verticals.
Timely payments, PayPal or Wire transfer.
2. TheViewPoint: Ad Monetization Platform for Video Publishers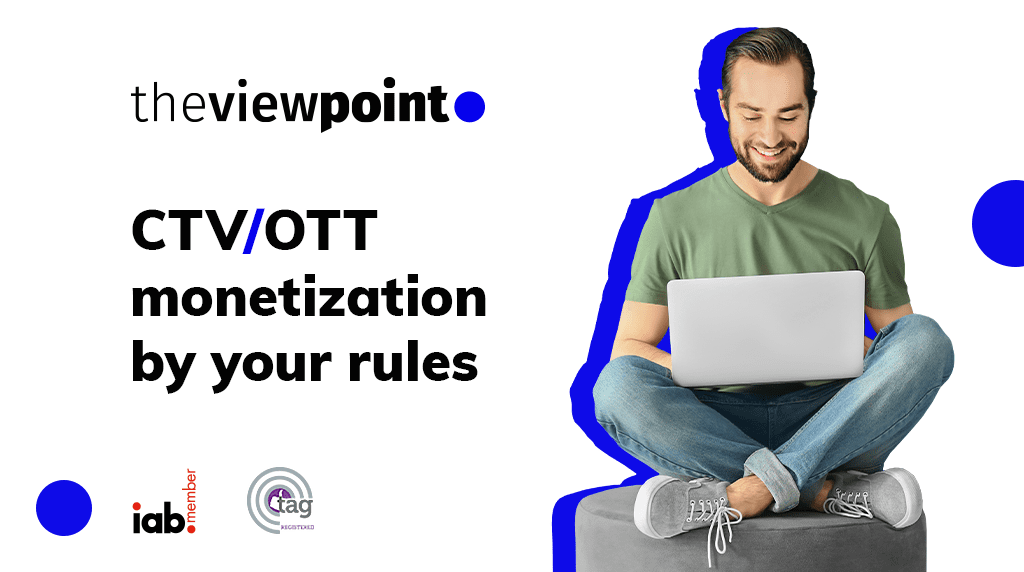 TheViewPoint is a one-stop ad tech vendor with a primary focus on the facilitation of the CTV/OTT publishers' monetization businesses and providing comprehensive solutions for advertisers as well. The pivotal concept of the company is to reimagine the way a supply chain works and to provide media owners with direct access to a pool of trusted demand partners. Avoiding SSPs markups, this proprietary platform helps video publishers to save up to 30% of their income on average. It supports a wide range of interactive creatives, including QR and pause ads that allow publishers to encompass partnerships with acknowledged advertisers. Brands here can benefit from cost-affordable and premium-quality inventory that ensures high-conversion outputs. The platform offers smart targeting capabilities, insightful metrics, and ad block resistant creatives.
Features:
The ViewPoint is an innovative, transparent ad monetization platform for CTV & OTT publishers to multiply their monetization revenues.
The platform can be seamlessly integrated into a publisher's operational environment, and it provides detailed real-time reports on campaign performance so a user can easily make adjustments when needed.
A user-friendly interface allows content owners to manage their inventory on an intuitive level. Still, TheViewPoint has its own Customer Care Team and offers a dedicated account manager to deal with any emergency or answer any question.
The key advantage is access to direct demand via PMP deals, so publishers can get the best rates for their ad slots, while programmatic-based deals through RTB ensure a constant demand for inventory at fair prices.
3. Media.net: Best Contextual SSP Platform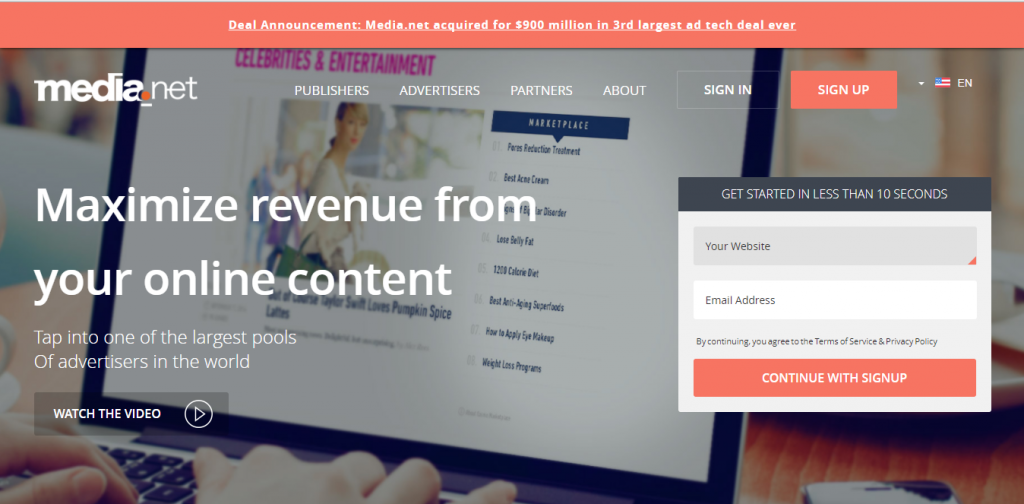 Media.net is a contextual ad network that works particularly well on niche websites that gets a majority of their traffic from the US, UK, and Canada. The network has a huge advertiser demand from Yahoo and Bing and boasts of high CPMs on niche websites that are focused on insurance, health, finance, loans, and more. There are a number of big publishers who are earning good revenue with media.net contextual ads.
Media.net CPM Rates- CPMs can go as high as USD 10 and above
Media.net Minimum Traffic Requirement- Flexible traffic requirement based on website niche. Usually 2,000 PVS/day
Media.net Payment Methods- They give the money on a NET 30-day basis, and their minimum payout threshold is $100. The payments are made via Payoneer.
4. Sovrn: Best SSP for Tier 1 Traffic
Founded in January 2014, Sovrn was formerly known as Federated Media and Lijit, and ten months prior to its launch, it had an immensely great track record, which lead Quantcast to dub it the 4th largest network in the advertising industry. At present, it is one of the top SSP platforms and is a US-based CPM ad network that serves over 20,000 publishers across the globe. Their analytics tool analyzes each piece of content and tells publishers how engaging it is and the amount of traffic flowing to their sites. Their concept is quite simple and is based on the fact that good content with a decent amount of traffic attracts more advertisers. Publishers can easily set their desired eCPM rate for ads published on their sites.
Features:
It is one of the supply-side

platform companies that allow you to capitalize on your own content and provides you with a whole lot of

advertising tools for display, mobile and video and more tools to help publishers compete.

Not just that, they help compare your site in real-time

and show if your site earns, performs and delivers more than sites or similar content and categories. They understand your audience and analyze your advertising partners with one dashboard.

They help reach more of your audience, and

make content available on the latest formats like Google's AMP, Facebook Instant Articles and more.
Not just that, they help

yield bigger and better returns with cross-device

and cross-platform

content. They better viewability and engagement on your site with Sovrn OnScroll 100% viewable ad units.
5. Setupad: Best Header Bidding Ad Network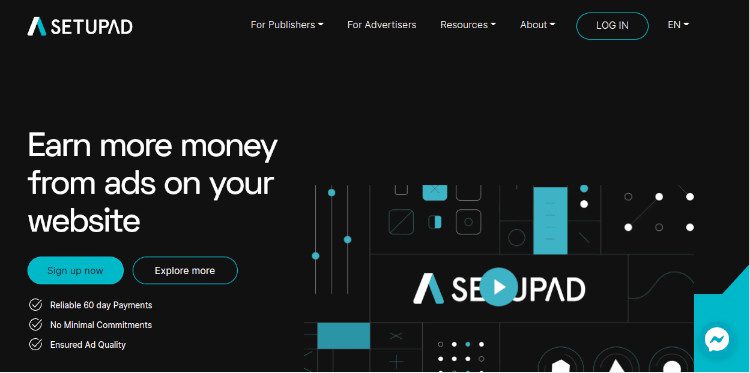 A widely known solution, Setupad is already implemented by various publishers all over the world and is one of the most preferred supply-side platform companies. They connect the website's advertising space to some or more than fifteen top SSPs (Supply Side Platforms) in a Header Bidding auction, which allows more buyers to participate and CPM prices to increase and helps monetize cross-border traffic and to help publishers gain incremental revenues ranging from 50% to 300%. Not just that, they do all the required yield optimization to allow publishers to get back to their true calling – quality content creation.
Features:
They allow browser-based

auctions to unify demands from the top SSPs worldwide and allow simple tag-based implementation into publishers' ad servers.
They have a distribution from a global network of servers and guarantee a 1-second timeout and customisation possibility for an improved user experience.
They combine all demand sources and allow

the possibility of about a 100% fill rate. They apply customized optimization methods for each domain and advertising zone, and regard bid responses from demand partners regarding particular geos, advertisers, and users.

They provide access to the reports that analyze the statistics for easy comparison and monitoring.
6. Smartyads: Best Full Stack Publisher Platform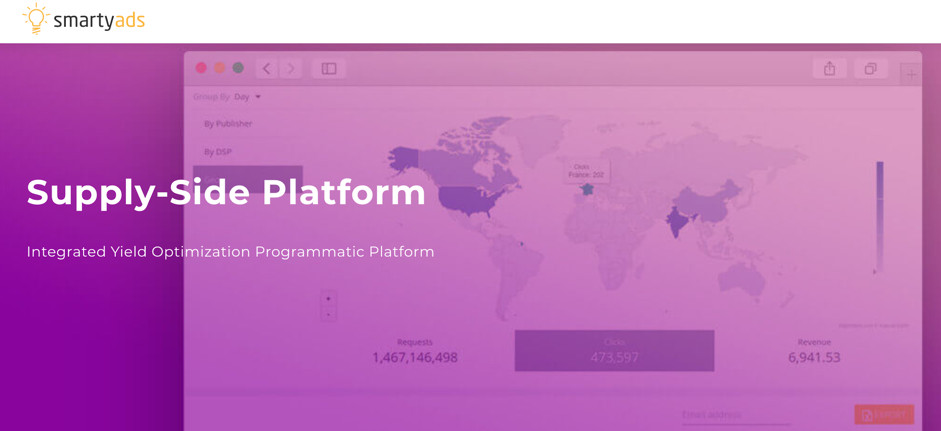 An excellent SSP platform and self serve advertising platform for media buying, tailored to the needs of advertisers, brands, agencies, and ad networks, Smartyads DSP also provides campaign optimization and management complete with automated buying functionality in a unified RTB platform. They are not limited to one platform and power up brand performance across desktop, mobile, display, video, and native advertising inventory. They enable precise and efficient targeting and provide tools for granular ad campaign optimization quickly and effectively. They explore opportunities for programmatic ad buying and cater messages to your audience accordingly to get you the best possible price.
Features:
They ensure the highest possible level of brand safety, considering how necessary it is for people working in a programmatic world.
They have implemented a smart technology approach to ensure that each impression is viewed and that ads delivered via their DSP are

viewed. They make it a point to deliver the right message to the right person at the right time.

They provide access to the new innovative IAB formats with flexible ad units, as well as new digital content experiences like 360-degree video ads, virtual reality (VR) and augmented reality (AR) per request.

Their technology makes use of sophisticated learning algorithms to ensure ad-serving efficiency. They provide analytics and necessary data in real-time

.
7. AdPushup: Best Automated A/B Testing Platform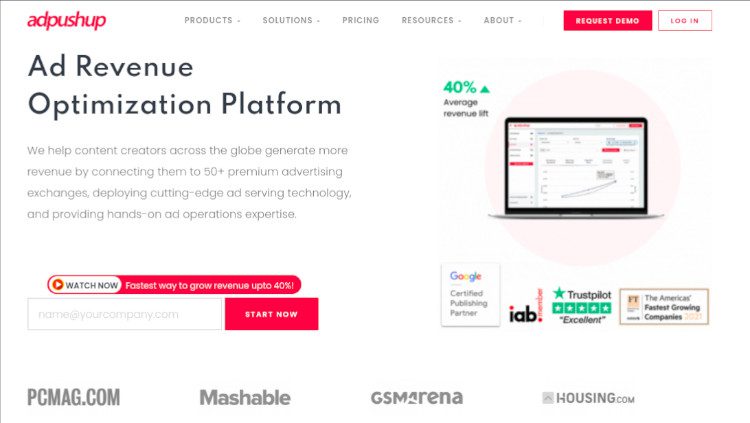 Started in 2014 with a straight and easy idea that even though A/B testing was becoming popular, no one was willing to use it to optimize publisher-side ad layouts. It is one of the best SSP platforms in the market. The founders then built and launched a prototype to get proof of concept, which resulted in double-digit revenue growth for their first website. Since then, they have grown to garner immense recognition and top media mentions, raised quite a lot of funding and became the one-stop revenue optimization platform for web publishers. Not only are they a Google NPM ADx Partner, but they are also a Microsoft Ventures-backed startup and the winner of the NASSCOM Emerge 50 award.
Features:
They allow ad layout optimization, i.e. their visual ad manager allows point-and-click creation of new ad units and layouts and the machine learning-based layout optimizer drives revenue growth with the use of incessant automated A/B testing.

With their standard IAB units, they have sticky ads, docked ads, in-image ads, and native ads to offer. They provide a custom implementation of Google's Accelerated Mobile Pages (AMP) for web publishers and their ad-reinsertion technology

helps web publishers recover the money that they are losing due to adblocking

software.
8. Openx: Best Full Stack Ad Exchange and SSP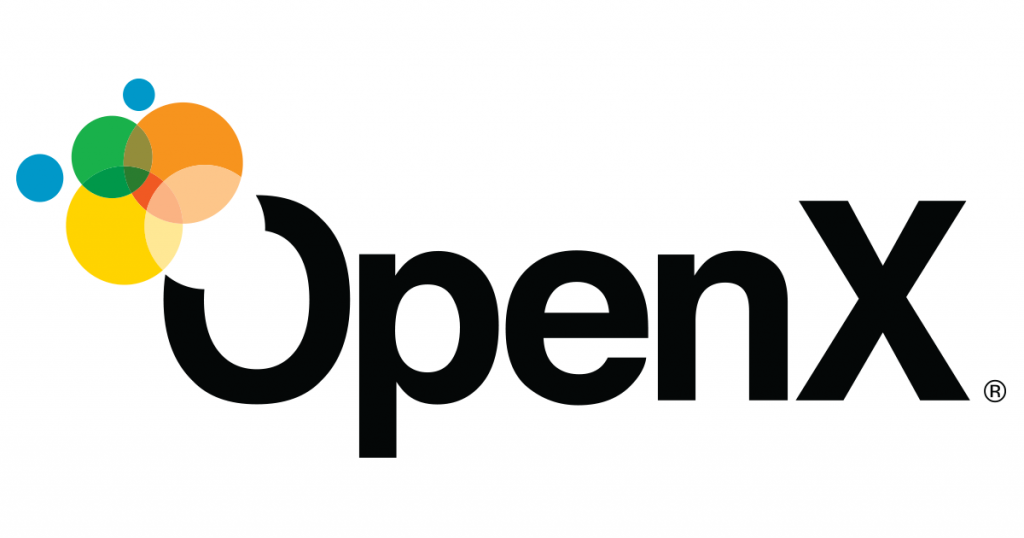 A programmatic advertising technology company, OpenX just turned 10 years old and is supported by leading investors, including Accel Partners, Index Ventures, SAP Ventures and Samsung Venture Investment Corporation. They are considered an epitome in programmatic RTB exchange and a top SSP platform and were the first company to invest in traffic quality initiatives materially. It is ranked on the Deloitte Fast 500 and the Inc. 5000 for its impeccable growth and success. They are a recognized leader in quality, scale, and performance, delivering value across every type of connected screen and format.
Features:
They guarantee progressive technology, superior service and the

highest quality standards. They also assure an experience with strong competition from secure, high-quality demand partners, including 100% of the AdAge top 100 advertisers, dynamic bids and direct programmatic opportunities.
They allow expansion of buyer relationships and deliver

new revenue streams, instantly scaled through Multi-Publisher Deals, with full control, to ensure inventory is packaged to capture its highest possible value.

They allow programmatic execution of direct, guaranteed deals.
9. Pubmatic: Best SSP and Publisher Monetization Platform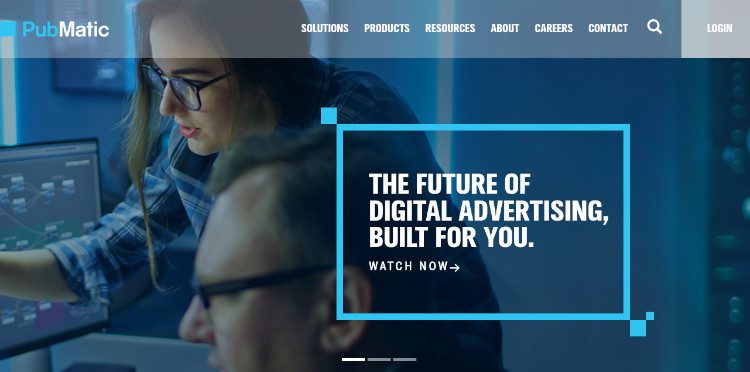 A Publisher focused SSP Platform, Pubmatic helps in the optimization of your performance while their SSP enables you to make smart, strategic decisions. They feature the leading omnichannel revenue automation technology for publishers and programmatic tools for media buyers and their publisher-first approach allows advertisers to access premium inventory at scale. They process over 12 trillion advertiser bids per month and they have been instrumental in creating a global infrastructure to activate meaningful connections between consumers, content and brands. Their focus on data and technology innovation has instigated the growth of the programmatic industry. They have about 800 million unique users every month and over 55 million daily ad impressions, 12 trillion advertiser bids every month and they generate more than 700 terabytes of new data daily.
Features:
With the use of Pubmatic Cloud, they allow you to take ownership of your programmatic technology with a customizable platform-as-a-service (PaaS) that delivers the benefits of a proprietary solution out-of-the-box, to assure that you can concentrate on what truly differentiates your business.

They help drive good revenue and ease the discrepancies of header bidding with enterprise-level management tools. They help manage and package premium audiences and inventory for buyers and at the same time also maintain control with the Private Marketplace.

They help increase competition and yield by facilitating connections with leading demand sources across screens, channels and formats with our real-time bidding (RTB) technologies.
10. Rubicon: Fastest Growing SSP Platform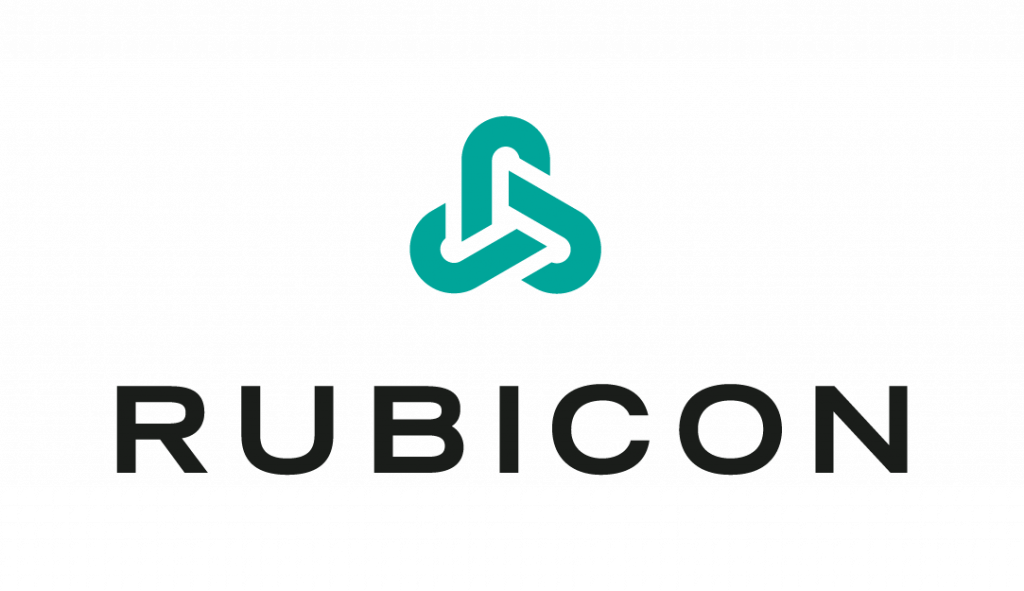 Founded in 2007, its objective is to keep the Internet free and open and fuel its growth by making it easy and safe to buy and sell advertising. It is the best SSP platform that has pioneered technology companies automating the buying and selling of advertising. It has created one of the largest real-time cloud and Big Data computing systems, processing trillions of transactions within milliseconds each month. They engineered a new model for the advertising industry which is similar to what NASDAQ did for stock trading.
Features:
It connects you with the audience where they are most engaged and inclined to act. They provide instant access to the

desktop, mobile and video inventory from thousands of global sellers and are consistently recognized for high-quality

inventory across every one of our supply partners.

They connect you with the top buying partners directly and provide access to over a billion global consumers.
11. Appnexus: The Complete Stack Platform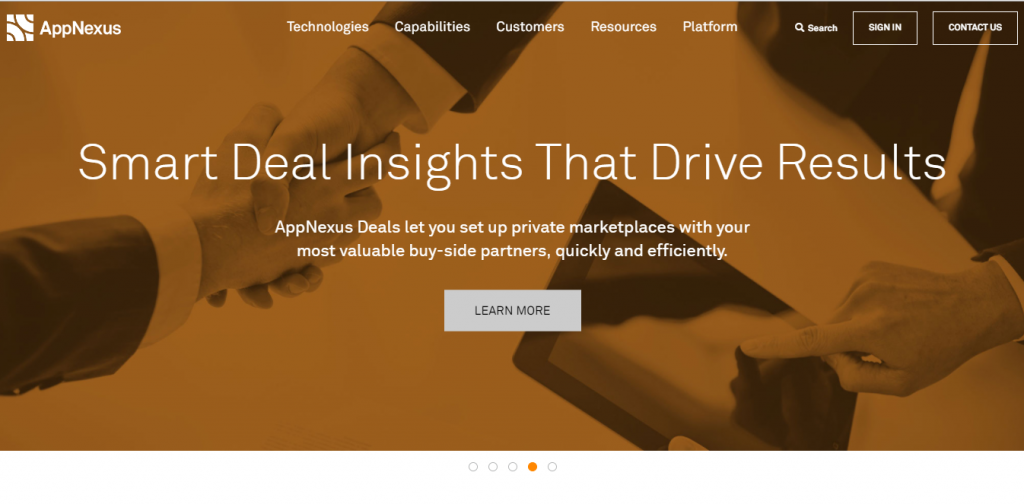 The leading destination for quality cost-efficient, transparent and brand-safe digital advertising, Appnexus houses over 34,000 publishers and 177,000 brands transact in their marketplace. They assist buyers and sellers in the improvement of their campaign performance and maximising revenue. Their Publisher Suite enables publishers to increase their total yield through forecasting, SSP, ad serving, and audience extension and their Programmable Platform are a customizable DSP that leverages advanced machine learning to deliver better outcomes for advertisers. They process about 250 Terabytes of data each day, process 6 million queries each second, and transact 11.4 billion impressions each day.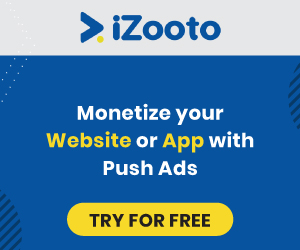 Features- They assure customization with utmost ease and help build custom solutions that meet your client's unique objectives and create a competitive advantage for yourself. They help achieve better outcomes and provide you with an into the premium marketplace. Not just that, they help reach your audience with the use of any device, any format.
12. Adform: Publisher Monetization Platform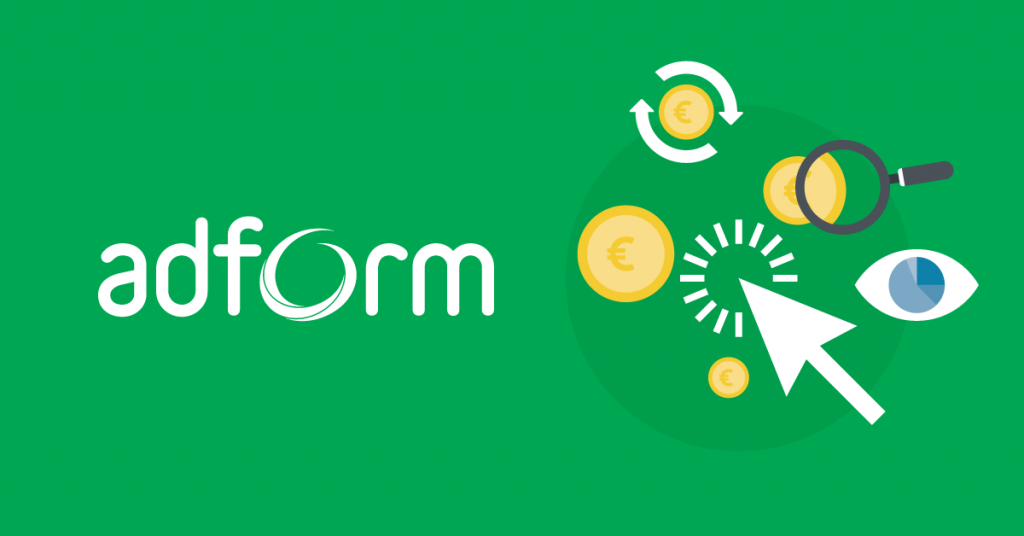 A global digital media advertising technology company, Adform was founded in 2002 and is one of the best providers of software used by buyers and sellers to automate digital advertising and is one of the best SSP platforms available in the market. They are known to have built the most open and transparent advertising technology platform on the market, where each product delivers strong stand-alone capabilities and can be seamlessly paired with the rest of our advertising platform for enhanced results. Everything is backed by a flexible approach that integrates with other leading technologies and services to help you secure the best results.
Features:
They assure purely performance-driven

tech for publishers that look for results. It allows you to close the loop, connect all aspects of your business and solve your everyday challenges.
They have an excellent data management platform and are

known to be the most intelligent publisher ad server on the market.

The automation and streamlined workflows for the promotion, sales and management of all guaranteed and IO-based ad sales, assures benefits and assure that you enjoy maximum inventory with premium formats.
13. Xapads: Video Monetization SSP for Publishers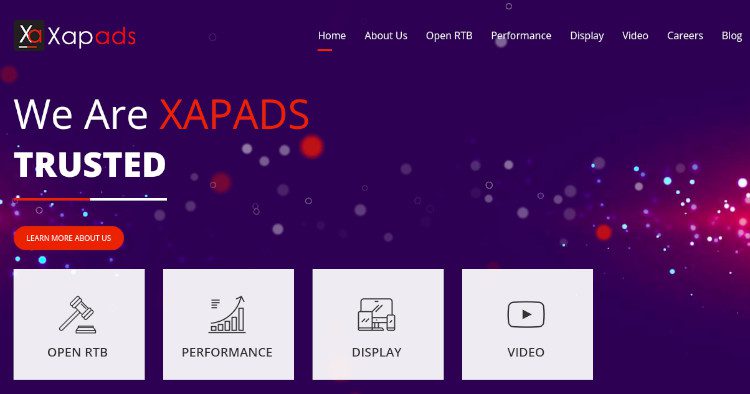 A fully independent programmatic ad exchange built to drive ROI through a single platform, Xapads offers self serve monetization platform that comes with exclusive data, simple technology, premium placements and integrated RTB solutions to help you achieve more engaging results. They provide you with full transparency control over ads to assure the best user experience and that in turn paves the way to innovative and trusted ad campaigns and premium ad spaces.
Features:
They assure to turn insights into ROI and help control your ad revenue and helps boost ad spending

based on your targeting parameters.
They assure brand safety which is quite a necessity in a world like such and better and greater eCPMS.
They make sure that you reach the most suitable users across all platforms, and provide you all the real-time

statistics and analytics.
14. Vertoz: Full-Scale Monetization Platform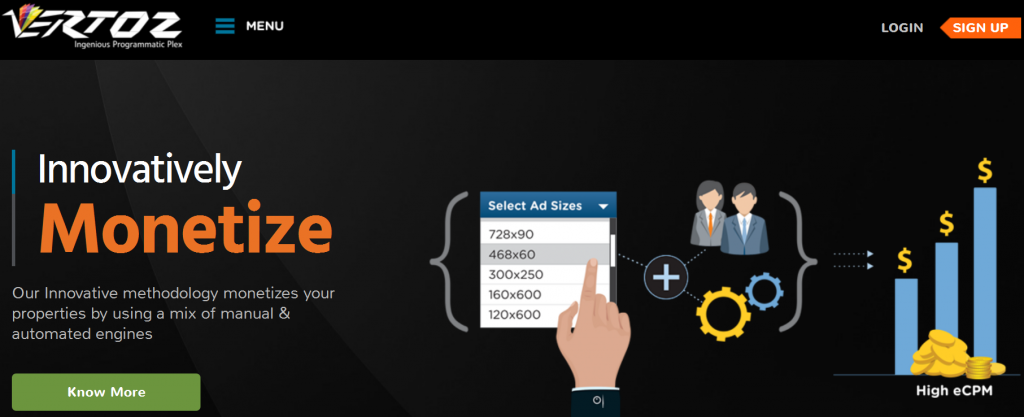 One of the top SSP platforms, Vertoz- strongly believes in generating profits by connecting your audience to advertisements they are likely to be interested in, which is quite efficient and proves to be effective targeting. Their unique "ingenious plex" formula stirs large digital media by using both customer data and RTB-enabled technology. It provides personalized attention and is a company dedicated to understanding publishers' needs individually.
Features:
They help maximize your site's revenue with the use of their algorithmic programmatic monetization and their ingenious plex is instrumental in showing non-intrusive

and relevant ads to your visitors. They guarantee innovatively designed high impact ad formats that boost your audience experience.
They provide access to the highest performing & the best paying offers from our global pool of direct advertisers that help affiliates

earn more.

They allow publishers to monetize their websites, mobile web, ad spots in mobile apps and video content and their premium demand sources help

monetize your inventory to earn the

highest eCPM.
15. Sulvo: Cutting Edge Adtech Solution for Publishers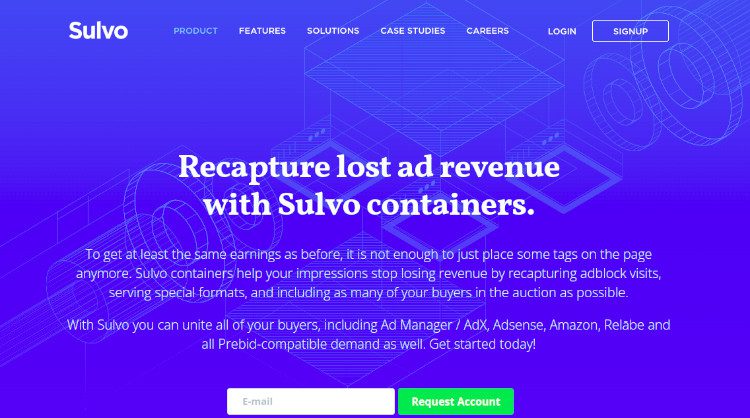 One of the best in the business, Sulvo's patented ad server assists in increasing revenue within a small period of time and without the need of adding more ads to the site or giving up control over the site. They assure and help increase engagement and they keep working for you all the time if they notice something unusual or potentially wrong, they report it back to you and save you quite some money.
Features:
They help increase revenue and at the same time assure that fewer users were sent away from your site.

They have designed ad formats that are not oversized and are preferred by users over sites with more, often unnecessary, ad placements.

They have a different approach and a unique piece of tech that can be customized.
16. Google Ad Manager: Best Publisher Ad Server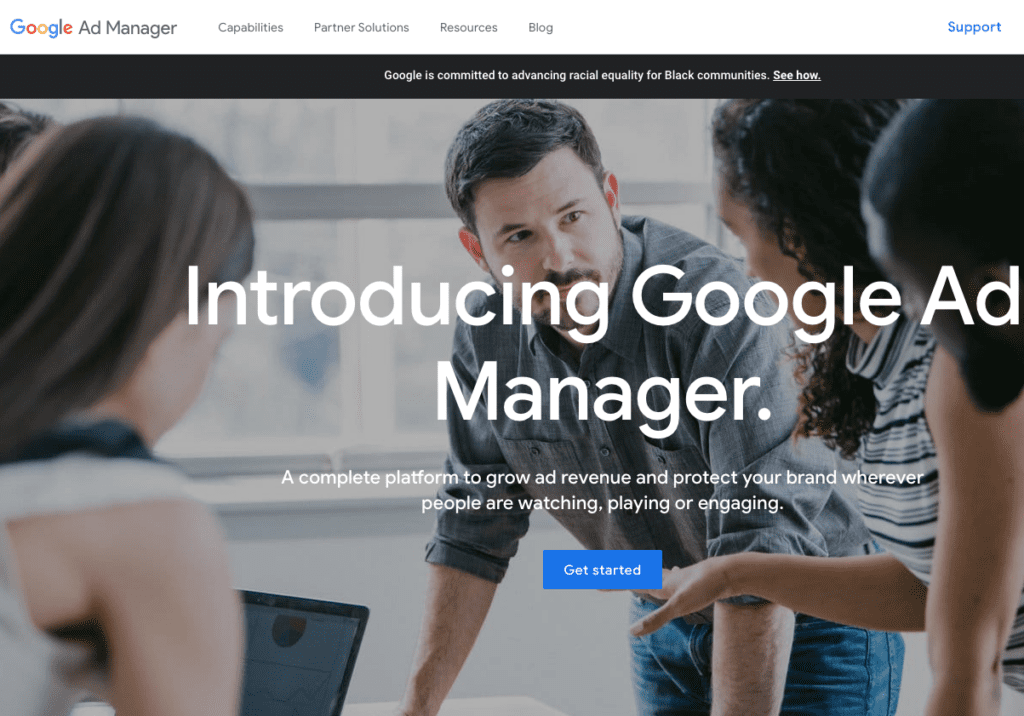 DoubleClick for Publishers, popularly called Google Dart is run by Google and is an advertisement software as a service application. It is also one of the best SSP platforms, according to its very publishers. Other than the features of an ad server, it also manages the sales process of online ads through the publisher's dedicated sales team. They cater ad experiences that are specially designed for your apps, keep your visitors engaged, and earn you more. They bring to you ready, easy to use solutions that would help grow revenue and reach audiences across devices.
Features:
They assure engaging and dynamic ad experiences with out-of-the-box support for video, native, and custom ad formats.

They give you all the control of your revenue and you can manage all your ad sources in one place and grow your business with the power of programmatic and data-driven decision-making. You are provided with the analytics tools and detailed reports.
Best Video Supply Side Platforms for Publishers 2023
Video advertising has become an intrinsic part of the marketing strategy of brands. Almost everyone aims to create a compelling online presence through video ads. So, more and more video ads will sell now and publishers have to be ready for that. To make the process a little easier for publishers, especially beginners, we have also included a video SSP list here. In this part of the article, we are going to discuss some of the best video SSP companies for publishers for better yield management.
17. VDO.AI: Best Video Supply Side Platform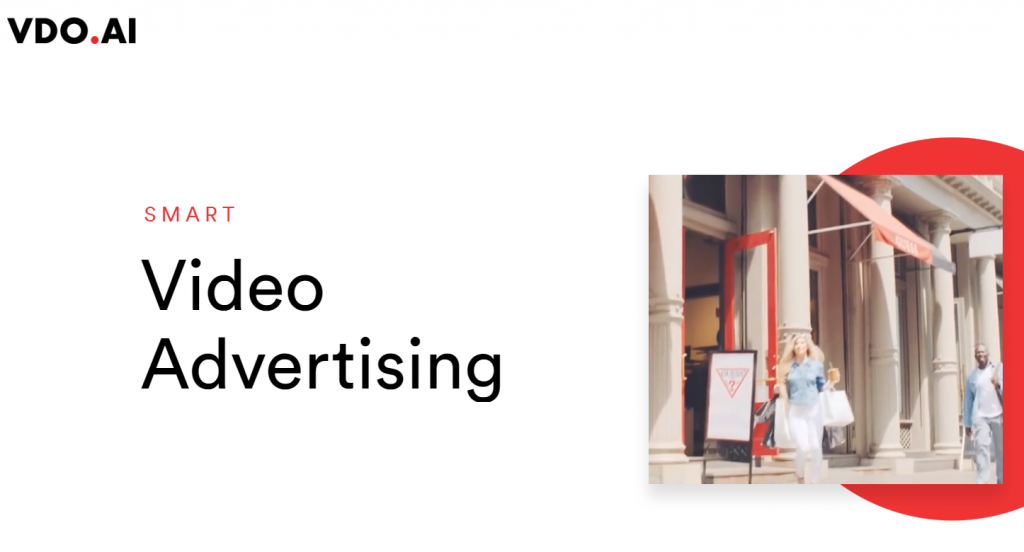 With utmost belief in the strength of video and it's becoming the dominant form of content consumption, Vdo.ai, is making attempts to bridge the gap by using artificial intelligence to provide contextual videos and video advertising to select publisher partners. Their proprietary platform integrates the best demand sources with the best publishers enabling a high-value private video advertising ecosystem to thrive.
Vdo.ai Features and Benefits for Publishers-
Boosts monetization by 50%, with the use of their smart contextual instream video solutions.

Gets top demand sources to bid for your inventory.

Contextual videos with high-grade user experience

Easy integration with a single line of code
18. LKQD: Best Video Supply Side Platform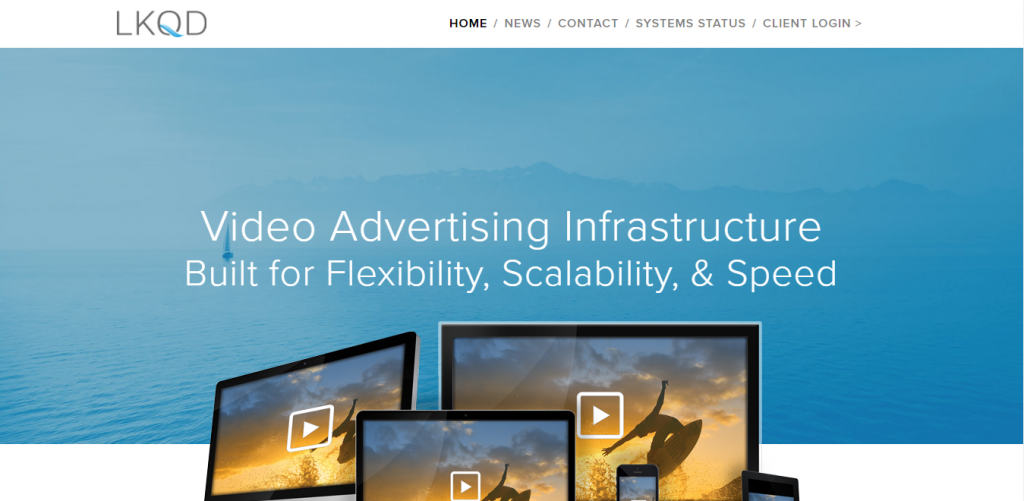 Founded in 2014 by industry veterans, LKQD Technologies provides enterprise video ad technology infrastructure for Publishers and Advertisers on all screens. They have a full stack of services to offer and provide scalable systems for ad serving, mediation, programmatic auctions, and advanced reporting. Their open, independent and flexible video advertising system enables you to quickly build and grow your business across screens and around the globe.
Features:
They provide you control like no other platform and provide Video ad hosting, tracking and reporting with a suite of targeting, filtering and verification tools.

They offer quite a lot of formats for every screen which includes In-stream, out-stream and custom player formats across desktop, mobile, apps and connected TVs.
They also provide an excellent data management platform and allow

you to quickly combine, customize and slice data to get insights that drive performance across video inventory.
19. Fyber: Best Video Monetization SSP for Mobile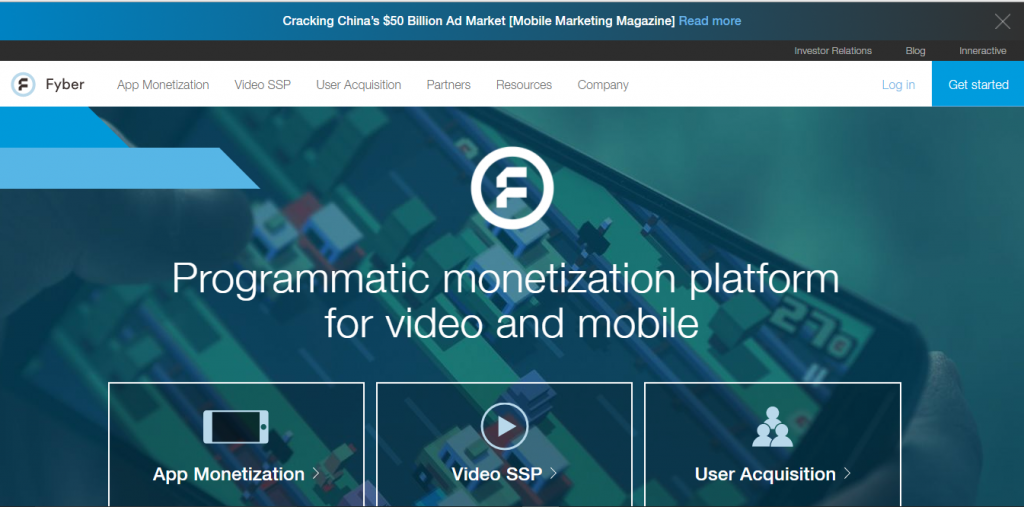 An independent advertising company, Fyber takes on it to connect app developers and media companies with advertisers. It works as an SSP, Ad Server, Ad Exchange and Mediation, to assist thousands of the top app developers and developers and publishers to gain business revenue critical profit streams and it helps a billion users, worldwide. Its Publishers List is quite impressive too and includes Cheetah, PikPok, Pixelberry Studios, Melsoft Games and more. It also caters to the demands of excellent video ads.
Features:
They have partnered with the best in the industry to ensure and certify quality ads and their layered security system ensures that ads placed on your properties are suited to your users and your needs.

Their impression capping feature helps them stand out and execute direct ad network deals without spending in-house engineering resources.

Not only is it technologically strong but its team also knows and understands the market well.
20. Beachfront.io: Best Video Platform for Publishers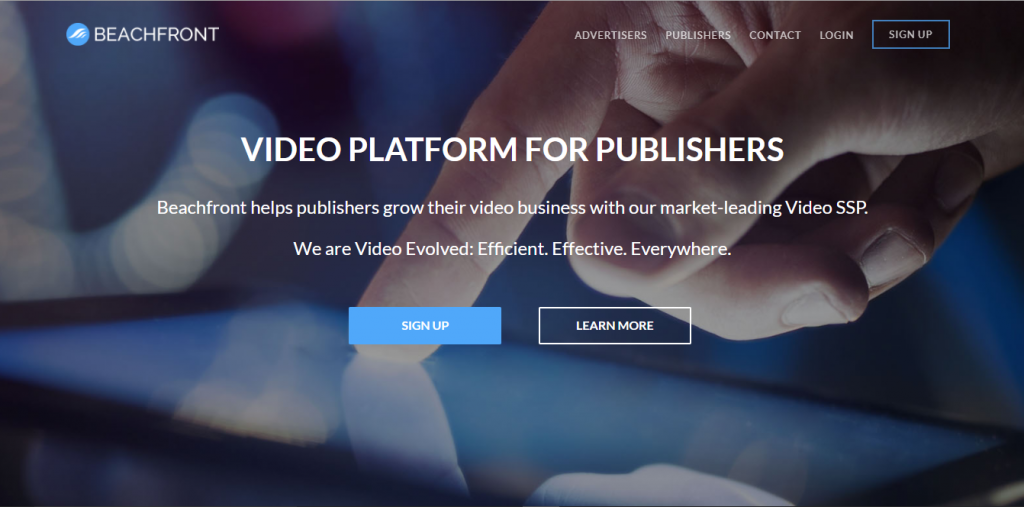 Known for the management of video advertising delivery, yield management, and real-time reporting, saving valuable Publisher time and money, Beachfront.io is fast, easy and superlight. They are available on all the major platforms and are a leading video technology company enabling distribution and monetization of video across all screens.
Features:
They work in direct contact with brands, ad agencies, agency trade desks, and DSPs to programmatically fill your publisher inventory and have premium video ads to offer.

They offer advanced ad mediation technology that can optimize your yield from all your direct advertisers and allow you to keep track of desktop, mobile app, mobile web, tablet and CTV advertisers under one unified platform.

They help in building out a cross-screen publisher network

and providing the publisher with reporting console access to easily manage their network business.
21. Teads.tv: The OutStream Solution for Publishers

Teads
An excellent global media platform, Teads.tv has united and empowered the best publishers in the world and distributed ads to over 1.4 Billion people every month within professionally-produced content.
Features:
They assure the most captivating ad experiences and deliver interactive, personalized, innovative creatives for 96% of Ad Age's Top 100 Advertisers and make sure to connect publishers with demand from any of the sources, be it managed service or programmatic.

They guarantee maximum revenue for publishers while assuring clean inventory for advertisers. Not just that, they offer access to unified auctions, multimedia support, yield management and quality safeguards.
22. Select Media: Full Stack Video SSP for Publishers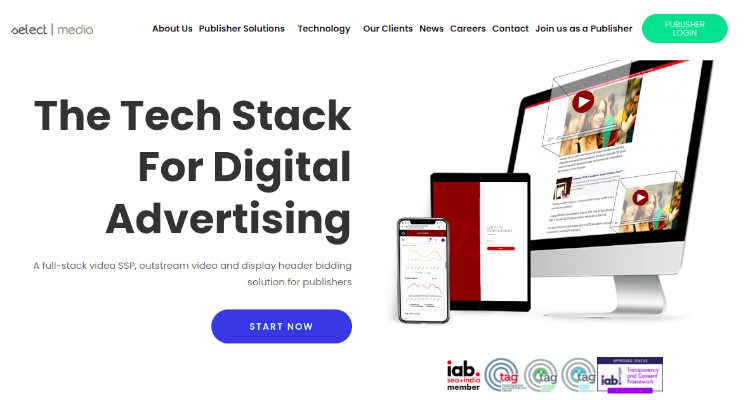 A full-stack technology solution for the digital advertising ecosystem, Select Media is used by major publishers for their mobile, display and video advertising programmatic tools to reduce cost, increase yield and create exposure to new demand sources. Their users highly recommend it as an SSP platform. They provide access to high-quality video, display and mobile inventory on a global platform and guarantee quality, viewability and brand safety.
Features:
They help publishers monetize their video and mobile inventory through its full-stack & outstream video ssp technology and provide access to its unique premium marketplace.

Their influential yet real-time dashboard lets publishers view the entire activities from one single place.

It ensures integrations with every major source of inventory worldwide to in turn assure higher fill rates, more revenue and better eCPMs.
23. Telaria: Best Video SSP for Mobile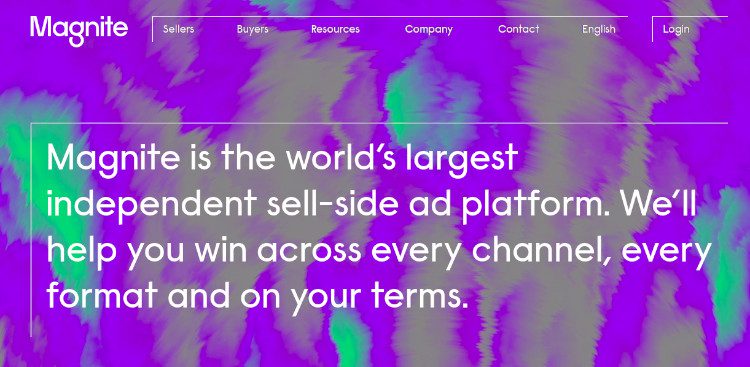 Integrated with all the major video demand partners, which include Adobe Marketing Cloud, DoubleClick, Appnexus and more, Telaria has a unique toolset, including a Demand Dashboard, which offers the ability to buy in the most streamlined way, backed by a dedicated support team. Their premium content partners include Warner Bros, Hearst Newspapers, Gannett and more.
Features:
Their best-in-class technology, commitment to quality and safety and most importantly their track record makes them the most trusted source for premium video inventory.

Their demand dashboard provides you with live stats and bidder diagnostics and Inventory curation.
24. Spotx: Leading Video Ad Exchange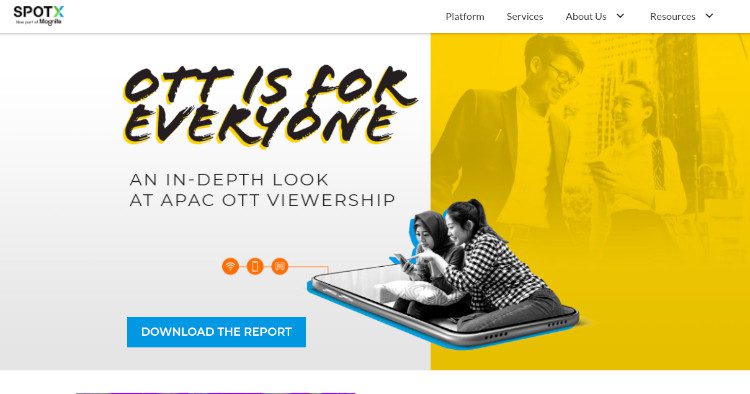 A trusted SSP platform for premium publishers and broadcasters, Spotx powers about 600 and more publishers. Its publisher platform is built for optimal efficiency in the complex video ad landscape, SpotX's complete video ad serving platform empowers publishers to simplify workflows while maximizing yield.
Features:
They allow you to streamline all demand and maximize revenue in a single unified platform.

They automate sales of video inventory with solutions that guarantee total transparency and brand integrity across all screens.
In addition to display and video SSPs, there are some popular native SSP companies that are growing as the demand for native ads is on the rise. We hope this exhaustive list will help you with selecting the right SSP platform for your monetization needs. Although there are a few more supply-side platform companies, the list of SSP platforms described here is a good starting point.
Our Recommended Tools for Publishers:
Looking to Increase your Ad Revenue:
Get in touch with me for a personalised consultation and increase your ad revenue across native, display, video (instream and outstream), in-app and other verticals. I also assist in customized DFP setup, header bidding, and content creation strategy. My skype id is:
ronniedey
. Feel free to connect!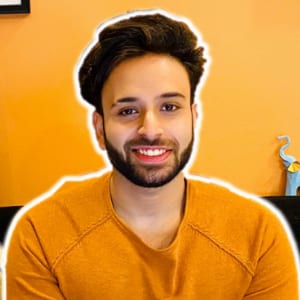 I and my team research various ad networks and can help you increase your overall ad revenue; so you could rake in more greenbacks with the best monetization platforms. Tap into the power of the online publishing business with me. I am just a mail away, so reach out to me if you want to scale up your website revenue. mail: [email protected]