Last updated on April 28th, 2023 at 06:10 pm
Choosing the right ad platform can be extremely crucial for your blog or website. As the ad tech ecosystem continues to grow, there isn't anyone ad network that can cater to the needs of all publishers. Both AdSense and ADX continue to be the top demand sources for niche/general purpose blogs and websites. Publishers have the option to increase their ad revenue across display, video, native, and also via push notification ads. Today, we are going to discuss the top 10 ad networks for publishers and bloggers in addition to Google AdSense/ADX which can be implemented alongside to increase your ad revenue from the display, video, native, and push notification ads.
Publishergrowth: The Revenue Acceleration Platform for Publishers
Blognife is elated to announce the launch of Publisher Growth- a community of publishers that helps you actively accelerate your revenue. This platform assists publishers in growing their traffic and revenue. As publishers, you can share and read reviews of ad networks and hosting companies. You can connect with other publishers to build links for growth and monetization hacks and more. This platform will help you stay up to date with the advertising and publisher ecosystem.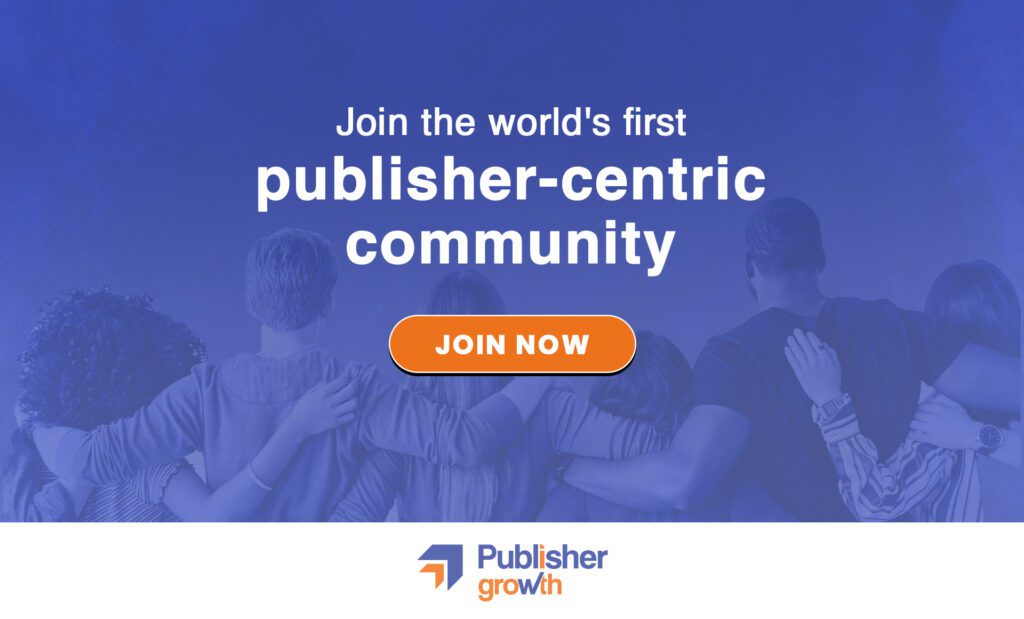 Features:
List of 200+ ad networks to monetize your site across all verticals.
Personalized site audit upon signing up on the platform that can increase your revenue.
Find all upcoming adtech conferences, webinars, and events in one place.
Stay informed with the latest adtech news across the globe.
Choosing the Best Ad Network for your Website or Blog in 2023
We have reviewed a number of ad networks and companies before bringing to you our recommended list of top 10 ad networks for publishers. These networks have been able to monetize your impressions at higher rates and bring additional revenue for you. The list contains a mix of display, video, and native ad networks that can bring in higher revenue across your inventory. Signing up with these recommended ad networks can increase your overall revenue by almost 50-100% depending on your current ad stack and list of ad partners. However, we suggest you get in touch with us if you need a more customized solution.
1) AdPushup: Top Ad Networks for Publishers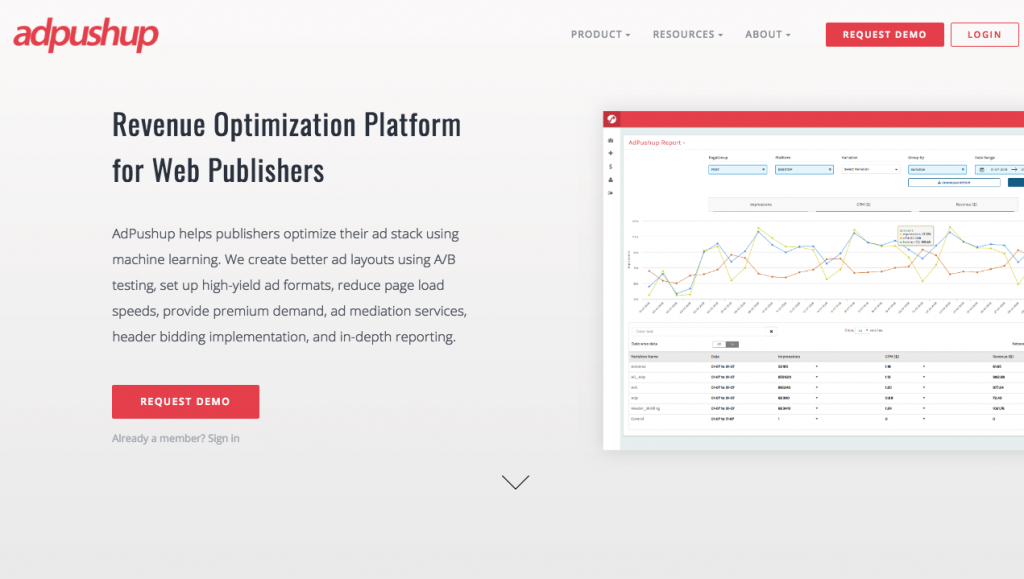 AdPushup is a revenue optimization platform that helps publishers increase their ad revenue using ad layout optimization, header bidding, innovative ad formats, ad mediation, adblock recovery, and accelerated mobile pages. AdPushup has partnerships with top-tier ad networks and exchanges across the world including Google AdX, AppNexus, Rubicon, and Criteo. They help publishers of all sizes access to this premium demand, including the best global buyers and high-yield ad campaigns.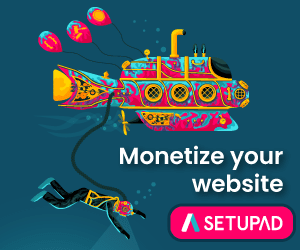 AdPushup drives an average revenue uplift of 33% for their publishing partners, and their clients include known brands like Newsweek, Reddit, CNET, NDTV, Network 18, Punjab Kesari, GSM Arena, and Axel Springer, among 300+ others.
Eligibility: Monthly ad revenue from display> $1000
---
2) ReklamStore: Top Native Ad Networks for Publishers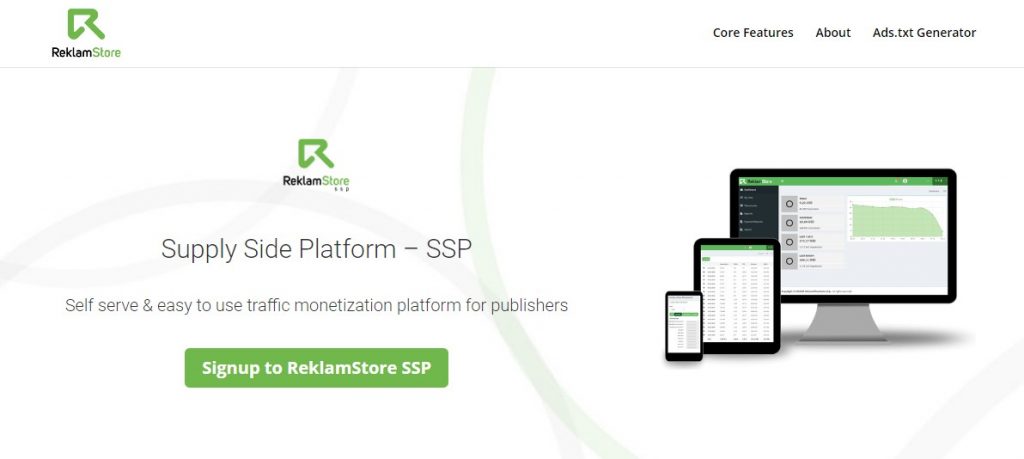 ReklamStore SSP
is one of the best supply side platforms for small and medium size publishers. With the efficient advertising optimizations and ad placements, you will increase your eCPM and have high fill rate all the time. Using proprietary algorithms,
ReklamStore SSP
shows relevant ads to your users by analyzing your website. Dozens of different
demand side platforms
, ad exchanges, and direct buyers are integrated into ReklamStore SSP's network with header bidding technology.
Working on CPM/CPC basis.
Standart, sticky, scroll, postitial, in-read and many other ad models.
High eCPM & high fill rate.
Unlimited demand for all GEO's and verticals.
Timely payments, PayPal or Wire transfer.
3) Setupad: Top CPM Ad Networks for Publishers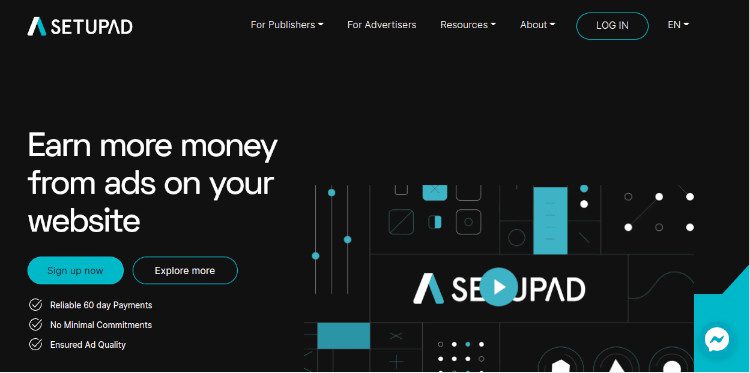 With the aim to monetize cross-border traffic and to help publishers gain incremental revenues ranging from 50% to 80%. Setupad links the advertising space to the top 15+ ad exchanges and SSP platforms in a header bidding auction that brings more buyers to participate and an increase in the CPM prices. A large number of publishers recommend, implement and use Setupad from all over the world for it does all the substantial yield optimization and allows publishers to get back to their true calling- quality content creation.
Setupad Features and Benefits for Publishers-
They allow header bidding and server-side bidding.

Guarantees a 1-second time-out and offers a possibility for customisation for improved user experience.

With the combination of all the demand sources, a fill rate of about 100% is possible.

Offers customized optimization, taking into account bid responses from demand partners regarding particular geos, advertisers, and users.

Increases your website revenue by almost over 50% of what you're earning from AdSense.
Eligibility: Monthly ad revenue from display> $500
4) OKO: Top CPM Ad Networks for Bloggers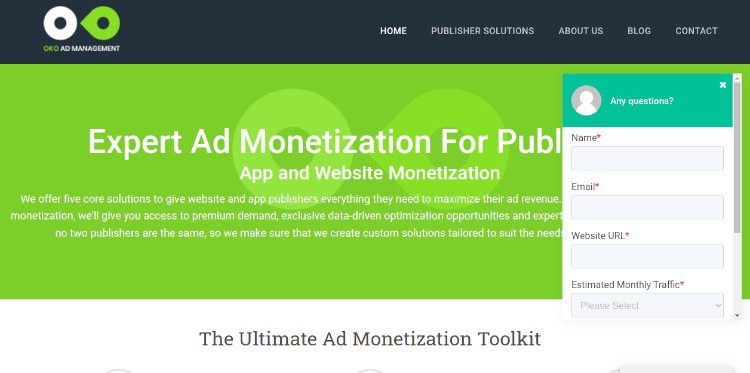 Increase your ad revenue and reduce the headaches of running an ad-funded website by partnering with OKO for your website's ad monetization. Their fully-managed service is a unique mix of smart technology, world-class expertise and premium ad demand that gives independent publishers advantages usually reserved for the world's largest websites – without the need for an in house team of experts. OKO gives website publishers everything they need to take control of their ad monetization and earn the revenue they deserve.
OKO features and benefits for publishers-
Serve ads from the world's-best networks & exchanges.

Fully managed header bidding that is tuned to perform and includes access to proven, quality header bidding partners.

A dedicated OKO expert works with every publisher, supporting them to get the most from everything we offer.
OKO's innovative ad formats allow you to add valuable incremental inventory and earn more without ruining user experience.
Get more bids for your inventory without slowing your site down by utilising Exchange Bidding in your setup and many more features.
Eligibility: Monthly ad revenue from display> $1000
5) Vdo.ai: Top Video Ad Networks for Publishers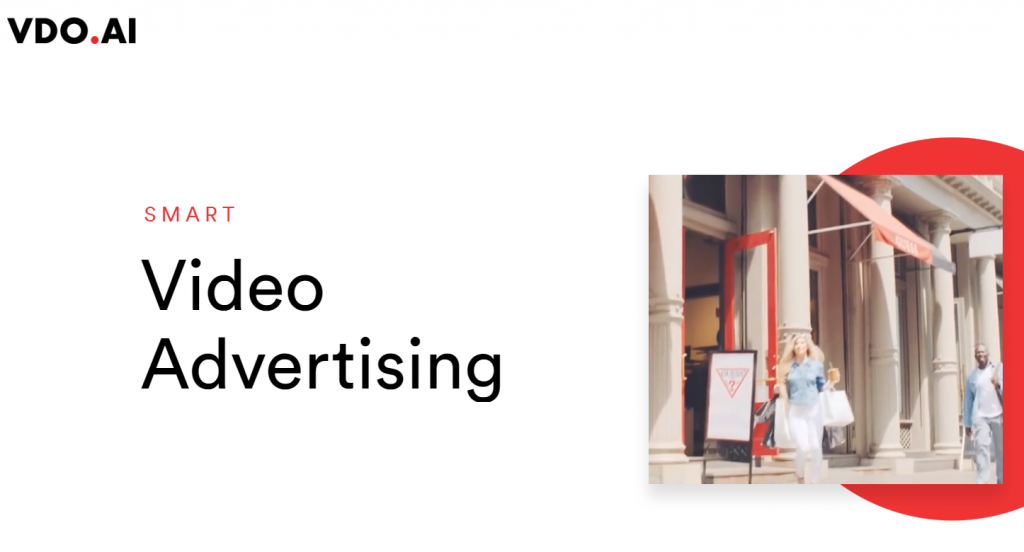 With utmost belief in the strength of video and it's becoming of the dominant form of content consumption, Vdo.ai, is making attempts to bridge the gap by using artificial intelligence to provide contextual videos and video advertising to select publisher partners. Their proprietary platform integrates the best demand sources with the best publishers enabling a high value private video advertising ecosystem to thrive.
Vdo.ai Features and Benefits for Publishers-
Boosts monetization by 50%, with the use of their smart contextual instream video solutions.

Gets top demand sources to bid for your inventory.

Contextual videos with high grade user experience

Easy integration with a single line of code
6) SmartyAds: Top Ad Networks for Publishers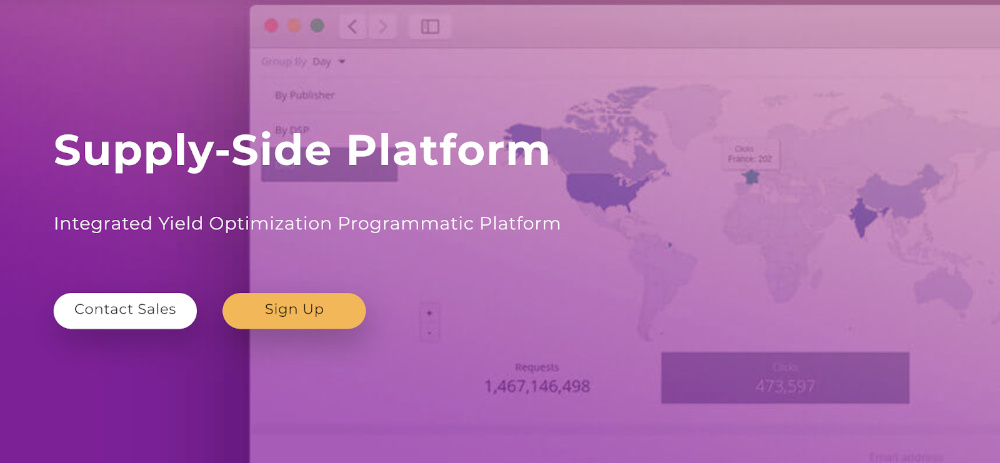 SmartyAds SSP features highly-scalable, smart, and efficient algorithms based on AI and ML that automate the media-selling process, making it profitable, easy-to understand and adjustable to the KPI of web publishers and bloggers. The platform allows to enhance the fill rate and eCPM since it works across formats, business verticals, and environments: desktop, mobile, in-app. The platform supports a variety of ad formats (native, video, interstitials, banners, and rewarded). All of these can be rendered on mobile websites or apps with superior user experience and absolutely no latency. After SDK integration, mobile publishers also access mediation and simpler header-bidding partners management via S2S or client-side header-bidding. The platform establishes no strict traffic requirements so that website and blog owners could easily monetize their inventory to the highest eCPM and fill rates.
Benefits of SmartyAds SSP for publishers:
Header-bidding

. Header-bidding unified auctions can be deployed for every environment: desktop, mobile, and in-app on client and server sides.

Preferred deals

. High-volume preferred deals enable publishers to sell their most exclusive inventory to advertisers directly and according to the most beneficial individual conditions.

Yield enhancement

. Global reach (

North America, Europe, Asia, South America, Africa, Australia and more)

, header-bidding, mobile mediation, and access to various deal types at once maximizes the competition for the inventory and automatically elevates the value for impression.

Trading controls

.

Price floor, white and blacklisting, filters in categories, format and creative size configuration allow publishers and bloggers to control how, where, and at what price their inventory is being monetized.
Lightweight, reliable SDK. All platform technologies including SDK are GDPR-compliant. Lightweight, GDPR-friendly SDK from SmartyAds renders creatives on websites and blogs without slowing down user experience. Additionally, this SDK activates access to mediation so that publishers could level up their incomes.
7) iZooto: Top Native Ad Networks for Publishers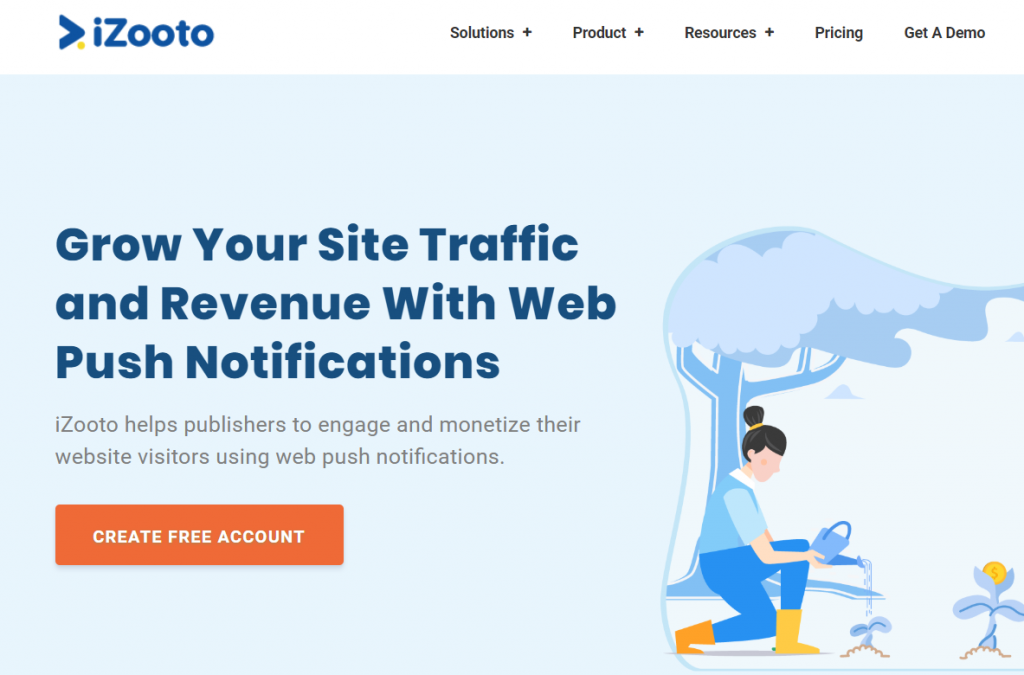 iZooto is known to help unlock additional revenue with web push notifications, that is, build audience to help grow traffic and revenue. It is highly trusted and recommended by 500 publisher brands and more, which includes news corp, network18, Bloomberg and quint and more. It is known to have scaled to contribute 15% of the total revenue and continues to expand.
iZooto Setupad Features and Benefits for Publishers-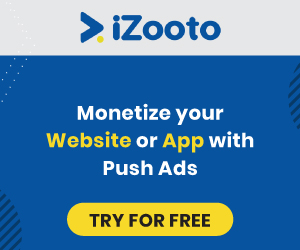 Helps own your audience, that is, convert your website visitors into subscribers and assists in building your own marketing list and a loyal following

Helps build repeat traffic and engage users with relevant push notifications and drive repeat traffic consistently at scale

Monetize subscribers and engage users with engaging and contextual native ads

Provides quite an effective user management and keeps users updated about new content additions using web push notifications

Hassle-free integration and a single click activation
Eligibility: Free to use but monetization starts once you've 2500 subscribers.
8) Media.net: Top Native Ad Networks for Niche Publishers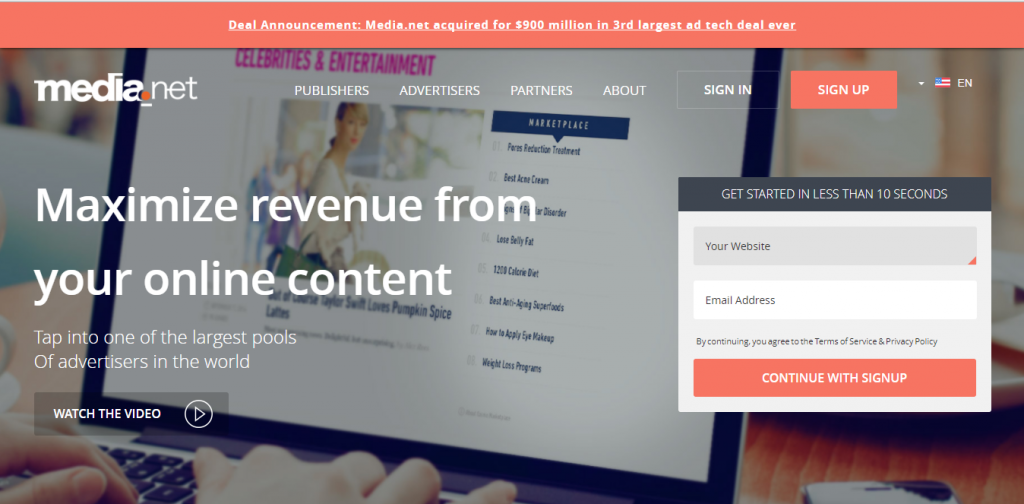 One of the largest pools of advertisers in the world that is known to maximize your monetization, Media.net has an excellent share of partners which includes Forbes, The Weather Channel, MSN, SF Gate, CNN and more. It has excellent tech support that would definitely elevate your monetization game. With its support, you can monetize your content with exclusive access to search demand worth billions from Yahoo network.
Media.net Features and Benefits for Publishers-
You can revolutionize your ad strategy and based on their proprietary ad format, contextual ads open up advertising search budgets worth billions of dollars
You can benefit immensely from their connections with DSPs, Agency Trading Desks, Horizontal Networks, Vertical Networks and more and they would provide quick and easy access to high-quality display ads by connecting with all the major buyer networks and managing operational overheads

Allows customization of the look and feel of your pages for higher user engagement
Eligibility: Quality tier one traffic on websites with a product-based niche.
9) Adsolut: Top Native Video Ad Networks for Publishers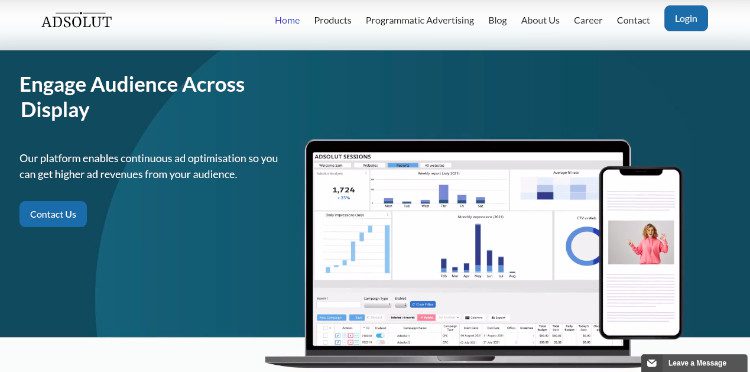 Known to engage audiences across a variety of platforms, be it mobile, display, video or others and known as the power of intelligent advertising, Adsolut enables continuous ad optimisation to bring you higher ad revenues from your audience. They make sure to deliver quality ads at a good CPM rate and are always willing to give time and assistance to the accounts. They demonstrate how attentive and effective account management can multiply publisher ad revenues and bring excellent results at the same.
Adsolut Features and Benefits for Publishers-
They offer connected TV advertising where they bring lean-back branding experience – closest to TV Commercials with an unmatched Completion Rate

They enable quick and simple access to the OTT audience- that is the mobile-first audience across Genres like Sports, Entertainment, Movies, etc.
Helps publishers in attaining the highest rates for their audience and offer demand across Rewarded Videos, Native Video, Interstitial and Banner thus completing the entire In-app advertising with just one Software development kit.
10) Revcontent: Top Native Ad Networks for Publishers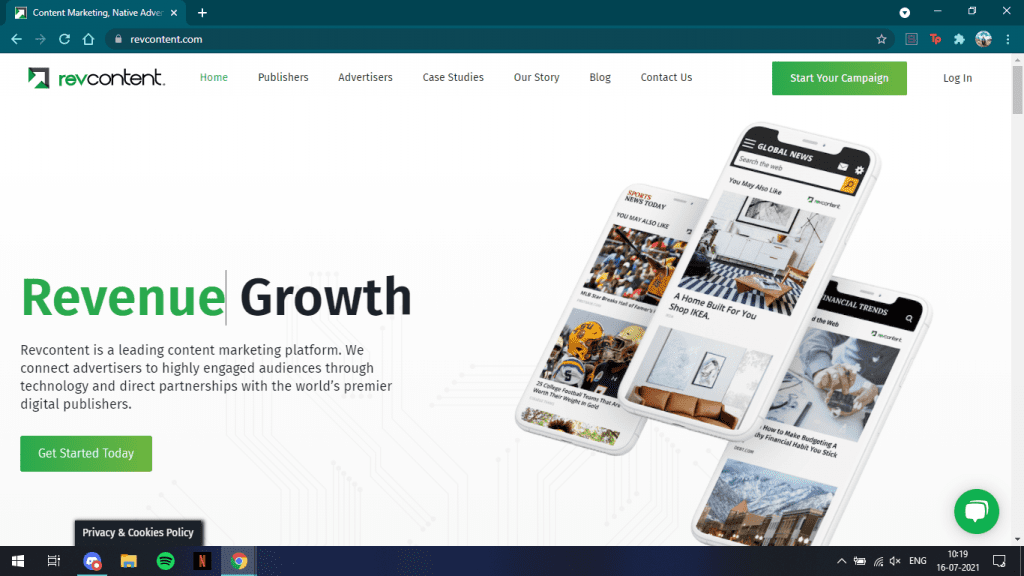 The leading ad network for publishers and bloggers and content discovery platform, Revcontent is known to assist advertisers in driving a highly engaged audience through technology and partnerships with some of the world's largest media brands. It helps publishers monetize their audience by providing users a way to discover news, innovative thoughts and useful products that are relevant and engaging to their everyday lives. With an average vCTR of 3%, and is used in 97% of the US households, it is definitely one of the best choices available.
Revcontent Features and Benefits for Publishers-
Assures higher revenue and helps monetize traffic at 30-50% higher rates than other platforms.

Provides full publisher control with customizable widgets that deliver the right content to your audience.

Makes use of audience insights to help drive editorial and revenue decision making

Assures to reach the right audience at the right time.
Eligibility: Should have at least 3 million page views per month and above.
11) District M: Top CPM Ad Networks for the US Publishers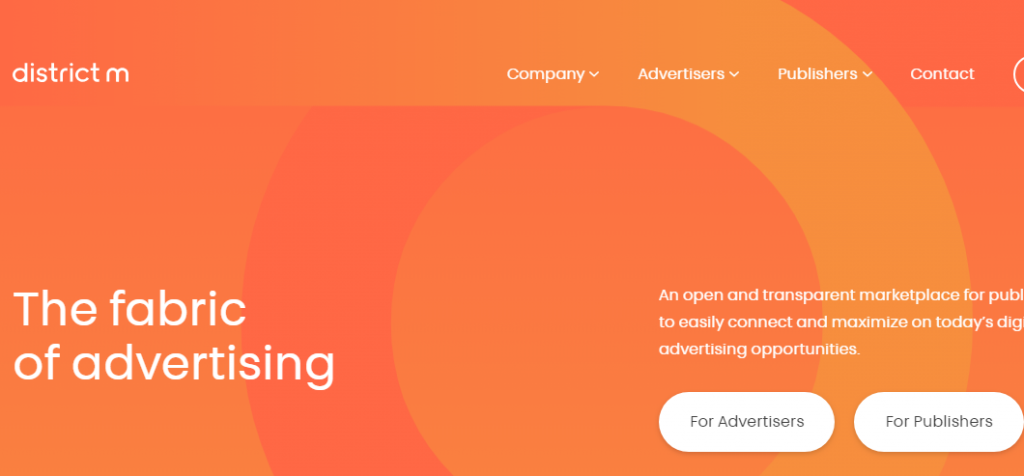 Known as the fabric of advertising, District M is the ad network for publishers and bloggers for it is an open and transparent marketplace for publishers and advertisers to easily connect and maximize on today's digital advertising opportunities. They strongly believe in transparency, performance and simplicity and helps publishers optimize their programmatic opportunities in a complex and crowded marketplace. No just that, they offer a real time unified auction across multiple exchanges.
District M Features and Benefits for Publishers-
Offers exclusive ad formats available to fit your specific needs

Offers excellent monetization solutions that bring in incremental revenue

Premium support and dedicated management yield system to help with all the discrepancies

An easy-to-implement header bidding solution to monetize your inventory
12) Sulvo: Top Ad Networks for Premium Publishers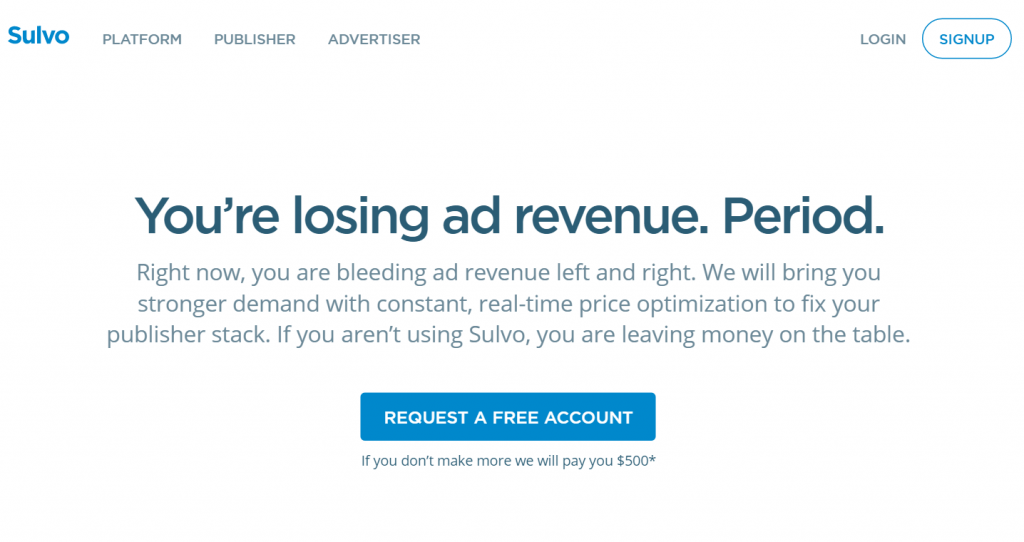 One of the very best in the market, Sulvo is known for their help in increasing engagement and how they keep working for you all the time and if they notice something unusual or potentially wrong, they report it back to you and save you quite some money. Their patented ad server helps increase revenue is a short span of time and without any additional ads or at the cost of losing control of the site.
Sulvo Features and Benefits for Publishers-
Helps increase revenue and assures that fewer

people were sent away from the site.
Specifically designed ad formats that are not oversized and are preferred by users over sites with more, often unnecessary, ad placements.
Unique technology and approach towards ad monetization

make it all the more interesting and engaging.
Eligibility: Monthly ad revenue from display> $1000
13) Sovrn: Top Ad Networks for Publishers
Known to curate, connect and present the best publisher-first information for you, from one place, Sovrn is one of the top ad networks for publishers. They provide to you the total package where you can monetize your way with your choice of display, mobile, native and video advertising options and also pays in 30 days – that's the fastest in the industry. Other than that, they also offer better viewability and engagement on your site with Sovrn OnScroll 100% viewable ad units.
Sovrn Features and Benefits for Publishers-
Helps capitalize your own content and provides a complete suite of advertising tools for display, mobile and video

Provides more tools to help publishers be more competent, which ranges from header bidding to VPAID and VAST video, OnScroll InView ads and cross-platform content distribution

Assure integration with every major advertising buyer on the planet to bring more demand from the audience

Helps compare the site in real-time and analyze your advertising partners with one dashboard

Helps understand the audience in one place and in a simpler manner
Eligibility: Applicable for publishers who have good tier one inventory and 3 million+ page views.
14) Taboola: Top Ad Networks for Publishers and Bloggers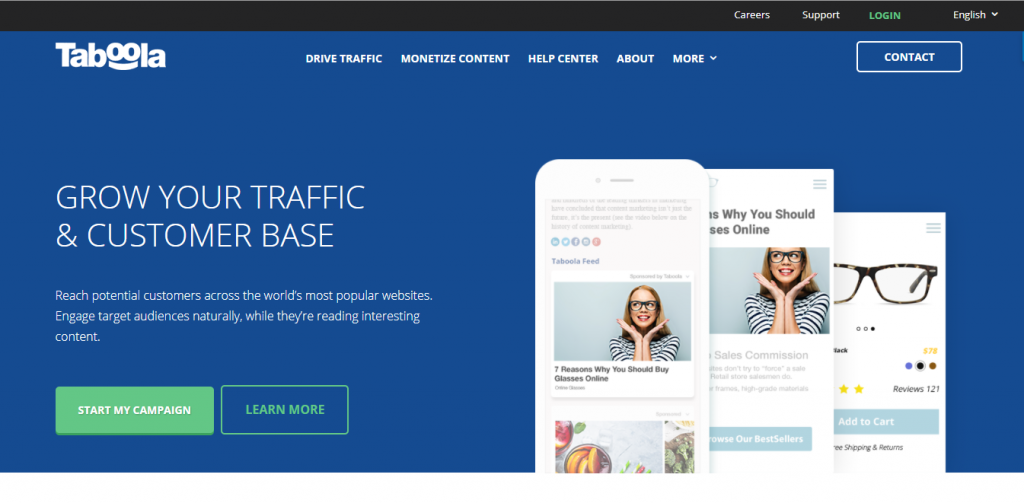 Known to drive quality audiences from the top publishers with the video and content campaigns, and to increase traffic, conversions and revenue, Taboola is one of the best bets in the market. Their content discovery platform is created to drive marketing results for your business and helps reach and engage with over one billion relevant users across premium publishers at a massive scale on the world's leading native discovery platform. It is trusted by a wide variety of business partners that includes Nissan, Whirlpool, Samsung and more. Thus Taboola is able to offer one of the highest CPC rates for tier 1 traffic and good overall fills for tier 2 and tier 3 traffic when compared to other native platforms.
Taboola Features and Benefits for Publishers-
Helps build a following and attracts the right users to your sites and apps.

Assists in engaging visitors and increasing value per visit with personalized experiences and relevant recommendations

Helps monetize everywhere with their game-changing monetization across all platforms with innovative in-feed video and content discovery.
Eligibility: Minimum traffic of 1 million page views is required.
If you've good tier one traffic and is majorly using Google AdSense, then you're losing out on a substantial chunk of your revenue. Most of these networks offer higher competition as they have more demand partners along with Google that will be bidding on your inventory and thus the overall CPMs will go higher. We hope this list of top 10+ ad networks for publishers will be instrumental in bringing additional revenue to your website or blog.
Our Recommended Tools for Publishers:
Looking to Increase your Ad Revenue:
Get in touch with me for a personalised consultation and increase your ad revenue across native, display, video (instream and outstream), in-app and other verticals. I also assist in customized DFP setup, header bidding, and content creation strategy. My skype id is:
ronniedey
. Feel free to connect!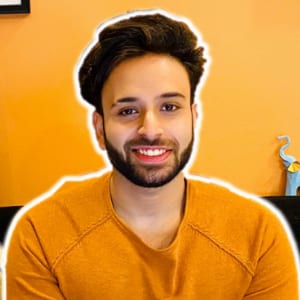 I and my team research various ad networks and can help you increase your overall ad revenue; so you could rake in more greenbacks with the best monetization platforms. Tap into the power of the online publishing business with me. I am just a mail away, so reach out to me if you want to scale up your website revenue. mail: [email protected]