Last updated on April 30th, 2023 at 12:30 pm
What are Push Notification Ads?
A push notification is simply an alert message with an icon that appears in your client's browser or a mobile device. It is the new kid on the block. Still, it has made significant advances, and the major advantage is that people quite knowingly agree to receive push notifications after subscribing to a website's notifications so that instantly means that they show interest and are potential conversions.
Publishergrowth: The Revenue Acceleration Platform for Publishers
Blognife is elated to announce the launch of Publisher Growth- a community of publishers that helps you actively accelerate your revenue. This platform assists publishers in growing their traffic and revenue. As publishers, you can share and read reviews of ad networks and hosting companies. You can connect with other publishers to build links for growth and monetization hacks and more. This platform will help you stay up to date with the advertising and publisher ecosystem.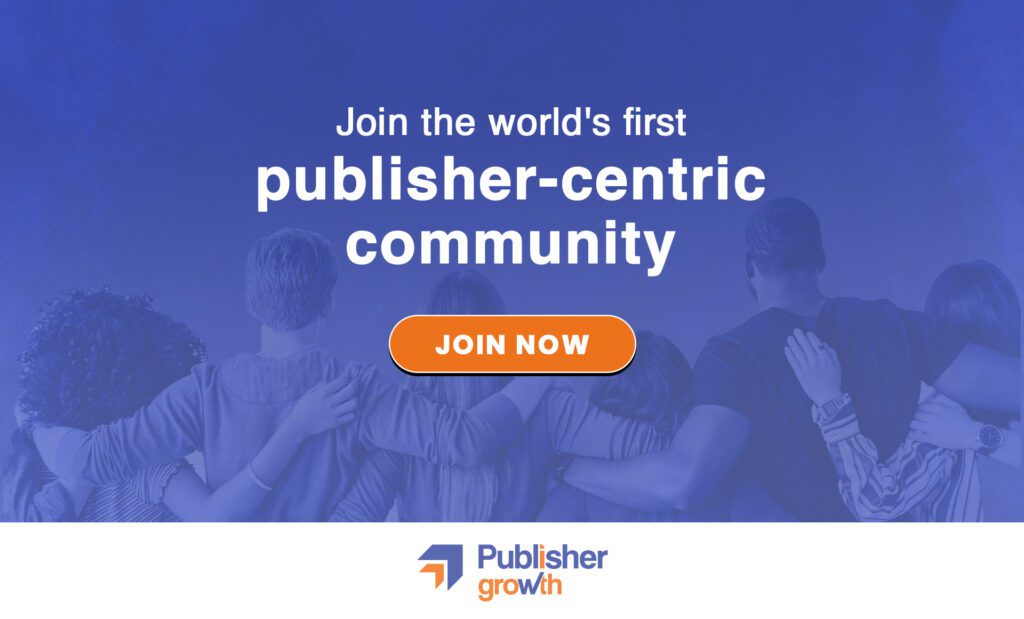 Features:
List of 200+ ad networks to monetize your site across all verticals.
Personalized site audit upon signing up on the platform that can increase your revenue.
Find all upcoming adtech conferences, webinars, and events in one place.
Stay informed with the latest adtech news across the globe.
The Emergence of Push Notification Ads
Push notifications were previously app-driven- where an app can send out push notification messages to communicate with its users. The type of messages can vary from an update to an offer, an exclusive product launch notification, etc. Today, modern browsers support push notifications, and the same is replicated for desktops and laptops. If you can reach out to the right audience, push notification can deliver great results and is tremendously lucrative both for the publisher and the ad network. Thus, we see the emergence of a vast number of push notification networks lately. Let us take a closer look at how push notification ads work and why is it so lucrative for publishers.
How do Push Notification Ads Work?
Let's assume that you're having traffic of 100,000 visitors a day and your subscription rate is 3%. So, you are essentially getting 3000 subscribers a day. With this rate, you will be reaching close to 300,000 push subscribers in 100 months. However, there would be some subscribers who would be unsubscribing too. So, let's assume it takes you 120 days to reach the first 300,000 subscribers. Assuming the ad network sends one ad every day to these users, and the CPM rate is 10 cents. So, you will be making $30 a day in lifetime revenue as long as you have 300,000 subscribers. If the ad network takes a cut of 50% of the earnings, they would also be making $30 a day in lifetime revenue only from you. Thus, this has given rise to a growing number of push monetization ad networks. Now, let us take a look at the key benefits of push notification networks for advertisers and publishers.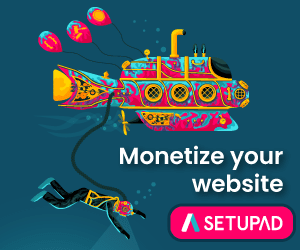 Minimum Traffic Requirement for Publishers
The concept behind push notification is to show ads to users on an ongoing basis. Once a user subscribes to push notifications! Since this is a lifetime revenue, and the ads are either sold on CPMs or CPC basis, you need to generate a good user base and most importantly, one that responds to push notifications. If the simply closes the notification without even seeing it, it doesn't add any value to the advertiser and the entire ecosystem. User-initiated subscriptions rates are close to 5%. It increases as high as 25% when a content locker is used (which adversely hampers the user experience). So, a good starting point is close to 200k tier one visitors or around 500k worldwide visitors! Additionally, you need to give 6 months for the user base to build up and see incremental ad revenue piling up! Some networks accept websites at low traffic thresholds, but your focus should be to reach at least close to 10k visitors if push monetization is your objective.
Benefits of Push Notification Ads for Publishers
When compared with other advertising formats, the foremost benefit of push notification ads is that they offer lifetime revenue for publishers. However, it needs to be noted that users would be eventually more reluctant to enable subscriptions to your site when they realize that you're using a push notification ad network to actually show them ads and not your website content. However, this still makes sense in a case where you're buying traffic for arbitrage or have referral traffic from other sources. Additionally, you don't need to use it for a lifetime. Once you've achieved the desired volume of subscribers, you can just stop using it, but you will continue to receive earnings from it.
10 Best Push Notification Ad Networks for Publishers
Take a look at some of the best push notification ad networks that can bring you additional revenue. Please note that the listing is not in any ranking order and you should focus on the key metrics mentioned here when choosing the push notification ad network.
1) Push.House: Best Push Notification Ad Network for Mainstream and Adult Traffic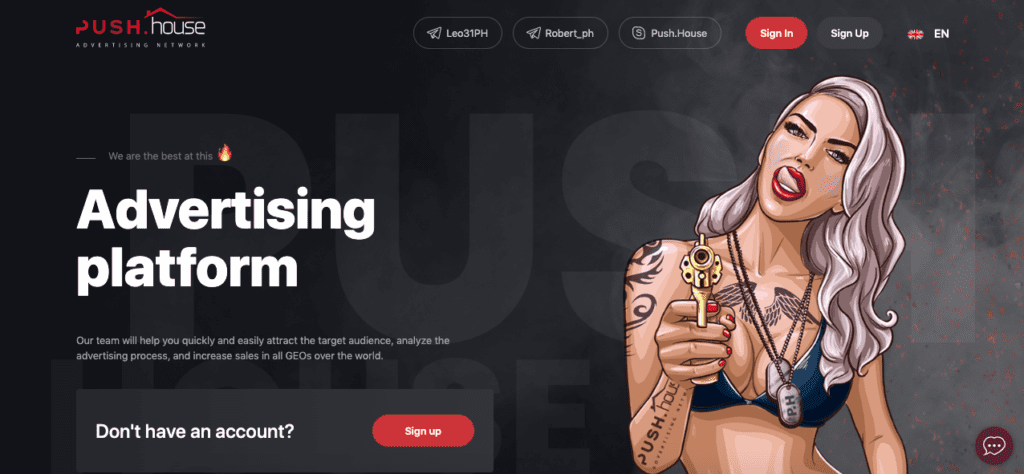 Push.House is a TOP performing push notification advertising network that delivers over 14 billion daily impressions in more than 180 GEOs. Push. House is your best choice when looking for high-quality traffic for a cheaper price. This self-serve network has tons of Push and In-Page Push traffic that starts from as low as $0.001 CPC for Push ads and $0.0001 CPC for In-Page Push ads.
Push.House implements RTB (Real-Time Bidding), which means you can see your statistics and all your bids in real-time. Push.House also provides a wide range of targeting tools to make your campaign more precise and target only the traffic that you need.
Features:
– Convenient personal account and responsive support
– In-house subscription database of more than 700 Million active subscriptions + feeds
– A completely free spy tool to boost your conversions spy. house
– Targeting by devices and O.S. versions
– Targeting by cities and countries
– Targeting by the age of subscriptions
– Targeting by browser language
– A lot of discounts and bonuses
– 5% Referral System
2) Ad-maven: Best Push Notification Ad Network for Websites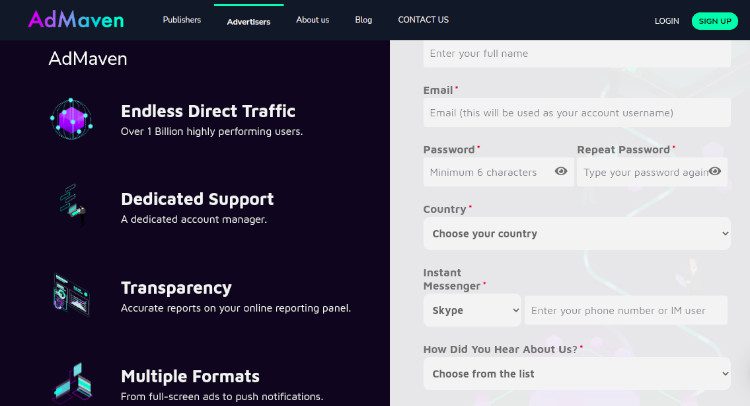 A top Push Notification Ad Network, Ad-Maven, has over 25 years of experience and pays you a right margin more than any other network owing to its cutting-edge optimization technology. It is a self-serve platform, and registering for it is quick and does not take more than an instant. All of this will be done in over 5 minutes, where you will also pick your preferred monetization, copy a piece of code and implement it on your website, after which you can begin to monetize your website. You can sign up with Ad-Maven using the link here.
Features:
They monetize every single user and impression worldwide and on every device. With a high ECPM, the result gives increased revenue for you.
Optimization tools, together with their vast direct advertisers, AdMaven provides publishers with an amazing ECPM and high revenue while maintaining a great experience.
From native push notifications to full-screen ads, their ad placements are easy to implement.
A dedicated and experienced account manager will make sure you are always on the right track to making the best out of your website.
3) iZooto: Best Push Notification Ad Network for Publishers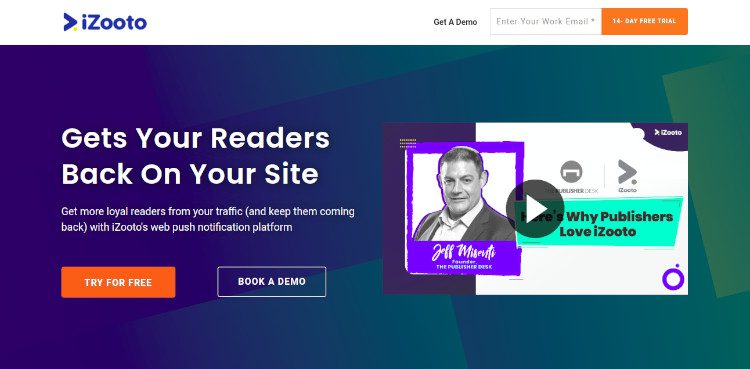 iZooto helps publishers with audience building and driving user engagement using web push notifications. Over 15,000 marketers use iZooto to push over 10B notifications a month, making iZooto the second-largest push notification platform in the world. iZooto is based on the simple premise – In the world of walled gardens, publishers must own their audience and invest in building their media assets. iZooto allows publishers to tap into web push notifications for driving traffic and monetization using native content ads. Unlike conventional display ads, native content ads served on push notifications attract CTR's up to 2% – 3%. Publishers working with iZooto can now generate 15-20% of their traffic using push notifications and increase their revenue by 15%. Thus, apart from increasing your website's page views, it offers an incremental source of income from push notification ads! iZooto stands as our preferred push notification partner and you can signup with them using this exclusive link. Publishers having at least 100k monthly visitors from tier-one countries (U.S., UK, Canada) can get started with iZooto.
Clean native and contextual ads
The robust product that can help you increase website traffic
Recommended for all websites
Higher revenue potential than competitors
Blognife's monetization partner
Features:
Retarget your audience with web push notifications and increase your traffic and conversions. Grow your revenue by up to 17%.
Engage your users with personalized push notifications to drive conversions and improve ROI across acquisition channels.
Retain your loyal buyers with targeted push notifications. Create repeat buyers and loyal customers.
4) EvaDav: Best Push Notification Ad Network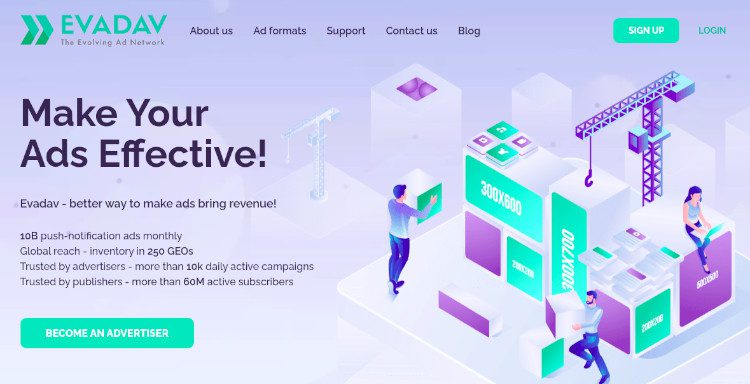 EvaDav is a client-oriented native advertising network that provides cutting-edge solutions to both advertisers and publishers who are integrated into a single platform. It offers the best performance for advertisers and embraces one of the most perspective markets of advertising formats – native advertising and push notifications.
EvaDav accepts traffic with any geo. The advertisers offer appropriate advertising campaigns and deals for any country. The platform provides the highest conversion rate on the market since it aims at demonstrating to customers only the necessary and relevant advertising based on internal analysis tools. Advantages of cooperating with EvaDav:
only verified advertisers

a wide selection of landing pages for any kind of traffic

development of custom L.P.s

according to individual webmaster

requests

integration with plenty of trackers, such as Binom, Keitaro, BeMob, PeerClick

personal account manager available 24/7

it takes you 10 minutes to register and start off
Features:
Large exit buttons exclude the possibility of unintended clicks.
Works with all traffic. You can target any GEO, device, browser, or O.S.
High CTR – 25% better than push on account of its native "feel"
No, mislead. This is important for google's compliance
5) SmartyAds: Best Push Notification Ad Network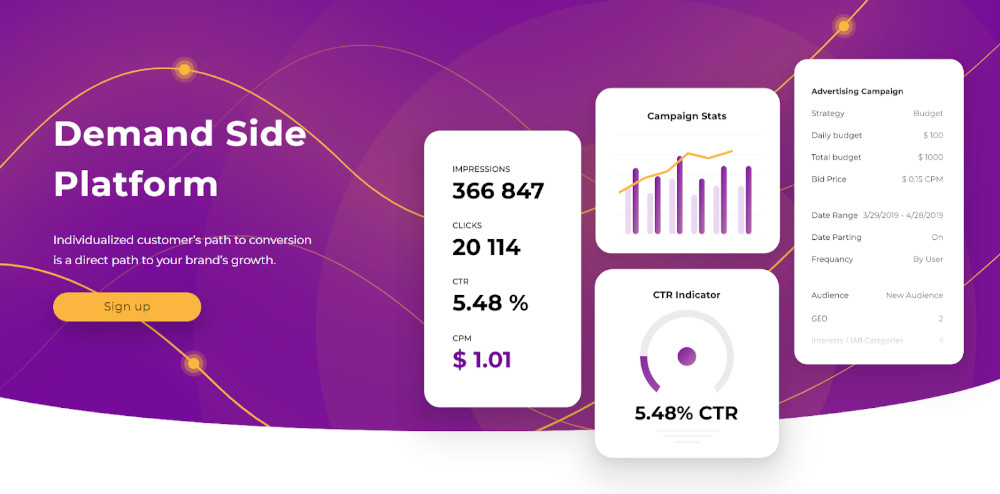 SmartyAds DSP is a programmatic platform for advertisers, marketing agencies, and ad networks that features precise targeting, A.I. and MA-based automatic bid optimization, and cutting-edge technologies. Together, these components enhance the capacities of interactive and static ad formats: display, video, mobile, in-app, rich, rewarded, native, and push ads in particular. SmartyAds DSP is equipped with a powerful RTB bidder that optimizes the media-buying process, reduces customer acquisition costs, and facilitates KPI achievement. The algorithmic buying automates the effectiveness of push ad formats delivery up to 89% and ensures 99% push ads viewability due to reduced ad fraud.
Features: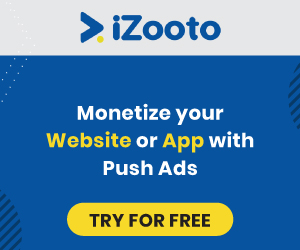 Omnichannel reach.

Traffic from 25K+ top premium global desktop, mobile, and in-app publishers allows serving push ads across verticals and channels.

Extensive targeting options. Using more than 30+ targeting options, dayparting, frequency capping, and custom settings, advertisers can promote their special offers or notify their customers about discounts right on the spot through geofencing campaigns.
Brand safety. SmartyAds DSP opens access to the top quality traffic from SSPs, featuring Mopub, Mobfox, Pubnative, etc., and continuously scans the traffic with IAS, Protected Media, Forensiq safety partners, and in-house solutions.
Cost-efficiency. 100% automated media-buying process, in combination with superior traffic quality and total absence of hidden fees, makes the solution the

number one choice for affordable programmatic audience purchasing.

Statistics update every 1.5 seconds so that you can generate the freshest campaign insights and act upon them accordingly.
6) Push Monetization: Best Push Notification Ad Network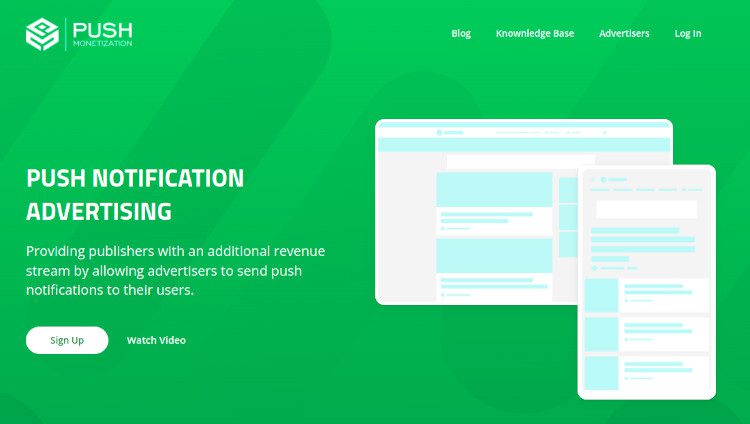 They have a massive reach and have reached over 22784116 and have over 150,000,000 monthly notifications. They are supported on all Push Enabled Browsers, be it, Chrome(android or desktop), Safari(Desktop), Firefox(desktop), or even Opera (android and desktop). With an untapped inventory and unique monetization solution, Push Monetization is one of the best in the industry. Their push notification targeting is phenomenal, and they let you target by country, city, state, connection type, carrier, ISP, device, O.S., O.S. version, browser, browser version, and category. Superior targeting offers better ROI for advertisers and, thus, more revenue in the hands of the publishers. Several partners bid on their push inventory, and they also have their algorithms in place to generate the maximum revenue for publishers. Usually, torrents, Music MP3, movie streaming, Anime, Picture sharing sites, etc., perform best with Push Monetization since such sites have a very higher user base. You can signup with Push Monetization here if you wish to get started with them.
Features:
Relatively newer push notification ad network
Incremental monetization stream for publishers
Easy to get started
Calculates user lifetime value
7) Propeller Ads: Best Push Notification Ad Network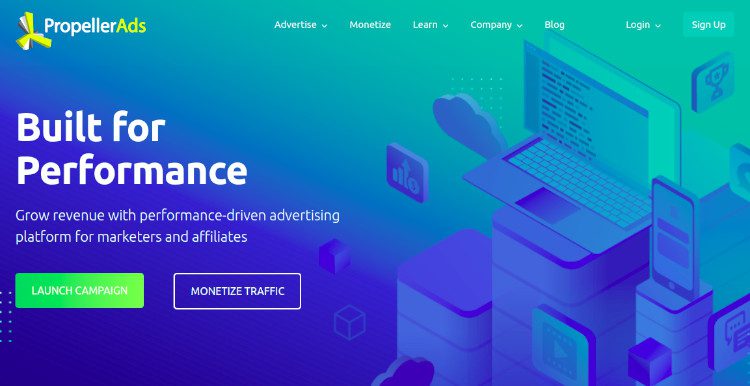 Propellor Ads, based in the U.K., is an ad network that promises 100% of international traffic and the highest possible CPM. It is a CPM-based network, unlike AdSense, and it outsmarts all other networks in one arena, and that is of variety because it offers a vast range of ad products. Propellor Ads outsmarts all other networks, including AdSense, in this aspect, for it provides the right amount of options, and no matter which website is yours, if you are considering Propellor Ads, they will provide you with a product. They have been increasingly favored for their ad quality and the options that it provides, which speaks volumes about the kind of ad quality it has. If you have an excellent volume of social or direct traffic, Propeller ads can be the right monetization solution for you.
Reasonable CPM rates for push notification ads.
Lifetime incremental revenue from your ads
Popular ad network used by 1000s of active publishers worldwide.
How to Get Started with Propeller Ads Push Notification?
Signup with Propeller ads using this link here. After signup, you need to add your website and wait for the approval. Once approved, you can go ahead and click on the 'Push Service' tab on the left. Choose your preferred website if you've more than one, and then click on 'Create an Ad Zone. And follow the steps to create a push notification ad. Once done, you can send it to moderation for approval.
Features:
Boost productivity by cutting manual processes – auto-optimize your ad campaigns. The A.I. system fine-tunes the settings to ensure you get the number of conversions you aim for.
Feel secure with fraud prevention technology based on an analysis of 25M+ conversions monthly. They work only with legit traffic suppliers to let you enjoy high-quality traffic.
Explore the immensely powerful and easy-to-use Self-Serve Platform – rapid onboarding, simplified ad creator, and real-time, in-depth reporting to monitor your success.
8) Megapu.sh: Best Push Notification Ad Network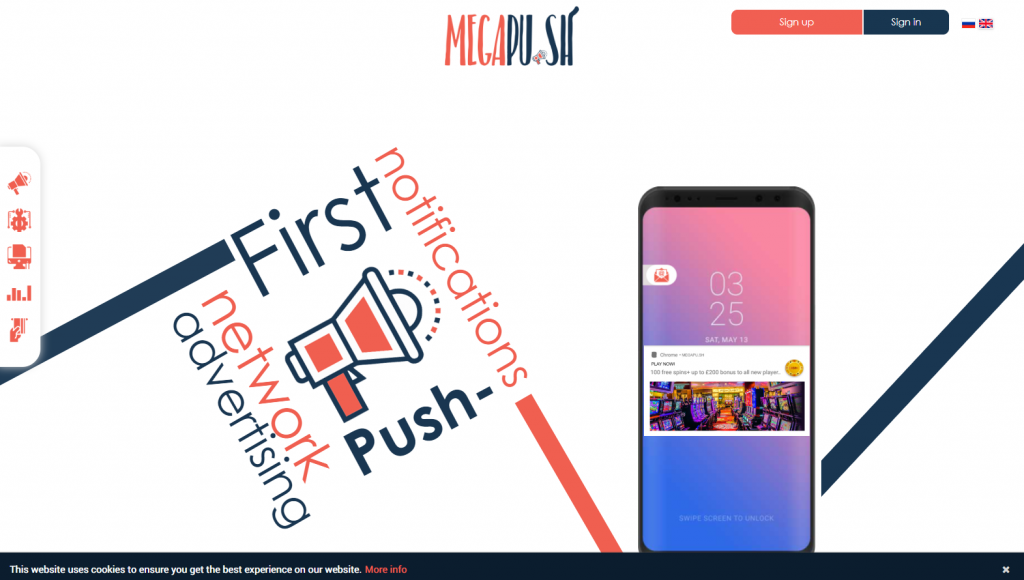 Megapu.sh is the newest ad network with a very original twist, for it is the very first ad network that allows you to send ads with push notifications. If you are an affiliate marketer, you must continuously be looking for new, creative, and effective ways to optimize your campaigns, then Megapu. sh is just what you are looking for. It is a great tool to engage readers and drive new people to your site. Not only does Megapu.sh provides more control over your ad campaigns than most other networks.
Features:
Traffic from 100+ partners.
High-quality traffic in massive amounts.
High conversion rate.
User-friendly interface.
Inner Tracking system.
9) Richpush: Best Push Notification Ad Network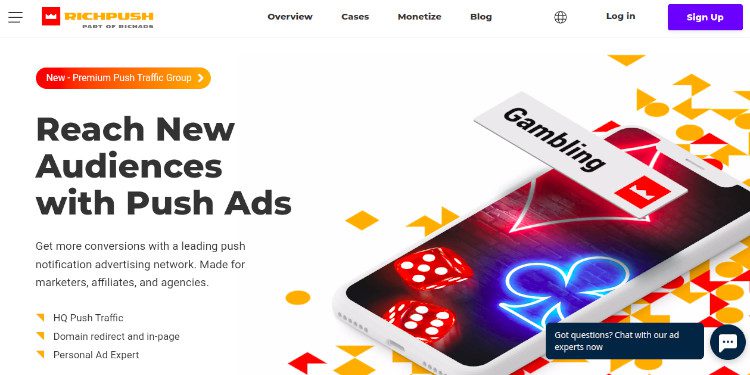 It is one of the best push notification ad networks with a high conversion rate and advanced targeting. Under it, almost all niches show excellent performance, be it Nutra, health, gambling, finance, casino, betting, crypto, app installs, etc.
Features:
Offers an enormous subscribers list of 450M+ people in 220 countries, you can reach new audiences at scale.
Because of quality traffic and its reasonable price, you can run high-quality ROI campaigns with us. CPC starts at $0.003.
With dedicated push ads experts and proprietary optimization technology, you can be sure you'll make the most of your push ads.
10) Admachine.co: Best Push Notification Ad Network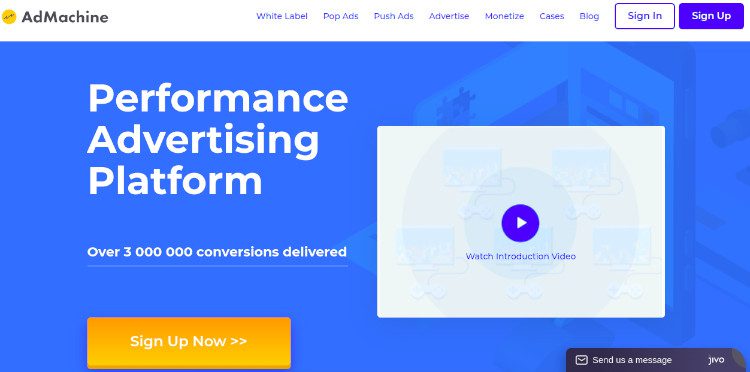 Having delivered over 3,00,000 conversions, Ad Machine is one of the bests to offer push notification ad networks. They get traffic from all the most used platforms, be it iOS, Android, Windows, or Mac OS. With their features of quick moderation of ads, multi-network advertising, intuitive U.I., and fast onboarding and real-time reporting, they have quicker and better conversions. Other than that, they have up to 300% ROI to offer. They have the best traffic filtering, auto-optimization of campaigns, advanced targeting, and performance tracking.
Features:
More conversions fast
Up to 300% higher ROI
20 billion ad impressions are available daily from top publishers, ad networks, exchanges, and SSPs
Offers publisher-safe monetization.
11) Ezmob: Best Push Notification Ad Network for Mobile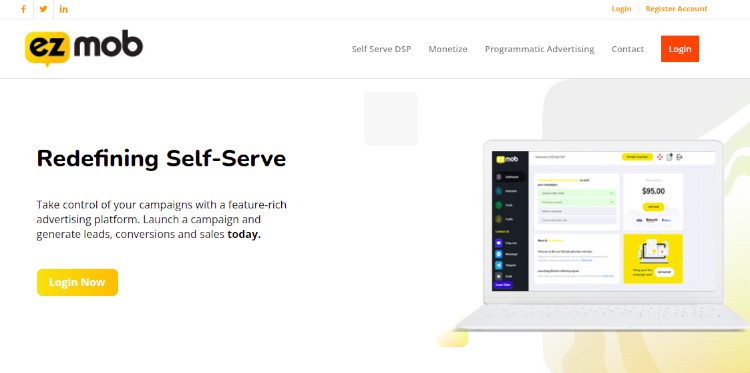 A mobile advertising company, Ezmob helps you purchase mobile traffic, set up campaigns using the self-serve interface, and leverage the real power of real-time bidding. They totally enable you-you to spend your advertising dollars more efficiently, make faster decisions, and waste less time. They have unlimited reach and would get you traffic from over 160 countries and also offer a self-serve dashboard that can help you make your campaigns your own, or you could even choose a manager to do that for you.
Features:
Manage your campaigns on your own, or choose to have an account manager manage them for you.
Get traffic from over 160 countries. Access over 3B daily impressions.
Target according to all you need for any campaign; we bring the best tech features for you to get exactly the users you want.
100% Fill rate and competitive eCPMs for qualified traffic.
Manage your placements on your own, or choose to have an account manager manage them for you.
12) Adsterra: Best Push Notification Ad Network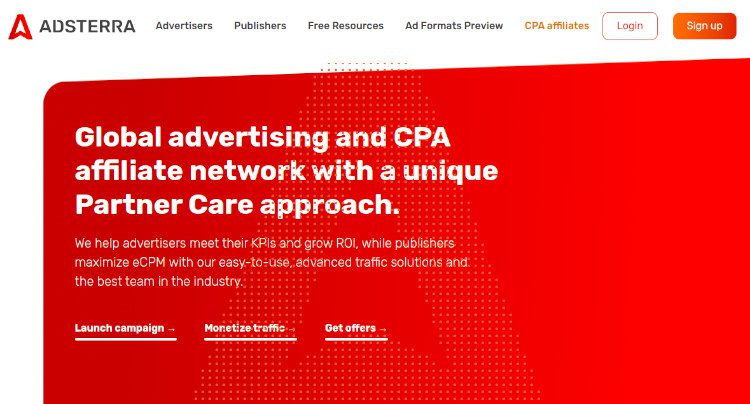 One of the top networks that have grown significantly in terms of popularity and scale, Adsterra, mainly runs campaigns from affiliates and advertisers who are looking to maximize their app downloads. They were pretty much in the spotlight recently because Google banned AdSense publishers as Adsterra has allegedly promoted malware and redirects. All of it was to keep in the best interest of the visitors. Other than that, Adsterra is known to have a massive reach, as it serves over 10 billion impressions per month and also has a range of more than 190 countries. They are growing and expanding further.
Features:
Easy start within an hour
Helpful Traffic Estimator
Three-level anti-fraud protection
Multiple cost models: CPM, CPC, CPA, CPL, CPI
13) Airpush: Best Push Notification Ad Network for Apps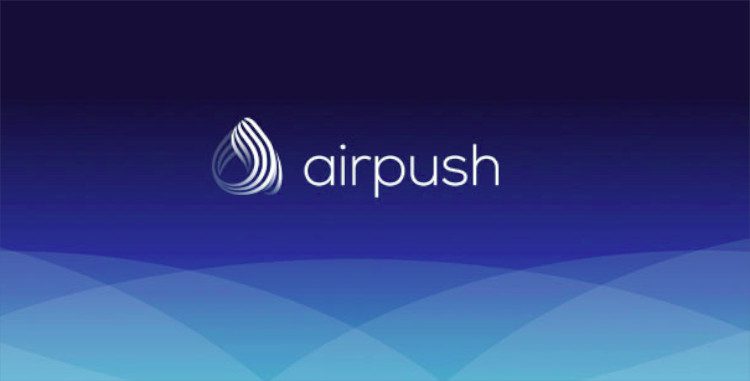 With over 1,20,000 apps using its Software Development Kit, Airpush is one of the largest mobile ad platforms. It provides the most advanced targeting and optimization technology on the market. It also has a wide range of ad formats that an advertiser can select from, which includes Push Ads, Overlay Ads, Video Ads, Rich Media Ads, and more. This has a more engaging and impact effect. Airpush has powered some of the most successful mobile campaigns and has provided excellent results to some of the most iconic brands that including Coca-Cola, Amazon.com, Toyota, and more.
Features:
Helps secure the best ROI with their Mobile Private Exchange strategy
Allows you to optimize ad campaigns and monetization strategies across the globe
14) Hilltopads: Best Push Notification Ad Network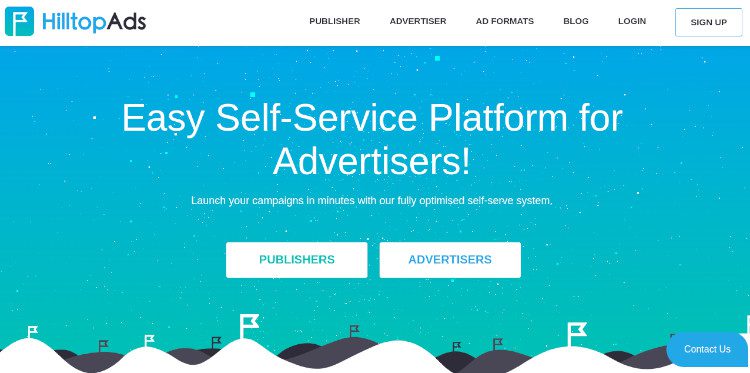 Hilltopads is a global advertising platform that is dedicated to providing help in the enhancement of online business and the growth of advertisers, webmasters, and ad networks. It guarantees the making of big money from websites and monetization of web traffic with best-converting offers and high eCPMs. With international ad serving and a global network, HilltopAds indeed strives to maintain the excellent ad quality that it provides. For the same, it also offers the right amount of options for ad formats.
Features:
High-quality, unique traffic covering ALL GEO!
Deeper targeting than in other networks: Carriers, O.S., browsers, Devices, and more.
Own Adserver and RTB solution
All traffic scanned and verified
Essential Things to Keep in Mind while Monetizing your Traffic with Push Notification Ads?
Push notification ad networks can either pay you a lifetime revenue share based on ad impressions or a flat subscriber rate. Some networks offer flat subscriber rates based on audience data, so you should keep an eye on the prices. Most of the ad networks run on a black box as publishers have a minimal idea of the transactions that happen behind the scene. We will try to find some of the appropriate CPM rates for push notification ads and shall share them with our readers. Meanwhile, we hope you will get started with push notification ads for an additional revenue stream. On a final note, it needs to be mentioned that web push notifications are not enabled on an iOS device, so if you've significant traffic coming from iOS, you can't monetize it.
Our Recommended Tools for Publishers:
Looking to Increase your Ad Revenue:
Get in touch with me for a personalised consultation and increase your ad revenue across native, display, video (instream and outstream), in-app and other verticals. I also assist in customized DFP setup, header bidding, and content creation strategy. My skype id is:
ronniedey
. Feel free to connect!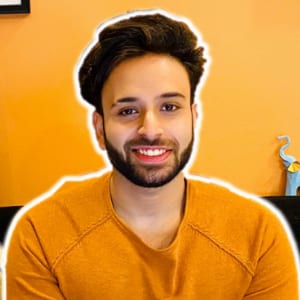 I and my team research various ad networks and can help you increase your overall ad revenue; so you could rake in more greenbacks with the best monetization platforms. Tap into the power of the online publishing business with me. I am just a mail away, so reach out to me if you want to scale up your website revenue. mail: [email protected]