Last updated on July 1st, 2022 at 10:39 am
The Boston Globe, owned by the family of former Globe executive Stephen Tylor, was the leading daily newspaper of Boston when The New York Times acquired it in 1993. It was rumored that the purchase was made to control the press coverage of another leading newspaper, the Boston Red Sox, so as to demoralize the following Red Sox had in Boston back then.
The Times paid $1.1 billion making it the most expensive acquisition, for an American newspaper, in US history. Made sense buying a media company more than 120 years old. Unfortunately, what the billion-dollar firm (NY Times) didn't see coming was the onset of a humongous revolution in the content industry – Internet. A powerful, more diversified and cheaper source for consuming content. In 2013, the Globe was acquired by a businessman – John Henry, the principal owner of The Boston Red Sox.
The acquisition was made with $70 million, a price dropped to less than 7% of what Times paid to get Globe, two decades ago! Print media paid a huge price for the Digitalization of the content industry. The NY Times, clearly, had the biggest cut! The advent of the Internet took away the only job Printed Media had, delivering content to the masses. And it wasn't just The New York Times that took the entire toll, two largest newspapers in Philadelphia also sold their assets in 2012 for $55million after being invested with $515 million just six years ago.
Understanding What Pushed Boston Globe in Boiling Water
Media industry had always been ruled by the publishers, business face of print media, where editorial teams and writers, the backend guys, barely had a cubical. Those that burnt the midnight oil to create fresh and fascinating content every day never owned the businesses. But when digital technology took over the realm of traditional publishing, the term print media started finding its existence shifting towards grandma stories only.

To cater to a larger group of audience and to provide more opportunities to the writers, the content industry took a giant leap towards ebooks, blogs, instant articles, etc from entirely being paper dependent once. Damaging the revenue streams of publishers, digital media took the jobs that once performed printing, distribution, and promotional practices. A writer that spent hours creating and styling the content, now, owned it. The Internet helped writers create their own brand, and that too, without stepping onto the toes of a publisher. It was the writer and its audience, for the first time – directly connected.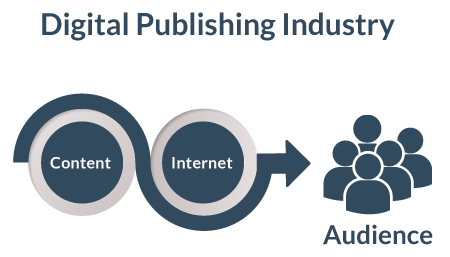 When supply increases, price falls. Digitalization of content gave writers an opportunity to edit and publish their content themselves. This led to numerous writers entering the market. It's obvious, and trite, to admit that nowadays every hot-topic catches the attention of hundreds of bloggers, desperate to cover it.
More and more content is getting published every day. Keyword and data analysis, backlinks, Google SERPs, etc. are relied upon to get that content ranked. Promotional practices are all over the social media channels. Email newsletters and digital ads are leveraged to make sure no eyeball was left to reach out to. Each platform that exists, gets used. A silent battle amongst publishers covering the same content prevails the online media, every minute – each second.
Facebook – A Savior Or A Competitor?
Digiday, in one of its confession series this year, approached an audience development head that refused to follow Facebook tools, like instant articles and news feed videos, and exchanged candor for anonymity. According to the head, people at Facebook once told him "If I were you, I would probably not rely on Facebook as much as you are". The confessor blatantly said that Facebook will completely de-prioritize publishers in the future and that their efforts are going to be somewhere else.
We have seen this ourselves. When Facebook twisted its algorithms to make publishers create more video friendly content. Remember? When video stories and live videos became the new trend for your followers. And now, content will be optimized to promote discussions? Every time an optimization algorithm changes, the entire promotion structure of publishers changes with it. Did you see who's helping whom here? If not – do me a favor, ask yourself a simple question – how many times will I change my content distribution model, and adapt a new one to master it again?

You both (Facebook and Publisher) want ad revenue but you don't own the platform, Facebook does. A few more tweaked algorithm updates and you'll be back to the woods. Wouldn't it be better to have a direct relationship with your audience instead? An audience that loves coming back your site. An audience that you can proudly address as your loyal user base. It won't be possible marching forward with Facebook, as the lord being worshipped here has his own set of goals. The more you rely on him, the more endangered your referral traffic becomes.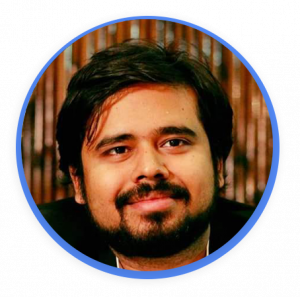 "Publishers need to think like a brand from day one and this is not something to be ignored. They need to have their own user base and must try to get that direct traffic significantly. Building a Publisher Marketing Stack helps achieve it by removing the dependency from just one or two ecosystems. So, if you're having direct ways of reaching out to users via app notifications or chrome notifications or email marketing, basically through a diversity of mediums, it becomes easier for you to reduce that dependency. Plus, it adds to the overall content traction and builds some sort of defensibility that you didn't have otherwise."
– Rohit Shroff, CEO & Co-Founder @Holidify
A Publisher Marketing Stack Can Help:
Coming out of the blessings of Facebook is no easy task, I get it. But we're talking about the long-term consequences here. Which if worked upon, from this very moment, can make marketing much easier for publishers. Take a pause. Think for yourself. How overwhelming will it be to shift from website and referral traffic to owning an audience one day? Having a loyal user base that will cherish and follow your insights religiously. Users that soon will become a part of the community you own. Thinking of big brands perhaps will help understand this better. Nike owns a community, Apple has a user base that patiently waits for the new products that the company promises to launch. A community doesn't need reviews, it trusts what the Brand has fed its ears. It believes in it.
But how do you own that kind of loyalty? Won't happen by advertising how amazing your insights are or by stuffing the inbox of a user with surveys and data. It requires interactions. It needs you to communicate and let users feel that you understand them. Buffer has done that so well. By starting conversations and building a more powerful community with every interaction that takes place, Buffer is successfully moving it's traffic to the audience and then to a reliable community. With more than 5000 members added to its slack channel, it has entered a flywheel of promotional flow that – builds an audience – engages with it – earns their loyalty – forms a brand.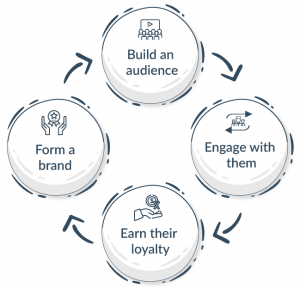 You don't write what you're writing to have huge profits. Never endorse the thought in front of your followers. Instead, allow them to notice the care and concerns you share with their industry. Build a brand. Become a part of the lives of your followers. Indulge yourself in active communication with them. A publisher marketing stack can help with this, by assisting you Identify the audience, Capture them and Engage for building a loyal community.
Building a Publishers Marketing Stack:
A set of tools, organized in a sequential manner, that is used to engage and retain the website visitors is referred as a marketing technology stack. The components of a publisher marketing stack can vary depending on the industry it's built for. The first slot that gets added to the stack, publishers use for marketing, is Identification of a targeted visitor persona.
Identifying the Audience: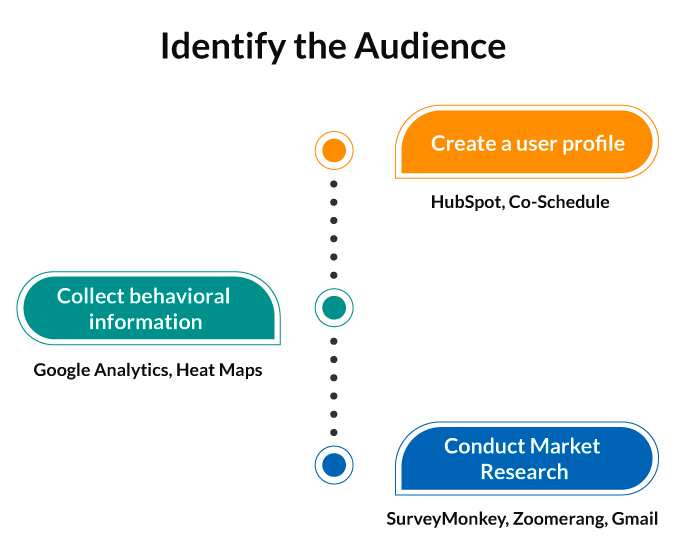 Not every user that landed on your blog had a dedicated interest in your industry. You need to filter out the irrelevant ones to target the relevant followers. These people exhibit certain characteristics like Age, Gender, and Location. Industry, etc. Note them down. Create a user persona for your website visitors to help you identify these prospects.
Tools to be used: HubSpot
Collect behavioural information
The way visitors travel on a website, speaks of its purpose. Understand how users are consuming content on your website. Use their behavioural insights to track whether they can be relied upon for coming back if engaged well. You need to know what topics were they looking for, the pages they viewed (page per session), and the time they spent on your website (session duration).
Tools to be used: Google Analytics, Hotjar
Primary market research is a great way of directly reaching out to your people that might be interested in your content. You also get to learn about the topics that people want publishers like you to cover. Asking questions for surveys, getting involved in group discussions, organizing small-scale interviews with quick questions, etc. can help you find more users that would love syncing with your blog.
Tools to be used: SurveyMonkey, Zoomerang, Gmail.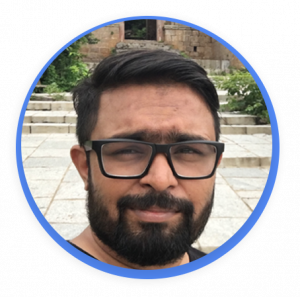 "Segmentation of an audience is essential to serve curated content using push notifications. Only studying interaction patterns and preferable hours would a publisher prefer to cater the content even if it is perishable by nature (News). Otherwise, when push becomes shove, a sizeable audience would tend to mute or look away. Social Media Channels are merely a medium of engagement and depending on them as a traffic source would only result in diminishing returns on investment. Such mediums are better off as engagement platforms."
– Samir Makwana, Lead, Content Team at MySmartPrice.com
Building The Audience
After identifying the set of people you want to have in your followers, it's time to start building the audience that you can preferably also OWN.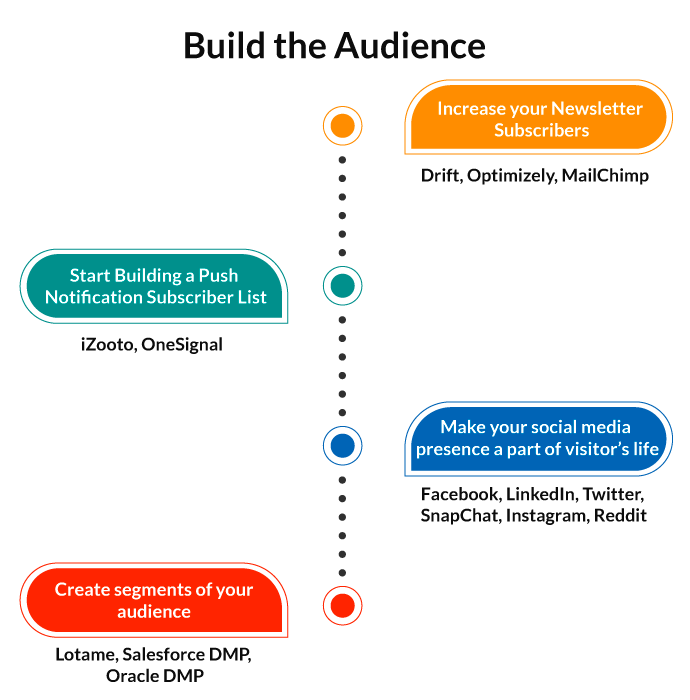 Increase your Newsletter Subscribers:
Email is the most widely used source to connect with the audience. According to Campaign Monitor, 72% of people like to receive promotional stuff via emails and, as per Emma, 59% of marketers admit that email is their biggest source of ROI. Start collecting email addresses of users you've filtered above to engage on a regular basis. One newsletter a week comes next.
Tools to be used: Drift, MailChimp
Do you have a subscriber list for sending web push notifications? If not, it's high time you start building one. It's always good to own the browser screen of your followers. It doesn't require you to invest too much effort. It's free and new to the publishing industry. Since an early bird gets the worm, this is high time you flap those wings. All you need to do is install the plugin.
Tools to be used: iZooto, OneSignal
Leverage social media groups to form your own community. While you don't own the audience, it is too big a chunk to be ignored. Add influencers and connect with followers. Create your own media groups and become a member of the relevant ones. Ask questions regarding major issues of the industry, and provide the easiest solutions to the bugs that concerned members. Leave an impact by indulging in active communication through live videos, stories, snaps, etc. on the platform. There's so much to be experimented with and you still live in a myth bubble thinking you have time.
Tools to be used: Facebook, LinkedIn, Twitter, Snapchat, Instagram, Reddit, etc. and the list is never-ending.
Create segments of your audience
Go deeper into the filtered audience sheet. Bifurcate visitors into various segments, your website offers content in, and owns them by sending highly targeted content only. The report from user identification above can be of great help here. You'll know what specifically from your blog interests the chosen segment.
Tools to be used: Lotame, Salesforce DMP, Oracle DMP (Data Management Platforms)
Engage with the Audience
Now that you own the audience, you would need to engage and retain them. With fishes come to the fishermen but staying active is all it takes. You've gained their interest, now is the time to earn their loyalty – have active communications to form a community.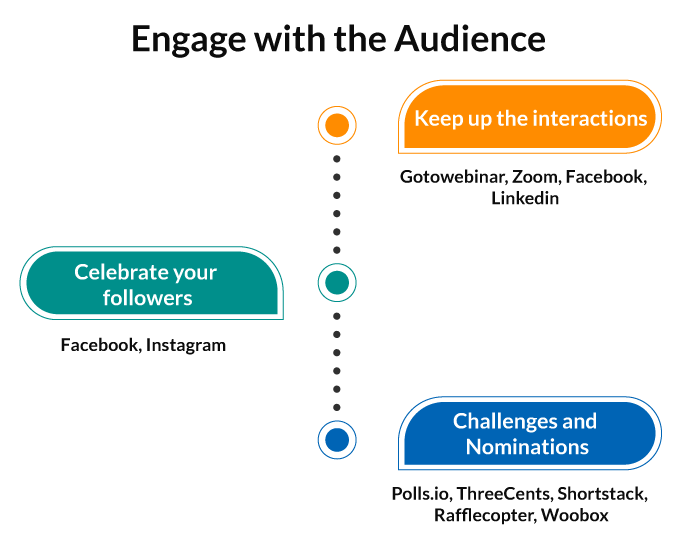 Keep up the interactions:
Conduct online events on your website/social media to get in touch with your followers. Let them know when you'll go live, it sparks excitement. Interact with them. Exchange thoughts. Learn. Teach. Let them know the taste of your hard work by providing a trailer of what exciting is coming next on your blog.
Tools to be used: Gotowebinar, Zoom (Webinars); Facebook Live, Linkedin (Events – Social media)
Celebrate your followers:
Post their pictures from your personal social accounts. Celebrate how they used the solution, that you provided, in their industry. Praise their creativity. Would mean the world to them. Needless to say, it'll promote the loyal side of your brand, your end goal.
Tools to be used: Facebook, Instagram (Social Media)
Challenges and Nominations
Organizing a contest, challenging your audience, nominating them, etc. builds a friendly connection with them. Gifting them what they admire. Making a personalized gesture in front of the entire audience enlightens the heart of a follower. Something rare that bears fruitful results must be on your to-do list.
Tools to be used: Polls.io, ThreeCents (Polls), Shortstack, Rafflecopter, Woobox (Contests)
Digital Content Next in a press release said that Facebook and Google, outside of Over-The-Top (OTT) services, account for less than 5% of the average digital revenue of Publishers. But, more than this revenue share, the traffic cut is having a bigger impact on publishers as that leads directly to diminished exposure to the content.
Devising a better way to distribute the content and to directly engage users for audience building is necessarily where the publishing industry needs to focus next. Having a stack for publisher marketing would help, what do you think?