Last updated on October 18th, 2021 at 06:02 am
In this post, we are going to discuss how publishers can set up ads on Facebook's instant articles. Instant article is a feature from Facebook that allows publishers to monetize their content by display relevant and targeted ads from audience network's pool of 3 million advertisers. Before we directly get into the ad setup, let us discuss the benefits of using instant articles to monetize your content.
Benefits of Facebook's Instant Article
Articles are instantly loaded within Facebook's ecosystem and users don't have to wait for long to be redirected to the publisher site.
Facebook allows basic theme customization to match the look and feel of the instant articles so that users are consciously aware of the publisher websites.
Instant articles increase page visits by almost 1.5x when compared to normal website viewing through facebook.

It is easy to monetize your instant articles.

Instant articles contain a call to action buttons like "Like your page", "email signup" etc that may boost user activity and engagement on site.

Publishers don't have to rely on search indexing and wait for months to see content being ranked.
How to Set up Ads on Instant Articles- A Stepwise Guide
Here, we will discuss how you can set up ads on your instant articles. We will assume that you have completed the process of setting up instant articles on your page and all your website posts, when published on Facebook are shown as instant articles. Also, you've choose to monetize your page with Instant article ads.
So, now let's begin with a detailed stepwise guide as to how you can set up ads on instant articles.
Click on the page where you want to set up instant article ads. Once you're on the page, click on Publishing Tools on the top.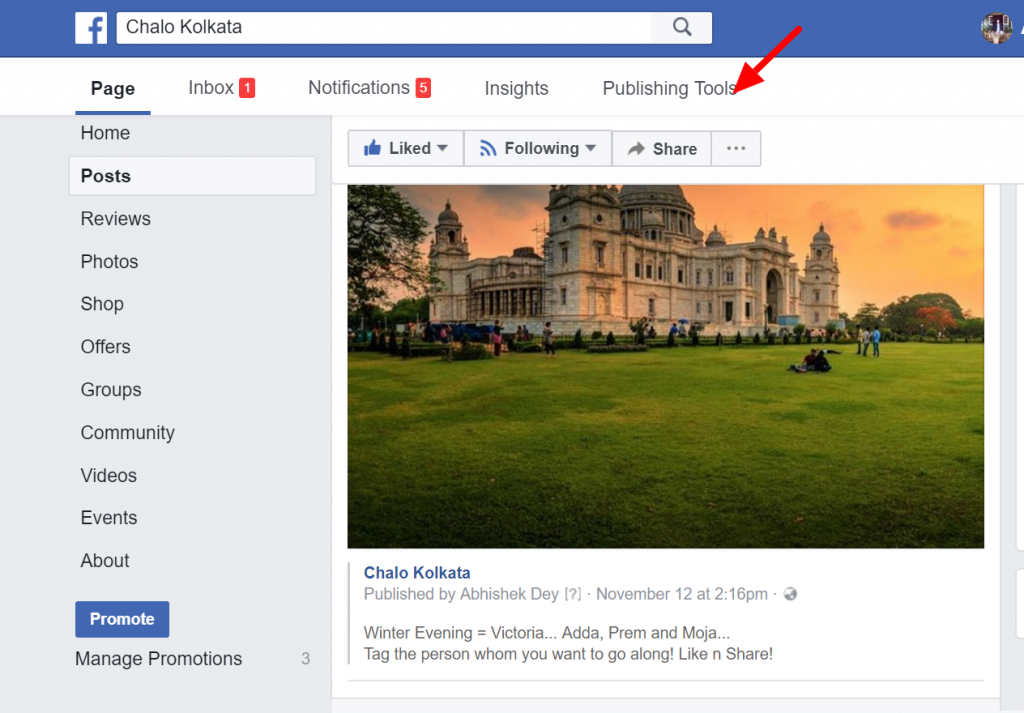 Now, once you're on the Publishing Tools page, click on Monetization tab under Instant Articles. Next, click on Your Dashboard link.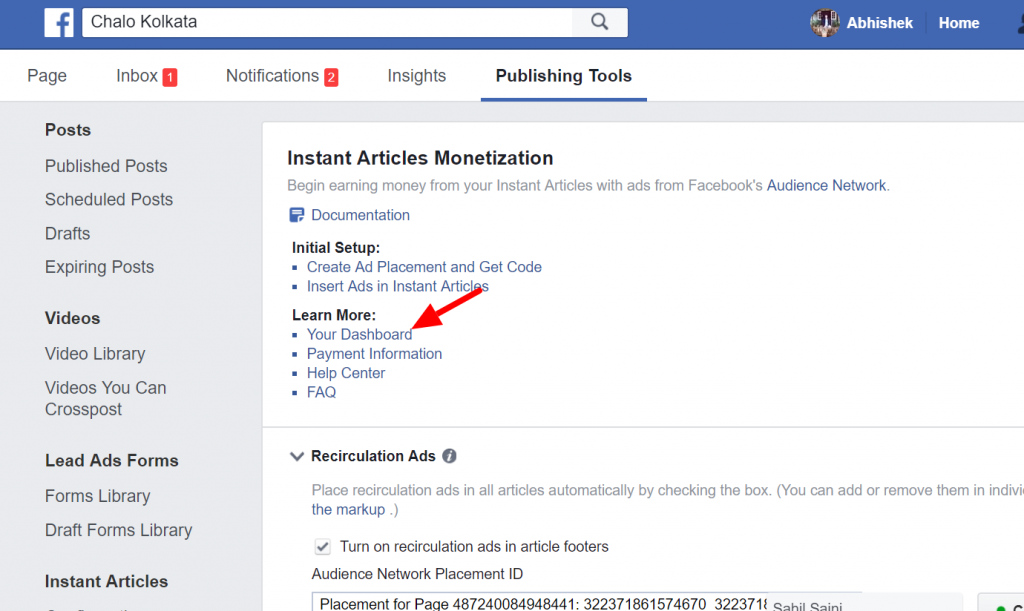 You will now be taken to the Developer section where you can see the app which you previously created "Page name- Instant Articles".  Facebook automatically creates an app for your page which you want to enable instant articles.
Click on the Placements link under Audience Network>Instant Articles. Now click on Create Ad Placement. Name the placement and click on the Save button. Now a new placement is created with the placement ID as you can see in the image below.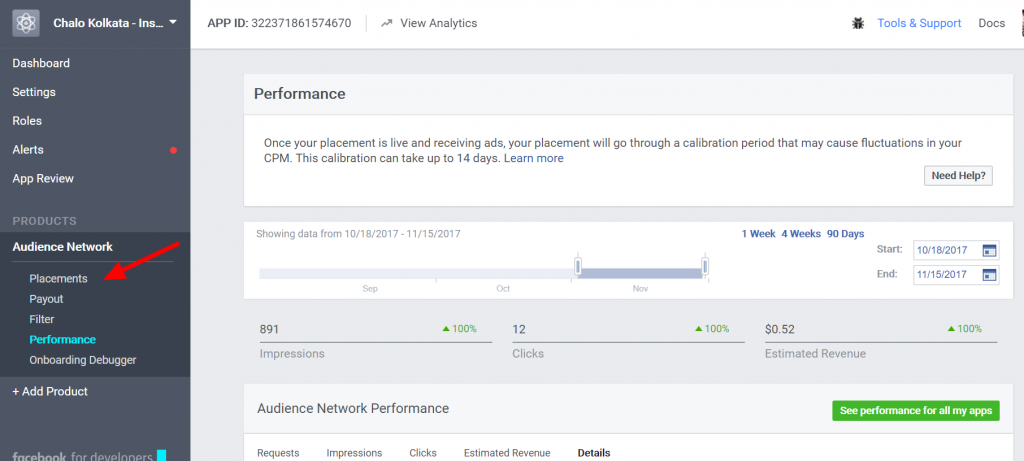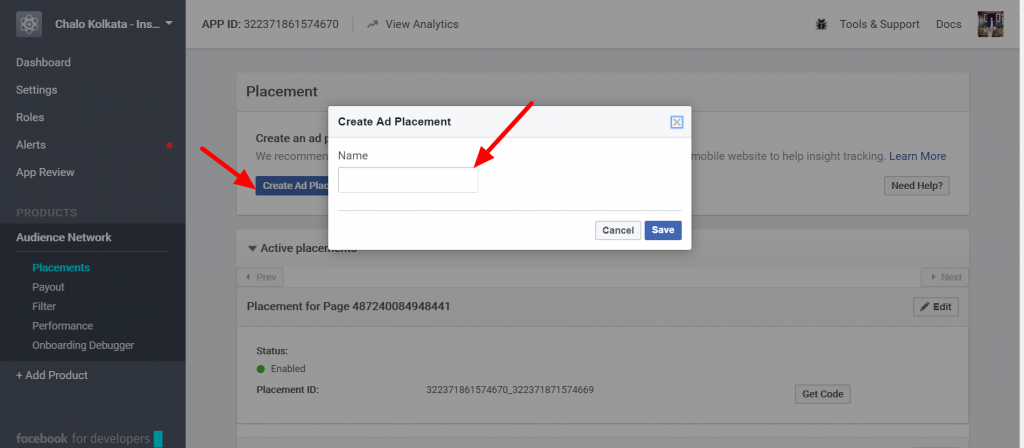 Click on the Get Code button. This will open a new pop-up box that will contain the ad code for Instant Article. Facebook only allows one standard ad size for instant articles which is 300×250. Copy the code from the clipboard and save it somewhere on a notepad.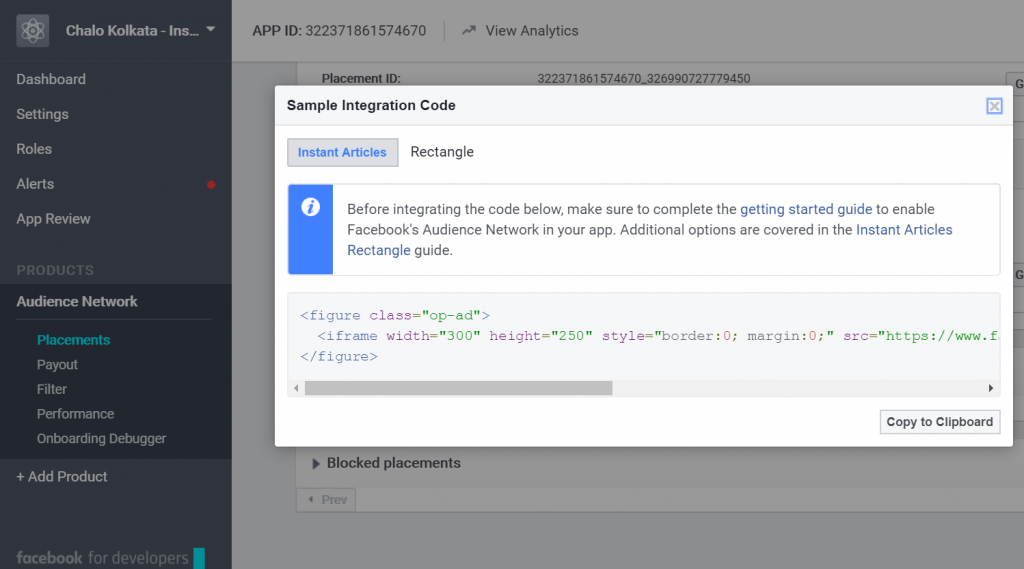 Now, that you have the ad code. You need to place this code in every article you want the ad to appears. Yes, currently Facebook doesn't have any opinion to add ad codes to all your instant articles, and it needs to be done manually.
To do so, you need to have 2 component–
The 300×250 audience network ad code
A script that tells Facebook to automatically place the ad code at certain intervals.
Now, click on the link here- a guide to instant article ad placement.
Navigate to the portion where it is written "enabling audience network ads".
Here you have the option to display ads at intervals.
You can change the ad density to control the UX, here are the three options currently available: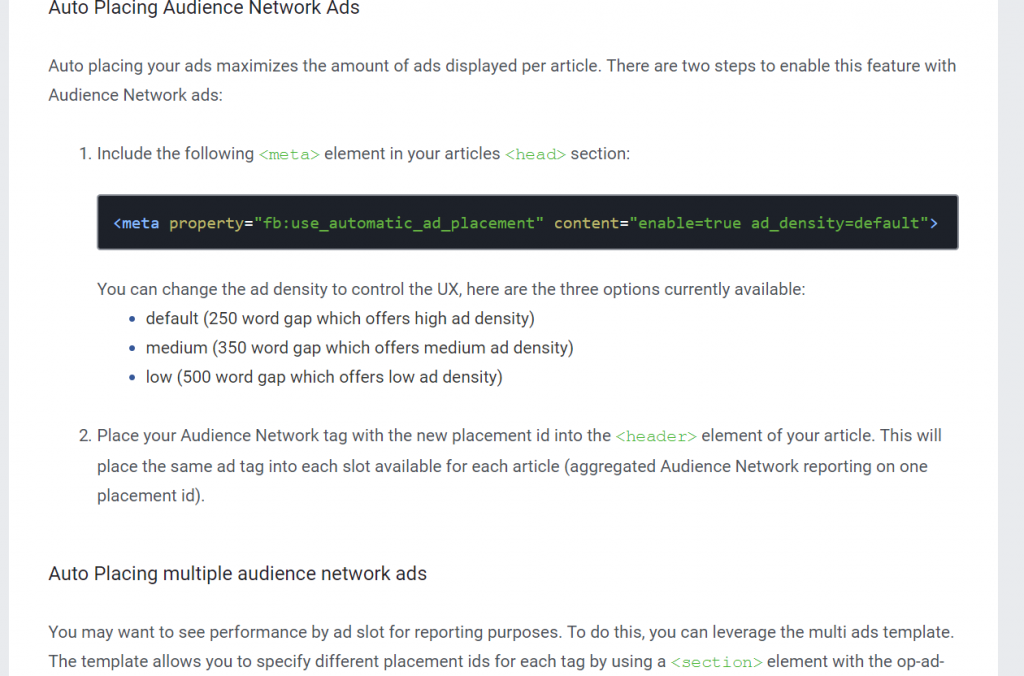 default (250 word gap which offers high ad density)

medium (350 word gap which offers medium ad density)

low (500 word gap which offers low ad density)
The code which you need to add is here. You need to include the code in the <head> section of every article. Copy this code and save it in the notepad where you copied the instant article ad code.
<meta property="fb:use_automatic_ad_placement" content="enable=true ad_density=default">
Next, navigate to your page, and under Publishing tools, click on Production articles. Over here you can see the article titles which are ready to be published as instant article.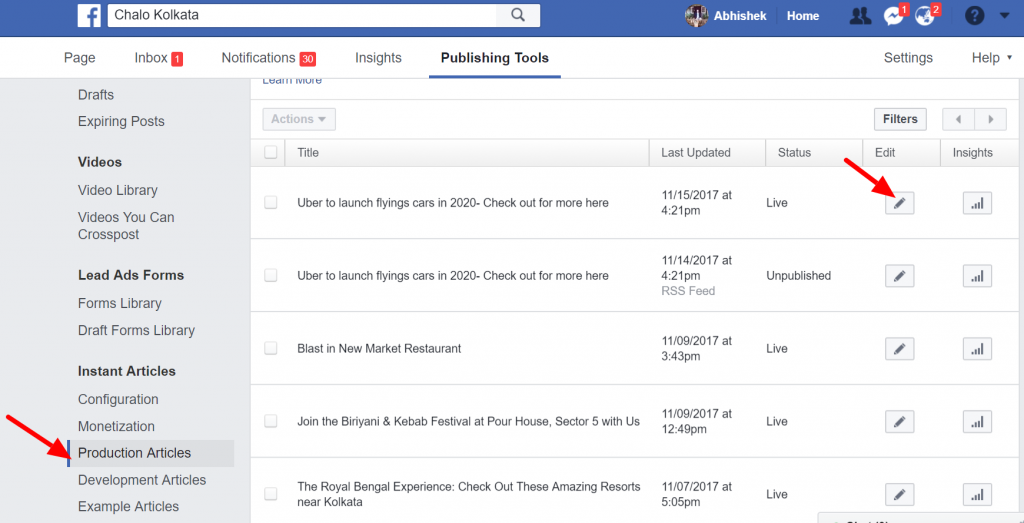 Now, click on the Edit button on any of the articles. Place the property meta tag just below the closing of the head tag, i.e. </head>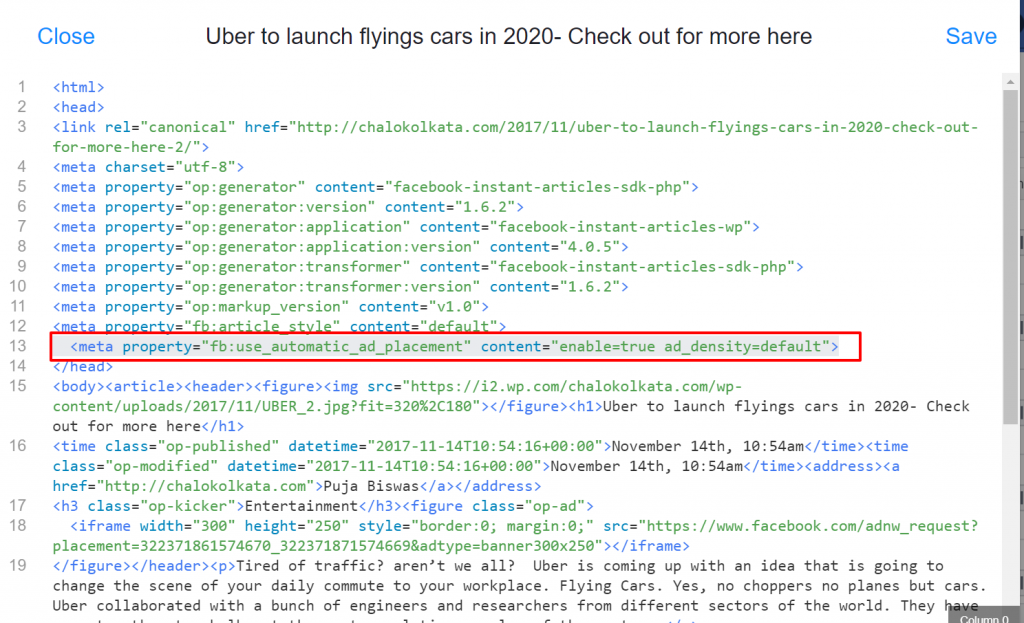 Also place the 300×250 ad code just before the closing of the header tag, i.e. </header> as shown in the image below.
Once done, click on the Save button. Facebook might come up with an action window stating
"This Instant Article is currently published. If you save it, the article will be unpublished so you can review your changes. To re-publish your article, use the Actions drop-down at the top of your articles list. Are you sure you want to save this article?"
Click on Save and then hit the close button. Now, that the instant article is unpublished, you need to re-publish that again. Click on the check-box and from the Actions dropdown, click on Publish.
Once this step is completed, you can go ahead and share the link of the article on your Facebook page and it will be shown as an instant article.
Make sure your article is long enough to accommodate the 250 px height constraint and you can see the ads on mobile. Now it's time to go ahead and implement instant article ads by yourself.
If you're stuck anywhere, feel free to get in touch with me. I will be more than happy to assist you. Sharing my performance stats on a new facebook page… As you can see the CPM is pretty low since all the audience is from India. If you have an active page with a good number of US fans, you can expect the CPMs to be around $3 and more.
Thus to wrap up, audience network can be a good substitute for websites which rely on social traffic and are performing poorly on AdSense. Here, I would like to say personally that revenue from Adsense still remains higher and I suggest you get started with audience network only when you're having extremely low RPMs from AdSense. Now that you know how to set up ads on instant articles in Facebook, give it a try. All the best to you guys! See you in our next tutorial.