Last updated on January 26th, 2023 at 04:21 pm
Social media is a platform where the content you put up is out there for the entire world to view and judge. Social media either help one make it or break it in business. Social media gives huge exposure to any small scale business, even the ones with a low budget. It is that platform where every form of content is tried and tested and looks for creativity. Uniqueness and connection are the two formulas which help in promoting a product or a brand.
Table of Contents:: Summary
Hide
Publishergrowth: The Revenue Acceleration Platform for Publishers
Blognife is elated to announce the launch of Publisher Growth- a community of publishers that helps you actively accelerate your revenue. This platform assists publishers in growing their traffic and revenue. As publishers, you can share and read reviews of ad networks and hosting companies. You can connect with other publishers to build links for growth and monetization hacks and more. This platform will help you stay up to date with the advertising and publisher ecosystem.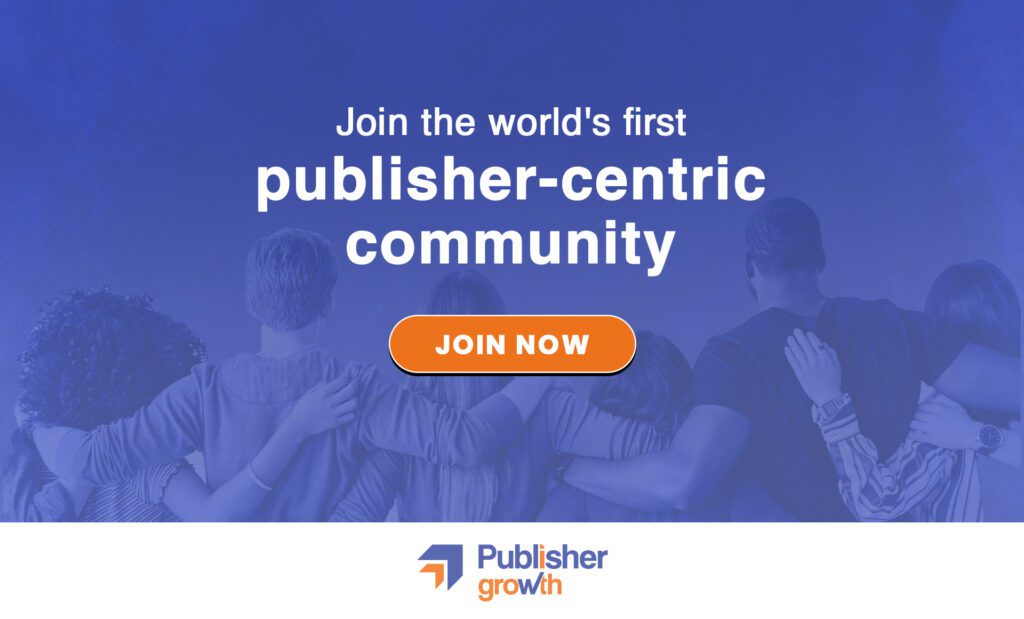 Features:
List of 200+ ad networks to monetize your site across all verticals.
Personalized site audit upon signing up on the platform that can increase your revenue.
Find all upcoming adtech conferences, webinars, and events in one place.
Stay informed with the latest adtech news across the globe.
For instance, if a social media user can relate to the Ad; they will buy the product and advise others to buy the product by publicising it themselves on their social media accounts. This shows how just one customer can bring in 100 more customers just through social media. In today's world, there is a huge influence of social media everywhere. According to the statistics, around 97 per cent of all marketers are using social media planning, outshining one another.
Benefits of Social Media Planning
The different benefits include: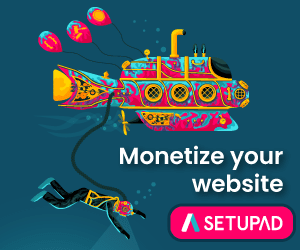 There is a significant amount of growth in brand awareness through social media planning- In social media word spreads like wildfire. When a user posts something about a brand, it is viewed by all of his/her followers. The followers in return can share the post which is again viewed by their respective followers, thus the network grows bigger and bigger. This is how brand awareness grows, be it in a positive or negative light.

Promotion of products and services- similar to the previous point, is how products are publicised.

Unlimited exposure and opportunities- As the saying goes, "No publicity is bad publicity !" No one can deny social media does bring a lot of unexpected opportunities.

Social media influencers- These influencers inspire others to buy the products they like. For example, beauty, food vloggers and bloggers, those with a huge following, etc.

Increase in traffic- using social media to link it to your business website will immediately increase traffic to the website.

Telling the brand's story- How the brand or company got started might be something which the audience can take positively. This increases brand recognition all the way more.

Creating Ad campaigns on social media about the current trends might be a huge success. Citing an example, the

Dove: Campaign for Real Beauty,

said no to all forms of body shaming and promoted self-love. Two other examples would be

P&G: Thank You Mom !

and

always: #likeagirl campaign.
Interaction with the audience- Ad campaigns and promotion should be made interactive, using social media platforms like Twitter, Instagram, etc.

Holding surveys- Surveys can be beneficial in knowing the likes and dislikes of the audience.
10 Best Social Media Planning Tools 2023
Here is a list of the best social media planning tool that will help you manage your social media platform well.
1) HootSuite: Best Social Media Marketing Planning Tool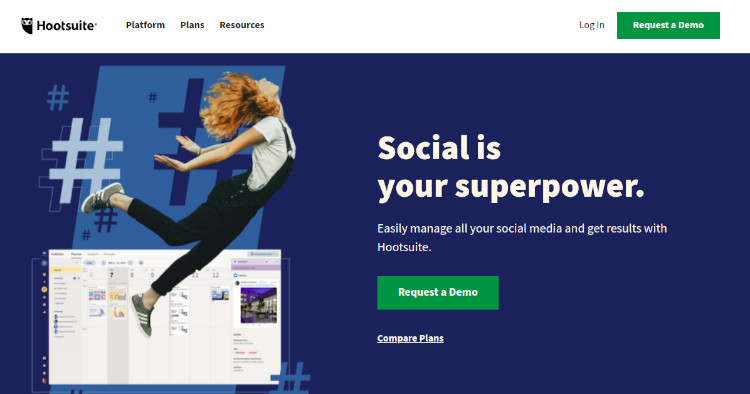 A social media management platform, established in 2008, by founder Ryan Holmes. HootSuite supports social media integration i.e. converging of all social media platforms. You can enhance your social media management with Hootsuite, the leading social media dashboard. Manage multiple networks and profiles and measure your campaign too.
Features:
Geosearch- This feature helps one to search for what are the views of people related to a particular topic in a certain geographical location.

Filter by Klout- If everyone is talking about a topic, and you are only interested in the opinions of a few trusted officials; this feature can be used.

Hootlet- This feature helps you to share a post while you are reading it in another window.

Auto-scheduling- Posts can be automatically scheduled to go up on the site.

Drag and drop- It is pretty self-explanatory, you can drag and drop different profiles from one stream to another in the dashboard.

Manage multiple contributors.

Multiple streams can be monitored at the same time.

Real-time analytics
Professional plan- $19 per month

Business plan- $499 per month
Free Trial: Yes
Suitable for Small Marketers: No
2) Hubspot: Best Social Media Management Software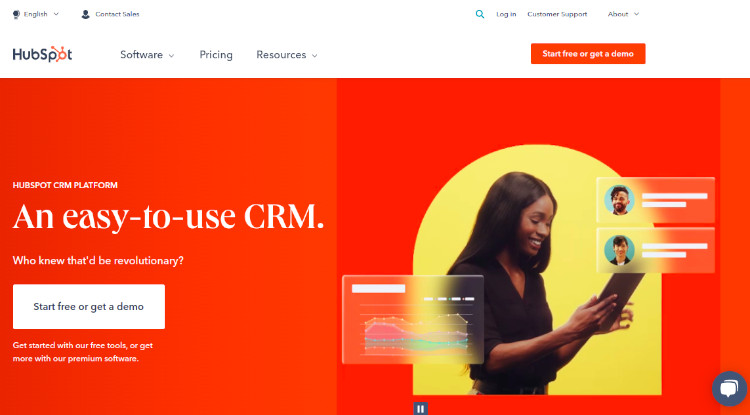 Established in 2006 by Dharmesh Shah and Brian Halligan, it is a marketer of software products. For small companies with just 20 to 25 staff members, HubSpot is highly suggested. HubSpot is in the automated marketing industry. This is a social media management software that lets you scale your marketing efforts. Publish, monitor, and report on your success all in one place.
Features:
Lead analytics dashboard

Contact management

Contact activity

SEO and content strategy

Facebook lead Ads

Smart content

HubSpot CRM- A free marketing tool.
Pricing:
Free pack- $0

Starter- $50 per month

Basic- $200 per month

Professional- $800 per month

Enterprise- $2500 per month
Free Trial: HubSpot offers a completely free subscription- Free HubSpot CRM
Suitable for Small Marketers: Yes
3) Buffer: Best Social Media Planning Toolkit for Small Businesses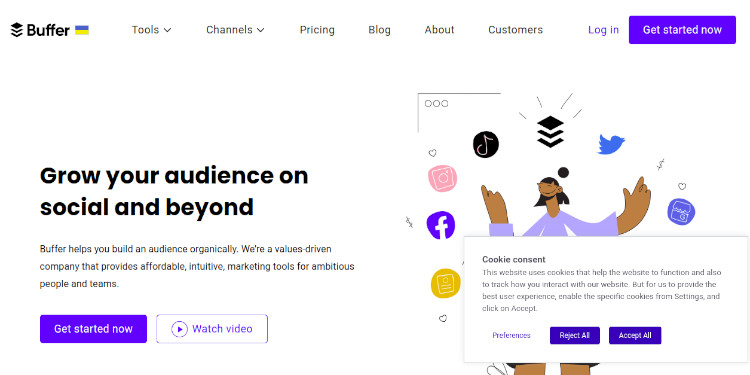 This is used for social media management of content. It can connect all social media and at the same time can make it easier to create and schedule posts. Buffer helps us to log into multiple social media accounts at once, simultaneously. Buffer helps you build an audience organically. It is a values-driven company that provides affordable, intuitive, marketing tools for ambitious people.
Features:
RSS (Real Simple Syndication) feed activity

2 step account log in

Informative social analytics

Social profile sharing

Multiple posts and tweets

Profile management

Multimedia format sharing

Analytics and insights

Standard buffering

Customised scheduling

Statistics comparison
Pricing:
Individual- Free

Pro- $15 per month

Small- $99 per month

Medium- $199 per month

Large- $399 per month
*Small, medium, and large are business plans.
Free Trial: Yes
Suitable for Small Marketers: Yes
4) TweetDeck: Social Media Planning Tool for Twitter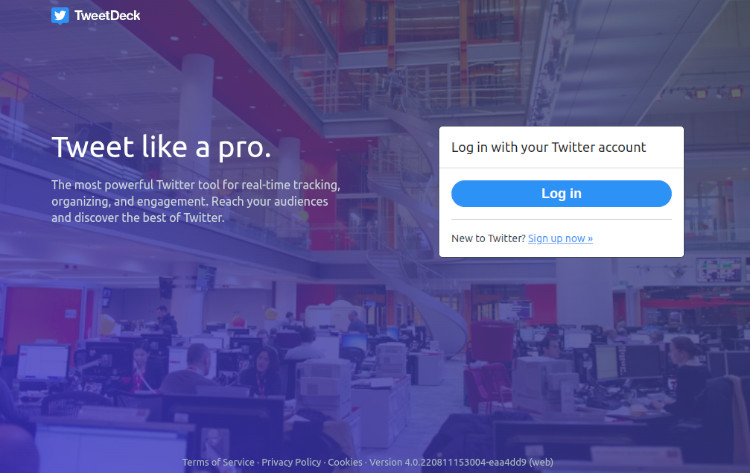 This is a social media dashboard app which just manages Twitter, hence the name Tweetdeck. Quite similar to the Twitter the social media platform, Tweetdeck users can retweet, tweet, send DMs (Direct Messages), favourite a tweet, reply to a tweet, and manage more than one account or streams in a single interface. It is a free web tool, which generally helps us to manage and tweet in the Twitter accounts.
Features:
Multiple user support

Scheduled content posting

Consistent, effective search and filtration system

Real-time updating

Sends configurable notification alerts

Twitter feeds can be efficiently managed from anywhere.
Suitable for Small Marketers: Yes
5) Sprout Social: Best Social Media Management Solutions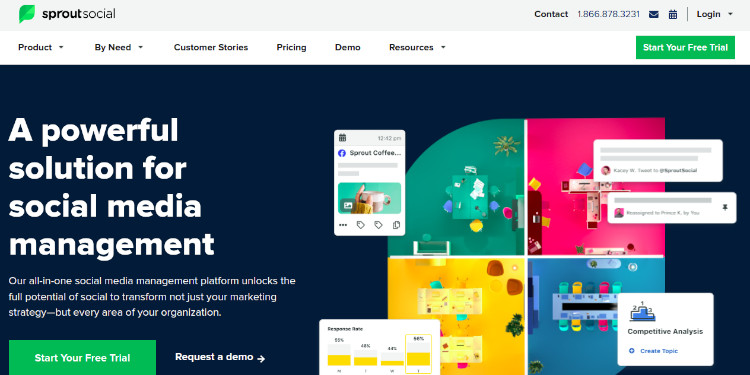 Another social media management software which has the ability to integrate with Twitter, Facebook, LinkedIn, Google+, Instagram, Zendesk, Uservoice, Google Analytics, and Feedly. This software makes it easier for users to post pictures, Ads on various social media accounts.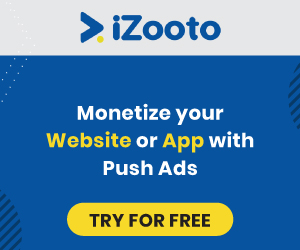 Features:
Smart inbox- As mentioned above, Sprout Social helps the users to integrate with their various social media accounts. This feature combines all messages from these social media profiles, into one single stream.

Simplified data can be used for better decision-making

Mobile friendly

Analytics

Publishing makes it easier for users to make scheduled posts across the different social media accounts.

Customer Relationship Management allows users to communicate well with their customers, respond to questions, and provide solutions.

Social monitoring tools
Pricing:
Premium- $99 per month

Corporate- $149 per month

Enterprise- $249 per month
Free Trial: Yes
Suitable for Small Marketers: Yes
6) Google Analytics: Best Social Media Planning Tool for Beginners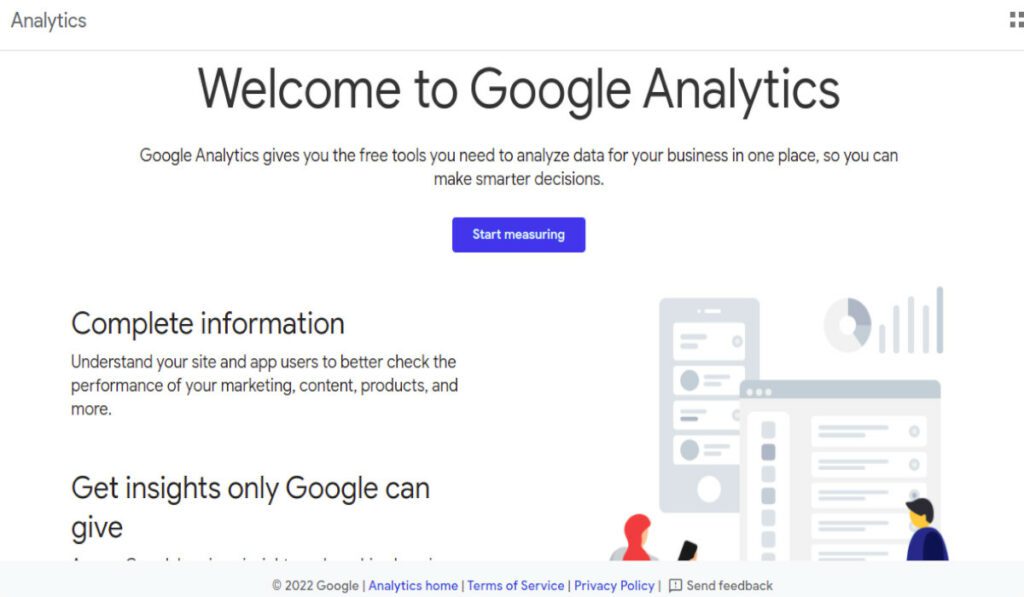 A web analytics service by Google that tracks and reports all sorts of website traffic. This service was launched by Google in 2005.
Features:
Data collection and its management.

Data analysis, visualization, and reporting help users to understand the needs of their customers from acquisition to purchase.

Data activation for smart decision making
Pricing:
Analytics Standard- Free

Analytics for mobile apps- Free

Analytics Premium- $150,000
Free Trial: Yes
Suitable for Small Marketers: Yes
7) SocialFlow: Best Social Media Monetization Tool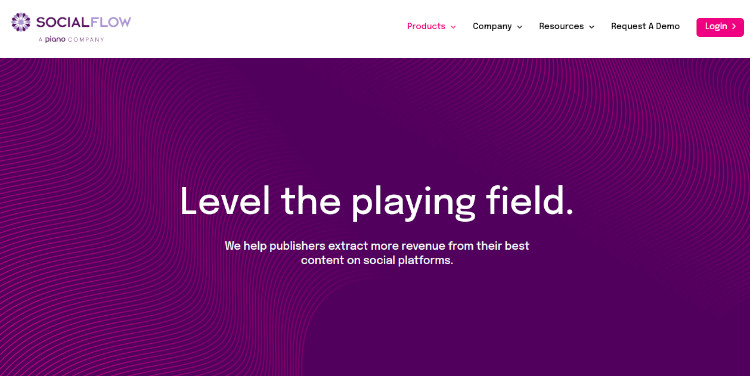 Developed in 2009 SocialFlow is a social media optimization app which helps all leading brands in improving their performance on various social media platforms like Twitter, Facebook, etc.
Features:
Real-time data analysis

Smart algorithms which ensure that the right content is published at the right time.

Language technology

Recommendation of tweets

Message reporting

Customised reporting

Full data processing

Optimal targeted audience

Content Relevancy

AttentionStream dashboard which has all the sponsored editorial campaigns

Social graphs
Pricing:
The pricing plans for SocialFlow are available only on request. Contact [email protected] for details.
Suitable for Small Marketers: No
8) Sendible: Best Social Media Planning Tool for Agencies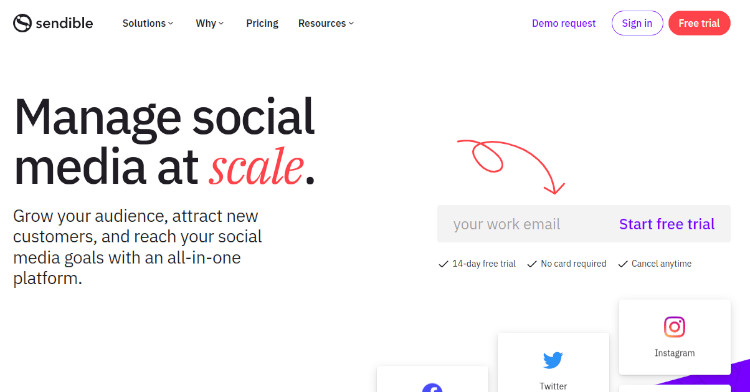 A social media management tool allowing SMEs (Small and medium enterprises), corporate marketing teams and various marketing agencies to publicise, analyse and track the growth of their brands across all social media platforms, email and SMS messaging.
Features:
Instagram automation App

Social media reports in minutes

Enhanced social media posts with videos and emoji's

Client connect

Social connections can be converted to leads

Social listening

Google+ posting to personal pages

Integrations with Slack, Medium, Majestic SEO, and Snip.ly
Pricing:
Micro- $29 or $24 per month, for solopreneurs.

Small- $99 or $84 per month, for small businesses.

Medium- $199 or $169 per month, for growing agencies.

Large- $299 or $254 per month, for large businesses.
Free Trial: Yes
Suitable for Small Marketers: Yes
9) SocialPilot: Best Social Media Scheduling and Planning Tool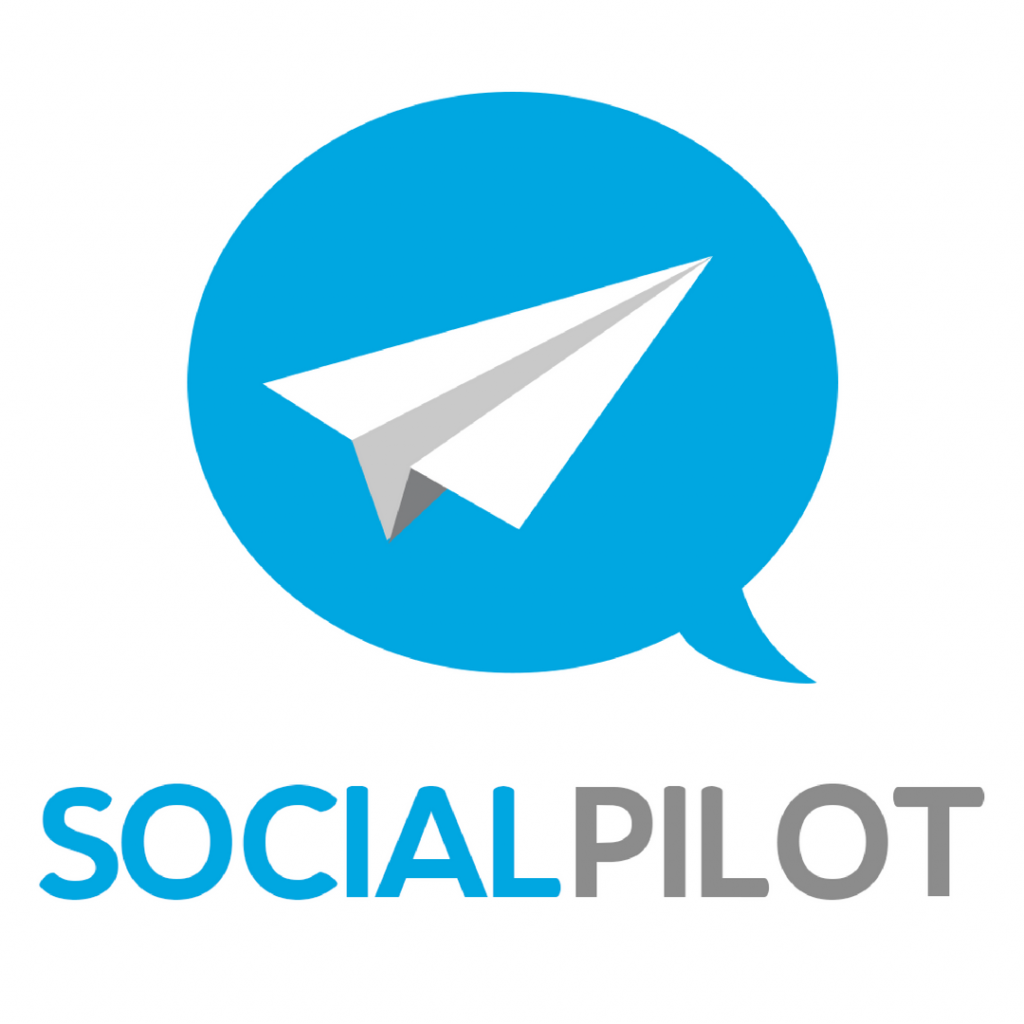 Another social media marketing tool used to increase brand awareness and website traffic. Social media scheduling for marketers is automated. Scheduling and marketing tool which is used to share and post content on all social platforms such as Facebook, Twitter, Instagram, Google+, LinkedIn , Pinterest, etc.
Features:
Analysing, monitoring, and reporting of social performance.

Social calendar

Bulk scheduling

Team collaboration

Client management

Content curation, customization of feed

RSS feed automation

Browser automation
Pricing:
Individual- $100 per year

Professional- $300 per year

Small team- $500 per year

Agency– $1000 per year
Free Trial: Yes
Suitable for Small Marketers: Yes
10) AdEspresso: Best Social Media Digital Ad Planning Tool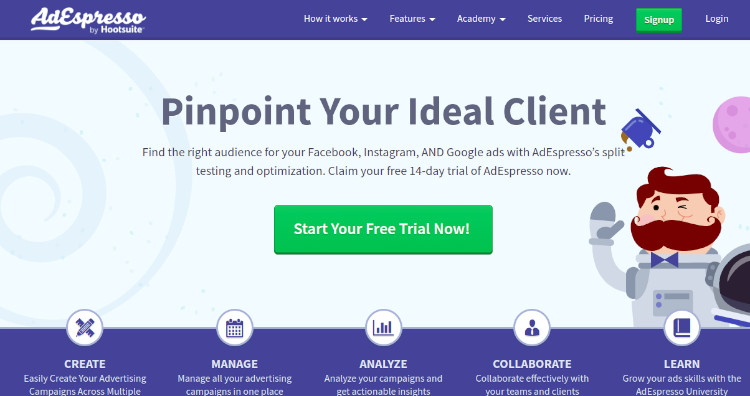 AdEspresso makes Facebook advertising easy and profitable by keeping in mind the creative, beneficial, aesthetic aspect for various small and medium businesses. No matter what the purpose is, whether to sell more products, grow the number of followers, or increase engagement, AdEspresso helps create and optimize an advertising campaign that would definitely grab the attention of the viewers. Optimizing Facebook Ads is the main purpose of AdEspresso.
Features:
Ad templates

Asset manager

PDF report templates

AdWords integration for Data sync

Delete, Clone Ads, and Assets
Pricing:
Base- $49 per month

Premium- $149 per month

Elite- $299 per month

Diamond- $499 per month
Free Trial: Yes
Suitable for Small Marketers: Yes
Conclusion
Social media planning is undoubtedly one of the best marketing strategies. These Social Media Planning tools can be endorsed by SMEs (Small and growing businesses) in order to promote their brand, products and enhance their work. Social media is everywhere in this world, and the Ads are being constantly viewed by thousands simultaneously in different corners of the world.
Our Recommended Tools for Publishers:
Looking to Increase your Ad Revenue:
Get in touch with me for a personalised consultation and increase your ad revenue across native, display, video (instream and outstream), in-app and other verticals. I also assist in customized DFP setup, header bidding, and content creation strategy. My skype id is:
ronniedey
. Feel free to connect!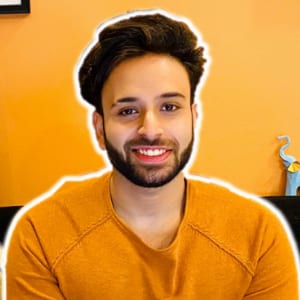 I and my team research various ad networks and can help you increase your overall ad revenue; so you could rake in more greenbacks with the best monetization platforms. Tap into the power of the online publishing business with me. I am just a mail away, so reach out to me if you want to scale up your website revenue. mail: [email protected]