Last updated on April 27th, 2023 at 10:09 am
Building your own ad network might sound like a scary thing, but with the advancement of advertising technology and the popularity of SAAS platforms, a lot of companies are renting out their technology at a flat fee. This would enable you to host your ad network in the cloud and get started online. However, in this competitive space, you need to have a different model that truly values your business model to survive in the ever-changing adtech world. It may be higher ROI for advertisers, better rates for publishers, interactive or user engaging ad formats or anything similar. If you have a good number of direct advertisers and also have your own inventory to get started, you're on the right path to creating your own ad network. In this post, we are going to discuss in detail, how you can build your own ad network and what tools you'll be required to get started.
Publishergrowth: The Revenue Acceleration Platform for Publishers
Blognife is elated to announce the launch of Publisher Growth- a community of publishers that helps you actively accelerate your revenue. This platform assists publishers in growing their traffic and revenue. As publishers, you can share and read reviews of ad networks and hosting companies. You can connect with other publishers to build links for growth and monetization hacks and more. This platform will help you stay up to date with the advertising and publisher ecosystem.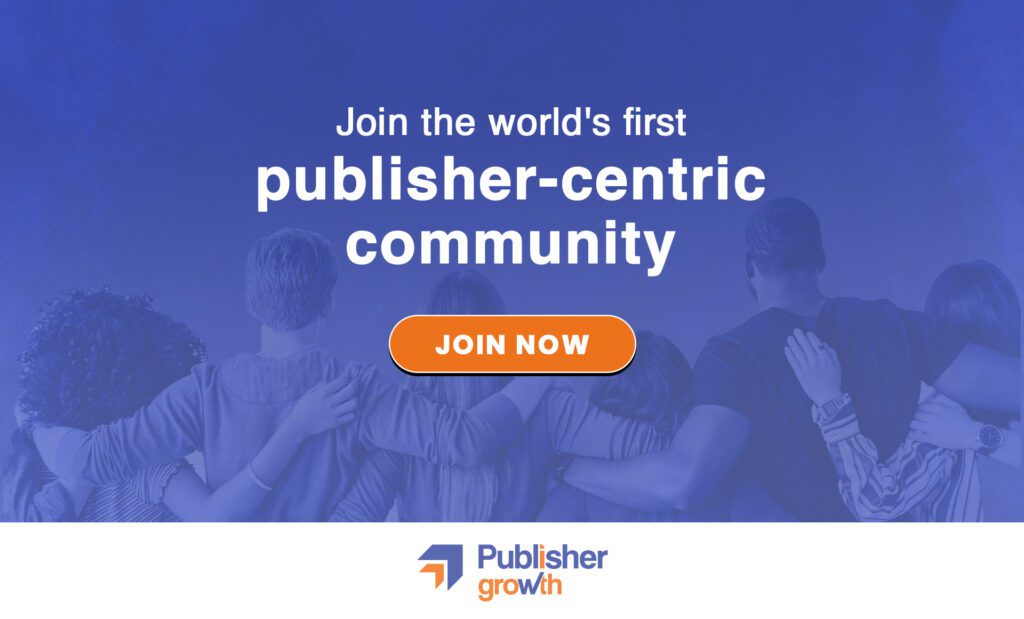 Features:
List of 200+ ad networks to monetize your site across all verticals.
Personalized site audit upon signing up on the platform that can increase your revenue.
Find all upcoming adtech conferences, webinars, and events in one place.
Stay informed with the latest adtech news across the globe.
Benefits of Building your Own Ad Network
There are sure benefits of creating your own ad network. With a direct relationship with the advertisers, you can make better revenue and ensure your business model is independent. You can additionally over premium advertising space to your advertisers and track their conversions. So, if you're on the publishing side with a good volume of a niche audience, it makes more sense to start your own ad network and invite similar publishers in the niche and take a revenue cut for the technology. Much like stock market API, these tools can provide full API access to fetch data and you can build additional functionalities over them.
Key Things to Keep in Mind While Building your Own Ad Network
There are a lot of ad networks and adtech companies that pop up every year, but only a few of them are able to sustain in the ever-changing landscape of ad tech. It is crucial to have a differential model to truly exist in this business and they are primarily geared towards providing better revenue to publishers. Here, we take a look at the key points that need to be taken care of while you're implementing your own ad network.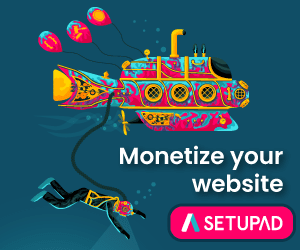 Exclusive Inventory: Advertisers are interested in premium inventory. If you're able to provide exclusive inventory to advertisers which are not available through regular exchanges, then you're already creating a differentiation in the business (needless to say, your inventory is valuable to the advertisers) in terms of conversions and outcomes.
Better CPM Rates for Publishers: To have a sustained business model, you need to ensure that the CPM rates you're providing to your publishers are the highest. This is possible once you've a good volume of advertisers who are willing to pay premium rates for your audience network. However, that wouldn't essentially fill the entire publisher's inventory and thus it is essential that you ensure floor pricing for your publishers and let them use their AdSense or ADX tags as a fallback so that their revenue returns are ensured.
Better ROI for Advertisers: As an ad network, one of your primary goals is to ensure that you provide the highest returns to advertisers. Ad Spying has continuously emerged and thus competitors to have knowledge of the best converting traffic sources. So, if your traffic
Technology Stack: What indeed will make your ad network unique is the technology stack and the data learning that is accompanied by it. A lot of ad servers provide superior targeting and data learning that can help advertisers with better results for the money they spend. However, in the long term, it is essential to add your own technology stack as well. We would recommend getting started with software or tool to build your ad network and they have your own layer of data to provide a better advertiser solution
10 Best Tools and Software to Build Your Own Ad Network
You may find this list of recommended technologies useful and crucial to building your own ad network. Building an ad network from scratch can take significant time and effort. It is always recommended to build your ad network over an ad server so that most of the tasks can be handled by the APIs of the ad server
1) SmartyAds: Best White Label Solution for Ad Networks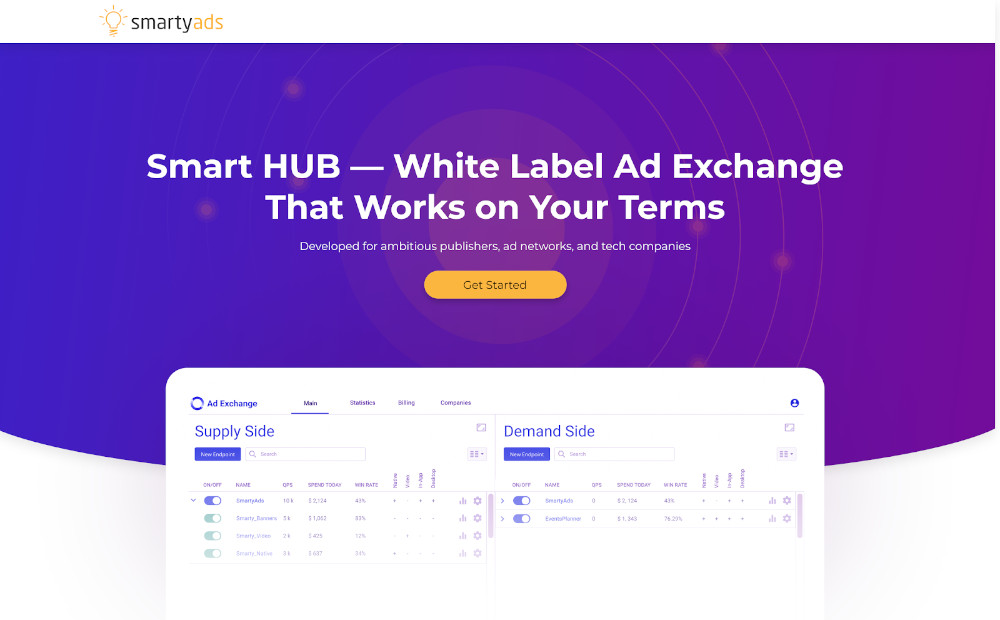 SmartyAds SmartHub is a SaaS white label programmatic advertising platform that enables ad networks and SSPs to launch own unique transparent advertising marketplace utilizing fully-hosted solution maintained and supported by robust SmartyAds technology stack. The platform is a and flexible solution that automates media-buying, allows to scale up the business according to the market requirements, and maximize the incomes obtained from trusted traffic sources.
Key platform features:
Transparency and predictability.

With SmartyAds white label ad platform, ad networks and SSPs integrate into a predictable, transparent programmatic advertising ecosystem that they can manage and adjust according to their KPI and objectives.

Flexibility of partners integration. Inviting partners selectively, enables protection of advertising space from fraud and provides access to exclusive high-class inventory.
Strong real-time bidder. All types of impressions, including desktop, mobile, native and rich-media can be purchased through real-time-bidding auctions.
Uber-precise targeting. User-friendly dashboard features a broad selection of targeting options for DSPs, that include but are not limited to geo, languages, carriers, IPs, and custom options.
Granular statistics

. Statistics related campaign performance can be generated across metrics in real-time for both demand and supply partners.

Round-the-clock support

. The platform offers round the clock technical support, a personal manager, and development of additional custom platform features.
Pricing: Contact their support here
2) Google DFP
DoubleClick offers publishers a complete ad revenue engine, helping publishers streamline operations and capture the most value for every impression. It is possible to use DFP API's and your proprietary tech to create a truly exclusive ad network. Using DFP, you would save time on a lot of functionalities and modules since they are in-built with the platform and can be a great starting point for building your own advertising network. Additionally, it is free upto 90 million impressions that can help you get started. The premium features further provide audience data that can help you with further refinement. However, DFP doesn't provide intelligence insights and thus you need to have your own intelligence tool if you're using DFP.
Pricing: Free upto 90 million impressions, and tiered pricing after that.
3) AdZerk
Established in 2009, Adzerk initially only focused on server-side API ads as the future of the internet and was completely Javascript based. Since then it has come a long way to the present times, when Adzerk's APIs make it easy for engineers and PMs to quickly design, build, and launch a fully-customized, server-side ad server. Now, they do not just have an API ad server to offer but also, infrastructure tools that the companies can make use of to build their own ad products. Their product is a suite of APIs with the motive of powering the back-end of a fully customized ad server. They assure full enterprise security and have got SOC 1 and SSAE 16 certifications, VPCs, and more.
Features: They have quite a lot of benefits to offer, with the primary one being their varying range of APIs that provides you with the flexibility to build precisely the ad server you want to create. They assure a fully supported and maintained cloud solution, and a 99.99% API Uptime. Other than that, their APIs and flexible server locations guarantee fast response times and minimal latency. They team you with support engineers, software engineers, and account managers.
Pricing: Contact their support here
4) Kritter
An enterprise software product company, Kritter was started with the objective of enabling digital advertising companies with the most advanced advertising technology. Their products help digital advertising go deep in the advertising chain and better it, with an increase in transparency, efficiency and it reduces recurring costs. They make efforts into accommodating new business and at the same time providing scalable Ad tech platforms out of the box. Their major strength is machine learning, big data and high scale systems operating on low cost infrastructure. If you plan on a start up with niche ideas, you can use their ready to trade products and implement their ideas too, to go to market quickly.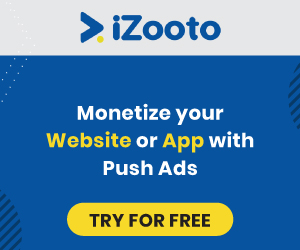 Features: Scalable off the shelf DSP with advanced machine learning for agencies/advertisers looking to in-house and customize buy side platforms. Their software is based on location, on your server with absolutely secure access. They integrate various components of theirs into your stack, which includes Bidder, Ad-exchange, User platform, Fraud detection. Not just that, they also provide flexibility to block or allow Kriter from accessing production system.
Pricing: Please contact support
5) Admachine
AdMachine is a free white label DSP, an all-in-one ad platform. Using AdMachine you can build your own digital ad network and sell Display, Native and Pop traffic from 50+ SSPs already connected. Not just that, it is fast and simple and does everything for you, sells and monetizes traffic. They allow access to more than 30 suppliers, all at once and makes use of advances targeting options like Browsers, OS, Devices, Geo, SSPs (Supply Side Platforms), Publishers Sites / Apps, IP ranges Dayparts, Contextual segments, and more. Above all that, they provide you with access to unique publisher's traffic sources.
Features: They guarantee a 24*7 monitored and reliable infrastructure and simple SSP and DSP integrations too. Other than that, they provide a self serve platform for both publishers and advertisers and customizable UI and domains.
Pricing: Their pricing starts at $499, per month.
6) Revive
Revive Adserver is a free, open source ad serving system that enables publishers, ad networks and advertisers to: Serve ads on websites, in apps, and in video players, and collect detailed statistics about impressions, clicks and conversions. They also help manage and run campaigns for a number of advertisers from ad exchanges and ad networks, in real time through an easy to use interface. Other than that, they track and record performances of campaigns and provide detailed information about the same, like impressions, clicks, click-through rates, conversion rates, revenue, eCPM, and conversion details. There are quite a number of ad networks that are using Revive to show ads on their publisher websites.
Features: You can rotate banners and create zones specifically for website.
Pricing: Revive is free to use. You can install a plugin to enable RTB.
7) Epom
A SaaS ad serving and ad management solution for ad network businesses, Epom, provides fully customizable white label software that is created to ensure flexibility across a wide range of channels, formats, and platforms. It helps with simple branding and inclusion of corporate identification in various elements of the UI, works with a custom ad serving domain and takes all the required steps to portray you as an established, well working online advertising brand.
Features: They offer a white labeling option which enables full customization of the solution from email notifications to specific elements of placement codes and the user interface real time analytics that helps monitor performance in real time and get granular reports with necessary data .They also provide DSP, RTB integration with programmatic solutions to help you grow your network.
Pricing: They provide a 14 days trial period for up to 30M impressions, which is free of cost but after that they would charge you $250 for the Basic plan, $1000 for the Standard plan, $2500 for the Advanced plan and they have another option of a custom plan.
8) Appnexus
AppNexus is a global internet technology company that is responsible for the operation of the world's largest independent marketplace for digital advertising and powerful enterprise technology for buyers and sellers of digital ads. They help you build solutions that are customized and based on your clients' unique objectives and create a competitive advantage for yourself. Not just that, they provide access to premium inventory across channels which includes desktop, mobile, Connected TV, and formats like video, display, native, OTT, via multiple programmatic options like open exchange, private marketplace, programmatic guaranteed, with absolute security and transparency.
Features: With the help of AppNexus Programmable Platform – their DSP, one can create custom solutions that meets their clients' unique objectives. They help achieve better outcomes with better conversions, or brand awareness by leveraging sophisticated targeting and optimization strategies.They offer a direct access to Premium Marketplace and helps reach audience through any device, any format.
Pricing: Contact support.
9) AdMixer Ad Network
Established in 2008, AdMixer is a global player in ad serving and ad management industry and has an incentive to simplify ad serving processes of digital ad management for all sides. They help you effectively build premium Ad network with an ecosystem of direct Publishers and Advertisers offering them ultimate ad management solutions for their needs. They offer quite a number of exclusive products and provides access to direct deals with advertisers, 100+ DSPs and multiple Header Bidders.
Features: They offer a full scale ad platform and helps combine the delivery of different ad formats: display, video, rich media, teasers and mobile ads. Also, the assist in the implementation of monetization strategy through the wide and varying range of their integrations and partnerships with the best buyers via RTB and Header Bidding. They have a global presence, with offices and support everywhere.
Pricing: Its starts off with a few hundred dollars per month and can go higher depending on the volume of the traffic.
10) Platform.io
A self-serve, demand-side platform, Platform.io believes in "focusing on business, and not its infrastructure" and assures connection between your Ad Exchange seats, SSPs, DMPs, and Header Bidding sources to ensure there are no hidden fees and margins.They offer customizable attribution and analytics, in a quick manner and allow exporting and importing of data. It is the ultimate go to platform to build ad tech products as they provide the most advanced and fast RTB programmatic bidders and is known to boost existing DSPs performance by replacing bulky or slow programmatic solution.
Features: They offer absolute transparency as they let you connect your Ad Exchange seats, SSPs, DMPs, and Header Bidding sources and helps go beyond conversions and track all the events to provide with all the analytics and data. They make use of world class business intelligence tools, which also helps them export and import data.
Pricing: Contact support
11) Atomx
Atomx is an SSP, DSP, Ad Server and Ad Exchange for display banners (desktop PC and mobile web) -> No initial setup fee, no monthly minimum fee, no ad serving fee for fallback traffic for your sell side, only 12% bid reduction, only $0.10 audit fee per creative submitted = kind of unbeatable. Atomx is still small in size but growing fast. They connect networks s, DSPs, SSPs, and other parties and offer a fully customizable platform.
Features:

They make use of the latest ad tech innovations to cater effective results across various platforms and with their proprietary pre- and post-bid fraud detection algorithms, they eliminate fraud actions and so, as soon as suspicion arises. They also have a flexible control panel that makes you the in charge.

Pricing:

12% bid reduction. No upfront cost!
Expert Tips on Building Your Own Ad Network
Brian O'Kelley, Founder and CEO of Appnexus says—- Given my experience, I'd highly recommend not trying to build an ad server from scratch. I guess I'm biased since I'm in the business of selling ad network ad serving tech, but the amount of effort to get something that is reliable, scalable, has strong predictive optimization, supports complex business logic, and integrates with all major supply and demand sources is pretty massive. I also recommend against open source stacks because you'll never get the major players to integrate, and in this day and age it's almost impossible to survive without exchange liquidity.
Additionally, you will need invoicing software to bill your advertisers and a mass payment tool like Paypal to send payments to the publishers. Along with these, additional viewability measurement tools and fraud traffic detection tools should be in place that can filter bot traffic. These set of tools should be good enough to help you get started with building your own ad network. If you've any additional queries, feel free to get in touch with me.
Our Recommended Tools for Publishers:
Looking to Increase your Ad Revenue:
Get in touch with me for a personalised consultation and increase your ad revenue across native, display, video (instream and outstream), in-app and other verticals. I also assist in customized DFP setup, header bidding, and content creation strategy. My skype id is:
ronniedey
. Feel free to connect!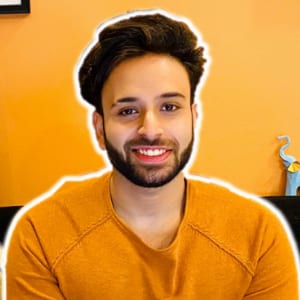 I and my team research various ad networks and can help you increase your overall ad revenue; so you could rake in more greenbacks with the best monetization platforms. Tap into the power of the online publishing business with me. I am just a mail away, so reach out to me if you want to scale up your website revenue. mail: [email protected]