Last updated on January 26th, 2023 at 04:41 pm
Mobile advertising has exploded over the last few years and for the right reasons. With people spending almost one-third of an entire day on smartphones and mobile devices on the way to replace computers, mobile advertising can reach an unprecedented number of people in a much more cost-effective and time-efficient way. Publishers are opting for mobile-specific advertising networks to enhance the user experience, a chief factor driving the success of an ad campaign. Several ad networks have come up to keep up with the booming market; AdMob is probably the most well-known among those. AdMob is Google's very own mobile ad network that allows publishers to monetize their mobile apps with relevant ads from a huge inventory of advertisers. Appodeal is a programmatic ad mediation platform that gives publishers full control of their inventory in a real-time bidding marketplace. In this article, we are going to do a comparative study of the two premium mobile ad networks Appodeal vs Admob, and shall try to understand their pros and cons.
Table of Contents:: Summary
Hide
Publishergrowth: The Revenue Acceleration Platform for Publishers
Blognife is elated to announce the launch of Publisher Growth- a community of publishers that helps you actively accelerate your revenue. This platform assists publishers in growing their traffic and revenue. As publishers, you can share and read reviews of ad networks and hosting companies. You can connect with other publishers to build links for growth and monetization hacks and more. This platform will help you stay up to date with the advertising and publisher ecosystem.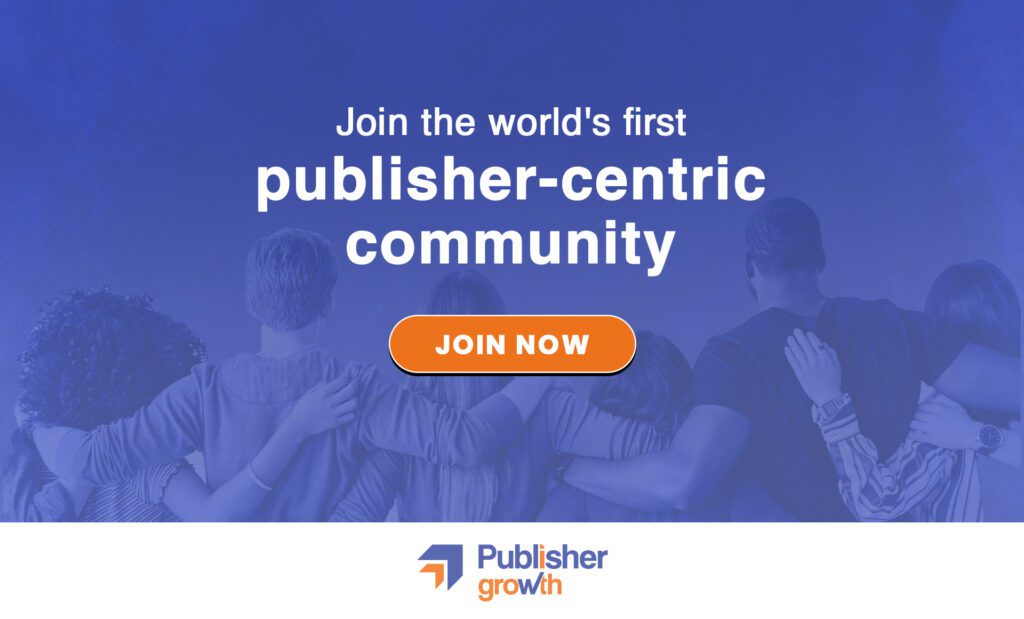 Features:
List of 200+ ad networks to monetize your site across all verticals.
Personalized site audit upon signing up on the platform that can increase your revenue.
Find all upcoming adtech conferences, webinars, and events in one place.
Stay informed with the latest adtech news across the globe.
Appodeal vs AdMob: Minimum Traffic Requirement
AdMob is owned by Google, and the network doesn't have any minimum traffic requirement. It needs to be ensured that the app is approved on Playstore and has a compatible language to get started with Admob. To become a publisher in this network, you need to have a prior approved AdSense account. Only developers and publishers who have an approved AdSense account are eligible to run Admob ads on their mobile. Appodeal is a mobile mediation network that is connected to more than 60 demand sources and helps developers make the most of every impression with their intelligent ad mediation algorithms. Appodeal doesn't have any minimum traffic requirements for ad developers, so even if you're getting started, you can use the network.
AdMob take a share of 40% of the generated revenue for its technology platform and gives publishers 60% of the revenue put in by an advertiser. So, mostly, it comes down to 60/40 revenue split with the publishers. On the other hand, Appodeal takes a percentage of the additional revenue it can generate for the app developers. For example, if your original revenue was $2 per 1000 impressions and the new revenue is $4 per 1000 impressions, then Appodeal will take a cut on the additional revenue of $2. Since it is difficult to calculate the additional revenue generated, the revenue share is generated dynamically. The image shared below should make more sense to you.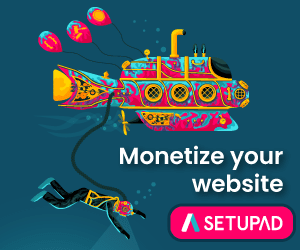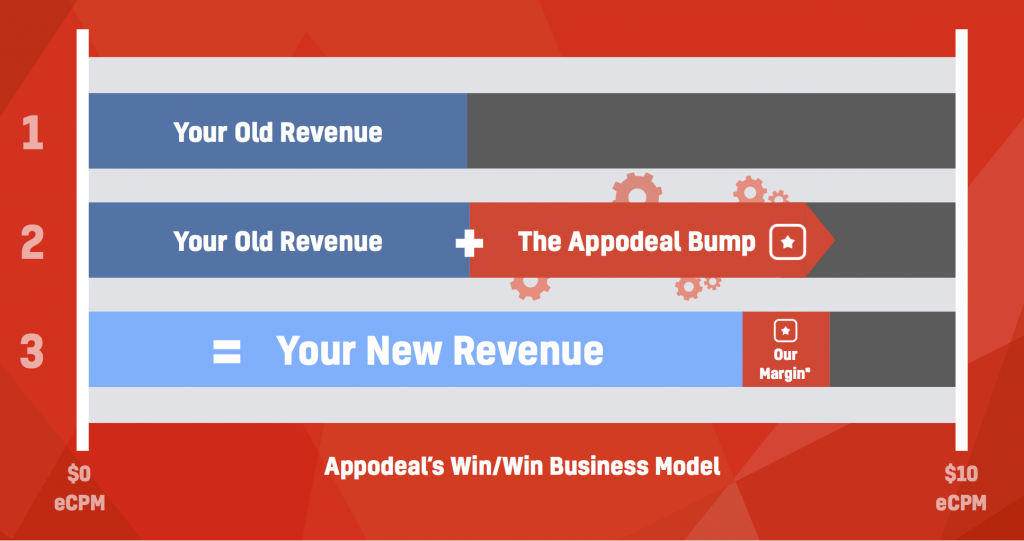 Appodeal works on a win/win model where Appodeal earns only when publishers make (even) more as a result of our ad optimization technology. However, on average, it should be around 10% of your total revenue.
AdMob vs Appodeal: Ad Quality
AdMob is a Google product, has global reach and displays high-quality advertisements. It supports cross-platform monetization (Android, iOS, and Windows). Publishers can customize text ad units with specific colours and fonts to maximize visibility and click rates. Admob maintain a strict ad review procedure to ensure the ads which are being displayed to its users are safe and are of good quality. Appodeal, on the other hand, is a revenue uplift tool and doesn't have any advertisers on their own. Their technology only mediates other ad networks to ensure higher revenue rates, engagements and fills. So, the question about ad quality depends on their partner networks.
AdMob vs Appodeal: Publisher List
AdMob is used by top app developers around the world like Etermax, Cheetah Mobile, Backflip Studios and Fingersoft. It is nearly used by all significant app developers globally. Appodeal is used by more than 5500+ app developers and have more than 30,000 registered apps in its network, which is being monetized at higher rates.
Appodeal vs Admob: Ad Formats
Admob has some of the popular ad formats like Rewarded video ads, native banner ads which can be used by App developers for superior monetization. Developers have the option to customize these ad units based on the design of their app. Apart from these, there are over ad formats like banners etc. Appodeal comes with a host of ad formats which includes rewarded video, rich interstitial, static interstitial, video ad, native ad, and banner ad across its network of 60+ demand sources.
Appodeal vs Admob: Ad Mediation
Appodeal seems to have a more robust ad mediation since their very offering is based on helping app developers increase their overall ad revenue. Their algorithms automatically choose the right ad formats and the ads based on dynamic bidding and show ads to users who are most likely to convert. Also, the network handles the refresh rate to ensure the developers get better pricing for their in-app inventory. Admob also provides Ad mediation service for app developers. However, their app mediation is more do-it-yourself and doesn't have the benefits that Appodeal offers.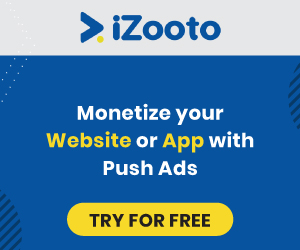 AdMob vs Appodeal: CPM and RPM Rates
The earning model of AdMob is based on CPM, though there is also some CPC advertising available. The revenue is highly dependent on the location of the traffic. AdMob provides lower rates of CPM compared to AdSense. The average RPM on Android platform lies in between 15 cents to USD 1.50 while on iOS, it is between 20 cents to USD 2. They have excellent fill rates and competitive eCPMs. Interstitial ad units have an RPM rate of USD 2 to 4 for Android platform and USD 3 to 5 for the iOS platform.
Ad mediation is a technology that sends ad requests to multiple ad networks to ensure publishers find the best available network to fill their ad slots. First, publishers rank ad networks in order of preference. Second, the mediation platform tries the top ad network. So, the CPM rates in Appodeal depends on the ad network that the publisher gets through ad mediation on Appodeal. Here you can take a look at the overall CPM rates for US audience. As you can see, Rewarded video tends to have the highest CPM rates if you're able to target US traffic on app. So of the networks with high fill rates in the US includes Facebook, ironSource, Ad Exchange and more.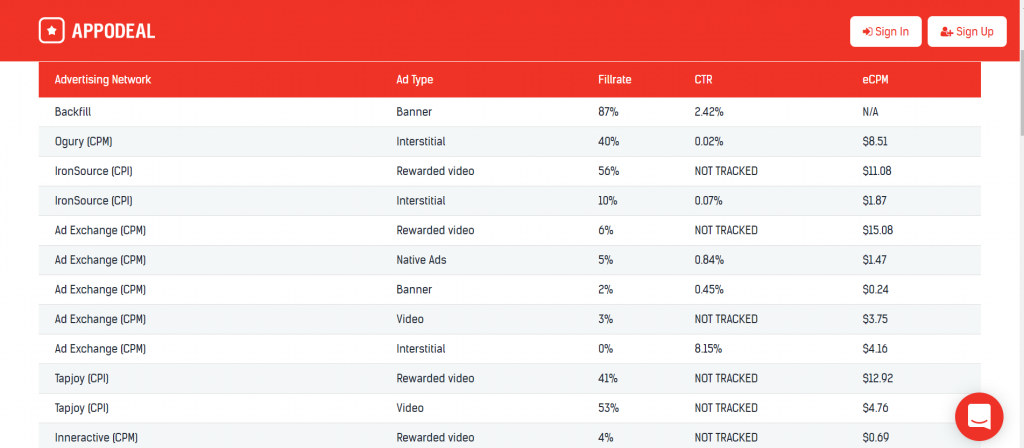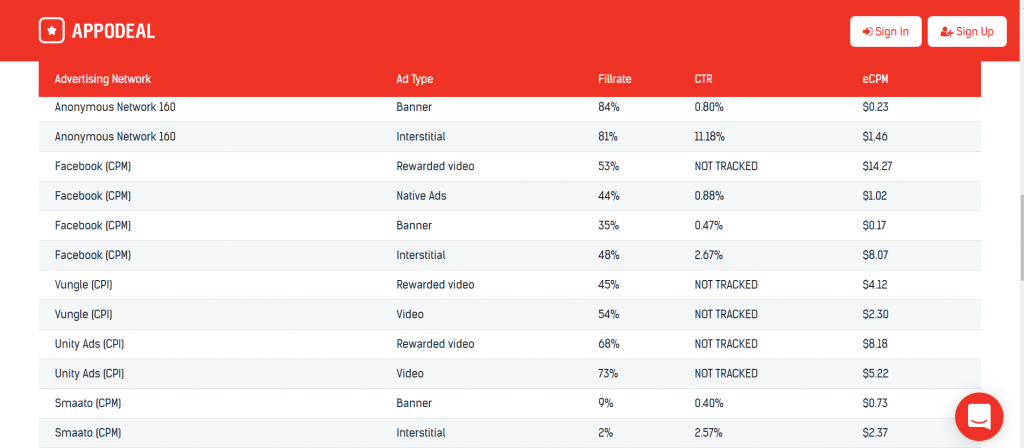 AdMob vs Appodeal: Payment and Earnings Report
AdMob follows the monthly payment cycle. The minimum payout threshold is USD 100 since the payment is made via AdSense. It supports payment through several portals which include ACH, PayPal, and Wire Transfer. The total Admob revenue gets added on to your AdSense account, and the payout is processed accordingly. However, there is no minimum threshold for Admob. Income earned for each month are automatically added to your AdSense account, and once you hit the $100 mark, you will be paid.
Appodeal makes payments to publishers on NET 30 days basis despite their partners making the payments on NET 30/45/60 days basis. The step is taken to ensure publishers get paid faster and on time. You need to have a minimum of $100 to receive your payments from Appodeal. Attached here, you can see the earnings for one of the app developers who is using Appodeal platform.

Appodeal vs AdSense: Final Verdict
As mentioned earlier, AdMob is a Google product, and that entails the assurance of impeccable services. AdMob lives up to that reputation. Appodeal is an ad mediation platform, and in today's programmatic ad environment, mediation platforms are the need of the hour. So, we suggest you use AdMob and Appodeal in conjugation with each other to get the best out of both. AdMob, when running with Appodeal, has a fill rate of 45%, a CTR of 0.56% and provides an eCPM of USD 0.39. You will be getting the best of both worlds with this arrangement. Since you can experiment with a host number of other mobile ad networks with Appodeal in place, we suggest you use them if you have a good volume of tier one traffic since the buying patterns are different across each network. This will let you have additional revenue. However, if you're just getting started, we suggest you Admob since you will be having a low volume of impressions initially for mediation and algorithms to run efficiently. Thus, to wrap up, use Appodeal when you're scaling your numbers and are looking for robust revenue returns. We hope this comparison on Appodeal vs AdSense has been helpful to you. Do keep visiting Blognife for more engaging articles on publisher monetization.
Our Recommended Tools for Publishers:
Looking to Increase your Ad Revenue:
Get in touch with me for a personalised consultation and increase your ad revenue across native, display, video (instream and outstream), in-app and other verticals. I also assist in customized DFP setup, header bidding, and content creation strategy. My skype id is:
ronniedey
. Feel free to connect!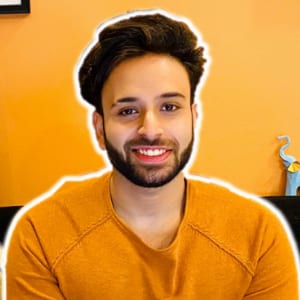 I and my team research various ad networks and can help you increase your overall ad revenue; so you could rake in more greenbacks with the best monetization platforms. Tap into the power of the online publishing business with me. I am just a mail away, so reach out to me if you want to scale up your website revenue. mail: [email protected]