Last updated on January 26th, 2023 at 04:38 pm
Video Ads are becoming a significant buy for advertisers around the globe. Top Fortune 500 companies invest millions in video ads to engage with their customers, promote new products, and remarket existing products. Video ads have the highest level of engagement and brand loyalty, thus, the way forward for marketers and ad agencies. Also, programmatic ad serving in the US alone reached close to $22 billion in 2016. Both advertisers and publishers are cashing in on video ad formats as the future lies in video advertising. In today's post, we're going to discuss the video ads' CPM rates (with a special mention for YouTube CPM rates) around various industry channels and how publishers and YouTubers can monetize their video ad inventory and earn higher revenue. After going through this article, you will have a good knowledge of the following—-
Table of Contents:: Summary
Hide
Publishergrowth: The Revenue Acceleration Platform for Publishers
Blognife is elated to announce the launch of Publisher Growth- a community of publishers that helps you actively accelerate your revenue. This platform assists publishers in growing their traffic and revenue. As publishers, you can share and read reviews of ad networks and hosting companies. You can connect with other publishers to build links for growth and monetization hacks and more. This platform will help you stay up to date with the advertising and publisher ecosystem.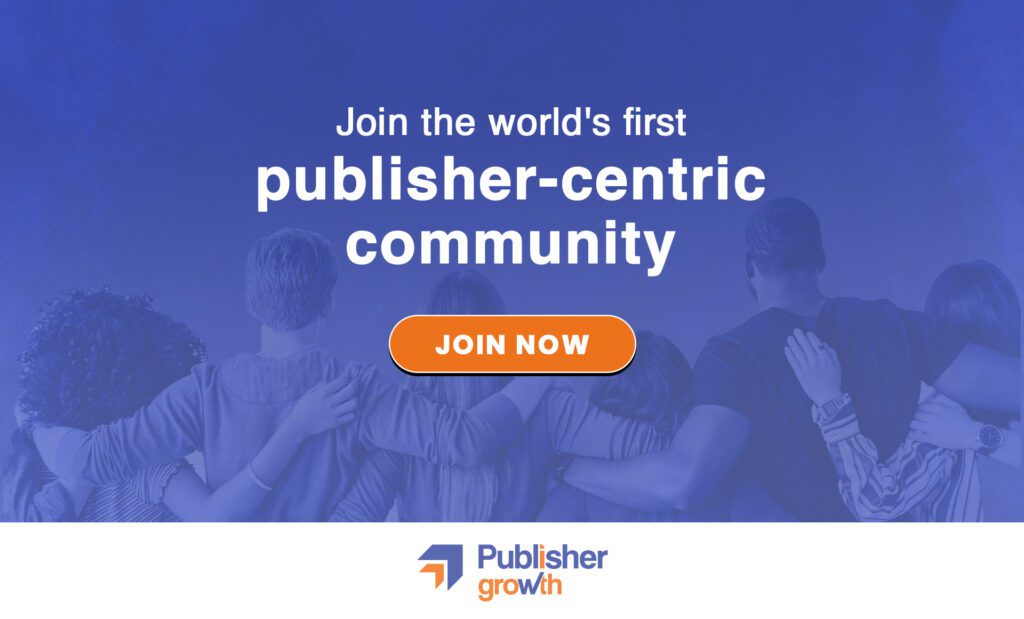 Features:
List of 200+ ad networks to monetize your site across all verticals.
Personalized site audit upon signing up on the platform that can increase your revenue.
Find all upcoming adtech conferences, webinars, and events in one place.
Stay informed with the latest adtech news across the globe.
Benefits of running video ads
Benefits of running a YouTube channel
A detail on Video ads CPM rates for publishers
Know about YouTube CPM rates of 2023
Understand Average YouTube CPM 2023
Overview of Ad Exchange Video CPM Rates
Video Ad types and terms
YouTube CPM Rates by Country
YouTube Ad rates
YouTube CPM Rates in India
Video Ads CPM Rates in 2023 for Publishers
These days, video ads are programmatically served. They require a good volume of US, Canada, and tier 1 traffic for monetization since the largest pool of advertisers who spend on video ads are in this geography. Also, there are several video ad networks apart from Google Ad Exchange that advertisers use to purchase media, and thus tieing up with them would result in additional revenue. However, for publishers, video ad serving has certain limitations. You need to have a good video inventory and a substantial volume of tier-1 traffic to encash video ads. Listed below are the video ad CPM rates of the most popular ad networks.
Video ads CPM rates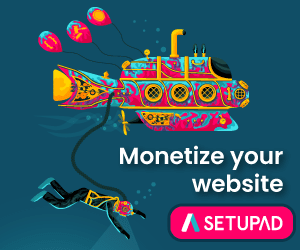 YouTube CPM Rates 2023
Youtube CPM rates for publishers vary hugely and depend on the audience targeting of the advertisers. A publisher can get USD 5 to USD 10 for US and Canadian traffic. This means the advertisers are spending around USD 10 to USD 20 for true view ads on Youtube. Again, the average www CPM rates for Youtube tend to be around USD 3 and goes down when it comes to popular niches like viral content, Bollywood, etc. The rates are always higher for tech and marketing segments. There are several YouTube video ad formats; the one that brings the maximum revenue is the trueview in-stream ads. Since the supply side is exponentially increasing on YouTube these days, the CPM rates tend to be on the lower side, especially when you've Indian traffic.
The average YouTube CPM rates vary and are based on the niche and the audience targeting. For tier 2 countries like India, the rates can start from anywhere between 20 cents and go as high as $5. The rates are generally lower for less engaged users and audiences who don't have much advertiser demand. Your average YouTube CPM rates will go much higher if the majority of your audience is from the working class since this audience type can be targeted and retargeted accordingly to increase the advertiser's sales and conversion. So mostly, to have an idea of the average YouTube CPM, you must remember the segments which define YouTube's CPM– these are audience type, location, the niche of the channel, and engagement levels. Also, specific metrics like clicking on the app link or the visit more button can significantly increase the average YouTuve CPM rates.
Average YouTube CPM 2023
Publishers can signup with Google AdExchange via any of the Certified partners and can get started with video ads. The ad exchange CPM rates vary and depend on a lot of factors, including geography, engagement, click-through rates, and more. Also, publishers have the option to choose from the following ad types that they want to show in their video inventory. We have also noticed that the niche of the content matters a lot in video CPM rates served via Google Ad Exchange program. We get around 600-700 viewers on one of our blogs, which generates a daily revenue of $6 to $7 with a fill rate of approx 60%. This means that the video ad CPM is around $15 and more. Sometimes, the CPM rates go as high as $25. However, on one of our other blogs, the rates hover around $5. This has typically got to do with the audience targeting and the type of audience. Niche videos tend to have higher CPM rates, while RON videos will have lower CPM rates. Here is the list of the video ad types available in Ad Exchange.
Pre-roll video ads
Mid-roll video ads
Post-roll video ads
Also, you have the option to include overlay ads along with trueview and skippable ad units to compete with the network. Let's take an example of the type of ad formats available for publishers in ADX. As you can see below, there are a few terms that we need to take note of

Video Ad Types and Terms Explained
These are the video ad formats available to the advertisers in Ad Exchange for your video inventory.
Non-video ads

– These are non-video ads but are served since Ad Exchange failed to show a video ad type on your inventory and,

thus, backfills with non-video ads.
Standard Instream- Standard in-stream ads range from 0:15 seconds to 0:30 seconds,

where you can't skip past the ad.

Trueview+ Skippable Instream-

With TrueView in-stream ads, viewers have the option to watch the ad in full or to skip the ad after viewing it for 5 seconds.

VPaid-

VPaid is an ad technology, and the ads served in this format are termed vpaid ads.

Video App Promo-

These are basically video ads that promote a

Play Store

or an

Appstore

app. Such types of video ads tend to have a Click here URL, which takes the visitor to the destination specified by the advertiser, should a visitor click on it.
Here is a list of terms that you need to be aware of, and I believe this is just a repetition, as most of you are akin to these terms.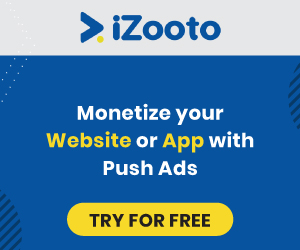 Ad Request-

When the player requests a video ad, it is termed an "ad request".

Match Request-

If the ad network can match an ad based on the video player's request, it is termed a matched request.

Coverage-

It is the percentage of the matched request by ad request.

Estimated Revenue-

The total revenue generated by the ad type.

Ad Impressions- The actual number of ad impressions which are served to the viewers is called "ad impressions"." It is always lesser than the matched request, and the discrepancy is more technical, like ad timeout, etc.
Ad eCPM-

It is the ad revenue per 1000 viewable impressions.
As you can see here, the majority of the revenue is brought by true-view skippable ads. Also, the CPM rate is around CAD$ 10, which is quite good compared to the standard CPM rates for display ad units. These video CPM rates are particularly for traffic coming from tier1 and tier 2 traffic. Also, the video app promo ads have a low CPM rate of around CAD$ 2, which can be improved. As a publisher, we don't have control over what type of ads will be shown in the video inventory, and there is little we can do with video ad optimization.
Video Ads CPM Rates in 2023 for Advertisers
The video ad CPM rates can vary a lot and depends on the targeting keywords and the ad network. Monetizepros video guide says the average video RPM is around $3 for YouTube publishers with a network cut of about 50%. This means an advertiser has to pay $6 per 1000 video views on www traffic. The rates further increase if it is explicitly targeted to US and Canadian traffic, as the competition is quite high for such traffic sources. For direct sales, the average tends to be around $24 per 1000 ad impressions.
YouTube CPM Rates by Country 2020-2023
Take a look at this image below to have an idea of YouTube CPM rates by Country in 2023. As you can see here, the CPM rate for India is around $1.5. If you have a substantial volume of your traffic coming from the US and UK, then you can expect the rates to go as high as $10 and above. If we are talking about average, YouTube CPM rates for tier one traffic are close to $10 and while those of tier two traffic are around $2.
However, it needs to be noted that ads are not served on all the impressions, and the fill rates vary from 20-80% depending on the niche of your video content and the advertiser demand. YouTube CPM rates may further increase if you have a channel dedicated to the technology niche.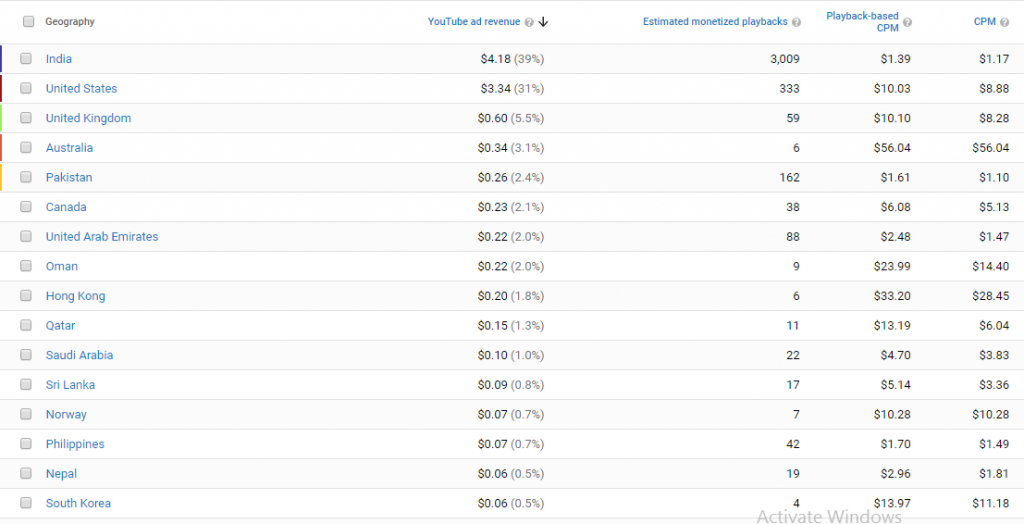 YouTube Ad Rates 2023
Usually, YouTube serves four types of ads. Skippable, non-skippable, display, and bumper ads. The CPM rates are highest for skippable video ads, which can go as high as $15 to $20 for tier-one traffic countries. The lowest among all YouTube ad rates are the display ads. However, they are also served in the auction to increase the competitiveness of the ads and thus enable higher revenue for the publishers. Listed below are the ad formats and their overall CPM rates.

Youtube CPM Rates in India 2023
CPM rates for video ads in India tend to be on the lower side on Youtube and Ad exchanges, mainly due to the small number of advertisers using video ads. Here in the image below, you can take a look at the YouTube CPM rates in India for the year 2023. The rates are, however, higher for technology and money-making channels but lower in the entertainment and education niche. The screenshot shared below shows the impression CPM, which varies from 20 cents to $2 and is mostly from Indian traffic.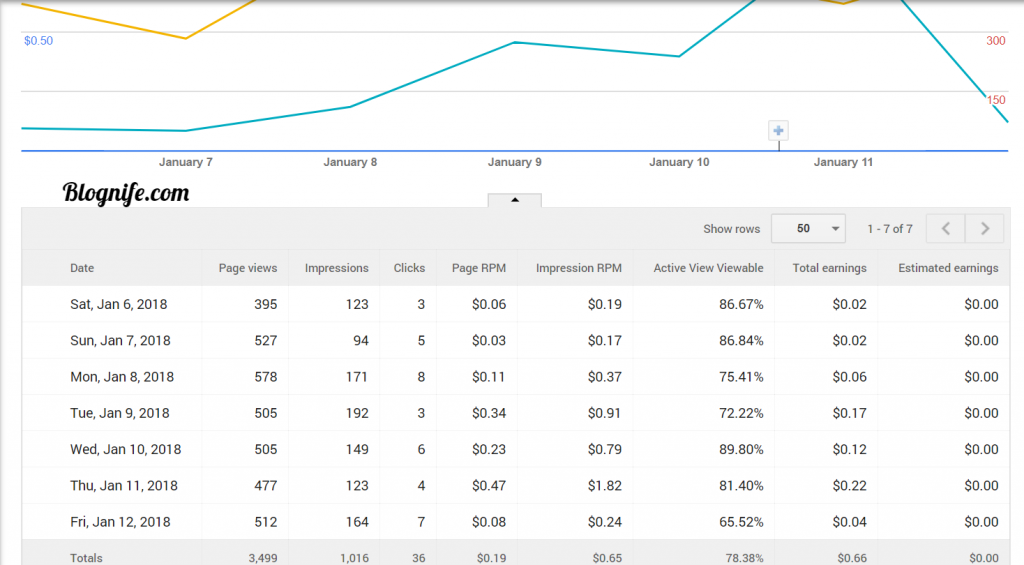 Does Video CPM Rates Depends on the Player Size
Newbie publishers must be having doubts about why the video ad CPM rates as so low in Asian countries, particularly India, where several bloggers originate. While video ad rates vary based on geography and audience type, it also varies based on the player size. If you've traffic from the mobile, which is the case for most of the Indian publishers, the CPM rates for the players are almost 1/3 of what it is for the desktop. In a nutshell, if you have the same traffic coming from the desktop, you could have earned 3 times more from the same traffic than what you're making from mobile. This is relevant because of the fact that the demand for desktop traffic is much higher. So, video CPM rates do depend on the player size.
Programmatic video ad purchase is on the rise since it targets the most appropriate audience. Also, programmatic direct is one of the best methods to buy video inventory from publishers without falling at the risk of ad fraud. Thus, to wrap up, publishers should keep an eye on new ways of monetization and keep exploring optimization tricks to further increase their ad revenue. Since good content is the heart of monetization, we should always build a business model where we can focus on adding value to the end-users. Before we wrap our article, just summing the benefits of running video ads for publishers. Hope this article on Youtube CPM rates and video CPM rates was helpful.
Benefits of Running Video Ads for Publishers
Video ads offer higher CPM rates which means additional revenue for publishers.

The right kind of video ads engages well with visitors.

Video ads open new monetization streams for publishers.
Benefits of Running a YouTube Channel for Publishers
Earn lucrative additional revenue for specific niches
Higher monetization potential for YouTube Red customers
Sponsored video opportunities
Better brand presence
Video Advertising Solution
SmartyAds video advertising solution for publishers features rewarded, in-stream, native, reveal, in-banner, and interstitial video formats, which are served across the channels and platforms at CPM rates varying from $1,5 for top-tier countries to $0,5 for the rest of the world. With 2 Billion impressions served daily, publishers can monetize and enhance user experience across different screens, ad formats, sizes, and resolutions. Monetize beyond limits.
Looking to Increase your YouTube Subscribers, Traffic, and Channel SEO?
TubeBuddy is a FREE browser extension that integrates directly into YouTube to help you run your channel with ease. The premium version offers productivity, bulk processing, video SEO, promotion, and data research tools to boost your channel growth. Mainly, video search engine optimization is crucial for higher YouTube rankings.
[quick_offer id=5842]
Our Recommended Tools for Publishers:
Looking to Increase your Ad Revenue:
Get in touch with me for a personalised consultation and increase your ad revenue across native, display, video (instream and outstream), in-app and other verticals. I also assist in customized DFP setup, header bidding, and content creation strategy. My skype id is:
ronniedey
. Feel free to connect!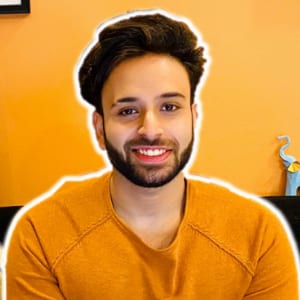 I and my team research various ad networks and can help you increase your overall ad revenue; so you could rake in more greenbacks with the best monetization platforms. Tap into the power of the online publishing business with me. I am just a mail away, so reach out to me if you want to scale up your website revenue. mail: [email protected]