Last updated on March 30th, 2022 at 05:28 pm
Earning money in present times is not so tough nowadays. In the age of digitalization, you can earn a lot through the internet- from the web or online. If you are a content creator or blogger, it is even easier with the help of Affiliate Programs. Affiliate Programs lets people earn a lot of money online. It is really simple- you just have to bring traffic juice to the company and through this, you can earn a lot. There are many affiliate programs out there through which you can earn handsome money. But, which are the best ones in the market? That's why we have listed the best Affiliate Program for India E-commerce which you can try and earn handsome money:
Table of Contents:: Summary
Hide
Publishergrowth: The Revenue Acceleration Platform for Publishers
Blognife is elated to announce the launch of Publisher Growth- a community of publishers that helps you actively accelerate your revenue. This platform assists publishers in growing their traffic and revenue. As publishers, you can share and read reviews of ad networks and hosting companies. You can connect with other publishers to build links for growth and monetization hacks and more. This platform will help you stay up to date with the advertising and publisher ecosystem.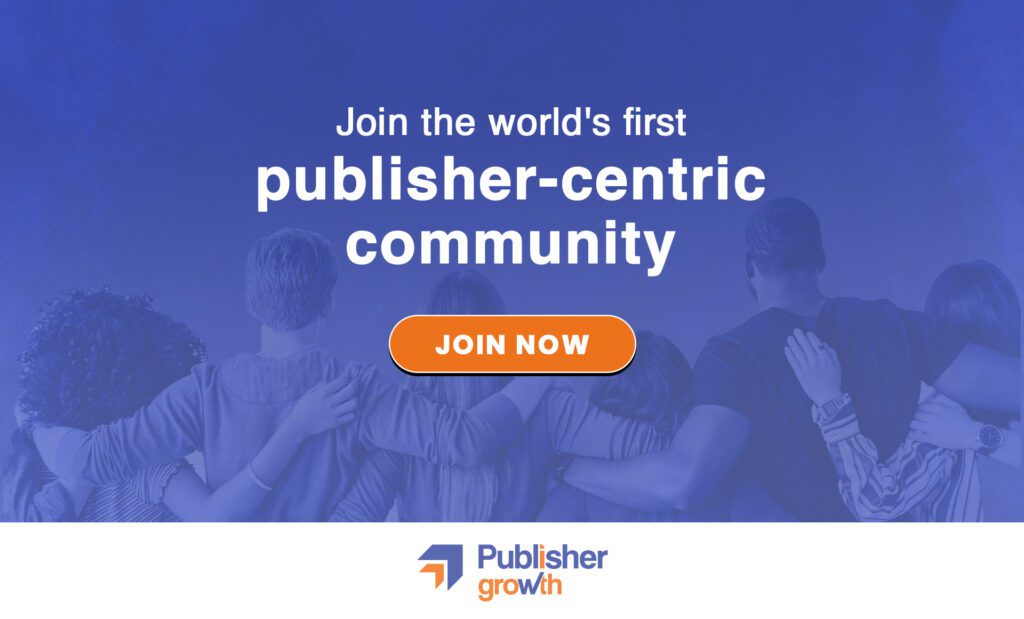 Features:
List of 200+ ad networks to monetize your site across all verticals.
Personalized site audit upon signing up on the platform that can increase your revenue.
Find all upcoming adtech conferences, webinars, and events in one place.
Stay informed with the latest adtech news across the globe.
1. Commission Junction or CJ Affiliate
CJ Affiliate (earlier known as Commission Junction) is one of the oldest and largest affiliate marketing programs in the market. Having companies over 3,000, CJ has more companies like Home Depot, Apple, TurboTax, and Boden. CJ Affiliate is free to join and you get a variety of tools like various banner sizes and intuitive search tools. You can also keep track of your performances and transaction reports. CJ Affiliate is easy to use and is very simple. You just have to maintain a minimum of $50 and you will get paid monthly through direct deposit or check.
Features: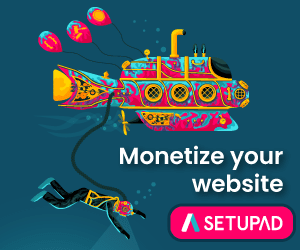 All-Inclusive Seamless Global Affiliate Experience: This is a global platform, powered by meaningful data, cutting-edge tech, and industry expertise—all designed to set you up for success.
Sustained Growth: Affiliates have seen higher, sustained growth from publisher recruitment efforts made easy with their integrated in-platform recruitment tools, solutions, and expertise.
Best-in-Class Tech: This is an intuitive platform designed to let you focus on what matters most—from finding the right partners to ensuring that your investment meets your goals.
Strong Omni-Channel Integration: Their robust, future-proof, verticalized integration suite ensures comprehensive program performance at every step of the customer journey—from discovery through conversion.
Partnership Discovery: Find and activate new partnerships that align with your brand by promotional model, global footprint, audience uniqueness, social reach & engagement, category performance, keyword, cross-channel, cross-platform, and more.
2. Flipkart Affiliate Program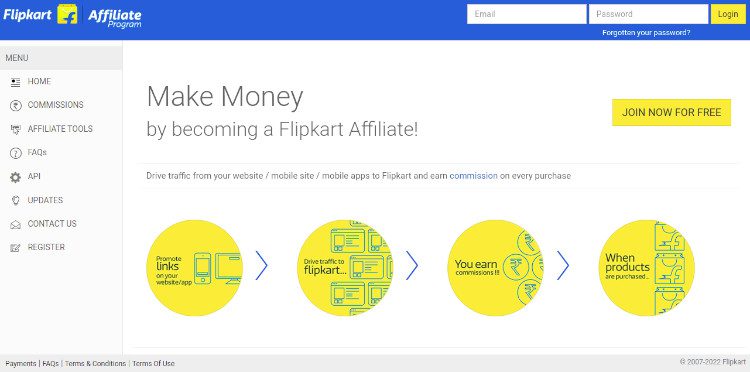 Competing with the Amazon Affiliate Program, the Flipkart Affiliate Program is another affiliate program that gives you huge advertising fees of up to 12%. You can get a handset of tools by the company from simple banners, search tools, widgets to APIs. You can list Flipkart Offers Coupons and products on your webpage or app. On the dashboards, you can see the link activities, conversions, and performances that your webpage is doing in different categories. You can optimize your campaign performance too by checking the reports.
Features:
Affiliate Tools: An extensive range of tools available, ranging from simple banners & widgets to APIs, for listing Flipkart deals / products on your own site / app.
Reports: Their real-time Reports provide extensive data about the activity of your links, conversions & performance across all categories that empower you to optimise your campaign performance.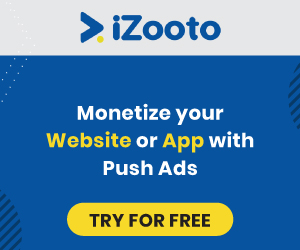 3. Amazon Affiliate Program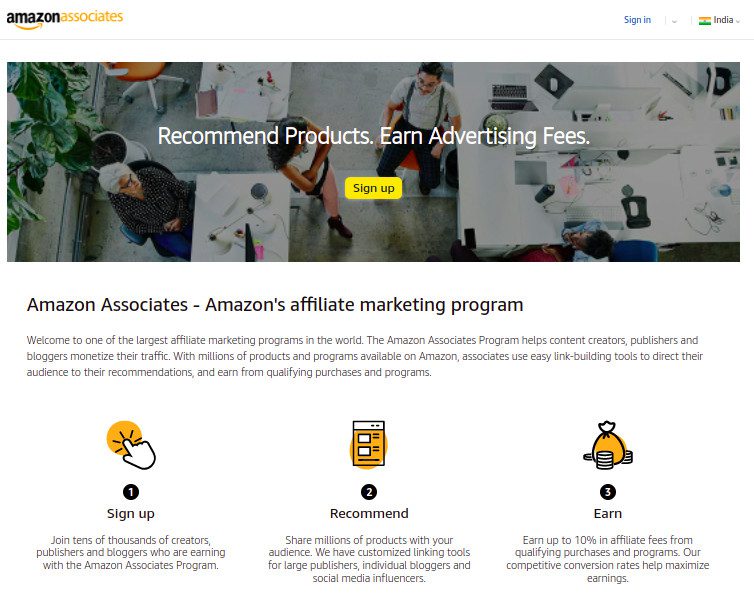 Amazon Affiliate Program is another trustable and extraordinary affiliate program as far as money and security are concerned. This affiliate program is free to join (free sign up) and gives you up to 12% when it comes to advertising fees. Not only, a user gets the advertising fees but you can earn from the qualifying purchases too. Every product has different advertising fees which can go up to 12% but some of them might have zero per cent of the fees too. So, if you are a blogger or content creator, you can integrate this affiliate program on your webpage and monetize your website.
Features:
Tools: They have customized linking tools for large publishers, individual bloggers and social media influencers.
Earn: Earn up to 10% in affiliate fees from qualifying purchases and programs. Our competitive conversion rates help maximize earnings.
4. Cuelinks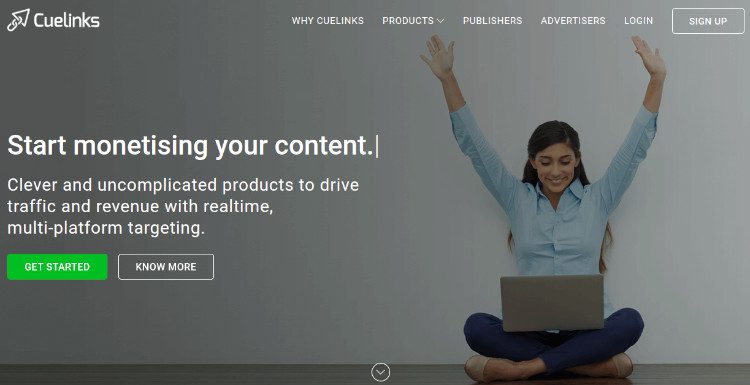 Cuelinks is another content monetization tool for bloggers and content creators. Moreover, if you are any other publisher too, this tool might come in handy for you- especially deal site owners and coupon sites. If you are owning a webpage or website which give traffic juice to online shopping, travel or finance websites, then Cuelinks is just the tool for you. You can get all the details at the one place in your profile dashboards like clicks, transactions, conversions, clicks VS earnings and earnings. Also, you can know about the top-performing pages, best-earning campaigns and top conversion campaigns.
Features:
2 minute installation: Their javascript is so easy to install that you will wonder why you have been doing all the hard work of manually inserting affiliate links till now.
Aggregate reporting: Get detailed and in-depth reporting and insights to maximize your revenue earning potential.
Single point of payout: Earn effortlessly via affiliate marketing without dealing with multiple merchants or affiliate networks.
Lifetime link management: Seamlessly and unobtrusively converts and manages your links for life. No more worrying about broken link.
5. AliExpress Affiliate Program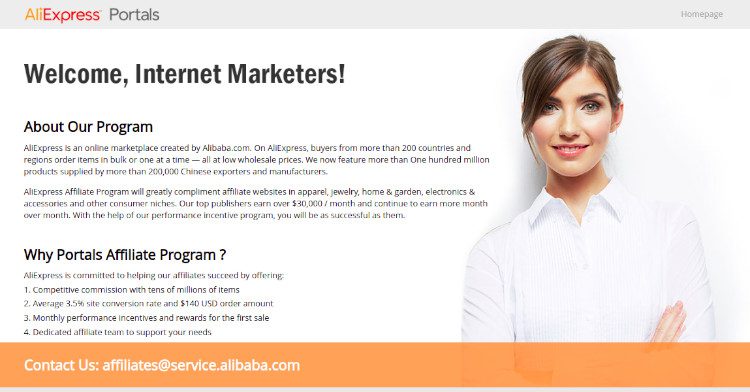 Just like the Amazon Affiliate Program, AliExpress Affiliate Program is another free to join affiliate program that is easy to use. It helps you to monetize your blog as you can get up to a whopping 50% commission rate by advertising the products. The catch lies here- the commission rates are set according to the products, but you can earn a lot from this platform- that's for sure. The number of sales you do, the more you earn. You can create AliExpress Offers based upon products available on your web pages related to it and can enjoy promoting based upon the nature of the product, the category you are targeting. The company also aids you with incentives and tools so that you can reach your marketing goals. More than 1.5 lakh individuals have joined this program and are earning a lot from the advertising fees itself. So, if you want to be the one amongst them, you can join this program.
Features:
Easy: Their Affiliate Program is free and easy to join.
Payments: They paid out over US $100,000 per month last year, with top sellers earning up to $20,000 every month.
High commissions: The more sales you generate the more you'll earn. Their commission rates vary by product, with some rates as high as 50%.
Our Recommended Tools for Publishers:
Looking to Increase your Ad Revenue:
Get in touch with me for a personalised consultation and increase your ad revenue across native, display, video (instream and outstream), in-app and other verticals. I also assist in customized DFP setup, header bidding, and content creation strategy. My skype id is:
ronniedey
. Feel free to connect!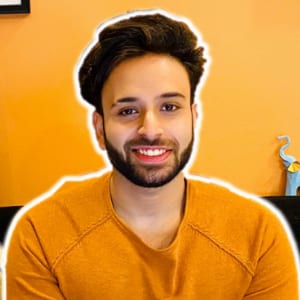 I and my team research various ad networks and can help you increase your overall ad revenue; so you could rake in more greenbacks with the best monetization platforms. Tap into the power of the online publishing business with me. I am just a mail away, so reach out to me if you want to scale up your website revenue. mail: [email protected]