Last updated on July 21st, 2022 at 01:00 pm
There are two types of traffic generation models for publishers. One is via search (aka organic) and the other is paid (buying traffic from various sources). While most publishers rely on organic traffic, there are a lot of publishers who also buy traffic and monetize it with various networks like Google AdSense and others. Also, some of the top publishers buy traffic so that they can monetize those traffic from their exchange partners. Buying quality traffic and monetizing it from advertising is becoming a serious business model and more publishers are slowly adapting to buying traffic for their blogs and websites as search traffic continues to be a long-term effort. In this post, we are going to discuss how publishers should buy traffic for their Adsense blogs and websites. Additionally, we will also list some tips and strategies that can help you monetize the traffic at better rates.
Publishergrowth: The Revenue Acceleration Platform for Publishers
Blognife is elated to announce the launch of Publisher Growth- a community of publishers that helps you actively accelerate your revenue. This platform assists publishers in growing their traffic and revenue. As publishers, you can share and read reviews of ad networks and hosting companies. You can connect with other publishers to build links for growth and monetization hacks and more. This platform will help you stay up to date with the advertising and publisher ecosystem.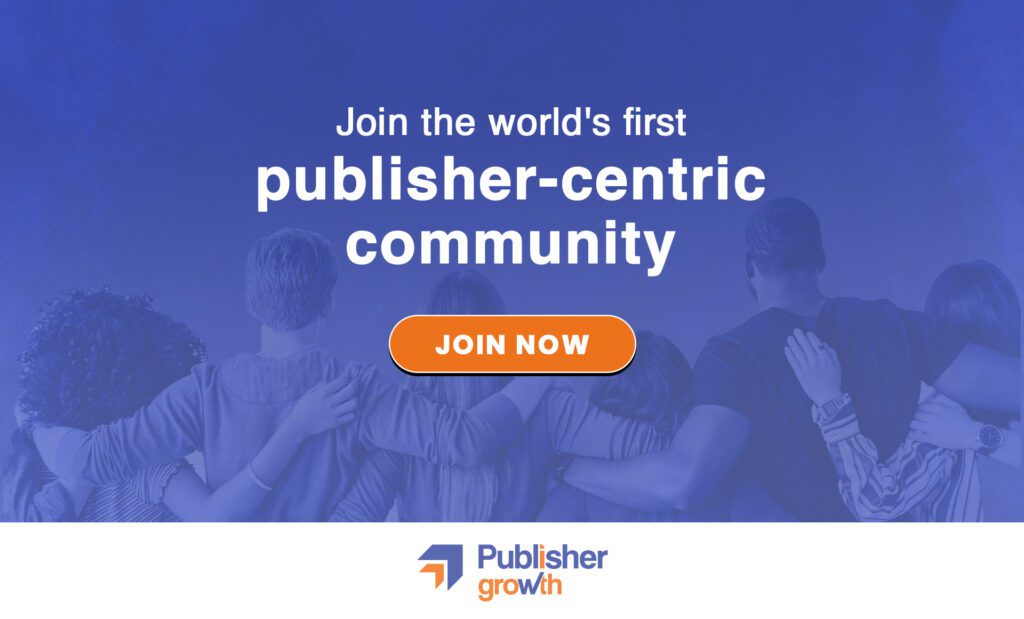 Features:
List of 200+ ad networks to monetize your site across all verticals.
Personalized site audit upon signing up on the platform that can increase your revenue.
Find all upcoming adtech conferences, webinars, and events in one place.
Stay informed with the latest adtech news across the globe.
How to Buy Traffic for AdSense Websites and Blogs
There are many services out there that can increase traffic to your site, including pay-per-click solutions to connect advertisers and publishers, as well as search engines and directory sites. However, it has been found that some of these services actually send artificial traffic to websites, despite their appearance. To deliver the traffic levels that their customers expect, these services often generate clicks and impressions using click bots, or by providing users incentives to visit sites or click on ads. For this reason, it is strongly urged that you use caution when partnering with third-party traffic services.
If you're buying traffic for your AdSense blog and websites, you must be knowing the end objective which is a higher ROI. Most of the arbitrage experts are currently struggling to make a profit out of traffic buying and selling due to more transparency in the overall adtech ecosystem due to ads.txt. The current adtech ecosystem is able to identify websites that are solely created for arbitrage without imparting any value to the advertisers or visitors. The first tip is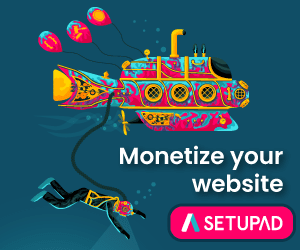 1. There has to be Some Value to the Ecosystem
The two ends of the advertising ecosystem are– advertisers and visitors. So, if your traffic is converting for the advertisers, even if you're doing arbitrage in whatever way, you're safe. The tactics and the methods you're employing are actually working and your visitors end up providing a good ROI to the advertisers.
2. Filter Fake Traffic
You must filter out fake traffic. Any network or exchange from where you're buying traffic (out of which most are open exchanges) cannot give you or claim to give you 100% safe and converting traffic. There are always chances of fake and bot traffic since in an open exchange there are multiple players and keeping a track of how this traffic is being sold is difficult. Sometimes, publishers come up with shrewd strategies to sell fake traffic or selling low-quality traffic and that can affect the advertisers. So, you must set up viewability and other fraud detection tools to filter fake traffic.
3. Focusing on the Quality of the Traffic
Know this for sure wherever you're buying traffic, there is a lot of junk. If it is up to you to see which website traffic is converting on your site and which kind of traffic is generating you higher revenue. This is something that would be requiring constant attention till the time you find your best-performing traffic sources
4. Always Buy Niche Traffic
I cannot ascertain the importance of running niche websites where you're planning to buy traffic on your AdSense website or blog. Also, if the CPC for your niche is not high, you won't be able to make any money from your site since you'd be ending up spending more on traffic acquisition. Initially, you have to define your audience cluster, and once the ad network understands what kind of traffic you're looking for, then you can provide you more traffic of that similar kind. Essentially, you would be routing those traffic on specific blog posts on your site and should ensure that the returns are higher so that you can continue with the traffic acquisition cost. Also, niche traffic has higher conversion rates and thus in time your overall CPMs rates will increase (from AdSense or other exchanges) since the traffic you're buying is converting well for the advertisers.
5. Test Test Test
It is important to continue testing the traffic sources. Not all ad networks are the same and thus you need to keep testing the traffic sources for better revenue opportunities. Optimization is an integral part of a successful strategy and thus you need to continue testing and optimizing your traffic sources for a better ROI.
List of Ad Networks to Buy Traffic for AdSense Websites and Blogs
There are a lot of ad networks that are out in the market for media buying. However, we have selected some chosen ad networks (native and CPC) that perform well and have a good audience reach. You can take a look across these networks when thinking about media buying.
1. Taboola: Best Native Ad Network to Buy Traffic for AdSense Arbitrage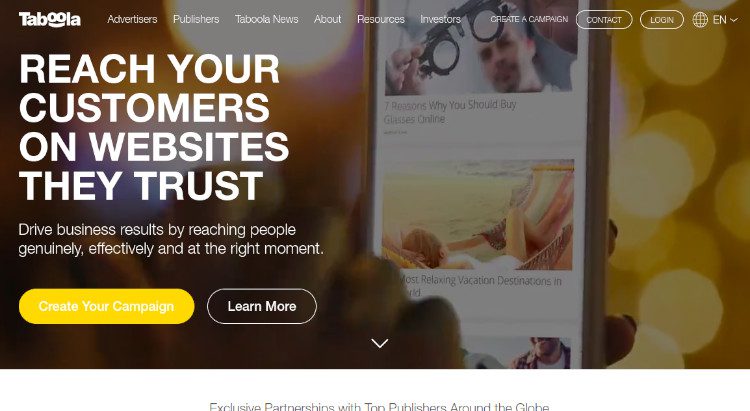 Taboola's native exclusive Taboola Feed placements put your content and videos on center stage on premium publishers, capturing user attention when they are most open to discovering new things. Run non-intrusive, highly viewable, and large-player video campaigns on CPM, CPV, and CPCV through programmatic or managed service channels. To guarantee your brand appears in safe and viewable environments, we proudly partner with industry leaders in viewability, verification, and fraud services. Re-engage users that have shown interest in your brand by targeting them closer to the point of sale.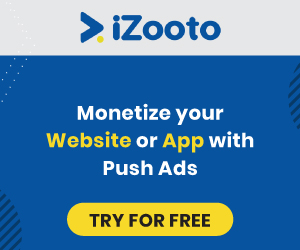 2. Yahoo Gemini: Best Native Ad Network to Buy Traffic for AdSense Arbitrage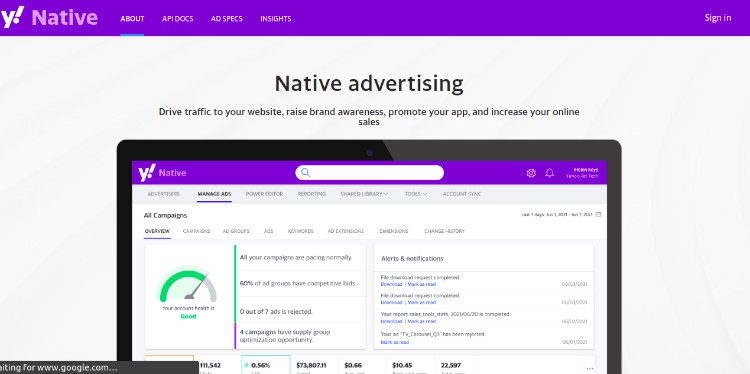 Yahoo Gemini is the only marketplace that offers search and native advertising in one advertising platform. With Gemini, you are empowered with insightful data, brand-safe premium content and advanced technologies to deliver engaging search and native advertising campaigns that really drive results. Combining search and native ads can amplify your marketing impact, with users 3.6 times more likely to do a brand search and up to 56% more likely to notice a search ad if they've been exposed to a native ad. Choose from a variety of ad formats to help you get your message across in a non-intrusive way.
3. Facebook: Best Platform to Buy Social Traffic for AdSense Arbitrage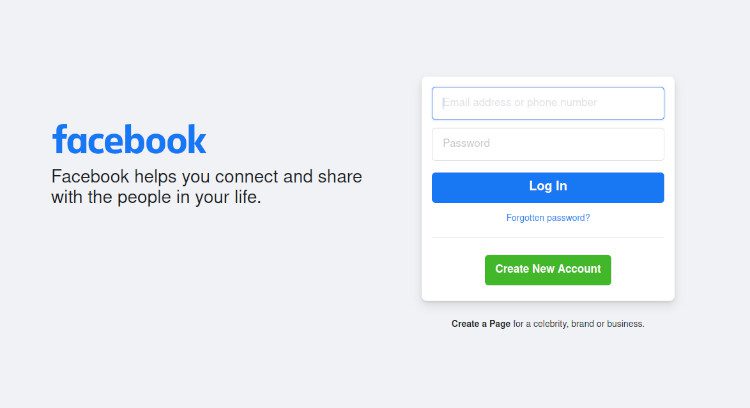 Driving social traffic from Facebook by promoting posts can be quite useful in the long run. It can not only help you drive a good amount of traffic but also help you generate social signals and build a robust brand around your content. Facebook should be one of your primary traffic acquisition sources.
4. Revcontent: Best Native Ad Network to Buy Traffic for AdSense Arbitrage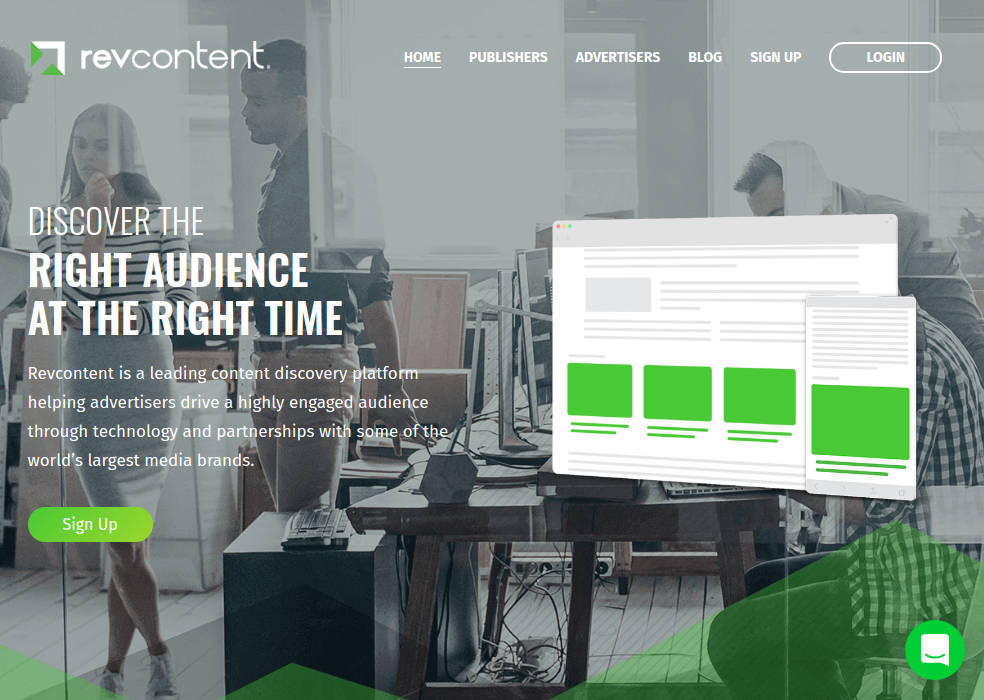 Most of the popular traffic arbitrage sites use Revcontent to buy traffic. Having a good teaser and an image can help you increase the CTR of your ad and hence the overall cost per click will be highly reduced.
Limitations to Keep in Mind While Buying Traffic for AdSense Websites and Blogs
While it might look that media buying and media selling can bring in large profits, it is not the case in the actual scenario on several occasions. However, most of the publishers who have stuck to it have been successful. Much like in all other businesses, there are limitations here to and one must overcome those limitations with confidence. Here are we listing some of the crucial limitations which are faced by publishers when buying traffic and doing arbitrage.
1. AdSense Account Bans
If the majority of your revenue comes from Google AdSense, then you should be extremely crucial with filtering your traffic to ensure that your site doesn't have any fake or bot traffic. Even non-converting traffic can affect the overall RPM of your website since AdSense uses smart pricing to determine the advertiser outcome from your traffic and adjust the bid prices and CPCs accordingly to ensure advertisers get their due ROI. Thus, if a percentage of your traffic is not converting (which we can assume to be poor quality traffic which you've bought) it can decrease your overall earnings. Additionally, if the traffic is not filtered for quality check, you might risk getting your Adsense account banned when buying traffic from cheap ad networks.
2. Issues of Non-Converting Traffic
There are instances where you will be on a negative ROI. This is essentially a setback and it might happen that for some niche it is not working. So we always recommend starting with at least a few niche websites if you don't have prior experience with arbitrage and driving traffic to your website with paid ads. If you have an already established site and are only looking to increase the overall volume of your site, then ensuring that you're driving quality traffic is the key.
3. Initial Investment
Since most of the networks pay in net 30 and net 60 days, so you need to have the initial capital to get started. Most of your capital will be spent on media buying and analyzing the performance of the traffic. This essentially is going to take some time till you see the paychecks coming. Thus, there is a gestation period unless you've personally acquainted with these networks and can bargain for a credit cycle.
There is nothing much to worry about since a lot of publishers buy traffic from various networks. Even AdSense specifically supports social publishers who drive an enormous volume of traffic from Facebook pages to their websites and drive revenue from it. As a publisher what you need to keep in mind is that you're providing value to the ecosystem and are not playing foul.
Our Recommended Tools for Publishers:
Looking to Increase your Ad Revenue:
Get in touch with me for a personalised consultation and increase your ad revenue across native, display, video (instream and outstream), in-app and other verticals. I also assist in customized DFP setup, header bidding, and content creation strategy. My skype id is:
ronniedey
. Feel free to connect!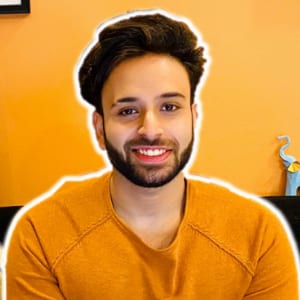 I and my team research various ad networks and can help you increase your overall ad revenue; so you could rake in more greenbacks with the best monetization platforms. Tap into the power of the online publishing business with me. I am just a mail away, so reach out to me if you want to scale up your website revenue. mail: [email protected]