Making money from ads and optimizing your webpage for quality user experience should go hand-in-hand. In this post we will talk about ad networks that can help you monetize exit traffic, while keeping the user experience smooth. Making money from bounce traffic is still one of the most unexplored segments and there are only a handful of ad networks that allows exit monetization. This might be because, a lot of data is required to show relevant ads to bounce traffic which can bring conversions or maybe publishers simply don't like to monetize exit traffic.
However, ads triggered at exit-intent is an additional source of monetization that doesn't intefere with your existing ad setup
So, let up discuss the options available for we publishers to monetize exit traffic or bounce traffic.
3 Ad Networks to Monetize Your Exit Traffic
AdMedia
One of the biggest problems for publishers is a high bounce rate on blogs where users visit their site, don't complete a call to action or hit the back button within 5 to 10 seconds. They navigate away and nothing happens for the publisher in the end. It could be very frustrating for the site owner because that means they can't monetize the user or convert them. With ExitMonetization, however, every time a visitor clicks the back button to navigate away from the site, they are directed to a page with ads that gives them sites they might want to visit based on relevance. So while you don't get them to convert on your own page, the chance to still monetize them is there for you to earn more revenue.
It's a simple process that is non-obtrusive to users because there are no pop-ups and everything flows without a hitch. The ads and sites displayed on the ExitMonetization page are relevant to their search keywords and the users' location. This assures that interested parties are there to increase your profit.
Content.ad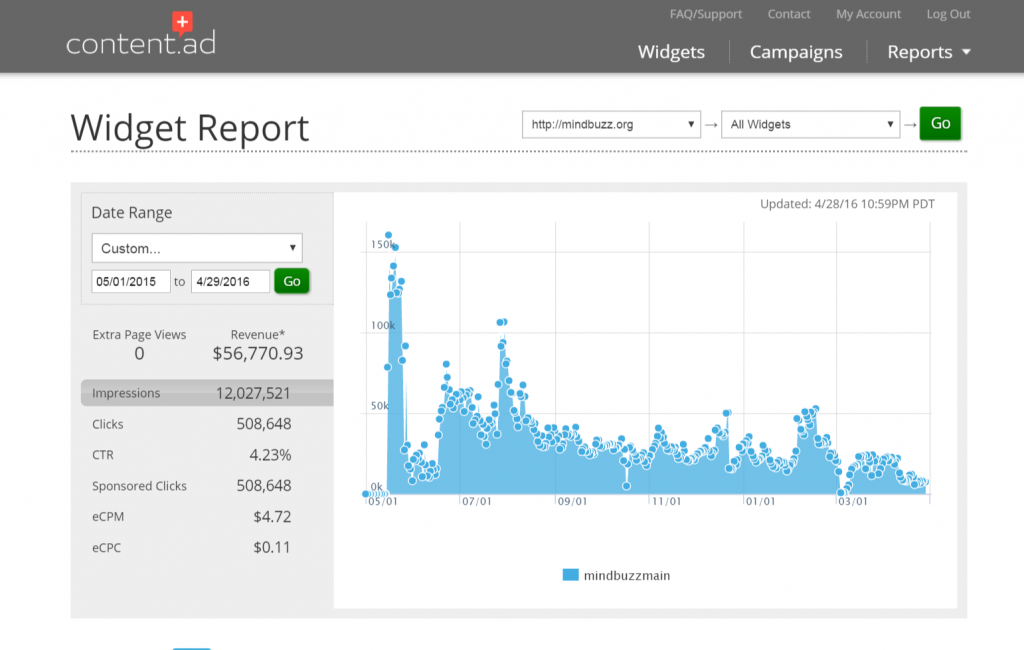 Content.ad is a popular native ad network that helps you monetize your pages by showing relevant native ads via its widget. Their widget also provide settings to monetize your bounce traffic. They provide 100% fill rate and their ads are mostly product oriented. The Content.ad widget officially supports English, Spanish, French & Turkish for internal content. Using the widget for internal content on sites in languages other than those listed may not work properly. You can make a good amount of revenue with content.ad.
They have been in business for quite some time and has a good advertiser and publisher base.
Spoutable
I found Spoutable while browsing through a website and found this native ad network quite interesting. They analyze user behavior and their ads are triggered on exit intent. Spoutable serves ads through it's own and partner networks which include RevContent. Their on-screen ads looks decent and they have a NET 15 days payment policy and accepts paypal payment. If you have good tier 1 traffic, you can earn well with this ad network. Most importantly, their ads are designed to act as an additional layer of monetization for publishers, so they will add upon your exisiting ad revenue. I liked the design and presentation of their ads. Getting started with them is quite easy. You need to add a javascript code on your site. Revenue is updated after 24-36 hours (the delay is because they have to collect data from their partner sources before finalizing the RPM). Try Spoutable here.
[wpsm_offerbox button_link="http://my.spoutable.com/signup/WhtbIf" button_text="Signup" title="Spoutable- Premium Native Ad Network" description="One of the top performing native ad network which can make you additional revenue. Earn high CPMs with Spoutable. Highly Recommended " thumb="http://blognife.com/wp-content/uploads/2017/01/spoutable-icon_purple-7f2509d2416f8fd14e985ff15ac5066a24115e3c312cb695692fe44514a013a7-1-1.png"]
Monetizing your exit traffic through Exit-intent ads are recommended for those sites which have low returning visitors and are mostly low valued in theirs of ad clicks and are social or viral in nature. Since, these ads won't really hurt your business model to a great extent. Also, it is highly recommend to monitor your bounce traffic after you integrate exit-intent ads.
We look forward to hear from you! Share us your experience on monetizing exit-intent ads. Also let us know if any particular ad network has worked well for you to monetize your exit traffic. We will add them on to the site. Any further inputs on our post- 3 Ad Networks to Monetize Your Exit Traffic- is highly welcomed.