It is becoming very challenging for cryptocurrency startups to promote their products or services. Trusted platforms like Google, Facebook, Linkedin, Twitter have all banned cryptocurrency related ads, or ads of products or services promoting cryptocurrency. This is due to the fact that crypto-financial products are often scams or are unregulated to such an extent that users often are susceptible to lose a fortune unless they are vigilant on their part.

Advertisement in cryptocurrency is basically a grey area, with people from the cryptocurrency space criticizing the bans & regulations being imposed, saying that the introduction of anti-money laundering (AML), Know Your Customer (KYC) & other security measures is against the founding principles of cryptocurrencies in the first place.

Investments in cryptocurrency has made people millionaires post the boom in cryptocurrency in 2017. Thus more people are taking interest in the crypto-space as in their minds, the returns outweigh the risks.

Why you Should use Crypto Ads?

With the increase in demand in this space & the big platforms still banning ads that promote initial coin offerings (ICOs), cryptocurrencies, & binary options. A gap has been created, which is being filled by Crypto Ad networks or the Ad networks focussing on cryptocurrencies or other related products or services.

While, most of the leading social networks & platforms are still strict on their crypto-ads ban, they have tweaked the ban to now allow ads that promote cryptocurrency & related content from pre-approved advertisers. This is where the specialized crypto ad networks have cashed in big time. They

are able to bypass these bans by rephrasing the ads.
maintain strict policies to get approval from the big social platforms.
provide advertisers with publishers focussed in the crypto space, often these publishers accept payment in crypto currencies also which is in turn beneficial to the crypto companies.
How to choose the Best Crypto Ad Networks?

While choosing the right crypto ad network the following points need to be kept in mind

Large inventory of publishers
Strong Portfolio
User friendly to use
Transparent analytics and reporting system
Wide number of supported ad formats
Good Customer Service
Competitive Pricing
10+ Best Crypto Ad Networks for Publishers 2019

CoinTraffic

Based in Estonia & established in 2014. It offers CPM campaigns & has a wide range of advertising format options. Daily payments & withdrawing commissions are easy. There's a minimum withdrawal limit of €10, & payouts are processed within 24 hours.

Features:

Wide variety of supported ad formats
Tools for optimization of conversion rate
Option for writing & distributing press releases
Pros:
Platform is snappy & easy to use
Customer support is prompt & helpful
Strong scrutiny process for onboarding advertisers
Cons:
Multiple days wait,for websites to be reviewed & approved
No referral program
CoinZilla

Coinzilla is a famous Bitcoin advertising network, started in 2016. It offers both CPM & CPC advertising in varied forms like standard banners, floating banners, & native ads. Interestingly, adverts can be funded not only with Bitcoin but also with Ether and Bank Transfers (SWIFT & SEPA).
Features:

Payments accepted by Bitcoin, Ethereum and Bank Transfer
Referral program gives back 50 euro for deposits
Self Served campaigns
Banner design services
Specialist support at every step
Press release distribution via Coinzilla Marketplace
Pros:
Payments are always on time without any disputes
High quality Publishers
Cons:
Strict requirements for websites
TokenAd

TokenAd is the RTB based advertising network working directly with publishers looking to monetize their websites, trading platforms, cryptocurrency exchanges, bitcoin news websites, blogs, etc. .& advertisers looking to promote their brands or ICOs etc.

Features:
Accepts payment in either crypto or fiat currencies
Supports of 25 different languages
Supports a variety of ad formats, that organically adapt to your website.
Support for mobile,in-feed video & native advertising
Pros:

High CTR, the RTB system selects ads according to visitors' interests
Maximum Revenue, better engagement & more clicks from crypto themed ads
Flexible Tariffs, on CPC or CPM basis
Easy to use & implement
Cons:

Relatively new in the market
Minimum deposit required to work with the platform is $10,000
Bitraffic

The largest crypto-network of its kind with a network of over 2700 website. The audience Bitraffic is well targeted & can be used to promote ICO Tokens, Trading, Buying, Casino Games, DApps, Mining Operations, Investing Platforms, & Crypto Faucets, as well as anything you can think of that is related.

Features:
Guaranteed Impression
Anti-bot System
Multiple forms of payment
Easy to announce
Pay-Per-Click (PPC) model of payment
Geotargeting
Pros:
Easy to use website
UI is simple & user friendly
Good quality traffic
Cons:
Customer support is not prompt
Discrepancy in data with google analytics
Approval of ads takes time.
AdEx

AdEx is a blockchain based digital advertising company aiming at disrupting the existing online advertising landscape & address its significant problems: advertising fraud, privacy & consent to receiving sponsored messages, etc.

Features:
Built on Ethereum
Multi-device ad serving
Minimized ad fraud possibilities
Large network of international publishers
Pros:
Clear & transparent reporting
No commissions & fees
100% traffic monetization
Cons:
Their focus on their own cryptocurrency ADX which is on the decline in value
Customer care not satisfactory
CoinAD.media

CoinAd is different from most Bitcoin advertising networks in the sense that new publishers are accepted on an invite-only basis. They have strict requirements, such as only accepting websites with Alexa ranks of under 100,000 & at least 100,000 daily page impressions. Needless to say, this Crypto ad network is only for more established sites.

Features:
Anti-bot System
CPA, CPC, CPM, Native Ad
Geotargeting
Accepts & gives payments in multiple cryptocurrencies, paypal, bank transfers etc
Pros:
Cons:
Invite-only platform with strict entry requirements
CryptoAdsManager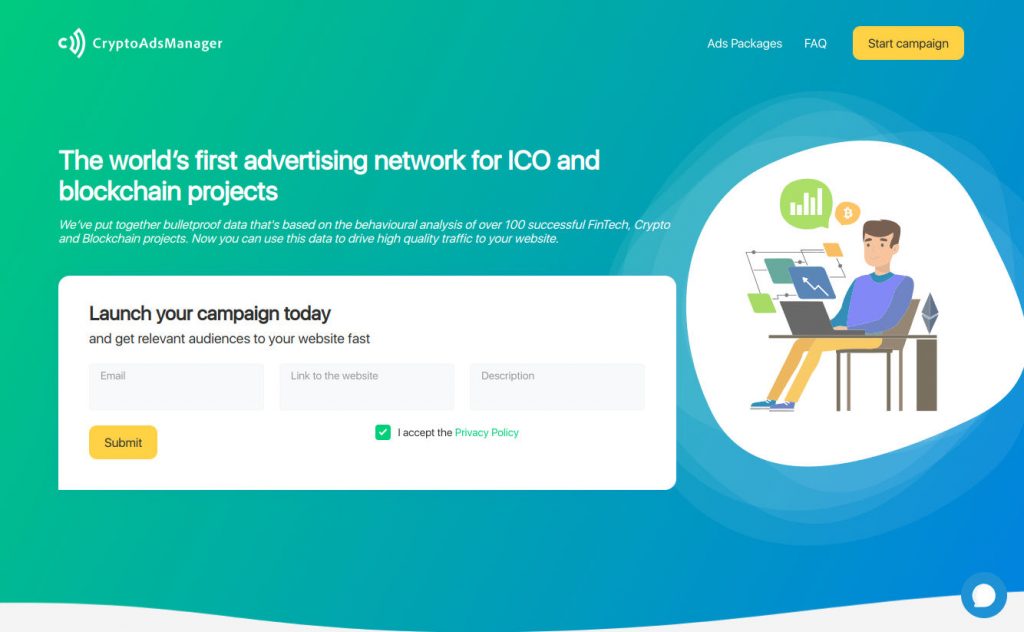 CryptoAdsManager is a powerful new way to advertise your FinTech, Crypto & Blockchain projects. They have a unique set of data focused on the core segments of the FinTech & Crypto audience.

Features:
Wide reach of audiences
Can bypass Facebook & Google Bans
Intelligent algorithm for targeting audiences
Pros:
Integrated targeting & remarketing mechanisms
Offers a range of ad formats, including text, banners & video.
Cons:
Cannot target audiences in the USA
Bitmedia.io

Founded in 2014, London-based Bitcoin ad network, Bitmedia provides both CPC & CPM campaigns, The minimum amount for withdrawal is 0.001 BTC.

Features:
Advanced algorithm, uses AI to show ads to relevant users
Flexible pricing models
High-end publisher placements
Custom publisher tools
Pros:
Great UI
Really good customer support
Very little discrepancy in data
Quality publications
Quality traffic
Cons:
Ads are not instantly approved
Only crypto related websites are allowed
AdCoin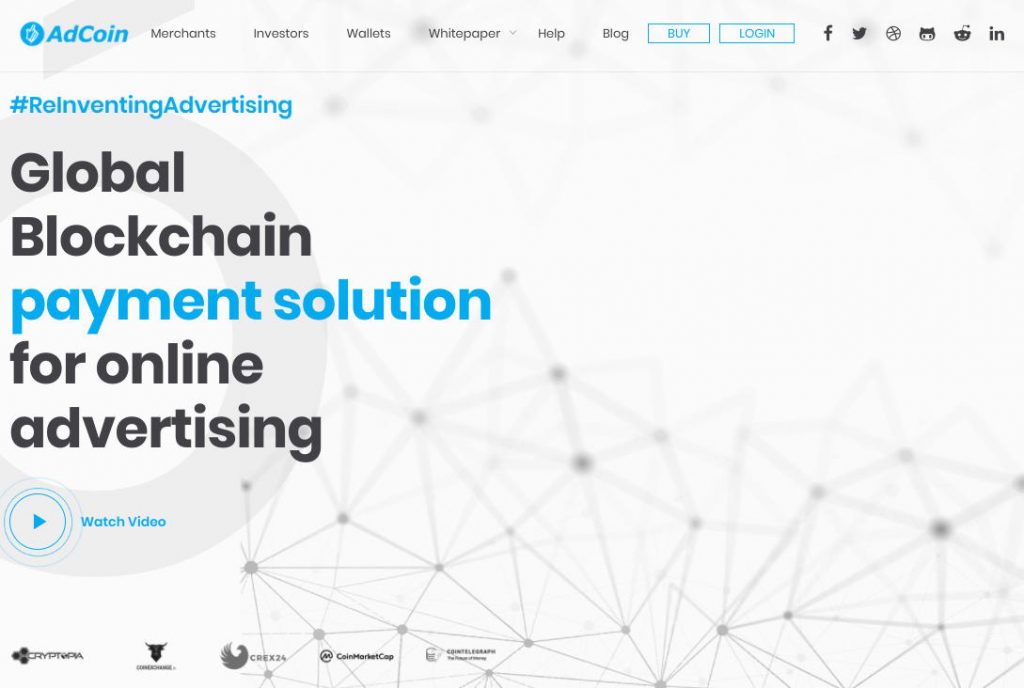 AdCoin is founded by people with economic & marketing backgrounds. AdCoin creates value by partnering up with advertising platforms, which will represent a cost-per-click (CPC) or cost-per-mille (CPM) value based on the current AdCoin value.

Features:
Anonymous Campaigns
Plugins, API's & other tools provided
Pros:
No minimum budgets for campaigns.
Cons:
Their crypto currency is still in development stage
Coin Ad

CoinAd is a bitcoin only advertising network which focussing on simplicity for advertisers to bulk buy niche & focused adverts.

Features:
Weekly Payouts
Invite only for publishers – with quality controls.
Pros:
Fair Pricing & Full Stats Transparency.
Good payment incentives
Simple & easy to use
Cons:
Lower impressions per day
Inaccessible to some advertisers & publishers
Was hacked before
Blognife's Recommended Monetization Partners:
Looking to Increase your Ad Revenue:
Get in touch with me for a personalised consultation and increase your ad revenue across native, display, video (instream and outstream), in-app and other verticals. I also assist in customized DFP setup, header bidding, and content creation strategy. My skype id is:
ronniedey
. Feel free to connect!