Last updated on June 28th, 2023 at 02:23 am
While there are many content recommendation platforms out there, it sometimes becomes difficult to select the best platform that meets all your needs and serves to increase your revenue. A content recommendation platform is an absolute necessity for a publisher to ensure an added revenue source from the website traffic and increase engagement and drive more traffic to their content.
How to Choose the Best Content Recommendation Platform?
We will list below some of the best content recommendation platforms that worked well for us, and we hope will work well for you as well. It is important to understand your requirements and match those with the features of each of these platforms.
10 Best Content Recommendation Platforms for Publishers: 2023
Here is a list of publishers' best content recommendation platforms and networks.
1. Ad.Style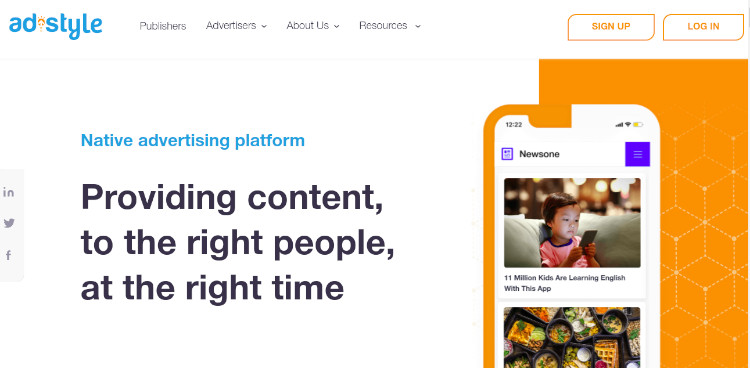 A content discovery platform that caters to 210 million unique visitors and about 65 billion ad impressions each month. They strive to deliver new and interesting content that is engaging to users all around the world. AdStyle offers the perfect mix of features that let your traffic view the next ad they are most likely to click onto, generating engaging content for your audience. Here is a more detailed review of Ad.style.
Features:
Your readers will be able to enjoy well-curated content that is inspired based on their interest, behavior, and time.
Helps increase user engagement and time spent on the site by showing content that each reader will love.
Their easy-to-use dashboard provides you the ability to completely control your campaigns, increase awareness and grow your revenue.
Their dashboard lets you target users by geography and device type. You will also be able to implement dynamic macros, conversion pixels, and retargeting.
2. Mgid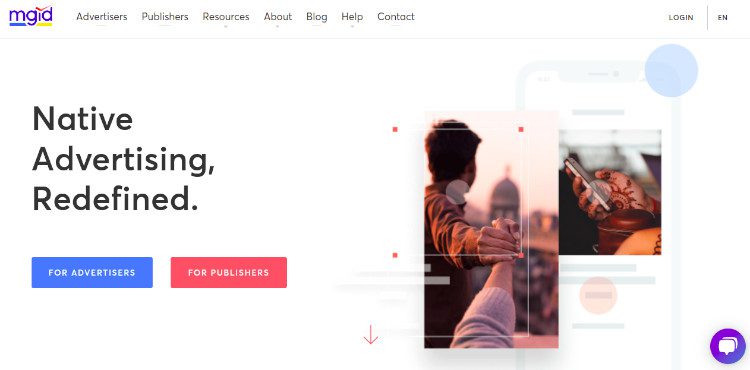 One of the first native advertising platforms to introduce content discovery through a native widget, MGID has been around for more than a decade. With a worldwide coverage of more than 200 countries and support of over 70 languages, you will find it difficult not to find advertisers. MGID, as a content recommendation platform, gives you total control over your audience. With powerful analytics, you will be able to create monetization strategies by engaging and retaining users.
Features:
They offer multiple integration options to meet the monetization needs of publishers, making the launch process as easy as possible.
Their native widgets are adapted to be completely compatible with AMP pages and Facebook Instant Articles.
Increase brand loyalty and session depth and acquire new visitors by recirculating internal and external content. This can be done by promoting specific editorial or advertorial content.
A referral program that takes advantage of their ever-expanding network of publishers.
3. Taboola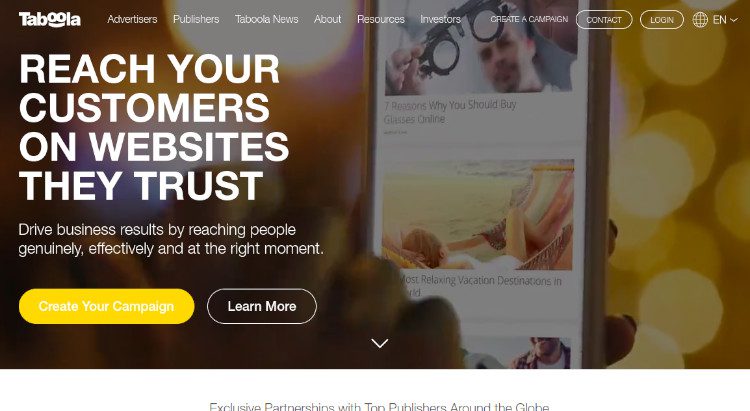 One of the largest content discovery platforms, Taboola boasts over half a billion daily active users. Your audience will receive content recommendations that are interestingly relevant and new with the help of their recommendation engine. This leads to new engagement and opportunities to bring in revenue and scale profits from your website traffic. A network of more than 9000 digital properties uses Taboola to acquire new audiences, increase engagement and drive revenue. Their content recommendation platform, known as 'Taboola Feed', brings the scrolling newsfeed experience that users are used to seeing on their favorite social media apps and helps build audience and revenue.
Features:
Taboola's tools help you build your audience using actionable editorial insights, optimized paid acquisition, and audience exchange.
Publisher tools help you to manage content using keyword filters, content promotion, category selection, and the ability to block content.
Increase engagement and keep your users coming back to your site with a personalized user experience that is optimized for the individual visitor and session.
Increase revenue on every platform through non-intrusive, in-feed video experiences on apps and newsletters. They are one of the largest marketplaces for sponsored content in the industry.
They ensure only quality content is served by allocating enforcement teams to categorize and sweep content that adheres to their content policy and review.
4. Whizzco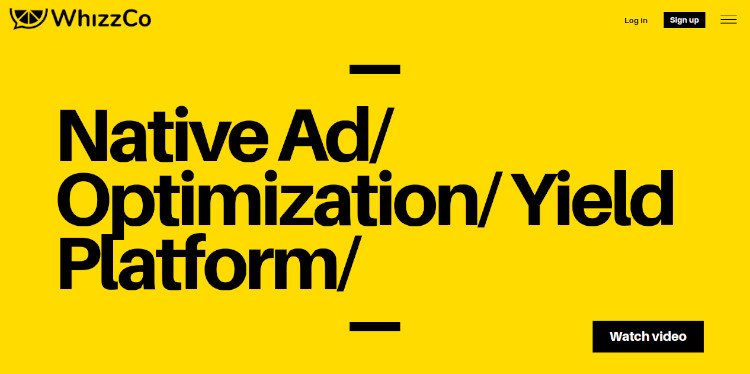 If you're wondering if there is a way to monetize your websites with multiple content recommendation platforms, WhizzCo might be your platform. Their content recommendation widget is easy to set up and can be implemented with a simple JS code.
They support 40 of the best content recommendation platforms and hence can also be called a Content Recommendation Yield Platform.
Features:
Seamlessly integrate your existing content recommendation partners and easily add more partners to your pool.
Their post-bid optimization and meditation technology will allocate the right content recommendation partner to the right inventory package.
Most users see a 40% increase in revenue due to WhizzCo's powerful machine-learning algorithm, which predicts the highest CPM provided by a platform for each impression.
Their intuitive platform has built-in quality filters and fraud detection tools that help you manage the kind of content you want your audience to see.
5. Outbrain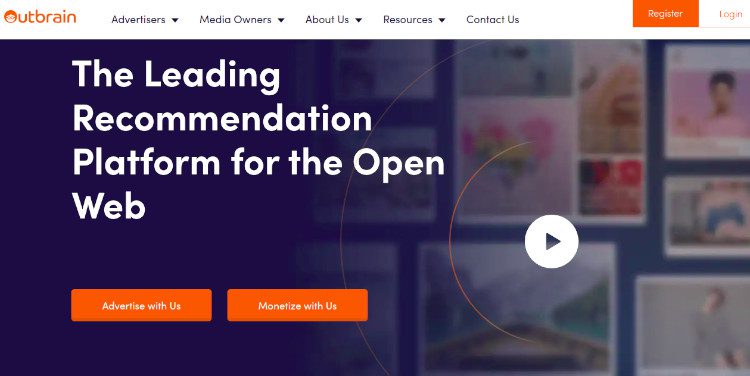 A leading content recommendation platform that dedicates its resources to predicting and creating data-driven insights between user interests and actions. This ensures that a user will see ads that they might be highly interested to click on and learn more about it. Their partners include some of the largest publishers like CNN, Bloomberg, The Guardian, and many more.
Features:
Smartlogic is Outbrain's recommendation algorithm that uses AI and Machine Learning to generate feeds specific to each user.
User-optimized targeting and multiple content recommendation types lead to an increase in user engagement and hence your revenue.
A range of smart ad formats and content types like videos, images, infographics and articles helps you increase user interest.
With real-time reporting and 24/7 insights, you will be able to understand multiple audience segments and generate an engagement strategy that transforms visitors into loyal readers.
6. Tapnative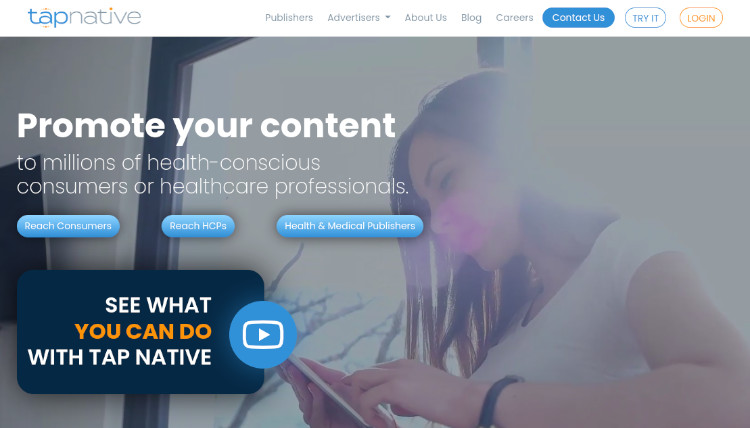 If your content focuses on health and wellness, then Tap Native is your best content recommendation platform. They are a platform that caters to a consumer base that is health-conscious and healthcare professionals. Their management team primarily consists of healthcare and ad-tech professionals. They believe that health is different and that it needs to be catered to separately and efficiently.
Features:
Their network of health, medicine, and wellness publishers makes them the leading content discovery platform for healthcare marketers, which enables them to reach out to healthcare professionals.
You get complete control using lighthouse-optimized JS tags or server-to-server integrations.
They have over a hundred different customizable formats, which make your ads look like they are part of the original feed.
Health and lifestyle publishers have the option to show their ads to consumers or healthcare professionals. Their platform displays the ads to the intended user at the right time based on contextual and audience targeting.
Publishers can choose to automate the settings or manually change them for better control, CPMs, revenue, and relevancy of ads.
They make sure the publisher's direct sales revenue is not affected by not catering to branded ads and not displacing existing display ads.
With effective analytics, you will be able to recognize your most valuable pages and what kind of offers your audience engages with the most.
7. Revcontent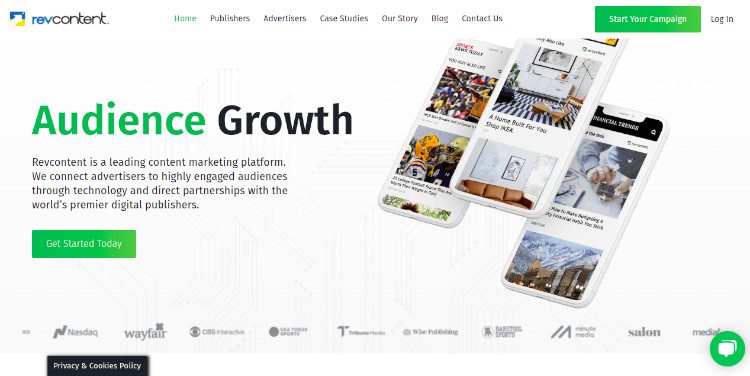 Connecting brands and their consumers in positive ways by creating a meaningful content recommendation platform. Revcontent achieves this by taking into account human insights, organic strategies, and some amazing tech. Their team of advertising gurus in Florida help humanizes the ad experience that they are proud of and are committed to making the publisher's brand look good and increasing revenue.
Features:
Your advertising budgets can be put to use more efficiently by eliminating middlemen and delivering unique and controlled content to your audience.
Their widget is agile and lightweight, which helps load your site faster and keep your audience engaged and happy by showing non-intrusive ad formats.
They remove performance enabled by cookies and instead deliver only first-party data directly and cut out unnecessary data-sharing policies.
Their ads take up less space and don't disrupt the content flow. This leads to increased user engagement and revenue.
8. AdYouLike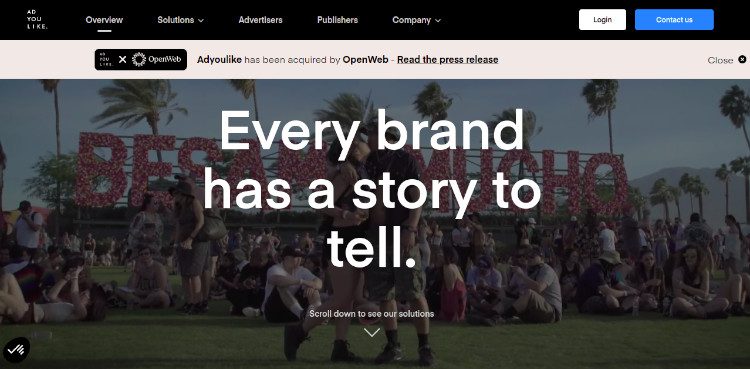 A global advertising and content recommendation platform, Adyoulike helps marketers reach millions of people all over the world by combining native, video, and social story ad formats to generate new monetization opportunities for digital media publishers. Launched in 2011, they are a pioneer in native advertising, and its platform is one of the most sophisticated content recommendation platforms in the market to offer a range of solutions to publishers and advertisers.
Features:
A real-time platform that updates your ad revenue and statistics every second for more control and transparency.
Their native placement monetization saw an average increase of about 30% in Ecpm and revenues for publishers.
You will be able to go live in minutes with limitless integration through JS DFP and Header Bidding. They support direct integrations making them server-to-server compatible.
You have access to a wide range of well-known publishers and specific themed websites.
Engagement is increased by matching the layout and design of the respective site with component-based native video ads.
Your campaigns will be seamlessly integrated to match the look and feel of any website or device with auto-templating technologies.
9. Engageya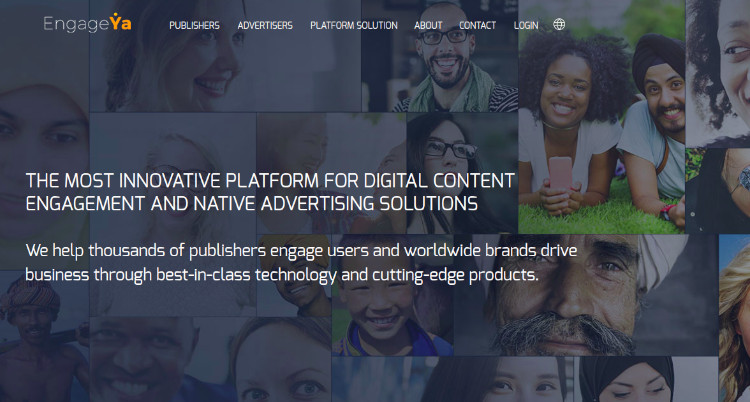 As their name suggests, they are a platform that helps engage thousands of publishers with brands worldwide and users to drive business through their best-in-class technology and products that are cutting-edge. They are one of the most innovative platforms for native advertising solutions and digital content engagement. Serving over 40 billion impressions worldwide every month, they are one of the top in native advertising for emerging markets. By accessing new local markets, advertisers can leverage new revenue opportunities by reaching a wider receptive audience.
Features:
Receive relevant content recommendations which natively integrate on your content pages with a completely customizable widget leading to an increase in user engagement.
Publishers have the ability to autonomously manage their native ad inventory to maximize revenue.
Their zero maintenance widgets are easy to manage and natively adapt to offer natively integrated content and ads that create an immediate revenue stream.
10. Upcontent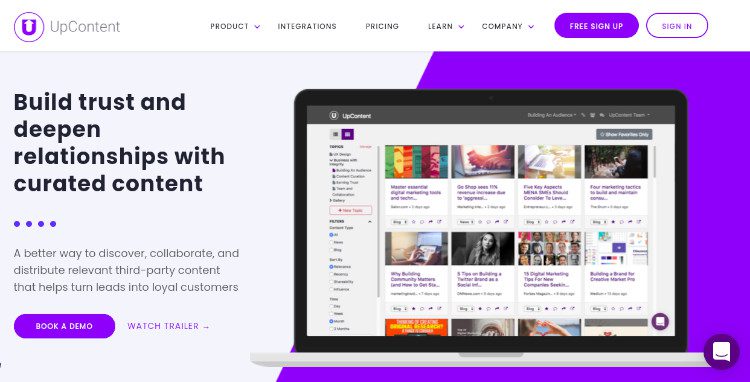 UpContent helps drive revenue through strategically curated content so that sales professionals can improve their brand's relationship with their audience. They have a heavy focus on customer support and conversation hence most new features that the team develops are brought forth by conversations that they have had with their customers.
They truly believe in their own product, and that good content leads to good business. Based on this belief, they use their own tool to add relevant and engaging content at every customer touchpoint.
Features:
They have an article library from thousands of publishers, which is discovered by their proprietary crawler.
Their machine-learning algorithm will provide you with the best article that suits your needs.
Collaborate and approve content that matches the needs of your organization.
With the use of automation, you can set rules to automate a single step or the full flow for curating the kind of content that works for you.
Custom-curated insights across multiple channels are delivered with a single click due to seamless integration.
The Bottom Line
These platforms are some of the best content recommendation platforms available to publishers to monetize their website traffic. Most new publishers will probably see an increase in their revenue once they have integrated these platforms on their websites.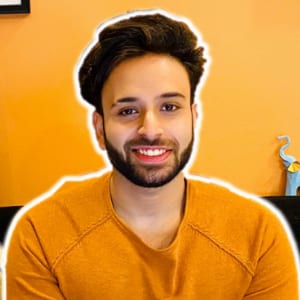 I and my team research various ad networks and can help you increase your overall ad revenue; so you could rake in more greenbacks with the best monetization platforms. Tap into the power of the online publishing business with me. I am just a mail away, so reach out to me if you want to scale up your website revenue. mail: [email protected]