Last updated on April 28th, 2023 at 06:23 pm
Influencer marketing is still considered quite young, compared to traditional marketing channels. And youth is hasty, so the industry grows from year to year very rapidly: in 2016, it was estimated at $1.7 billion, in 2022, it has to reach $16.4 billion or even more. Influencer marketing became the most modern, even advanced channel of marketing for all the business verticals, especially for those that target younger audiences. Marketers say that its ROI is high enough, and earned media value gets to the average of $5.78 for every $1 brands spend; for some types of businesses, the indicator goes up to $18.
Publishergrowth: The Revenue Acceleration Platform for Publishers
Blognife is elated to announce the launch of Publisher Growth- a community of publishers that helps you actively accelerate your revenue. This platform assists publishers in growing their traffic and revenue. As publishers, you can share and read reviews of ad networks and hosting companies. You can connect with other publishers to build links for growth and monetization hacks and more. This platform will help you stay up to date with the advertising and publisher ecosystem.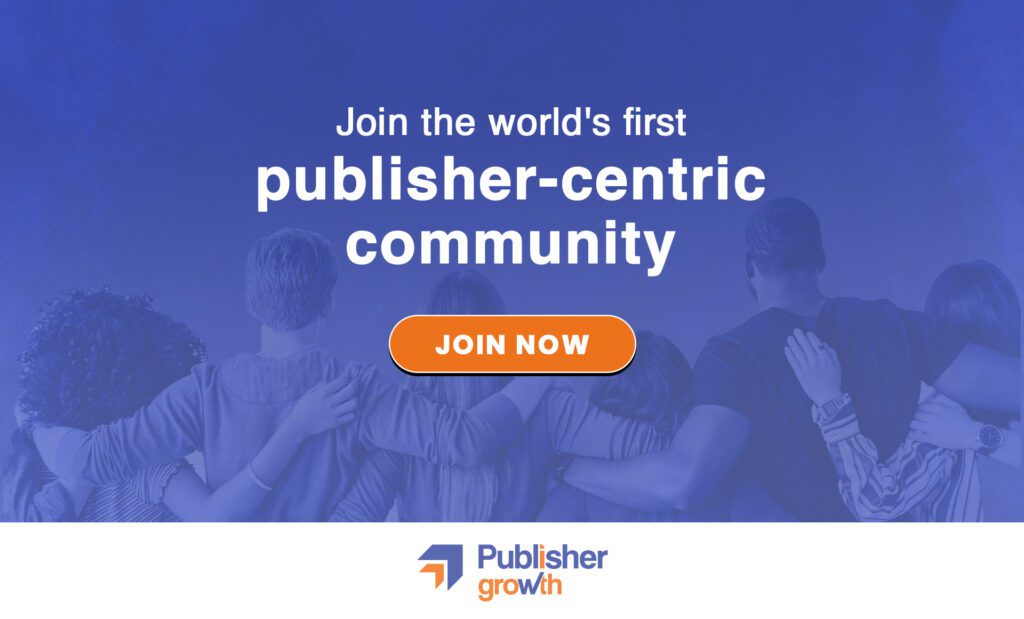 Features:
List of 200+ ad networks to monetize your site across all verticals.
Personalized site audit upon signing up on the platform that can increase your revenue.
Find all upcoming adtech conferences, webinars, and events in one place.
Stay informed with the latest adtech news across the globe.
Efficient influencer marketing is what allows you to beat the competition. And influencer marketing platforms that help automate and manage your work are the tools that improve the efficiency – all is simple.
An influencer marketing platform is a software made specifically for marketers and brands to manage influencer marketing, do the work faster and easier, scale the efforts. Usually it's a tool or a stack of tools designed to search for creators, check their accounts' quality and content authenticity, launch influencer marketing campaigns, and get reports. Some platforms have different offers and specific tools for different types of brands: e-commerce, software developers, gaming brands, educational initiatives, etc.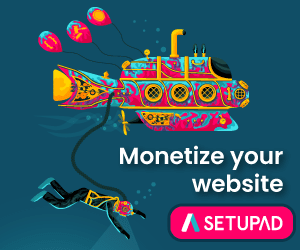 When choosing an influencer marketing platform, a business owner or a marketer should have in mind two main things: the platform has to get them 1) maximum efficiency for 2) a fair price. Note that it's not "the lowest price possible" as good software isn't usually sold at Aldi.
Preparations
Before you start looking for a platform to cover your business' needs, you have to prepare a bit.
First, define your goals. What do you want to get from influencer marketing and why do you need the platform? What KPIs do you have? Do you want to achieve high brand recognition, or sell more of your products, or both? Maybe you only want to find relevant influencers faster, or you have a bunch of campaigns to run and need a tool to manage them all at once.
Second, research your target audience. Learn what your ideal customer is, what they like and dislike, where they live, what languages they speak, what needs they have, etc. The more precisely you identify your target audience, the more relevant influencers you can find, and the higher your ROI will be.
Third, set a budget. Be flexible here, set the minimum and the maximum you can spend on the platform monthly and yearly. Later, when you will be researching the platforms, you can adjust the budget.
Now, with the preparations done, here are 5 major things you should consider when choosing an influencer marketing platform. You may use them as a checklist, but remember that a perfect platform probably doesn't exist. Still, you can find one that will be really good for your specific business purposes.
First, you have to learn where your target audience is, and then pay attention to the influencer marketing platforms that cover the sites you need. For example, Instagram is considered to be the major platform for ecommerce brands as Instagram users tend to look for shapewear, travel accessories, health and beauty products, smart watches, skin care products – all these are on the list of the products successfully sold online.
At the same time, it doesn't mean that such products can't find their target audience on other social media platforms. For example, YouTube has a huge beauty and style category, so a skin care brand can easily find YouTube creators to collaborate with. Moreover, according to BuzzGuru influencer marketing platform, 88.5% of influencers who have reached 10,000 followers at least on one social media platform have accounts on other ones. This makes their audiences on different platforms intersect and gives advertisers an opportunity to choose the best platform with the most perceptive audience.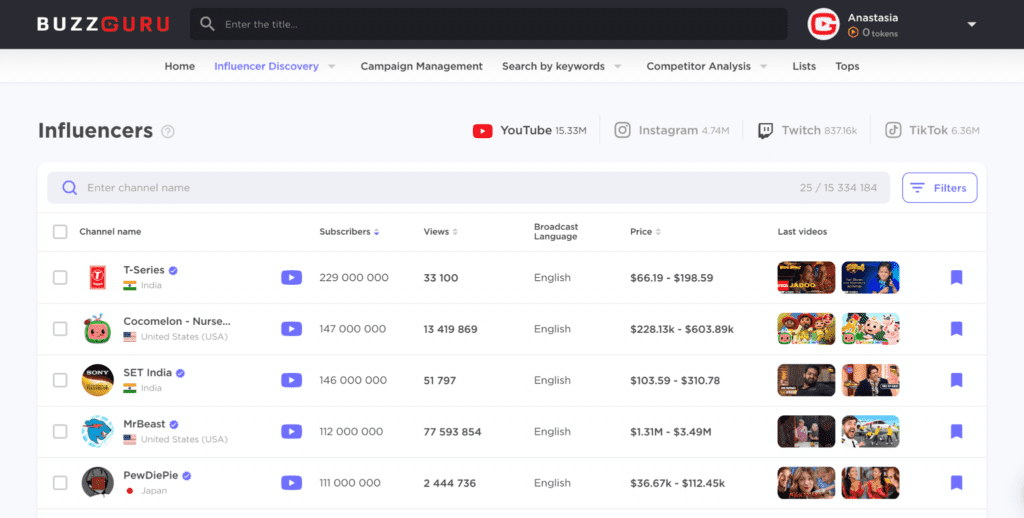 Instagram, YouTube, TikTok, and Twitch are among the most popular social media platforms. They are both attractive for ordinary users (your potential customers) and creators as all these platforms allow them to monetize content in one way or another (except for TikTok where the creators can only rely on advertisers, but it may soon change). Other sites you may find useful for your advertising campaigns are Facebook, Twitter, LinkedIn, Pinterest.
There also are niche sites and those that are used in specific regions, like Weibo in China. Not many platforms cover smaller/more niche sites, most are focused on the more universal and popular ones, but it's still possible to find some if you really need to.
The influencer marketing platform is user-friendly enough
It doesn't matter whether you are a novice in influencer marketing or an expert already, user-friendly interfaces and easy to manage tools make your life easier. Most of the platforms have a trial period: it's not only an opportunity to see what they offer but also a time for you to test and learn how easy it is to get used to them and perform your tasks.
If a platform doesn't have a free trial, it will definitely offer a video demonstration or even a live call with someone to show and explain everything to you. Also look for a knowledge base: a platform that cares about your user experience should have it with clear and simple instructions and explanations.
Some platforms may seem and be very rich with tools, but be overloaded and too complex at the same time. In this case, time spent on learning such a platform and trying to adjust your management is too much, which results in low efficiency.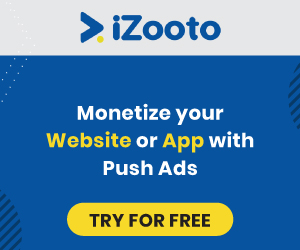 The platform has multiple options to help you discover relevant influencers
Influencer search is the most common task – and one of the most time-consuming. To find relevant creators, you have to surf all the social media platforms where your target audience may be, go through all the categories of content it may like. It may seem quite easy to find top influencers in any category. Moreover, there are numerous lists of top beauty Instagram celebrities, gaming YouTube influencers, trending DIY TikTok creators, etc. But what about smaller influencers? In fact, micro-influencers are on the rise now. More and more brands prefer to split their budgets among 100 micro-influencers with a higher engagement rate and more loyal audience than to give the entire sum to one or two mega-influencers and hope for greater coverage numbers.
And things get more complicated when you remember you still have to check if the followers of the influencer are fake, what's the account's quality, is its engagement rate high enough, and so on. Yes, most of the basic metrics (but still not all of them) can be calculated manually – you can imagine the amount of working hours you have to spend on it. Not mentioning it reduces a marketer's creative and communicative profession merely to monkey work.
So influencer discovery is the basic tool that a platform should have. The next questions here are: how advanced the tool is, how exactly does it help you weed out the irrelevant influencers, and how precise the search can be? The research results show that there may be between 3.2M and 37.8M influencers – and it's only about Instagram, YouTube, and TikTok. Figures depend on how to count them, what criteria to apply, and who to consider an actual influencer. But even if we take the smallest number, there are just too many of them to check everyone manually. And an average influencer marketing platform has to have at least a few millions of accounts in its database.
Check what filters the platform suggests, how you can combine them, and whether the search tool actually gives you relevant results. The more specific data breakdowns are available, the more accurate your search can be.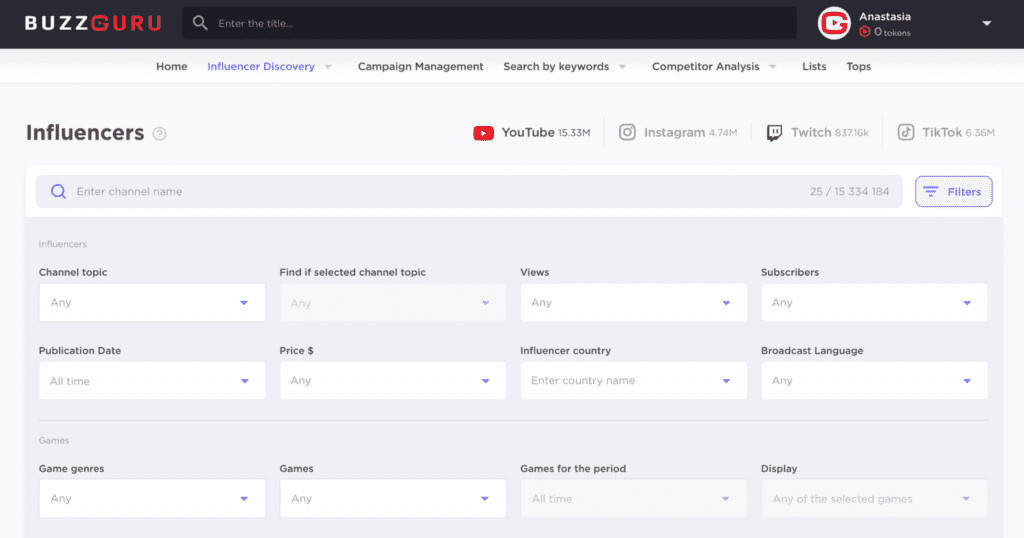 Also, some platforms offer specific niche filters, like game genres and games for gaming brands or app mentions for app developers. This helps to discover the influencers who:
may be genuinely interested in your type of product;
are already popular in your niche;
have already worked with your competitors;
have already mentioned your brand organically.
All these help select the influencers who will be truly enthusiastic about working with you and may become your brand's ambassadors.
The platform has management tools to make your work more efficient
Influencer marketing management requires 1) a manager and 2) a space to establish the workflow. A platform may be the first, the second, or both. But at least it has to help you start your advertising campaigns.
Ideally, the entire workflow should be managed in one place. Thus, a platform should better help you do the following:
Prepare a campaign. Preliminary research may be a separate task for a separate specialist, but it's still a vital part of the workflow.
Set the goals for the campaign. The goals define what metrics will show how successful (or unsuccessful) your campaign will appear. Make sure your main goals are measurable. No platform will actually allow you to set a goal like "get more people to know my brand". You will at least have something like this: "I want at least 200,000 (1) English speaking (2) viewers from Canada (3) aged from 21 to 30 (4) to watch my ads on YouTube (5), and the ads should be placed on gaming channels (6) as I'm a game developer". See, there already are six conditions set for the campaign.
Launch the campaign and monitor it. Tracking the overall intermediate results and each selected influencer's performance is what allows you to be flexible. With the data that updates in real time, you can adjust your campaign, choose more of the influencers like those who perform the best, and get rid of the types of content that don't perform well.
Reporting. This is another thing that usually makes marketers suffer: they have to make all the calculations for the old-school reports manually. This limits the number of reports and makes reporting in real time impossible. But with a proper influencer marketing automation tool, it becomes the modern reality. Marketing AIs are now able not only to calculate and compare the results with the goals but also design the reports to get you all the information in a neat, easy-to-understand and evaluate format.
Campaign arrangement. This one is probably not that necessary if you seek a tool to use once for your only product. But an advanced influencer marketing platform should allow you this: to gather and segment your advertising campaigns by your own criteria. Your company may have a few products to advertise, or your product may need separate campaigns for spring and autumn, or you may be a marketer that runs campaigns for a few different brands. In any case, arranging and managing multiple campaigns in one place is a good thing to do.
BuzzGuru gives you a 360° view on your influencer marketing campaigns. It helps you to discover and analyze relevant content creators for your campaign, manage direct partner relationships with them, and track influencer campaign's results – all in one place.
The platform offers specific tools for businesses from your vertical
Depending on the niche you operate in, you need specific tools that can even be useless for brands from any other vertical. For example, ecommerce brands may use product seeding on Instagram – which is inapplicable for software developers. And in some cases ecommerce brands also need to integrate their Shopify, WooCommerce, Magento, or other ecommerce solutions with the influencers marketing platform.
There are some other services that may be integrated: Slack, Gmail, Google Sheets, Google Slides, etc. Basically, an influencer marketing platform may either give you an option to integrate your favorite services or have features to replace them.
Search for the platform that may not be universal – you don't actually need such a tool, and no tool can be a one-fit-all solution. It's better to focus on your brand's specific needs and find a platform that can be flexible with tools and price for you.
Our Recommended Tools for Publishers:
Looking to Increase your Ad Revenue:
Get in touch with me for a personalised consultation and increase your ad revenue across native, display, video (instream and outstream), in-app and other verticals. I also assist in customized DFP setup, header bidding, and content creation strategy. My skype id is:
ronniedey
. Feel free to connect!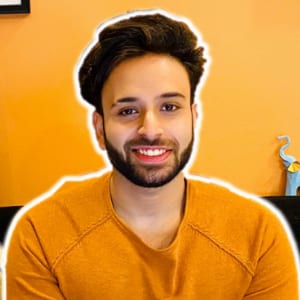 I and my team research various ad networks and can help you increase your overall ad revenue; so you could rake in more greenbacks with the best monetization platforms. Tap into the power of the online publishing business with me. I am just a mail away, so reach out to me if you want to scale up your website revenue. mail: [email protected]