Last updated on January 25th, 2023 at 04:20 pm
WordPress is an adaptable content management system with close to 60,000 plugins available. There are several plugin tools available to assist you if you're planning to sell videos, PDFs, images, software, or other digital products.
Publishergrowth: The Revenue Acceleration Platform for Publishers
Blognife is elated to announce the launch of Publisher Growth- a community of publishers that helps you actively accelerate your revenue. This platform assists publishers in growing their traffic and revenue. As publishers, you can share and read reviews of ad networks and hosting companies. You can connect with other publishers to build links for growth and monetization hacks and more. This platform will help you stay up to date with the advertising and publisher ecosystem.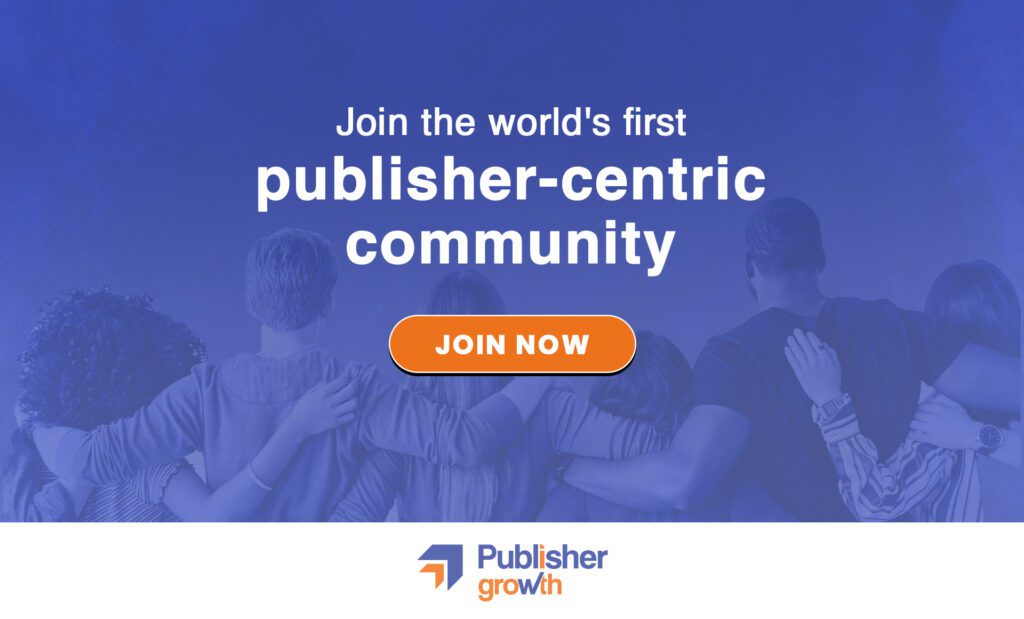 Features:
List of 200+ ad networks to monetize your site across all verticals.
Personalized site audit upon signing up on the platform that can increase your revenue.
Find all upcoming adtech conferences, webinars, and events in one place.
Stay informed with the latest adtech news across the globe.
You might be trying to sell digital versions of your books or selling songs to fans if you're a performer. Anything is feasible. There aren't many restrictions when selling online. Your selling platform might be one of these restrictions, and we want to assist you with that. The following plugins are thought to be the top ones by the WordPress community for starting a digital product business.
A list of WordPress plugins for selling digital downloads is provided below. Simple download buttons and efficient checkout pages can be made using tools. Advanced membership platforms are also available for creating digital asset marketplaces, automating content delivery, and providing a range of payment alternatives.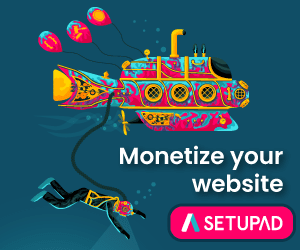 Choosing the Best WordPress Plugins for Selling Digital Products
The market is flooded with WordPress eCommerce plugins. However, not everyone has the characteristics you need for your use case.
For instance, some eCommerce plugins are designed for the sale of digital commodities such as eBooks, images, music, and more. Others are more suitable for selling tangible goods that require transportation.
You need an eCommerce solution offering greater drop-shipping support if you want to operate a drop-shipping business. Basically, you need to think about what you'll be offering and what kind of features your online store will require to function well.
In addition, the following are some of the most crucial aspects you should consider while selecting an eCommerce platform.
Your selected payment gateways should be supported by your eCommerce plugin either by default or through an extension.
Your customer's initial encounter with your company will be through the layout of your store. Ample templates and simple modification possibilities should be provided.
Check out connectors available for third-party applications like CRM software, email marketing services, accounting software, etc. To manage and expand your eCommerce firm more effectively, you'll need those tools.
Verify the availability of support options. In the long term, having good support can save you a tonne of money.
7 Best WordPress Plugins for Selling Digital Products: 2023
1. Easy Digital Downloads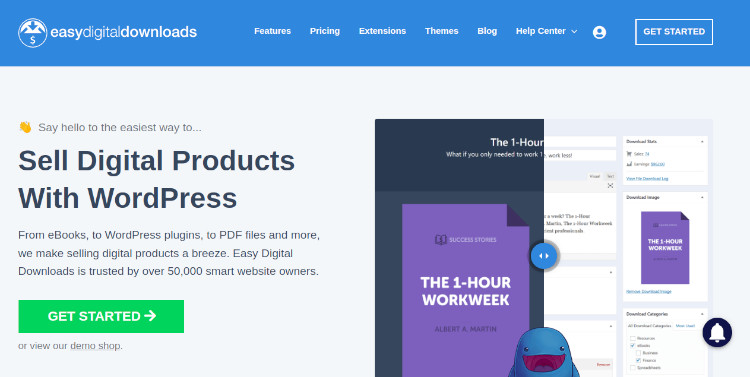 EDD (Easy Digital Downloads) is a WordPress-based e-commerce platform for advertising and selling digital goods. Selling digital goods directly from your blog is simple thanks to the lightweight and simple-to-configure plugin. The plugin functionality puts an emphasis on simplicity and provides you with the necessary resources to begin selling your content online. A shopping cart is a feature of the plugin, allowing customers to purchase numerous items from you at once. You can use a built-in coupon code system to offer discounts on some of your downloads and items. In addition, the most dependable payment options are supported: Stripe, PayPal, and Amazon.
Users and you, the platform management, can go over a user's past purchases. This enables customers to access downloads even years after making the original purchase. Your digital product bundles can be made and sold in this manner. Additionally, you can examine your revenue using straightforward statistics charts that are produced automatically. Support for extensions is available to enable you to add more features at a reasonable cost.
Features
You can directly sell digital goods from your website.
It accepts discounts and coupons.
It is linked with Stripe, Amazon Payments, and PayPal. Through extensions, other payment gateways are accessible.
Sales and download data are displayed.
It offers advanced accounting sales reporting.
2. Digital Goods for WooCommerce Checkout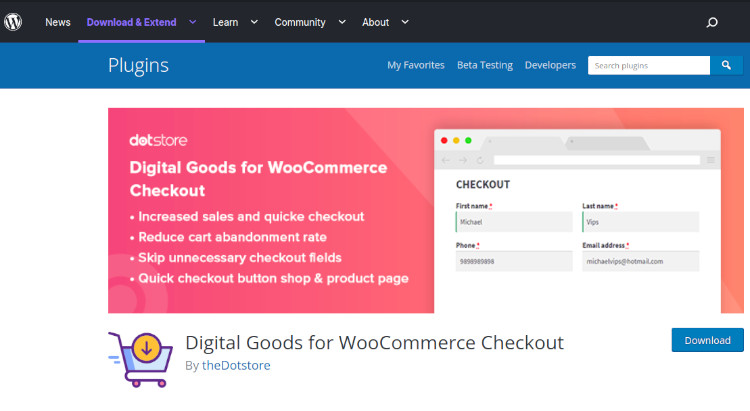 It is a WordPress plugin that enables you to sell digital tools and remove any extra inputs from the checkout page.
You might want to employ custom fields to conceal unneeded fields based on product kinds, product categories, and tags, expanding your capacity to simplify the checkout process and improving the shopping experience for your clients.
You may build a variety of virtual products using this WooCommerce digital downloads plugin, including ebooks, audio and video files, photos, Word documents, PDF documents, and Excel files, among others.
This plugin's modest functionality makes it simple to use and convenient for online goods sales. For instance, only one rapid checkout option would need to be constructed, and it would then just need to be added to the product detail page.
You should also be aware that this plugin can be activated and put to use right away, making it simpler for your consumers to place orders.
If you require the capability, we advise WordPress Simple PayPal Shopping Cart since this plugin does not have a PayPal payment gateway.
Features:
For any of your WooCommerce downloadable products, it provides an easily configurable rapid checkout alternative.
On both the Shop page and the product pages, a rapid checkout option is displayed.
Fields at the checkout that are not necessary can be removed.
The customer experience is improved.
3. Dokan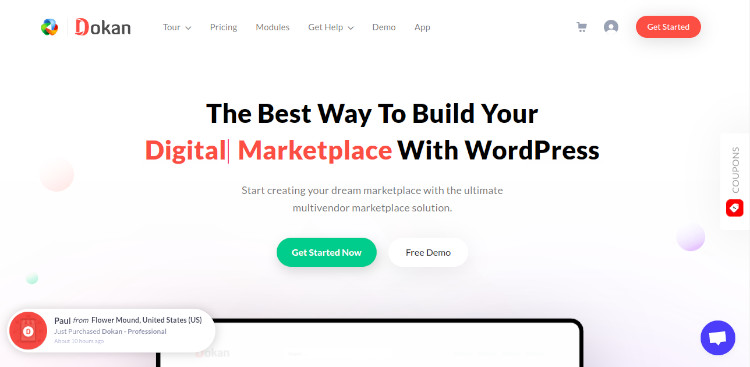 Dokan is a framework for multivendor marketplaces that enables you to build any kind of marketplace, including online ones. A marketplace is exactly what it sounds like: it's a location where numerous vendors can offer their goods, in this case, digital goods.
Your website must be using WooCommerce in order for the plugin to function. However, the two work well together, and soon you will be selling your digital goods alongside those of others.
Features:
Each seller receives a separate store with its own branding and URL.
Vendors get access to the front end of the website, where they may manage their products, monitor customer orders, and withdraw money.
Only the administrator can access the backend and administrative settings for WordPress.
From the front end, create and manage your goods.
Vendors get access from the front end to their sales reports, statements, and overview.
Administrators have the option of filtering orders by sale, date, top vendors, or top earners.
4. WordPress Simple Shopping Cart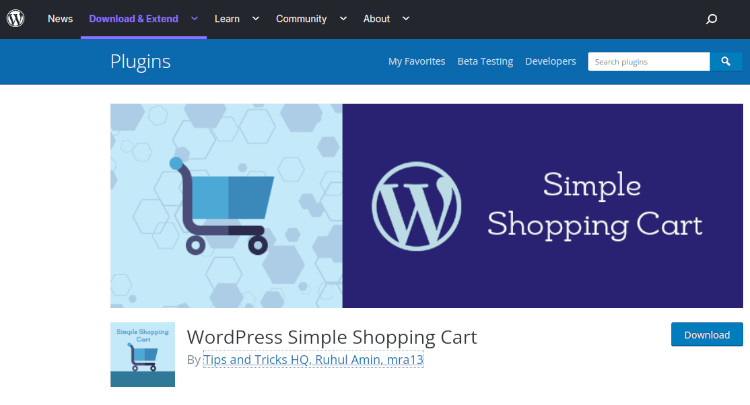 You can quickly add an add-to-cart button to any post or page on your website using the WordPress Simple PayPal Shopping Cart plugin.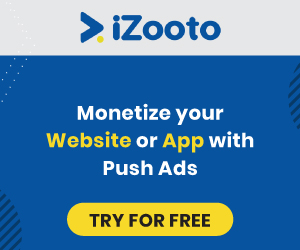 Users' shopping carts can be accessed and modified before finishing the PayPal checkout process by placing a "Add to Cart" button wherever they would want.
Even call-to-action buttons may be added to the sidebar of your website using the free WordPress plugin. Your WordPress website can become a potent sales website with the help of this plugin.
Customers will need to be able to view an image, a description of the item, and the price while using a credit card, so it will be required to develop a cart button that enables this.
Immediately after buying a digital download from you, your consumers will get an email with a link to download the product.
Although it has several advantages, the fact that PayPal is the only payment option and there are no other options is its biggest drawback.
Features:
Use Stripe payments to accept Google Pay, Apple Pay, and Microsoft Pay, in addition to selling subscription and recurring billing items.
With the help of our premium extensions for Facebook and Instagram, you may sell your goods online. Using your WordPress cart to sell on Facebook and Instagram is simple with WP EasyCart.
Along with 30+ SCA-compliant payment providers (including Stripe, Square, and PayPal Express), WP EasyCart also provides GDPR-compliant choices. EasyCart has no issues operating as an international e-commerce cart.
5. Download Monitor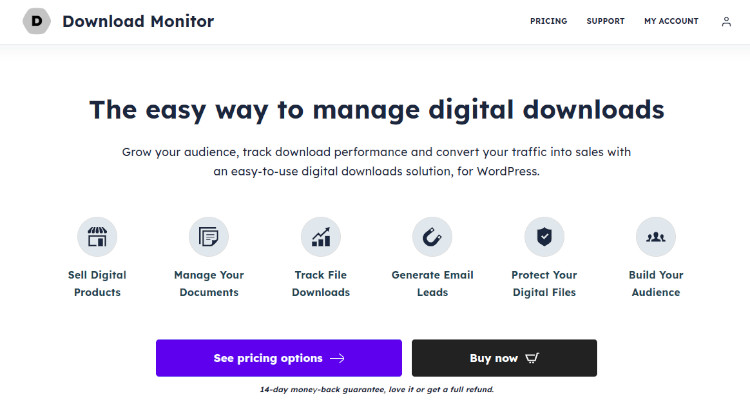 Download Monitor is a simple WordPress plugin that allows you to download digital files. It doesn't have a long list of features, and beginners can use it without any problems. It's the kind of straightforward approach that works.
You have a lot of options with this plugin to manage downloadable files on your WordPress website. You can give downloads on your blog posts or sell them depending on your needs. It has a dedicated block in the new WordPress block editor; thus, it is completely compatible with it. With different tracking options, you can add various versions to your downloadable files. With the aid of shortcodes, you will also be able to show downloads on the front.
Features
It makes managing downloads on your WordPress site simple.
To your download files, you can add tags, categories, and other metadata.
Based on user login status or subscriptions, it may limit downloads.
It is a Gutenberg-compatible format.
6. WP Express Checkout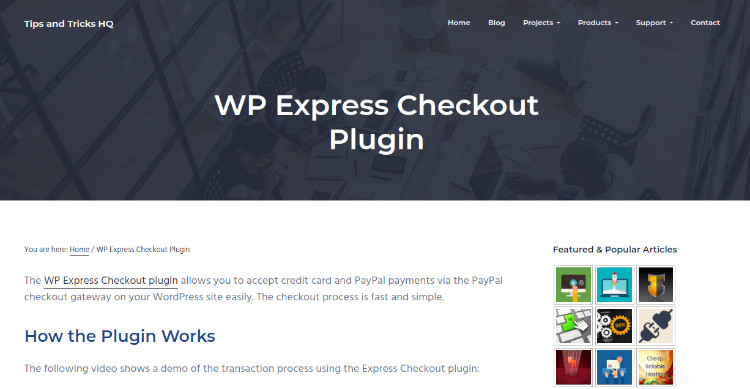 You can incorporate a PayPal payment button and accept a variety of payment methods on your website with the aid of this plugin. The plugin enables the automated download of files after payment is made. The plugin gives a simple way to manage transactions on your site as well as a smooth checkout procedure. Additionally, you will be able to put the payment button wherever on your website with the aid of a shortcode. The plugin's optional feature that allows users to checkout after adding a custom amount is another standout feature.
Features:
On your WordPress website, it may add a personalized PayPal payment option.
It is appropriate for promoting digital download sales.
It offers a shortcode so you can place the payment button wherever you want on the website.
It has configured tax and discount choices.
7. Tutor LMS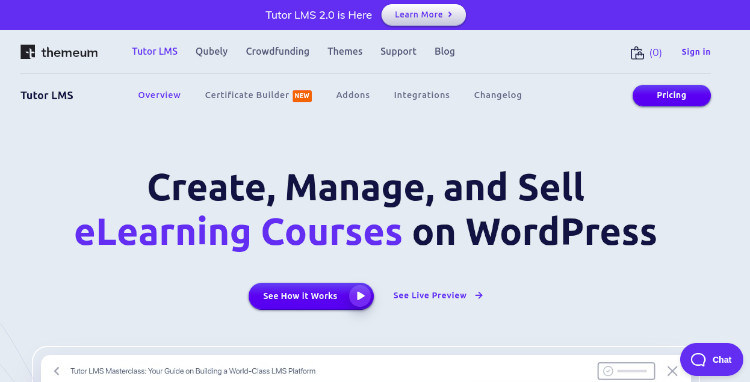 Tutor LMS is a WordPress LMS plugin designed to help you create an eLearning project. It has already established itself as a significant participant in the LMS market, with over 40,000 active users and regular updates.
From the design of the course and quizzes to the incorporation of monetization mechanisms or the issuance of certificates, this feature-rich LMS easily satisfies all requirements for eLearning platforms.
High coding standards are followed by Tutor LMS to guarantee that professional websites can be made at a reasonable cost. It has unique Gutenberg blocks that may be placed anywhere throughout the website. Additionally, it has sophisticated filterable metrics with a unique dashboard for each user.
Features:
The extremely comprehensive drag-and-drop builder Tutor LMS provides makes it possible for non-technical users to create their courses without worrying about frustrating design issues.
The built-in email notification system in the Tutor LMS keeps tutors and students informed of the most recent events. When you have the email notification add-on enabled, you can control the notifications that are delivered to the teachers and students.
Tutor LMS gives its users complete control over their platforms so they may customize them to meet their needs and build interesting eLearning environments.
Teachers and students can connect in a learning community that tutors can establish. To improve students' learning experiences, you can design a learning path utilizing add-ons like Content Drip and Course Prerequisites.
On its website, Tutor LMS has detailed documentation that addresses all common issues and offers simple fixes. For those who like to learn visually, their website offers video courses.
Roundup: The Bottom Line
WordPress plugins offer a fantastic opportunity to implement your digital goods marketing ideas truly. A blog or other website can be effectively monetized with digital products for little to no investment. For instance, photographers and painters can sell digital copies of their creations and market them on social media. To avoid paying fees to online shops like Etsy or Creative Fabrica, you can build a variety of downloadable craft or business designs and sell them on your website. We hope our list of the best plugins for selling digital products will be helpful to you.
Our Recommended Tools for Publishers:
Looking to Increase your Ad Revenue:
Get in touch with me for a personalised consultation and increase your ad revenue across native, display, video (instream and outstream), in-app and other verticals. I also assist in customized DFP setup, header bidding, and content creation strategy. My skype id is:
ronniedey
. Feel free to connect!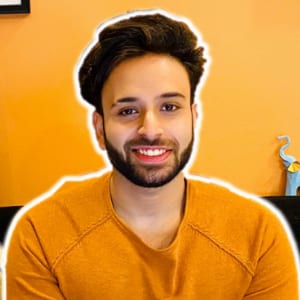 I and my team research various ad networks and can help you increase your overall ad revenue; so you could rake in more greenbacks with the best monetization platforms. Tap into the power of the online publishing business with me. I am just a mail away, so reach out to me if you want to scale up your website revenue. mail: [email protected]