Push notifications are extremely effective and are a must for an advertiser who wishes to expand his reach and sell more. It is extremely important that you use the best advertising platforms that offer to send push notifications. In this article, we speak of one such advertising platform named Push.house.
Push.house is one of the best push and native advertising platforms. Their team is quick to provide help and makes sure that you can easily attract the target audience, analyze the advertising process, and increase sales all over the world. You can get started with them easily and see results in just five steps: Sign up> Create an Ad> Choose a region> Launch your campaign> and you will receive unique users to your ad. In their projects, they create the perfect conditions for effective internet advertising. They provide excellent tools that will help you create campaigns, manage your finances, analyze the advertising spends, and increase your sales.
Why Push Notification Advertising Platforms are Best for Affiliate Marketers?
Push notifications are powerful and effective automated messages that are sent by a website to a user through a web browser or app. They are similar to text messages, but they do not interrupt the user activity and give the ultimate feel to marketing campaigns. The notification reaches the users irrespective of whether the app or browser is open or not. It helps advertisers stay in contact with the users and adds value to the experience. Also, the users get notifications if they have agreed to receive them, so it is in no way annoying and does not hinder their experience.
The whole process of sending and receiving emails is a very long process and requires one to check for emails, send requests to a remote server, and then wait for the information to be sent to the users. This process is not quite useful to users, and they rarely open it and read it. This causes advertisers to wait for long to check the mail. This barrier created by email marketing is eliminated by push notifications. They provide shorter information that the user is most likely to read.
Push notifications are generally more versatile, which makes them an excellent tool for affiliate marketing. With it, you can promote cost per acquisition offers. This is highly beneficial for affiliate marketers because this helps you inform the customers about the products and the deals. This is the first point of contact between you and the user, so you must make a good impression with the text and images. Generally, you would send the offer to a page, and the interested people will convert. But, push notifications change the entire game. It helps expand the reach and grow your contact list.
It helps with customer retention and boosts sales. If you offer various services, this is particularly helpful in expanding reach. With affiliate marketing, you can maintain the value proposition and keep the offers engaging. You can offer deals daily, make weekly or monthly offers across products through push notifications and enhance your base. If you are cautious and do this well, you will create a sales tide for your products.
Push.house Overview: Benefits for Advertisers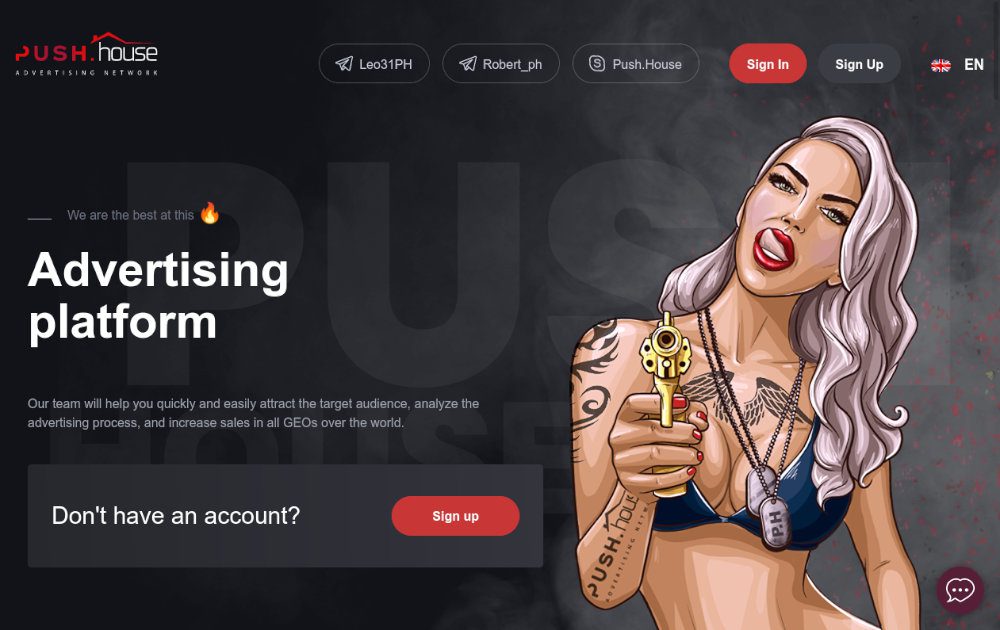 With Push.house, advertisers can get a range of benefits like:
Access to varying advertising formats.
Can get started easily.
Help in creating campaigns.'
Help in the management of finances.
Help in analyzing the advertising process.
Help in increasing sales.
Push.house Review: Native Advertising Formats List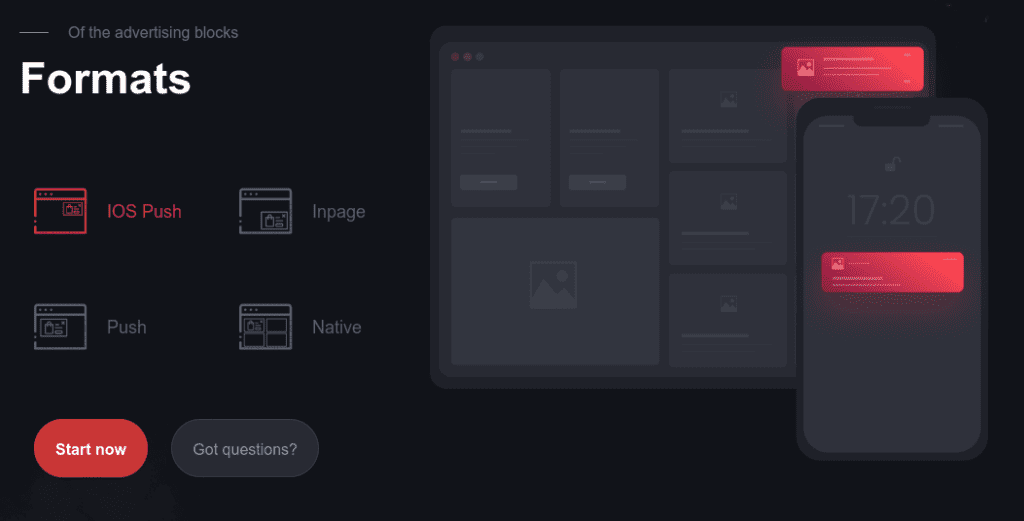 Push.House offers the native look in four formats and provides excellent UX and high CTR.
It also supports all GEOs, devices, operating systems and browsers. The four formats are:
iOS Push
Inpage
Push
Native
How to Signup and Get Started with Push.house?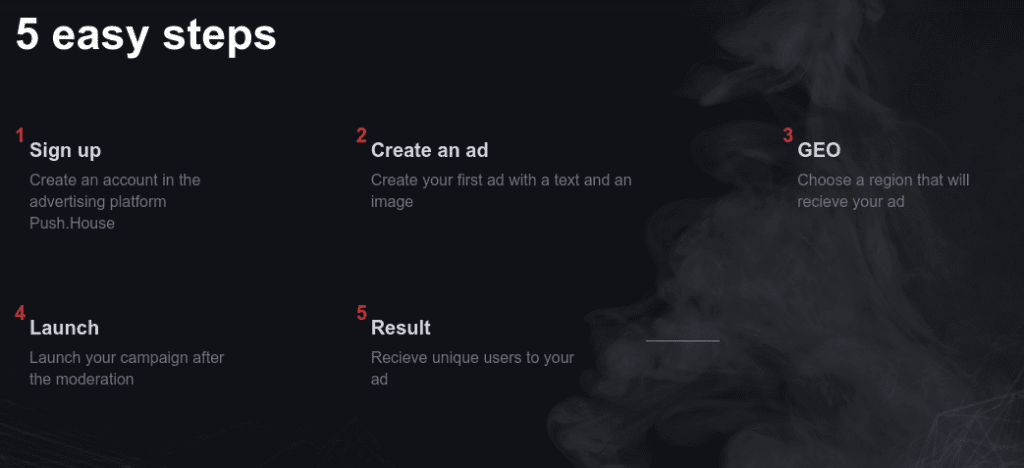 You can go from the start to viewing results from Push.house in just 5 easy steps:
Create an account in the advertising platform, Push.house
Create an ad with text and an image.
Choose a region that will receive your ad.
Launch your campaign post moderation.
Observe results as you receive unique users to your ad.
Push.house Minimum Deposit for Advertisers
Push.House offers all the convenient options, and you can make deposits using Visa, Payeer, Bitcoin, WebMoney, and more. The minimum deposit for advertisers is USD 50 to get started.
Roundup
Push notifications are one thing you must sincerely focus on as an affiliate marketer for your affiliate offers. Push. House is certainly one of the best push notification ad networks for affiliate offers, and you must make good use of it to see excellent results. It provides a range of features that guarantees unique users and the best results.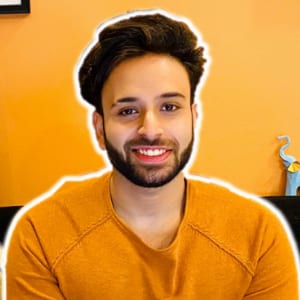 I and my team research various ad networks and can help you increase your overall ad revenue; so you could rake in more greenbacks with the best monetization platforms. Tap into the power of the online publishing business with me. I am just a mail away, so reach out to me if you want to scale up your website revenue. mail: [email protected]