Last updated on April 28th, 2023 at 06:25 pm
Did you know that WooCommerce is the most popular eCommerce platform in the world, powering over 30% of all online stores? WooCommerce should be your first and only option if you're currently using WordPress and considering converting your website into an online store. While WooCommerce is excellent for quickly building an eCommerce store, you can utilize additional WordPress plugins to improve your online store's functionality.
Publishergrowth: The Revenue Acceleration Platform for Publishers
Blognife is elated to announce the launch of Publisher Growth- a community of publishers that helps you actively accelerate your revenue. This platform assists publishers in growing their traffic and revenue. As publishers, you can share and read reviews of ad networks and hosting companies. You can connect with other publishers to build links for growth and monetization hacks and more. This platform will help you stay up to date with the advertising and publisher ecosystem.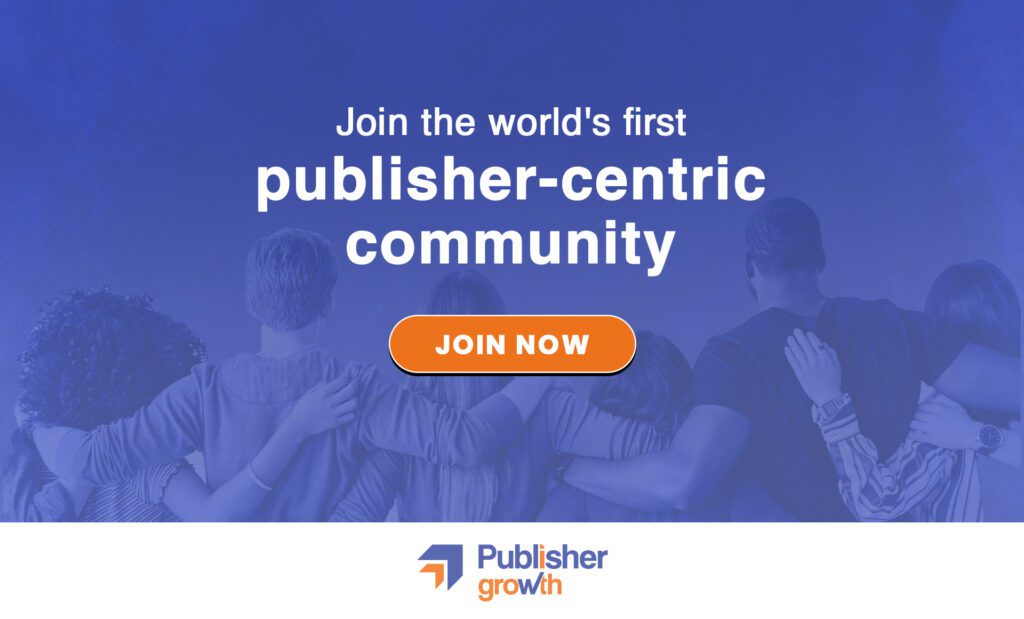 Features:
List of 200+ ad networks to monetize your site across all verticals.
Personalized site audit upon signing up on the platform that can increase your revenue.
Find all upcoming adtech conferences, webinars, and events in one place.
Stay informed with the latest adtech news across the globe.
The shopping cart is a crucial and essential component of the online purchasing process. The best shopping cart plugins can help you improve your eCommerce site and quickly expand your company. There are currently too many shopping cart plugins on the market, which can be confusing. In this article, you will go through the market's top WordPress shopping cart plugins.
Choosing the Best Shopping Cart Plugins for WordPress
The entire purchasing process is crucial in determining whether a customer will buy your product. Users will likely abandon their carts if their shopping cart is unable to provide a positive purchasing experience. Therefore, be sure to consider the following factors while selecting shopping cart plugins for your WordPress: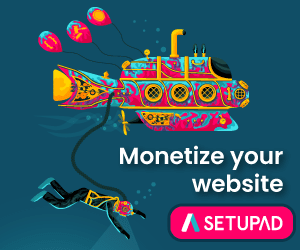 A user-friendly design that makes it simple for your consumers to navigate
Make sure it is mobile-friendly, as most consumers currently purchase on their smartphones.
Compatibility with your page builder and theme.
Assistance with payment gateways.
Security must also be checked.
7 Best Shopping Cart Plugins for WordPress to Try: 2023
1.Woocommerce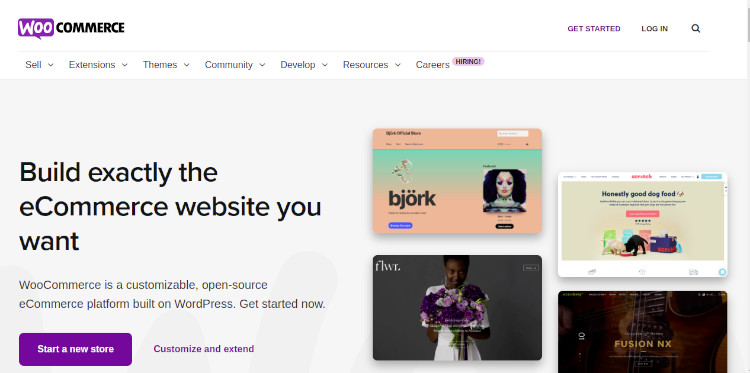 For the majority of users, WooCommerce is one of the best WordPress shopping cart plugins. WooCommerce is the most common way to create an eCommerce store on any platform and is not only the most popular eCommerce plugin for WordPress.
WooCommerce is a freemium, open-source plugin that allows you to sell both physical and digital things on your website. Several different payment gateways, such as Stripe, PayPal, Authorize.net, Amazon Pay, and many others, let you take credit card payments. You can also accept payments offline, such as checks or cash on delivery. You also receive a handy dashboard section to manage the status of your orders after an order comes in.
You can link to a number of shipping providers, such as USPS and FedEx if you're selling actual goods. Any WordPress theme will function with WooCommerce. However, if you require a free WordPress theme for your shopping cart, the developer's Storefront theme is an excellent place to start.
WooCommerce's extensibility and customization possibilities are two more fantastic features. You can find countless add-ons to expand the functionality of your WooCommerce shopping cart because it is so widely used. You may add a quick glimpse of your product to your store with WooCommerce Quick Format Pro, for instance, and WooCommerce Product Table allows you to list your items in a table view.
Features:
By default, you may display many product types, and you can add more using extensions.
A large selection of themes is available to customize storefronts to your business's needs.
Whenever necessary, integrate with more than 100 payment gateways.
It has options for product block customization.
It offers a large selection of extensions that enhance functionality and features.
Support is accessible through online communities and independent maintenance service providers.
2. Easy Digital Downloads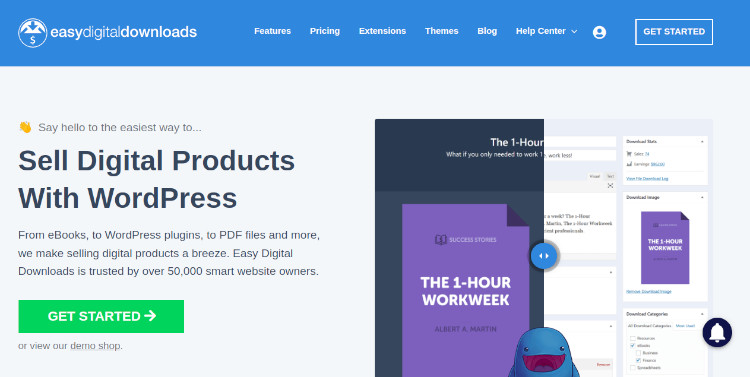 Popular WordPress eCommerce plugin Easy Digital Downloads allows you to offer digital products and services. It works well for things like eBooks, pictures, audio files, etc. However, it is not a good choice for tangible goods.
Easy Digital Downloads can be linked to a number of payment processors, including PayPal and Stripe. When they check out, customers can then select their chosen payment option.
Even though Easy Digital Downloads doesn't have as many additional features, useful tools are still available. For instance:
To accept continuing subscription renewals, use recurring payments.
The Posts Table Pro plugin may let you showcase your Easy Digital Downloads products in a table form.
Use password-protected categories to make portions of your EDD store that aren't visible.
Features
With digital goods, you can quickly establish a product catalog.
A seamless checkout process will provide a positive customer experience.
It provides flexibility in receiving payments through debit and credit cards, digital wallets, etc.
Features for thorough reporting to monitor sales and customers
For your digital items, strong security.
3. Cart66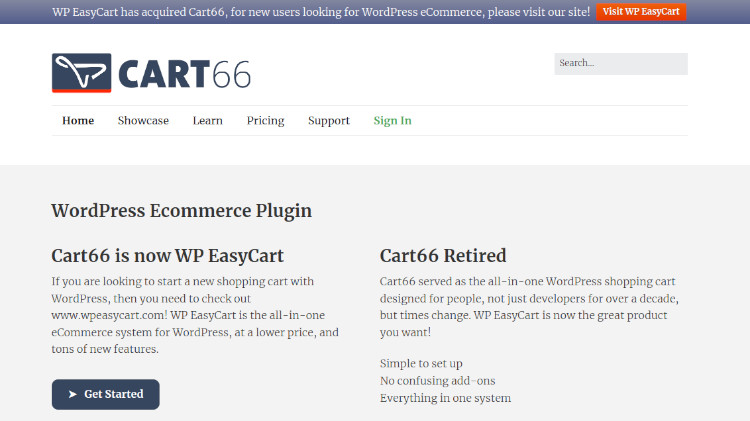 With all the factors that go into a regular purchase in mind, Cart66 for WooCommerce was developed to satisfy all of your shopping cart needs. A WordPress shopping cart makes it simple to control any part of running an online store, such as inventory control or store-level operations.
For the maximum level of convenience and security when selling both real and digital goods, the PCI-compliant payment system is the ideal option. The plugin provides a variety of subscription-based services, digital goods, user memberships, maintenance plans, and other digital products.
The plugin is especially beneficial for business owners who work as writers, dieticians, freelancers, nonprofit organizations, charities, musicians, software developers, photographers, and software marketers. Additionally, no SSL certificates are needed because it supports practically all WordPress themes and plugins. There will never be a need for you to worry about third-party plugins.
Features: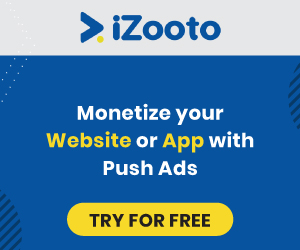 It offers built-in support for more than 100 payment gateways.
It offers a built-in recurring billing engine.
It provides a content delivery network for digital products.
It has a business class and verified mail server to send customer emails.
4. eCommerce Shopping Cart:
WP eCommerce, one of the first WordPress shopping cart plugins to be released in 2006, has since been surpassed by WooCommerce. With specific connectors for well-known couriers, it can help you send products and sync with hundreds of different payment gateways. While WooCommerce continues to receive more development attention and has a far bigger extension marketplace, WP eCommerce is still very much usable for the majority of users.
There are various WP eCommerce-specific add-ons available for functions like memberships and subscriptions, and you can combine them with the Posts Table Pro plugin to display your products in a table format.
Features:
Plugin for a shopping cart with the ability to generate several product types.
Extensions make it simple to add new features and product categories.
Integration with several shipping companies and payment systems.
It has built-in advertising resources.
It supports many WordPress sites.
5. PayPal Shopping Cart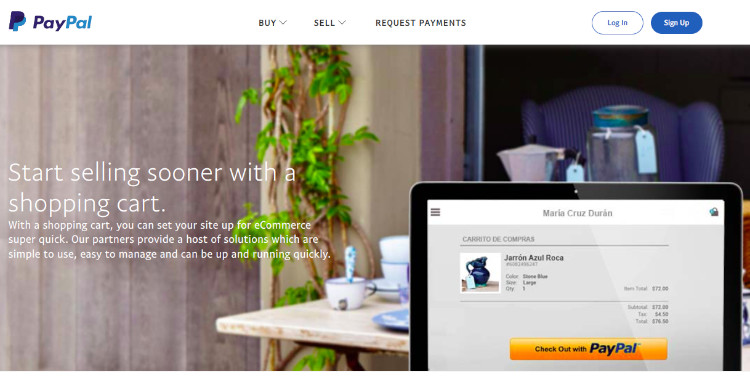 WordPress Simple PayPal Shopping Cart, as its name suggests, can be an excellent choice if you only require a very basic WordPress shopping cart and are content to use PayPal as your only method of payment processing.
The plugin enables you to add your own tangible or digital goods and gives customers the choice of either making a direct purchase or adding them to their shopping carts. Then, they can see the items on a different cart page and checkout using PayPal.
Again, a solid, straightforward solution, although it is less adaptable than many other eCommerce shopping cart plugins.
Features
On your WordPress website or blog, create and display products using shopping cart capability.
You can sell a variety of goods, including tangible, intangible, and services.
Smart PayPal buttons and the PayPal sandbox.
Set up discount coupons, emails for order notifications, etc.
Multisite assistance.
Simple to set up
6. Ecwid Ecommerce Shopping Cart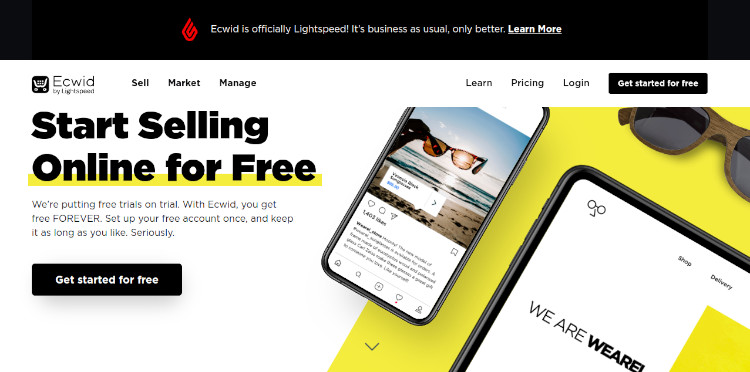 You may incorporate Ecwid, a cloud shopping cart service, into your website using a special WordPress plugin. Once your site is connected, you can control all of your goods from your WordPress dashboard thanks to the straightforward setup process.
This plugin comes with a fantastic widget maker and a cloud-based hosting solution that allows it to keep all of your payment information and information about your online store without needing to upgrade your hosting web system.
This plugin enables you to handle digital and physical sales on an existing WordPress website to conduct online and offline commerce through your website, whether you construct a brand-new website or use one you already own.
WooCommerce is a plugin that millions of users trust, despite the fact that utilizing it with your own hosting service has no advantages for you.
With the help of this plugin, you may manage your inventory and carry out routine business tasks like collecting payments online. Both iOS and Android users can download the app for free.
This plugin makes it more convenient by automatically adjusting your basket's price to incorporate shipping expenses. Imagine, however, that Instagram Shopping is unavailable in your country. In that situation, neither Instagram profiles nor product tags will be accepted.
Features
Complete shipping cart solution for your WordPress website.
Supports a variety of nations, languages, and payment processors.
It readily integrates with well-known shipping carriers.
Option of selling on Facebook and Instagram.
Apps for mobile devices that are free.
unrestricted space and frequent backups.
7. Ecommerce WD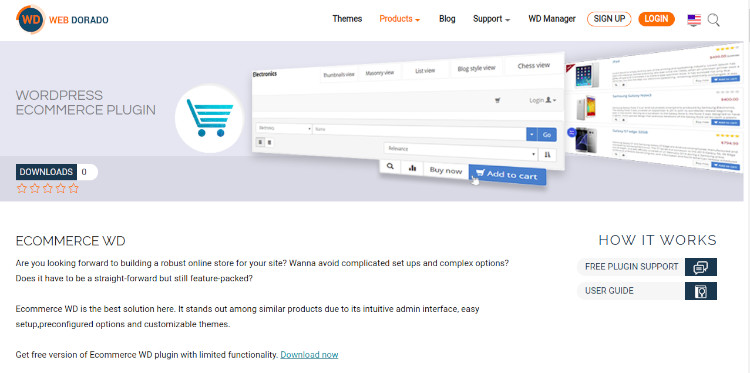 Using this plugin, you may build an eCommerce store that sells various goods, including physical goods and digital downloads. With the aid of extensions, the plugin also makes it simple to showcase uncommon product types like subscriptions or memberships. It comes with a number of choices for marketing, integrating, payment gateways, and shipping. Furthermore, it supports WordPress multisite and provides extensive customization options through hooks.
Features:
Plugin for a shopping cart with the ability to generate several product types.
Extensions make it simple to add new features and product categories.
Integration with several shipping companies and payment systems.
It has built-in marketing resources.
It supports many WordPress sites.
Roundup: The Bottom Line
Selecting the right shopping cart plugin for your WordPress site is one of the most important choices you'll have to make. After all, users will leave a broken or poorly designed plugin that provides a poor user experience. It isn't worth considering how this may affect your financial situation.
Fortunately, modern cart plugins provide clients with more than just a passive means to hold things while deciding whether or not to make a final purchase. These solutions come with polished, sophisticated functionality.
Our Recommended Tools for Publishers:
Looking to Increase your Ad Revenue:
Get in touch with me for a personalised consultation and increase your ad revenue across native, display, video (instream and outstream), in-app and other verticals. I also assist in customized DFP setup, header bidding, and content creation strategy. My skype id is:
ronniedey
. Feel free to connect!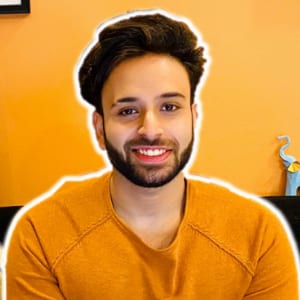 I and my team research various ad networks and can help you increase your overall ad revenue; so you could rake in more greenbacks with the best monetization platforms. Tap into the power of the online publishing business with me. I am just a mail away, so reach out to me if you want to scale up your website revenue. mail: [email protected]