Last updated on July 9th, 2023 at 09:08 am
WordPress AdSense-optimized themes come in a variety of forms and sizes. There are many alternatives in this selection, ranging from blog themes and news website templates to online publication and review website templates. One thing that all of these themes have in common, though, is that Google AdSense may be used to monetize them.
Publishergrowth: The Revenue Acceleration Platform for Publishers
Blognife is elated to announce the launch of Publisher Growth- a community of publishers that helps you actively accelerate your revenue. This platform assists publishers in growing their traffic and revenue. As publishers, you can share and read reviews of ad networks and hosting companies. You can connect with other publishers to build links for growth and monetization hacks and more. This platform will help you stay up to date with the advertising and publisher ecosystem.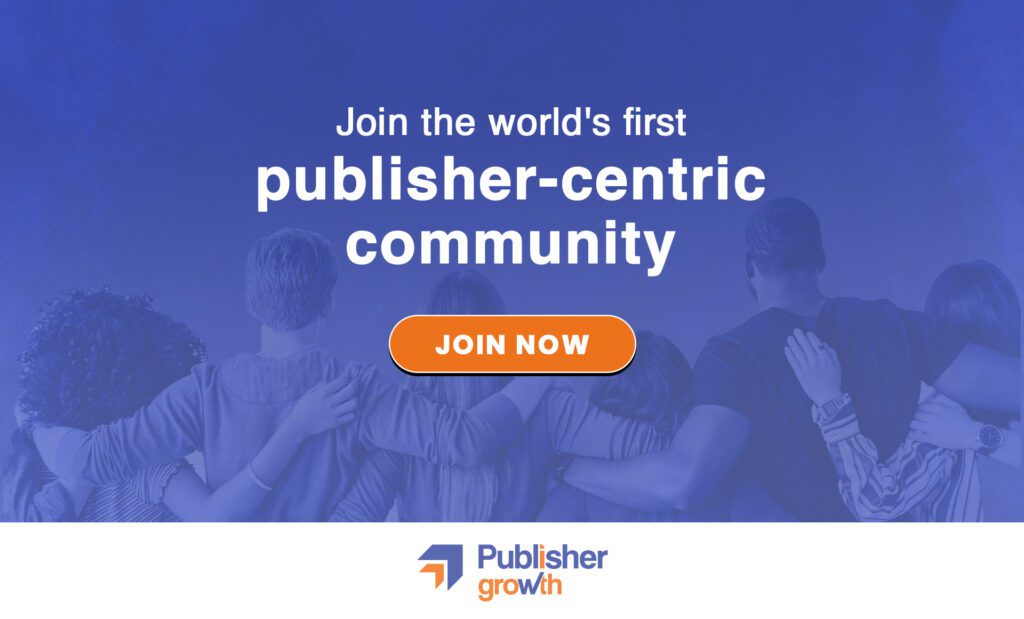 Features:
List of 200+ ad networks to monetize your site across all verticals.
Personalized site audit upon signing up on the platform that can increase your revenue.
Find all upcoming adtech conferences, webinars, and events in one place.
Stay informed with the latest adtech news across the globe.
The management and presentation of Google AdSense advertisements on your website are relatively simple with any of these themes. In most circumstances, you can just type the pertinent Google code snippet into the new control panel for your website. The theme will then take care of placing those advertisements in strategic areas around your website. Selecting one of these AdSense optimized themes will help you enhance your website's earnings by utilizing tried and true ad display alternatives.
Choosing the Best AdSense Arbitrage WordPress Theme
All websites should be optimized for search engines, but AdSense websites in particular. You need to be found in order to earn money. Pages need to load rapidly so that visitors stay on the page and continue clicking.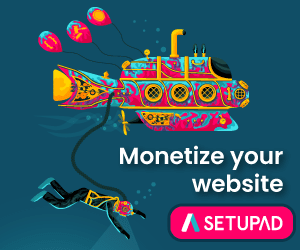 Everything stems from WordPress themes with SEO optimization. Although you can perform some SEO improvements on your own, it will be easier for you if the theme already has some built-in.
All websites should be responsive to mobile devices, but AdSense sites should be especially mobile-friendly. Websites are accessed on a variety of devices; therefore, you need to be as inclusive as you can.
Additionally, you want your advertising to be mobile-optimized so that it will display correctly and have a higher chance of being clicked.
WordPress-powered websites are responsive, but certain mobile-friendly themes provide you with more design flexibility.
WordPress themes are not all created with advertisements in mind. While others can't easily be modified to contain them, others can.
An ideal WordPress theme for AdSense will have a number of ready-to-use ad spots in prominent locations. You just need to add your AdSense code, and you're good to go.
Other themes might have blank spaces where you can manually enter your advertisements. Others will be widgetized, allowing you to display your advertising wherever you choose using WordPress widgets.
A high-quality WordPress theme must also have a consistent look and feel. A WordPress theme that has been optimized for AdSense, however, has a different design objective.
The requirements of your audience and the requirements for money are balanced by an AdSense-optimized WordPress theme. Showing your adverts in areas that are both visible and noticeable, and unobtrusive can help prevent interruptions while showcasing material to captivate the reader.
Although contentious, some websites successfully deploy ad-block detectors. They are bits of code that can determine whether ad blockers are turned on or off in the visitor's browser.
Best AdSense Arbitrage WordPress Themes
1. Arbitrage Theme by Lipode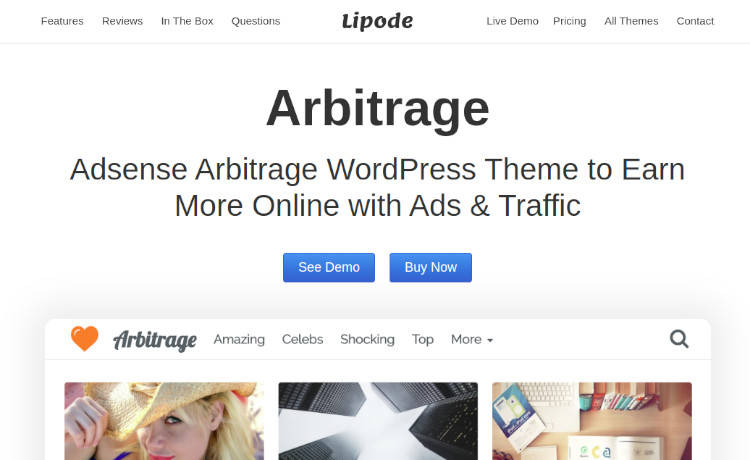 Although this theme is undoubtedly designed for experienced bloggers, no specialized coding knowledge is required to use it. You may establish and manage your blog on your own if you are fully versed in the WordPress CMS. The Live Customizer, which powers this blog design, allows the administrator to simply make all changes while viewing them in a live preview box.
You can alter your theme's color, font style, header, logo image, page layouts, and widgets using the customizer's numerous capabilities. The theme supports "Font Awesome," which includes a tonne of font icons suitable for representing services or other objects. A few interesting aspects of the Arbitrage theme are the "Next Page Button," "Related Posts," and "Share on Facebook" buttons.
Visitors can use these buttons to navigate to the following page or find further articles on the same subjects. And this can be a simple technique to increase your page views. At the bottom of every article is a sizable Facebook social sharing button that readers may use to share your links with others if they think it's worthwhile.
Similar to this, if you look at the header, you'll notice that it has arrows for the previous and next posts, making it simple for users to access other articles. The header has a search widget box, a personalized logo, and a space for custom menus that display helpful links.
Features
To add a link, use the WP menu system. This will enable you to emphasize all crucial category and page template links on the menubar. Your visitors will be wowed by the magnificent mouse-hover effect and speedy menu-dropdown loading due to its elegant appearance.
This theme was created by Lipode using sophisticated code and design principles that load your pages quickly. It will influence your page views in addition to assisting you in improving your ranking with various search engines.
You may still publish reviews and get money using this WordPress blogging theme even if you work as an online marketer. The topic is clearly noticeable to readers because of the featured image and the bold font.
2. Admania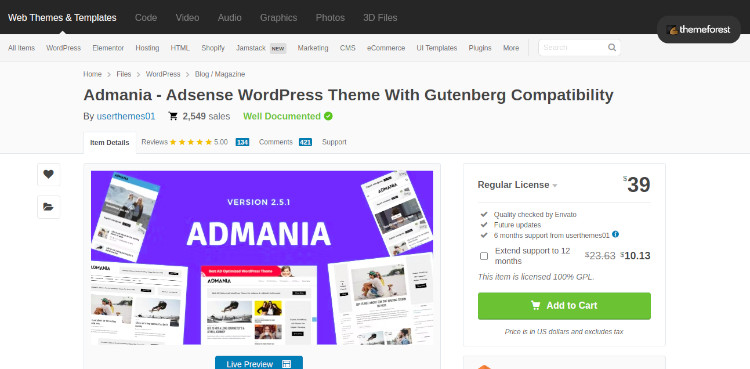 Admania is a WordPress theme with more than 15 alternative layouts, each of which has been tuned to maximize the number of clicks from your audience on your advertisements while still looking fantastic. Admania offers a variety of blog, magazine, and online news portal templates, so you can build any of these types of websites.
All of the blocks included with the default WordPress editor can be used to add practical aspects to your pages because they were created to operate nicely with the new WordPress block editor. Additionally, Admania includes a widget-based homepage builder dashboard that offers you complete control over the design of this crucial section of your website.
The Admania ad manager, which allows you to create and change your ads using a live front-end editor, is one of the site's most intriguing features. As a result, you can preview your advertisements as you work on them instead of having to save the changes in the control panel and then reload the website to see them in action. You may specify exactly where each advertisement appears on your website, including the homepage, blog posts, and other areas, using the ad manager. Additionally, you have the choice of showing sticky advertisements, which guarantees that your revenue-generating material is always displayed.
Admania is a powerful AdSense-optimized WordPress theme with features like an AdBlock and support for ad rotation.
Features
You can put ads in high-conversion areas using 20 ad-optimized layouts that are included with Admania.
By increasing website speed, you can guarantee that your visitors have the best possible experience.
The Admania theme uses a variety of methods to speed up your website load time. For instance, to ensure that the sites load quickly for all of your visitors worldwide, Gtmetrix evaluates your pages in seven distinct global regions.
By using subscription boxes, you may collect your visitors' email addresses and use email marketing to maintain contact with them.
For you to build an e-commerce website, Admania supports the WooCommerce plugin. You can create a store so that site visitors can buy your goods and services using a variety of payment gateways.
3. AdSense Theme by MyThemeShop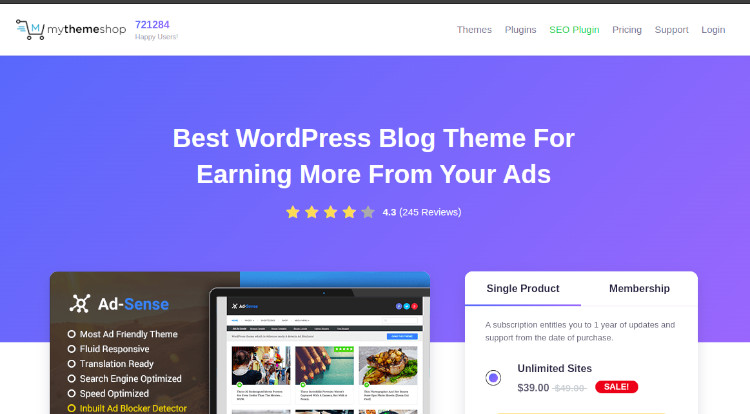 According to its name, the Mythemeshop team (also known as MTS) created the AdSense by Mythemeshop theme specifically for WordPress customers who want to use Google Ads or another CPM advertising network to monetize their websites.
The main benefit of this theme is that it is fully optimized for advertising. As a result, you will find numerous spots throughout the site that are specifically targeted for user clicks. By placing your advertising codes in these spots, you can increase CTR and profit from Google Ads or other advertising networks at much higher CPM/CPC rates.
The powerful Anti-Ad Blocker function that the Mythemeshop AdSense theme has makes it quite handy. It notifies anyone who is using an Ad Blocker to visit your blog and prevents them from doing so until they cease using the Ad Blocker or disable it. The only way to solve this problem is to employ any anti-ad blocker, which is where the AdSense theme comes into action. Nowadays, practically all web users use ad blockers, which means that this is where you lose the majority of your advertising earnings.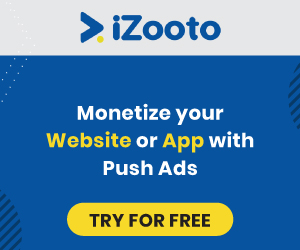 Features
The most well-liked feature in the AdSense theme that helps you turn users who have Ad Blockers placed into Ads-Clickers and prevents them from surfing your website is the Anti-ad Blocking feature. By turning on this feature, you'll be capable of immediately increasing CTR and earning much more money from your website.
Since the AdSense Mythemeshop theme is completely searching engine optimized, your blog will also be, helping you indirectly to rank better in Google and other search engines.
The beauty of WordPress is that you can create a standalone appearance for your blog by just configuring a few variables, whether they are in a theme or a plugin.
The theme has an incredible shop layout and is WooCommerce ready, allowing you to create a stunning online store where you can sell anything, however in order to use this feature, you'll need to use the WooCommerce WP Plugin in conjunction with the theme.
4. Goliath from Themeforest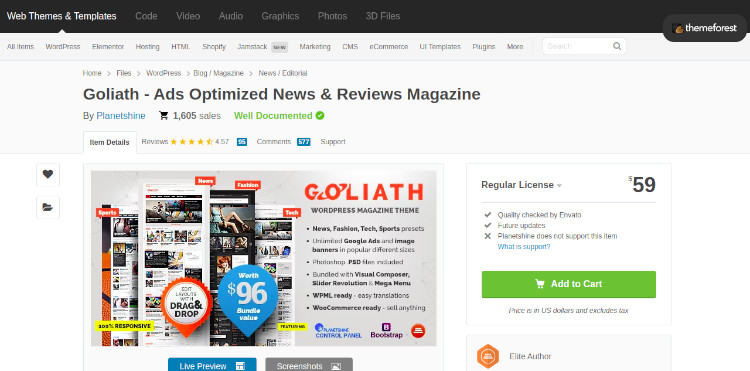 The Goliath WordPress theme is completely responsive and ad-optimized for building stunning magazine websites. Three specific spots on the home page can be used to display Google AdSense or other advertisements, thanks to the integrated control panel. With this theme's Revolution Slider and Visual Composer, you can quickly design layouts that are appealing to your visitors.
A review system, summary capabilities, and improved review display options are all part of the theme bundle. Additionally, this multilingual theme has complete WooCommerce and bbPress compatibility. You may quickly change the appearance of your website because the theme bundle contains PSD files.
Features
Its design is completely responsive for PC, tablet, and mobile versions.
It includes the drag-and-drop page builder Visual Composer.
With the help of the Planetshine Mega Menu plugin, fantastic dropdown menus may be made.
With Revolution slider, you can make the prettiest sliders ever.
5. Astra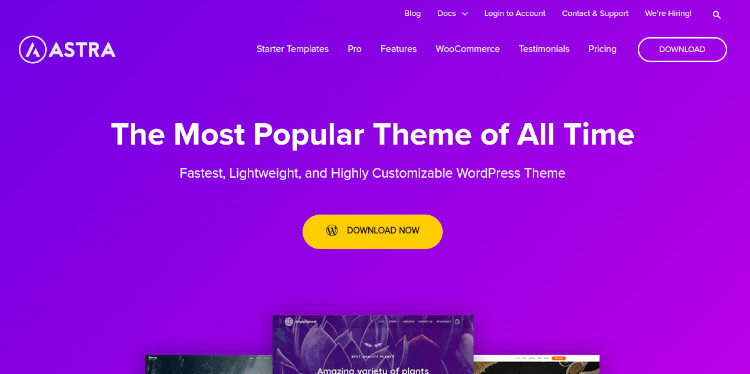 With over a million users, Astra is among the most widely used WordPress themes on the market. It has been made to be both adaptable for those with more expertise and accessible for those new to WordPress. It is light and refreshingly simple to use.
Astra offers a large range of premium templates in addition to a number of excellent free beginning templates. All of them make developing your website easy with drag-and-drop page builders, one-click installation of sample websites, and a selection of premium theme options.
Since Astra loads quickly, it is great for SEO. Additionally, it is adaptable, can be altered to match AdSense ads, and has a theme for practically every market. It will be challenging for you to improve on this!
Features
Astra was designed for speed. It has outstanding performance and is the lightest theme on the market. Even with all modules enabled, Astra loads using standard WordPress data in less than a half-second. It is performance- and speed-optimized from the ground up.
While the majority of other WordPress themes demand at least 300 KBs of resources, this one requires less than 50 KBs.
For someone just starting started, the Astra theme is ideal. In addition to having simple control over the settings in the WordPress Customizer, you can import a whole beginning site for nothing with the Astra Sites plugin.
The team behind Astra has excellent support skills, and Astra is very well coded. It also seamlessly integrates with Beaver Builder, Elementor Cloud, and WP's new block editor, making it a fantastic choice regardless of how you create your content. Through the ticketing system, Astra offers customers skilled, personalized support.
6. Bimber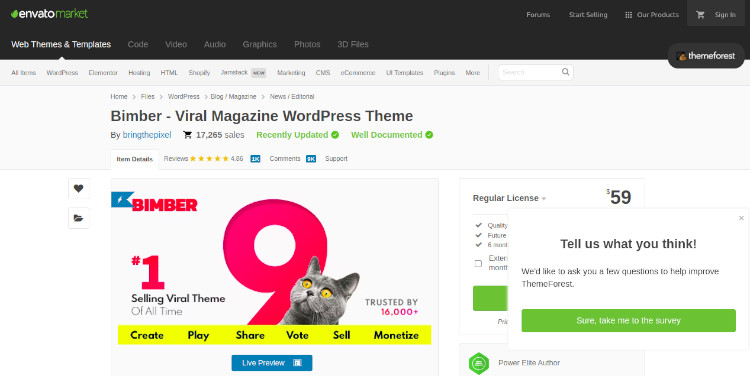 The exclusive magazine theme called "Bimber" aids in the effective launch of a website in just 24 hours. Since Bimber is a popular theme, the website that was made with it is equally popular. Bimber is one of the most popular WordPress themes available for usage by bloggers and officials. It offers the user a wide variety of demos with varied features that can be combined. Main, Celebrities, Smiley, Wall, BadBoy, Minimal, Gangster, Music, Geeky, etc., are just a few of the many demos available.
Features
The Bimber theme is marketed as a thin aggregator theme. They are a "viral & buzz theme," according to its marketing.
The date, location, and testing equipment all have an impact on the test findings for Bimber speed reports.
Today, 2.3M or so make up the average weight of an Internet page. These test reports didn't make use of any demo pages that big. Additionally, it seems that aggregator websites have more than 4M files on each page, which is beyond average. This lessens the likelihood that mobile users will have good speed (sub 2 seconds).
Bimber commonly appears in posts about quick WordPress themes. Fast is relative, of course.
7. Boombox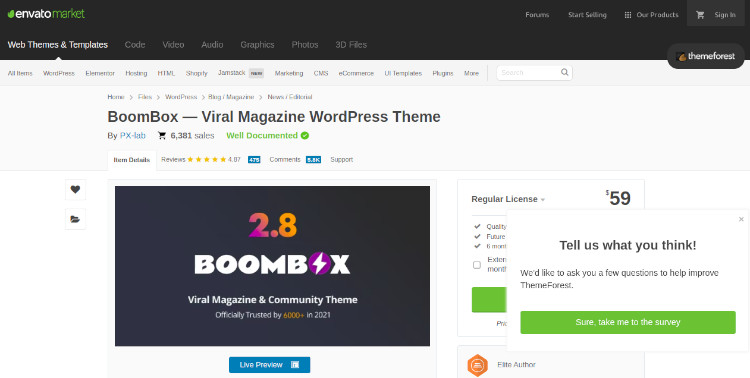 Boombox is a versatile, well-designed viral magazine theme. One of the most customizable themes ever is this one. Currently, there are 14 demos available, and the team is always adding more.
Boombox includes full integration with the AdSense Plugin WP QUADS PRO, saving you $55 in total. Not bad. As a result, you now possess the most effective solution that integrates quickly with Google AdSense and a variety of other advertising systems.
It is quite simple to integrate any of your chosen designs on your Boombox-powered website, thanks to the abundance of importable examples. The theme also includes a few exciting features like BuddyPress for a large community, Mycred support, which provides a point-based structure for the customers, Gamify to allow a ranking system, and Zombify to facilitate frontend content submission.
Features
The theme's code has been built to be SEO-friendly and semantically correct.
It offers an easy-to-use demo export feature and thorough instructions.
They have a helpful FAQ section and prompt, courteous support.
The development team delivers updates often and is always available for communication.
The Bottom Line
It might be difficult to get Google AdSense set up, especially for novice bloggers. Fortunately, this procedure gets a little bit simpler with the correct WordPress theme.
Themes like the ones above may be useful later on when you're gathering enough traffic to combine with AdSense or another ad network, even if you don't have any immediate plans to monetize your content.
Finally, by strategically arranging adverts so that they blend in with the user experience rather than interrupting and detracting from it, these themes not only save you time and work but also keep your clients pleased.
Our Recommended Tools for Publishers:
Looking to Increase your Ad Revenue:
Get in touch with me for a personalised consultation and increase your ad revenue across native, display, video (instream and outstream), in-app and other verticals. I also assist in customized DFP setup, header bidding, and content creation strategy. My skype id is:
ronniedey
. Feel free to connect!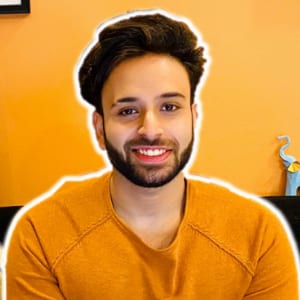 I and my team research various ad networks and can help you increase your overall ad revenue; so you could rake in more greenbacks with the best monetization platforms. Tap into the power of the online publishing business with me. I am just a mail away, so reach out to me if you want to scale up your website revenue. mail: [email protected]