Last updated on April 30th, 2023 at 12:33 pm
Making money online is not a big hassle these days; once you register your website on google Adsense. However, is it easy, you ask? NO! Google Adsense comes with a lot of restrictions, and the ad formats are not that versatile.
This is where Monetag steps in. With Monetag, web publishers and online marketers can use comprehensive ad serving and optimization technologies that provide complete, industry-leading results. With several striking features, Monetag is one of the best alternatives to Google Adsense. It is considered one of the best adtech services because of its features, such as instant account approval and multiple advertising solutions.
This blog offers a thorough analysis of Monetag, highlighting all of the features that make it one of the top adtech providers.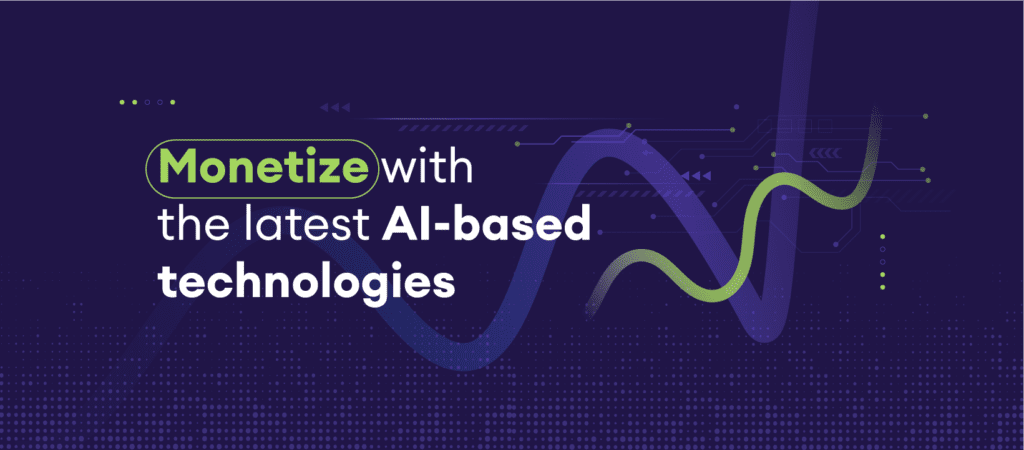 Who can earn with Monetag?
With a whopping 80% profit of all the ads displayed, Monetag is one of the most sought-after choices for publishers, including-
Website Owners– For budding bloggers, Monetag would be an ideal choice. No hiccups of google Adsense, easy registration on Monetag, display ads on your website, and start making money.
Domainers– With Monetag advertising your owned or published domains gets easier, reaching a larger audience of potential buyers/traders.
SEO Masters– Monetag can be an excellent instrument for all the SEOs out there. They can leverage the advertisement services to improve their sites' visibility on search engines and other websites.
Social media marketers– It is needless to say how efficiently Monetag leverages a website's audience and helps social media marketers reach a larger audience. Increased turnover is a result of better and more effective advertisements. Thus, Monetag is a no-brainer for social media marketers.
Ad networks, Brokers– They monetize their audiences by using Monetag's SmartLink solution.
Plugins/ Extensions– Make your plugins, get them approved on Monetag, and display relevant ads to earn money! Doesn't that sound fantastic? Using Monetag, developers can easily earn money through advertising.
Mobile apps and apks – Generate revenue through your mobile applications! Mobile application developers are all around, and popping up ads in their applications is very common. Using Monetag can be a great start at incorporating advertisements in their applications.
Monetag: List of Ad Formats
Because of its excellent advertising formats, Monetag is one of the most popular adtech services. For publishers, it is essential to know which ad format is best for boosting engagement and growing turnover is necessary. One of the most used ad formats is OnClick Pop-under Ads; let's have a detailed understanding of it.
Popunder (OnClick) Ads
OnClick Pop-Under Ads is considered the 'all-time best performer'' among all other existing advertisement formats. This format is based on the CPM (Cost per mile) model- the most profitable ad solution.
In a case study by Monetag, it was found that OnClick advertisements combined with other formats result in a super engaging advertisement combination.
While OnClick gives a comprehensive summary/description of the ad, push serves as a reminder, complimenting each other. Additionally, consumers will receive Push Notifications even while they are not surfing. All of these factors encourage customers to return to your website and, by extension, your monetization strategies.
Ads appearing under the main page in a new tab are called pop-under ads (also known as clickunders). Whenever a user clicks on a page, our Popunder ads appear. Your visitors can bypass banner ads by clicking on such ads and be taken directly to a site or landing page. As a result, popunder ads are displayed whenever a user clicks anywhere on the page.
Other Ad Formats
In addition to the OnClick format of advertisements, listed below are two others that are widely used.
Vignette Banner – Soon after beginning to browse a website, you could see these little banners that appeared in the page's center. They have a brief header and explanation, Close and Call to Action buttons, and they resemble native banners. Vignette banner is the name for this type of advertisement.
SmartLinks – They are one of the best audience monetization alternatives for publishers. This Ad format can help the publishers generate revenues and allow the optimization team to choose the most profitable offers based on your niche.

Benefits of working with SmartLinks:-
You can place multiple links on one page.
They do not require manual sorting or necessary offer testing.
You can use the links to place your banners, text, or buttons.
Multitag- a new AI monetization tool
For publishers, it is often a hard call to take which advertisement format to choose to leverage the website audience efficiently. With Multitag, you don't have to worry about this because it determines the perfect ad format for your website, taking into account the type of website and the type of audience to monetize your website more effectively.
Benefits of Using Monetag for Publishers
Why Monetag, you ask? Here is a list of reasons to answer your question.
No Minimum audience Requirements: There are no minimum audience requirements. Thus, small publishers can also start monetizing their websites with a few visitors. This encourages the publishers to improve their audience while they earn.
Variety of Payment Options: When it comes to payment options, Monetag offers a variety of options like PayPal, ePayment, Wire Transfer, WebMoney, Payoneer, and Skrill to its publishers for getting their payments.
Low Payment terms and threshold: In the updated payment policies of the company, the minimum payment threshold is reduced to $5 with a flexible weekly, biweekly payout on Thursdays, boosting the confidence of small publishers in the business and the company
The Most Beneficial Ad solutions – Popunder, Push Notifications, In-Page Push, Vignette Banners, Interstitials, and SmartLinks
Solutions for mobile web – Profit from the best mobile web SDK and APK monetization formats. Revenue-generating and easy to integrate!
A wide range of integrations – Use a variety of integration techniques (such as API, XML, and Smartlink) for major vendors, agencies, ad networks, and exchanges.
Real-time Monitoring: The self-serve platform of Monetag allows rapid onboarding and real-time reporting to the publishers to monitor their success.
Referral Scheme: The publishers get extra income when they refer Monetag to their colleagues.
AD Block Bypass: The ad blocker software used by Monetag increases the revenue by 20% as the ads remain non-intrusive due to their relevance to the users.
Global Coverage: 100% of your audience can be monetized! There is a massive variety of advertisers in every country and every niche, so no impressions are being wasted.
Clean-Ads Only: The ads are manually moderated 24/7, so there is no chance that any obscene content reaches the viewers.
Dashboard overview
Getting started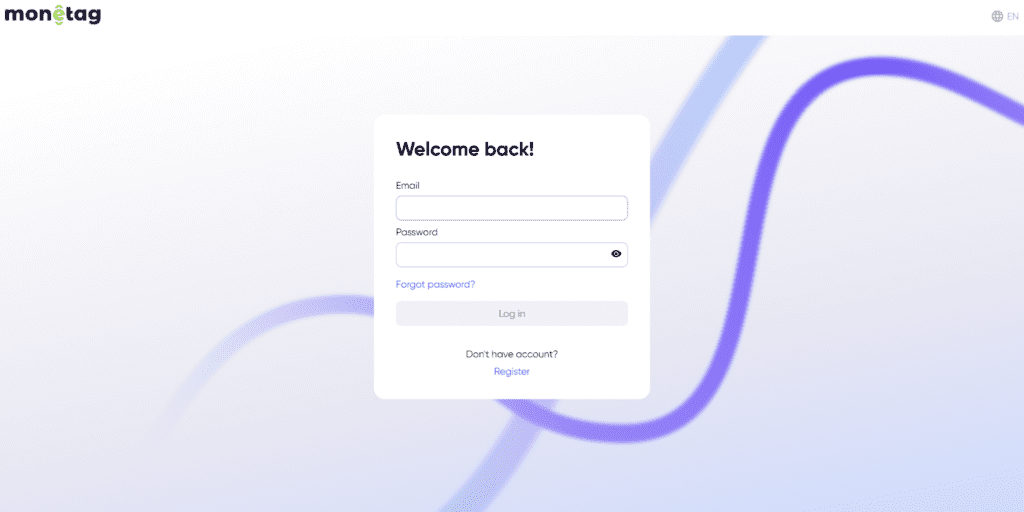 If you are new to Monetag, sign up as a new user by entering your personal details, contact information, and website details to access the dashboard.
Activate the account and log in to the dashboard using your login credentials.
Upon reviewing the terms and conditions of Monetag, you can access the dashboard.
On the dashboard, publishers may add their websites, and the ownership of the website is verified by adding a Monetag tag to the website.
Once the publishers are verified, they can continue adding their site/sites.
A new site can be created by clicking on Site>Add New Site>Verify the site.
After verifying your website, you need to create and place codes on it, and then you will start receiving the stats for the same.
Statistics Section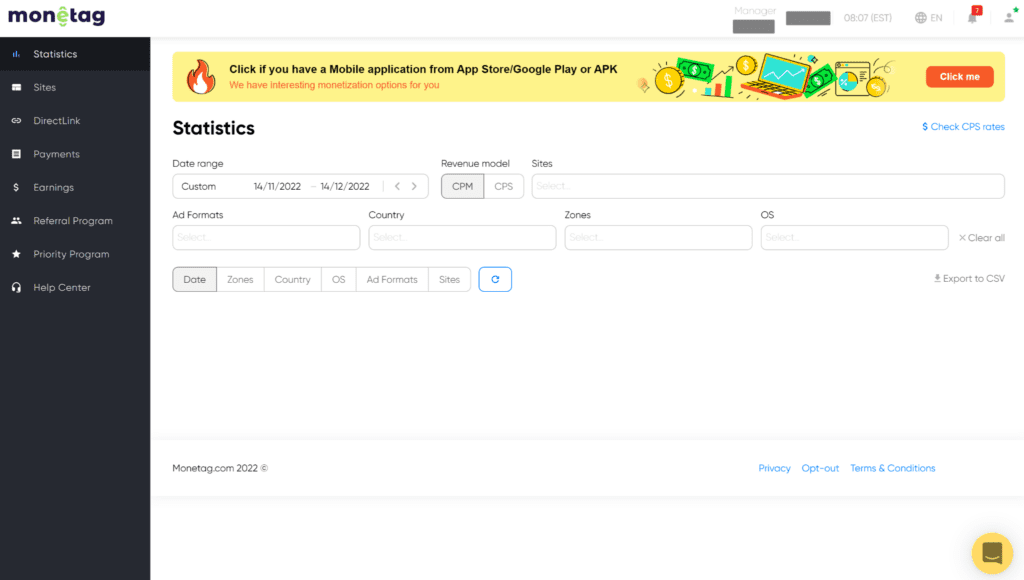 This section shows you the statistics from which you can infer how your audience is performing, allowing you to analyze which part of the audience needs a boost!
The platform allows you to select/filter the stats based on the data you enter and organize it using AdFormats, Country, Zones, Os, etc.
The leading indicators of the website include:-
Ad Impressions- The number of times the customer viewed the Ad.
CPM- It's your profit for every 1,000 impressions.
Profit- Your profit on a particular date.
CPS – The Cost Per Subscriber revenue model. In this, you get paid for every push notification subscription.
Zone-It allows publishers to extract information from push notifications, popunders, multi-tag, etc.
OS-In this field, you can select from 12 desktop and mobile operating systems. It helps you to optimize the website and make it more user-friendly.
My sites section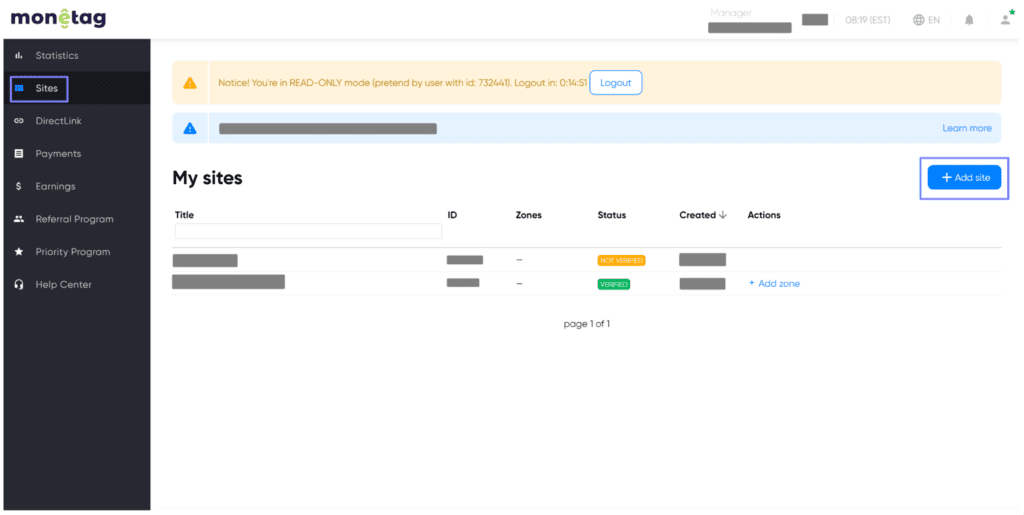 In this section, you can add sites and check out all your published sites in one place.
A new site can be created by clicking on Site>Add New Site>Verify the site.
1. Go to Sites view: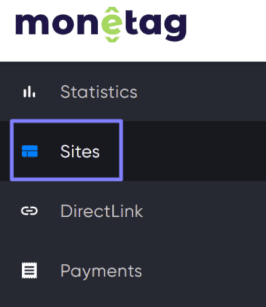 2. Add your new website

3. Choose one of the verification methods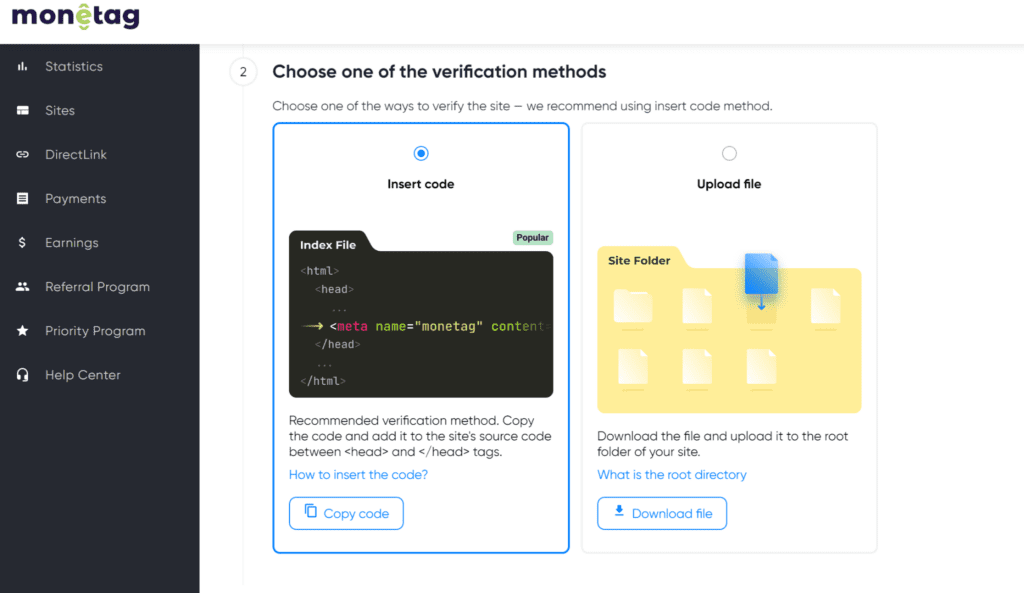 Payments Section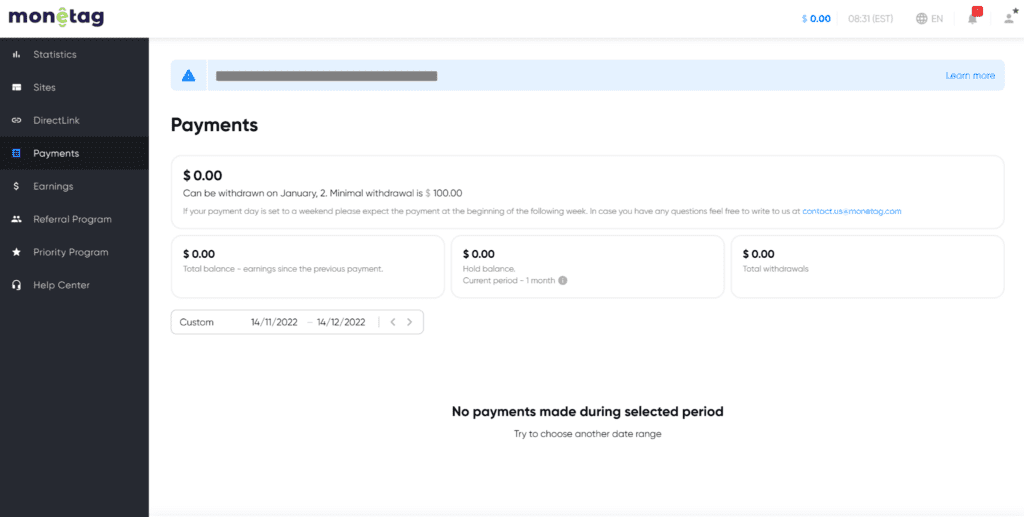 It supports multiple payment options. You can go to the Payment Methods sections and select the one that suits you best: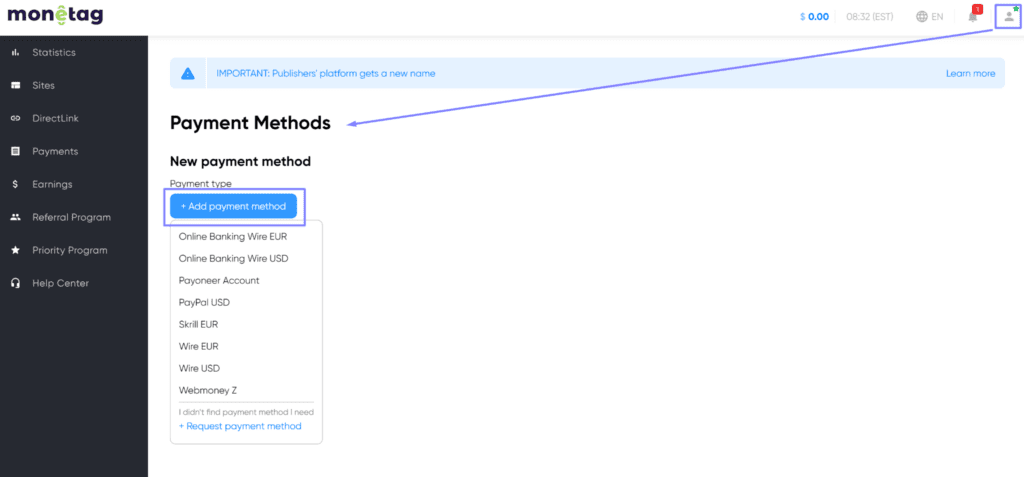 You can even suggest the payment method you like most, if not already in the list:

Earnings Section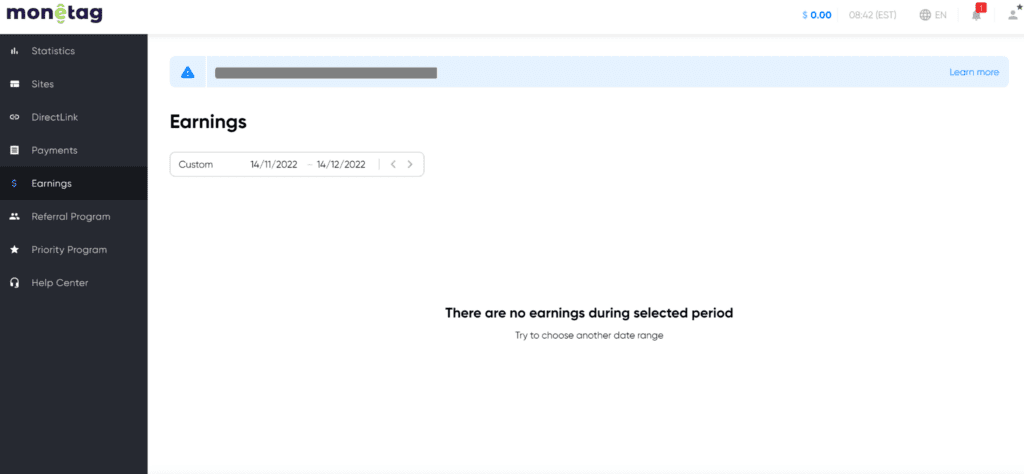 All your earnings show under this section
Referral Section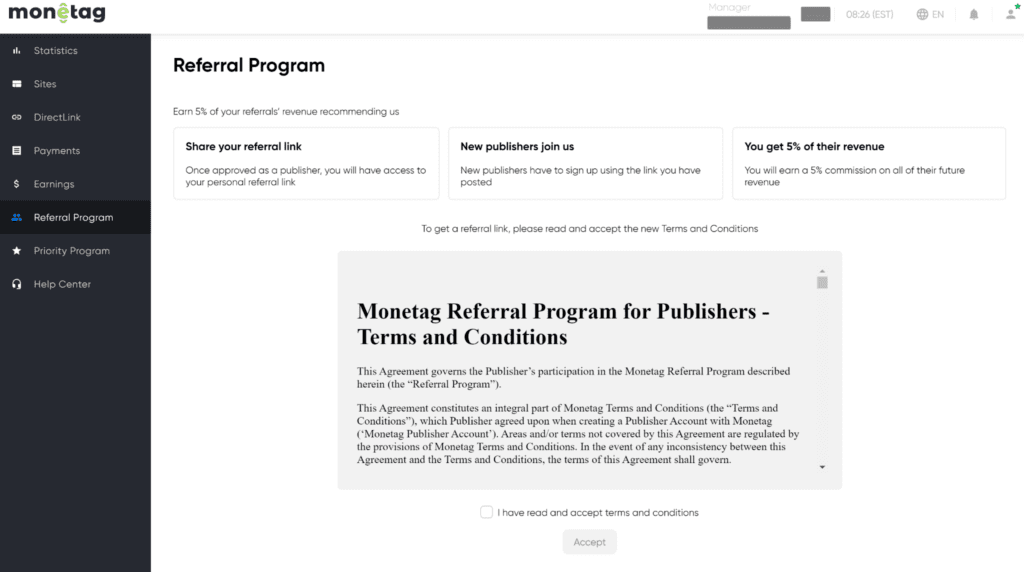 Whenever you recommend Monetag to any of your friends or colleagues who join Monetag using your referral code, you get 5% of the revenue!
So don't forget to recommend Monetag until and unless you don't want the perks.
Monetag Priority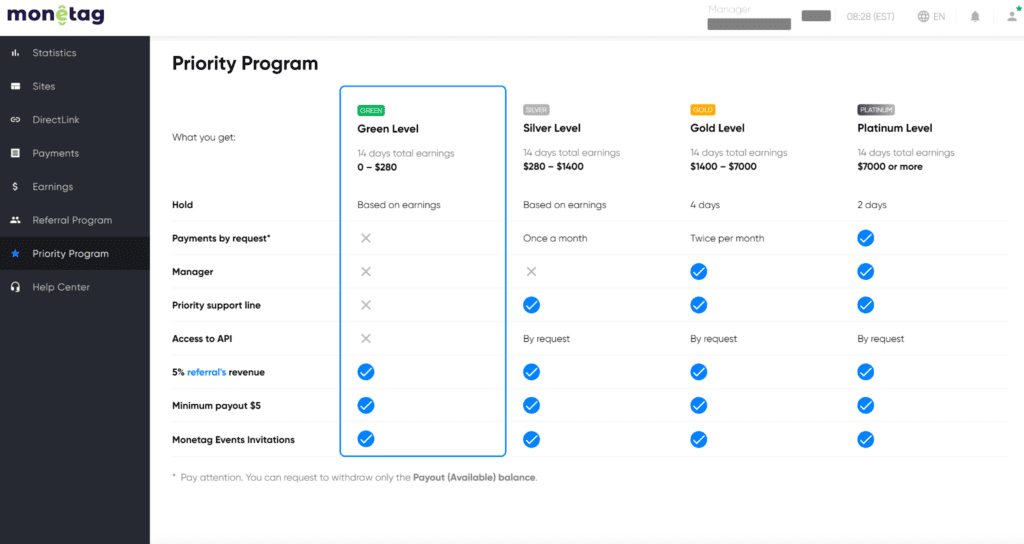 A program designed to reward devoted customers!
It is a membership that connects you to a massive community of publishers and affiliates where you can grow your network and learn through various premium meetups and webinars.
Monetag payment info
To roll out payments, the publishers must reach a minimum payment amount. It is generally $5, depending upon the payment method.
Publisher income is paid by Monetag using a net 30/hold 30 arrangement.
In that case, a publisher's payment is held for a month after he achieves the minimal threshold.
All transactions are handled automatically. Publishers with validated websites and 10,000+ unique daily users can get weekly payments.
Monetag CPM rates
Before we get into the CPM rates, let's understand how CPM is calculated.
Amount of Visitors = (Total Cost / CPM Bid x 1000) x CTR ( Clickthrough rate)
Cost Per Visitor for CPM model = Total Cost / Amount of Visitors
Although the CPM model might be risky as it depends on CTR, which varies for every advertisement format, it is highly profitable. Basically, your creatives are what will make or break it. You may achieve good outcomes at an affordable price by using high-performing creatives. Coming to the CPM rates, it's variable.
Bottom line
Monetag proves to be an excellent platform, curating top-notch features for publishers.
With its simple approval procedure, real-time reporting, and reduced payment barrier, Monetag is one of the best alternatives to Google Adsense.
In conclusion, if you want to monetize your website audience, you now know where you need to Sign Up!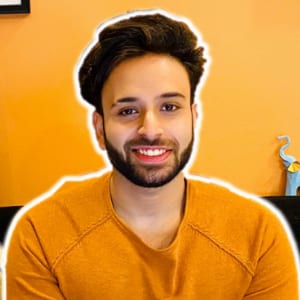 I and my team research various ad networks and can help you increase your overall ad revenue; so you could rake in more greenbacks with the best monetization platforms. Tap into the power of the online publishing business with me. I am just a mail away, so reach out to me if you want to scale up your website revenue. mail: [email protected]