Outbrain is one of the fastest native content recommendation networks that helps you drive traffic to your website. Outbrain offers customizations which can meet all your content needs for your business. Also, the powerful insights tool help publishers manage most of the content recommendation on their site. Native advertising is growing and gaining huge momentum since it can work well for most strategies. Also, the advertisements look user-friendly to the visitors and are not blocked by ad-blockers. This has given native advertising a huge push and number of marketers are using native ads to promote their campaigns, increase their ROI or simply enhance their brand awareness. Apart from Outbrain, there are a number of other content recommendation networks which can be considered as Outbrain competitors and marketers can use these Outbrain alternatives to drive traffic to their site.
Why Consider Outbrain Competitors while Thinking of Content Marketing?
The entire ad industry works on something called 'bid requests' that is served when an eligible opportunity is found. Higher the number of advertisers bidding for a particular traffic, higher will be the cost per click as the CPC for these requests go higher. So, depending upon the number of available advertisers, your CPC rate will be determined and the traffic estimates will be calculated. Now for instance, if you're using a native ad network to promote your campaign which has less number of advertisers for the same targeted audience, you will automatically be changed lower than the current rates. This is where Outbrain competitors can be handy since they have lower CPC rates than Outbrain for every click and can drive you higher revenue and conversions for the same volume of investment, thus increasing your return on investment. Thus we recommend reliable Outbrain competitors to marketers who are looking to experiment their traffic acquisition sources.
1) Taboola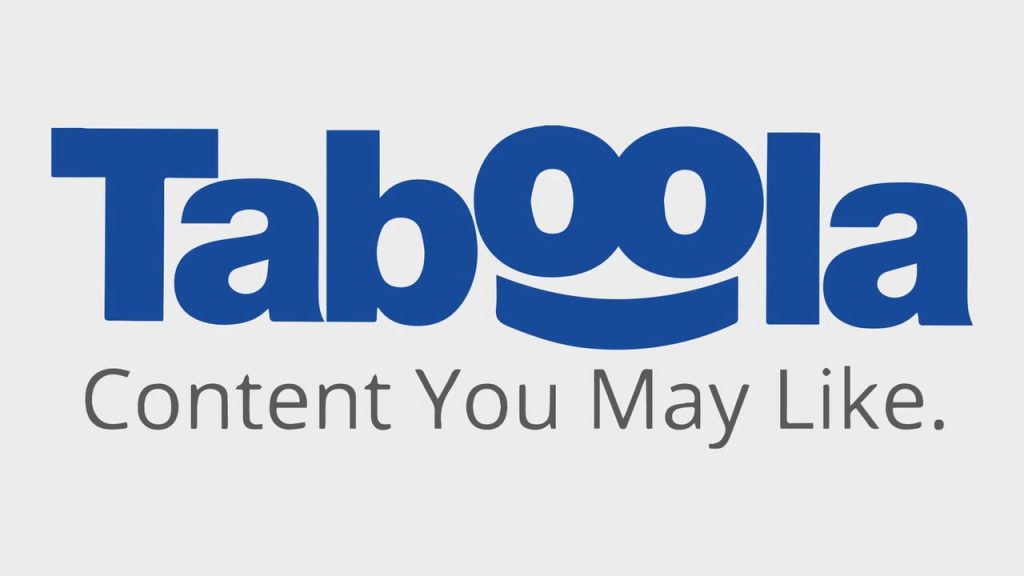 Taboola has grown beyond the US in terms of traffic acquisition and have a number of premium agencies and clients who are using their backstage to increase ROI and brand engagement. Taboola is trusted by some of the top brands in the industry like Nissan, Whirlpool, Match, Expedia, etc. Also, some of its top publishers include NBC News, Daily Mail, Tribune, USA Today, Business Insider, etc. to name a few. So, if you're looking for band engagement campaigns and have premium video ads, you can use Taboola network of publishers to share your video ads for better engagement. The rates charged by Taboola is in comparison to Outbrain but can be a bit higher at times because of premium partnerships  
Taboola CPC Rates: You can set your maximum CPC with Taboola which is normally in the range of USD 0.15 to USD 0.20 for US traffic. Although you can set a minimum CPC of $0.01, it is highly unlikely you will be getting clicks for one cent if you're targeting strong geo and higher quality traffic.
You can set the minimum CPC bid here and also can update your spending limit while creating your advertising campaign.
Taboola Minimum Spend:  The minimum spend is something that will be discussed and once you freeze the amount with your account manager, you should be able to set the minimum spend. You can set your budget pacing according to your wish and can learn more about it from here. Taboola has been one of Outbrain's toughest competitors and continues to remain so in major marketers outside the US.
2) AdWords
Google, through its advertising platforms like AdWords and Doubleclick Bid Manager, allows advertisers to purchase native advertising inventory on selected publisher sites. Also, the recent launch of matched content, in-feed native ads, and in-article native ads have provided an increased inventory of native advertising to advertisers who are bidding on CPC ads via Adwords. So, if you have a target audience set in mind and are willing to use AdWords to initiate the campaign, then it is definitely doable if you fix on the CPC pricing in mind which is equal to that of Outbrain.
Adwords CPC Rates: The CPC rates for display native ads can be anywhere around $0.15 and above for US traffic. However, if you're targeting Adwords search ads, the CPC rates can go up and higher to USD 0.50 and above based on your targeting keyword and audience set. Also, since the click-through rate determines a great deal of your CPC pricing, it is important to make sure that you have a CTR which is better than most ad creatives so that you can maintain your CPC rates at an optimized level.
Adwords Minimum Spend: There is no fixed minimum spend for Adwords which is a good thing for new marketers. Also, you can get discount vouchers which will help you get started with Adwords advertising. If you're planning for a better ROI driven campaign and have an extremely niche audience, the Adwords can be the choice for native advertising along with Outbrain. Undoubtedly, Adwords finds itself in one of the top Outbrain alternatives and should be definitely given a try by major marketers.
3) Spoutable
Spoutable is a network that can help advertisers increase their return on investment by showing targeting ads to people who are looking to exit a website. The ads are shown by Spoutable results in 2-3x higher engagement level for advertisers than other content marketing platforms – which results in more loyal traffic and HIGHER ROI. Spoutable is recommended to marketers who want to increase their traffic presence on their website and also work on traffic arbitrage techniques to further increase traffic and revenue of the existing website.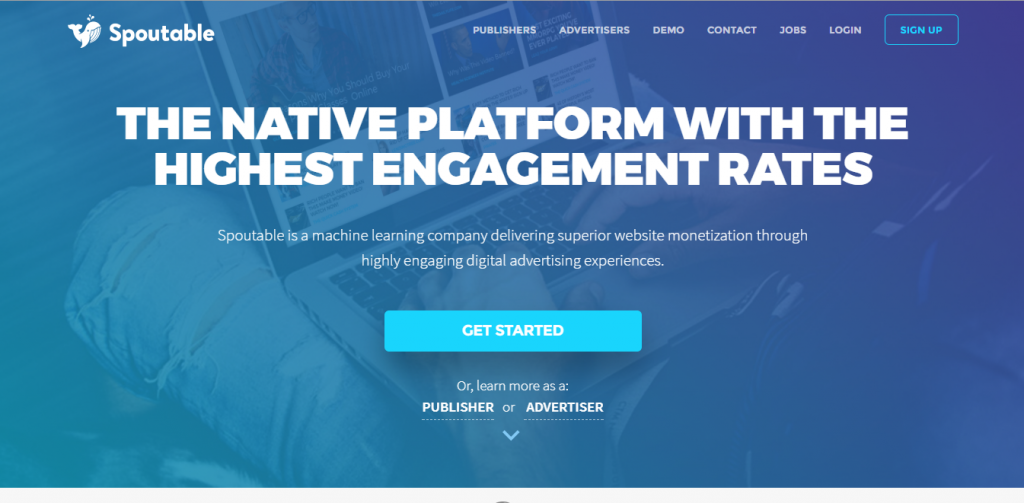 Spoutable CPC Rates: The CPC rates for worldwide traffic is in the range of 5 cents. For the US, the CPC rate would be around 10 cents and above. The CPC rates for Spoutable is comparatively less than that of Taboola and Outbrain due to a lesser number of advertiser competition and a higher number of publishers using the network. Since Spoutable works on exit intent technology, it helps[wpsm_stickypanel][contents h2][/wpsm_stickypanel] publishers with additional revenue which revolves around 20-30% increment in overall revenue. If you're an advertiser who is looking to target global traffic, Spoutable can be a good Outbrain competitor to get started.
Spoutable Minimum Spend: We couldn't find the minimum spend for Spoutable. However, believe that the minimum spend it around USD 100 and we will try getting in touch with Spoutable and shall update the content.
4) Adnow
Adnow has grown as a native content network with a good base of advertisers in EU. The network works with more than 150,000 publishers across more than 100 countries and offers competitive rates to marketers in the native advertising marketplace. It is definitely one of the networks to check out if you're promoting campaigns related to health, or working on traffic arbitrage techniques to drive traffic to your website. In terms of traffic quality, we are not very satisfied with the network since we saw some traffic coming from adult sites. However, the network boasts of a good presence of advertisers in EU and have a number of publishers who are monetizing their websites via Adnow widget ads and earning CPM rates as high as USD 1 and above with their EU traffic. We have run a few campaigns with Adnow and found their traffic to be particularly cheaper for geo like US, India, and parts of Asia. If you're an affiliate marketer and is willing to test US traffic, this should be the go-to network since the CPC rates for US traffic is as low as 3 cents which can greatly boost your conversions and overall revenue. The low rates of US traffic are mainly due to the lack of the advertisers and the high pool of publishers.
Adnow CPC Rates: Adnow CPC rates varies from 1 cents to 20 cents. The lowest is for traffic from countries like Brazil, India while the highest CPC rates are for traffic from countries like the UK and other European countries. The US traffic is somewhere in the mid-range between 3 cents. Adnow is definitely a great Outbrain alternative when it comes to targeting global traffic at low CPC rates.
Adnow Minimum Spend: You need to deposit a minimum of USD 50 to start advertising with Adnow native ad platform. The minimum deposit can be made via Paypal, Credit or Debit cards or via other payment options once you're logged into the advertiser panel.
5) Revcontent
Revcontent is one of the true Outbrain competitors in terms of content volume and the number of publishers and marketers. With more than 250 billion recommendations per month, Revcontent has grown as one of the most popular native content recommendation networks along with the giants like Taboola, Outbrain, and Content.ad. It offers premium reach for marketers at rates which are equal or lower than that of Outbrain. The network has partnered with sites like Forbes, Newsweek, Reuters to provide premium content inventory for marketers. Revcontent rejects more than 90% of the sites which applies through its web portal and one accept high volume traffic sites that generate more than 3 million pageviews per day. Additionally, advertisers have a lot of customization options to choose from like targeting specific sites and devices to help increase your ROI. The network is rapidly used by popular arbitrage sites which makes a profit by display ads and native ads.
Revcontent CPC Rates: The CPC rates offered by Revcontent is one of the best in the industry. Since the network takes a revenue cut of only 20% and has strong machine learning algorithms and cutting-edge technology at the place to help marketers increase their overall ROI, it should be one of the preferred choices of digital marketers. However, there requires substantial campaign optimization which is being done by the network which helps the marketers immensely to increase their ROI. The CPC rates for the US and tier one traffic is around 10 cents to 15 cents and depends heavily on the targeting website. Marketers also have the option to place CPM bids along with CPC bids.
Revcontent Minimum Deposit: The minimum deposit for Revcontent is $100 per day per campaign. So, if you're running a campaign for 7 days, you need to spend at least $700 on Revcontent. Since the minimum campaign deposit is a bit on the higher range, we suggest marketers using Revcontent only when they are looking to scale their campaigns.
6) Earnify
Earnify is one of the world's first programmatic native DSP that helps marketers buy native ads programmatically across its exchange. It is a self-serve advertising platform that helps marketers drive quality traffic to their landing pages, email signup forms and more. The network works on conversion optimization technology that records leads for marketers and provides those traffic which has the maximum conversions. It is one of the leading Outbrain competitors that is effective in the CPA landscape and has more than 800 active advertisers across its network.
Earnify CPC Rates: Earnify is the world's first CPA native advertising network that runs on conversion optimization technology. The CPC rates for Eu traffic is around 15 cents while that of US traffic is close to 10 cents. The CPC rates for Asian traffic is around 3 cents. However, since the network works on a CPA model, the CPC is effective CPC and is calculated based on the conversions. So, for advertisers, if the conversions are taking place, the CPC would be a bit higher and vice versa.
Earnify Minimum Spend: We couldn't find the minimum spend for Earnify and shall get back to you once we have more information about the network in terms of minimum spend for the advertiser.
7) Plugrush
Plugrush is a self-service ad network for advertisers and publishers. The network has various ad formats like rectangular banners, horizontal native ads, vertical native ads, and more. It is one of the reliable source of native ad traffic for advertisers since the network use strong anti-fraud technology that scans every impression which is being sent to the advertiser. Along with it, the advertisers have the option to whitelist and blacklist websites. Campaigns are also approved instantly and thus the traffic acquisition is quite faster. Plugrush offers campaign scheduling feature and also let advertisers do mobile carrier targeting.
Plugrush CPC Rates: The CPC rates offered by Plugrush to the advertisers and marketers will be slightly lower than the CPC rates offered by Outbrain. Since Plugrush is yet to be one of the popular native ad networks in the industry, the advertiser base is comparatively low and the network has pricing which is low.
Plugrush Minimum Deposit:  If you're depositing fund via Paypal, Paxum, or Credit Card, then the minimum deposit is USD 25. However, if you're depositing the amount via bank transfer the minimum deposit is $500.
8)Zergnet
Zergnet is a traffic exchange cum content recommendation network. It helps publishers to acquire web traffic by placing a zergnet widget on the website. It is something similar to how Mgid used to operate years ago. The network has a strong presence in the US with some of the top publishers like About.com using the tool to drive traffic and revenue across its network of websites. Essentially, Zergnet is good for marketers who are looking to drive traffic to their website with traffic exchange concept. It is effective for informative and viral websites which tends to have high click-through rates. It is one of the preferred Outbrain competitors which help publishers earn additional revenue.  
9) Yahoo Gemini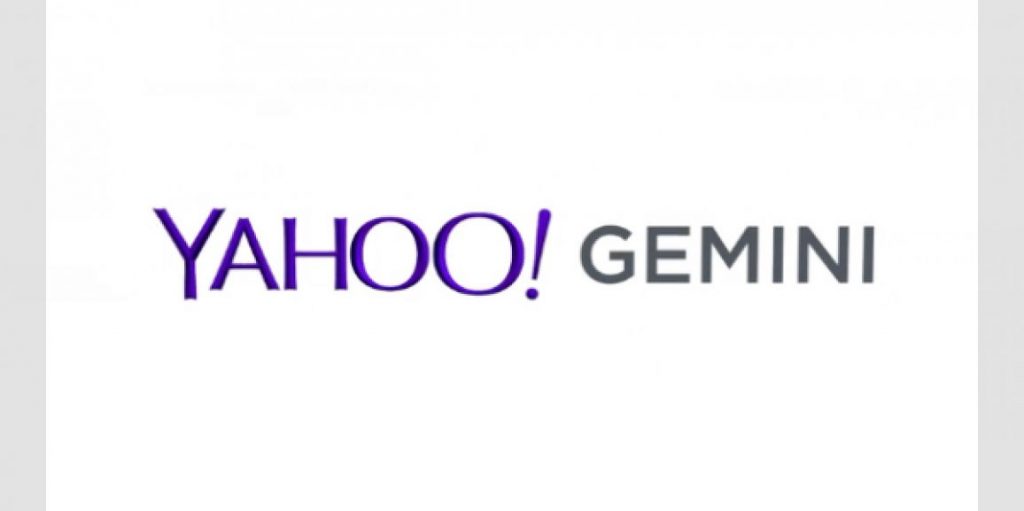 Gemini is the native advertising wing of Yahoo. Advertisers and marketers can utilize the power of search and native advertising in one advertising platform. With Gemini, marketers are provided with insightful data and are ensured that all of their advertisements are run on brand-safe premium content which is backed by advanced technologies. Gemini offers various native ad formats for advertisers which includes native banner, mobile in-app banners, and video ads.
Along with native search ads, Gemini is one of the leading native ad networks.
Yahoo Gemini CPC Rates: Although the advertisers can target audience globally with Yahoo Gemini, the majority of the traffic is concentrated in the US and Canada. The CPC rates for the US and Canada is in the range of USD 0.10 and may vary based on the targeting presets. The CPC for global traffic is around 5 cents.
Yahoo Gemini Minimum Deposit: Although it is managed by the internet giant, the minimum deposit to get started with Yahoo Gemini is comparatively low. You need to have a minimum of USD 25 and you can choose to make the payment via Paypal, credit cards and set up post-pay option. You will be charged $10 initially which will be adjusted with your billing and thereafter, as the post-pay is activated, you will be charged when the post pay threshold limit crosses. Gemini is one of Outbrain's competitors and can be used by marketers who are specifically targeting US traffic.
Thus the above data provides a detailed Outbrain competitors list which marketers can make use of while they are promoting their campaigns or using affiliate offers to make more money. If you're someone which is looking for a robust return on investment, I would suggest you try a number of native and networks with different audience set to see and analyze the best performing audience. This would not only give you a better understanding of the performance of sites like Outbrain but also help you compare the minimum Outbrain CPC rates with other native ad networks. Overall, testing can help you with the most optimized native ad network and the best performing audience which can be scaled to help you make more money from your website.
Blognife's Recommended Monetization Partners:
Looking to Increase your Ad Revenue:
Get in touch with me for a personalised consultation and increase your ad revenue across native, display, video (instream and outstream), in-app and other verticals. I also assist in customized DFP setup, header bidding, and content creation strategy. My skype id is:
ronniedey
. Feel free to connect!