Viglink is an excellent ad network that transforms all outbound links on the blog into affiliate links. The best part of this network is that all of its links are SEO friendly and does not hamper the user experience at any level. The network is backed up by Google, and it identifies all commercial products mentioned within the publisher's content. The network invigorates these terms and transforms them into a number of revenue generating hyperlinks. The destinations of these links are determined through real-time, advertiser bid auctions. Viglink has more than 20,000 advertisers across its network and works globally with every publisher. In this article, let us take a look at Viglink CPM Rates of 2018. 
Viglink for Publishers
Some of Viglink's top-tier publishers include Women's Health, The Daily Beast, Mens Fitness, MSN, Better Homes, Style Caster and more. As a publisher, you have the additional opportunity to monetize your traffic with links that can give you high CPMs on product-centric websites. Viglink currently partners with over 2 million publishers, helping them transform their traffic with high revenue returns.
Benefits of Viglink for Publishers
Viglink help publishers not only monetize their sites content with commercial keyword links but also help publishers strategize their content marketing efforts. Viglink's database shares the info of top converting offers across various geographies which can help publishers determine what kind of content they should write to maximize their earnings potential from their blog or website. Viglink's unique data can be used to strategize the content marketing efforts of any content cum commerce driven agency.
Monetize:

Harness VigLink's product suite to transform your influential content into valuable marketing revenue.

Strategize:

Utilize VigLink's cutting edge technology and unique data to inform your content creation at authoring time.

Optimize: Effortlessly enhance your content to commerce strategy with Viglink's industry-leading solutions.
Viglink Dashboard Overview
Here, we take you to the dashboard of Viglink to have an overview. As you can see Viglink works on an EPC model where it estimates the cost per click based on conversions from your traffic. If you scroll down, you can see the revenue by merchants, the conversion, click and earnings per merchant. The dashboard gives you an intuitive idea of your top converting merchants. The unique thing about Viglink is that you don't have to apply separately with each merchant, and once your site is approved by Viglink, it means that you gain access to their wide base of more than 20,000 merchants globally. So, wherever your traffic is from, you can monetize your site's traffic.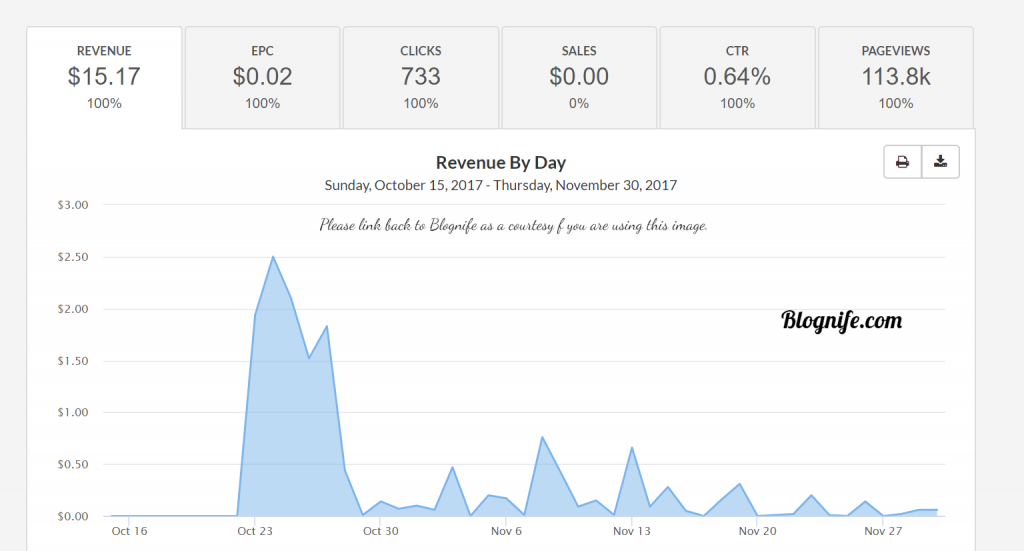 Viglink Minimum Traffic Requirement
There is no minimum traffic requirement to apply for Viglink. However, we suggest that the site has at least 1000 page views and geared towards fashion, lifestyle, home improvement products for maximum earning potential. Each and every site is approved via Viglink and then only you can serve links ads.
Viglink Ad unit Types
Viglink offers- Viglink bookmarklet, Viglink anywhere, and standard Viglink installation code. The Viglink anywhere helps you create affiliate links which you can share on Facebook, Forums or anywhere on the internet to make money without the need of having a website. The standard Viglink installation code, which once installed can populate keywords on your website with commercial links.
Viglink CPM Rates
Viglink converts well if you've good volume of tier one traffic. Advertiser's need to bid on the links in real time which are mostly analyzed for eCPC based on conversions after clicking on the link. So, if a link converts to a sale, then the publisher may receive a good value for the click and if it doesn't convert, the return will be quite low. This seems to be a mix of CPC and CPA and Viglink's algorithms handle. Viglink's CPC rates for worldwide traffic is around 3-4 cents while that of US traffic is around 10 cents and more. Also, a lot depends on the niche of the website or forum where Viglink is placed. Overall CPM can be anywhere around 10 cents to $5 or more. Take a look at the Viglink CPM rates and Viglink EPC for one of our blogs.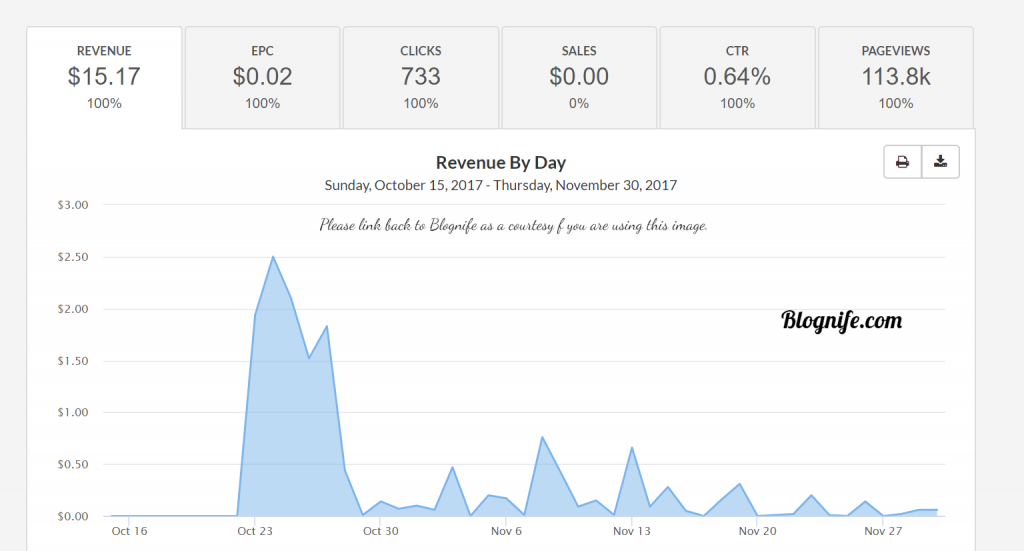 How to Make Money with Viglink?
Making money with Viglink is extremely easy. Click on the link to Sign up with Viglink. Once done, and your website is approved, click on the Manage tab on the top bar and then click on Install. Here you will see the installation code which needs to be placed before the closing of the body tag </body>. Once you place the code, go ahead and check the implementation by clicking on "check" button. Give Viglink 24-48 hours of time for analyzing your site and getting affiliate keyword links. Thereafter, I would suggest you monitor your site for a week for the overall performance.
Please note that the dashboard reporting is delayed, so once you see the links appearing on your website, wait for at least a week's time to see the actual revenue. Since Viglink works on machine learning technology, you need to give it some time to optimize the keywords and show the best performing commercial links. If you're doing 10,000 page views per month, I would suggest a month's time for Viglink to understand your audience and then you can see improved earnings from your traffic. If you're already using Viglink, feel free to share your experience here with us.
Viglink Payment Proof
Viglink works with top-tier publishers and has more than 2 million registered publishers under its base. Viglink offers monetization opportunities to a myriad of its publishers and helps them make good revenue. There hasn't been any report on non-payment from Viglink's end and the network is reliable enough to make payments on time. If you have an e-commerce website, shopping site, or anything related to products, Viglink can be a great source of additional revenue from you.
Here we are sharing the payment screenshot of Viglink for one of our blogs. We couldn't earn much from that blog since most of the traffic was from India and Viglink doesn't convert well for Indian traffic.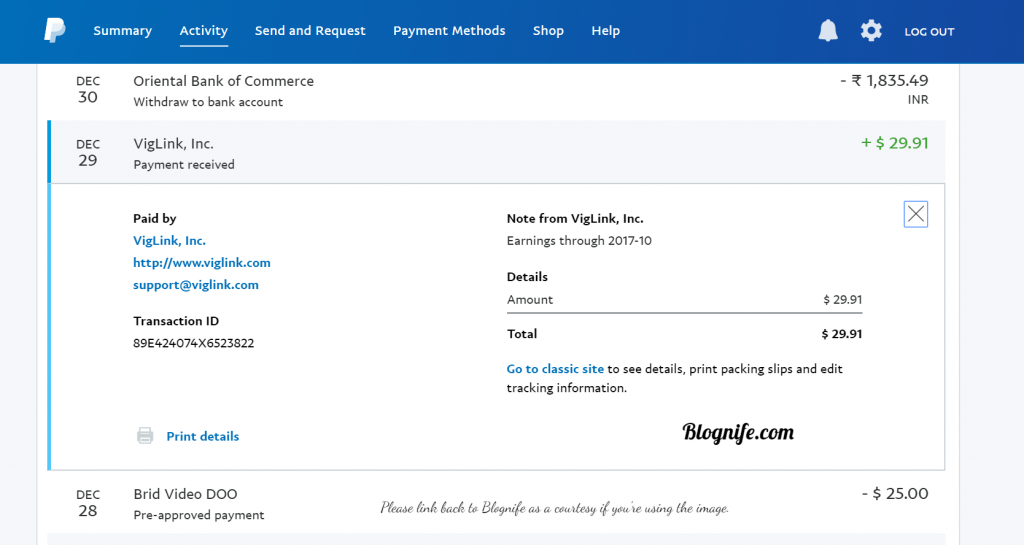 Here you can take a look at the payment console. It keeps a record of your earnings, the month of the payment, the estimated earnings you're going to receive after the adjustments and more.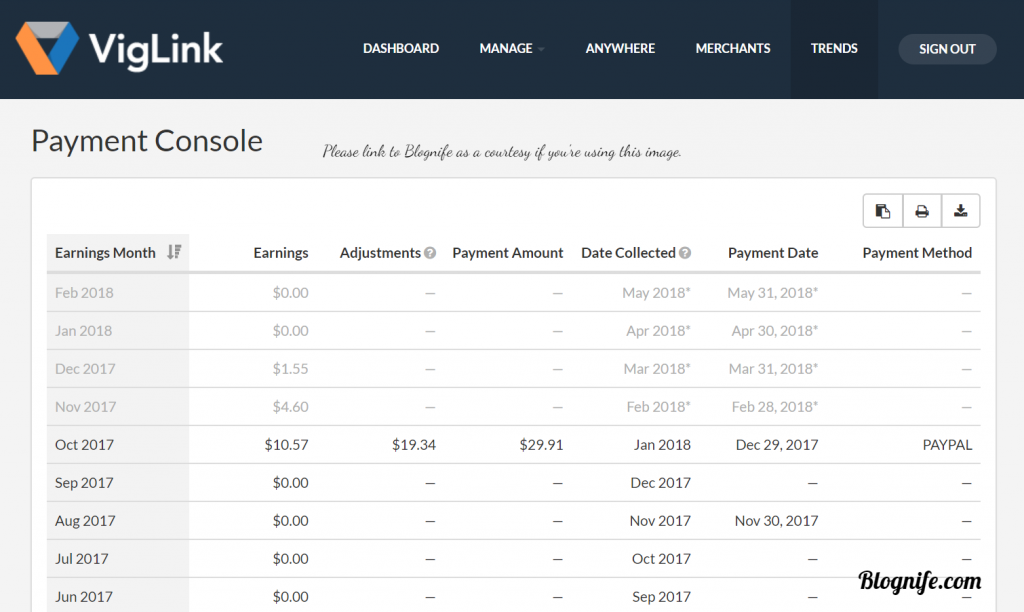 Viglink Payout
Viglink is currently paying its publishers on NET 90 days. So, if your earnings on January will be paid on the end of April. However, you need to wait for the first 3 months and thereafter the payments will be consistently per month. The minimum amount required to cash out from Viglink is $10 and the mode of payment is PayPal. 
Conclusion
We would definitely recommend Viglink to publishers who are in the fashion, home decor, lifestyle, parenting niche and are looking forward to increasing their ad revenue with additional links. The simple interface of Viglink allows publishers to make extra revenue without putting much effort and thus is highly recommended. We hope that our Viglink CPM rates of 2018 article were helpful.
Blognife's Recommended Monetization Partners:
Looking to Increase your Ad Revenue:
Get in touch with me for a personalised consultation and increase your ad revenue across native, display, video (instream and outstream), in-app and other verticals. I also assist in customized DFP setup, header bidding, and content creation strategy. My skype id is:
ronniedey
. Feel free to connect!