Adskeeper is one of the fastest growing native content ad network from the UK. It is similar to other native ad networks like Mgid, Taboola, and Revcontent and help publishers monetize their ad inventory by showing native content recommendations on sidebar, after content or in-line on publisher websites. This network works on a CPC basis and has a good volume of advertisers across Europe. We have already published the Adskeeper Review here. In this article, we are going to discuss Adskeeper CPM rates and how you can increase your Adskeeper revenue/overall earnings. 
Adskeeper for Publishers
Since you came to this article, we believe either you're already using Adskeeper and looking to increase the overall earnings you're receiving from the network or you're planning to use this ad network on your blogs to increase your overall revenue from native advertising. Before we discuss further, let me tell you that Adskeeper's AI tool automatically selects the best performing campaigns from a database of 1000s of advertiser campaigns for your website traffic and thus it ensures higher click-through-rates, engagements and better revenue potential for publishers. The Adskeeper ad unit is flexible and responsive and thus can effectively fix a website of any screen size and resolution. So, you as a publisher would be required to place the widgets at prime locations of your site for maximum click-through. 
Benefits for Publishers on Joining Adskeeper
Publishers are benefited with the following once they join Adskeeper native ad network.
Have the highest fill rate in the industry. Thus the network is able to monetize all traffic across any geography.

Earn attractive revenue for high converting traffic

Enjoy scheduled payouts every month.
Adskeeper Ad Formats
Adskeeper is a native ad network and thus offers widget ad types which can blend well with the style of the website. The widget offers deep customization to provide a truly native experience to the users. Their ad formats are similar to the ones like Mgid, Taboola, and Revcontent. Here you can take a look at the ad format offered by Adskeeper. The CPM rates offered by Adskeeper would vary based on the placement of the widget since page/widget CPM is a function of CPC and CTR.
Adskeeper Dashboard Overview
Adskeeper provides an intuitive dashboard for this publishers and advertisers. You need to sign up to Adskeeper via the signup link. Once done, you will be receiving a confirmation and activation email with the password. Login to your Adskeeper account with the password. Now, you can see two tabs- Advertiser and Publisher. Click on the publisher tab and then add your domain name. It would take some time for the domain to get approved, usually 24 hours. Once approved you can create the widget ad codes and implement them on your site and start making money from it.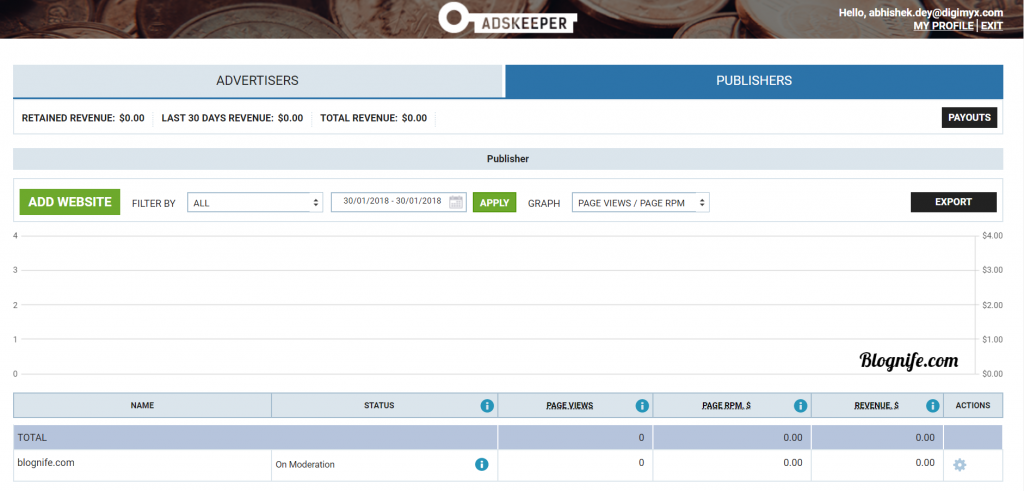 However, we would like to inform you that you monitor the CPC rates with Adskeeper and get in touch with their account manager as to discuss how your site is performing in terms of ROI for affiliates. This is crucial since Adskeeper, although a CPC ad network, can ban your account if your traffic is not converting for the affiliates to ensure their advertisers stay with them. This is something which you need to keep in mind before sending huge volumes to any native ad network, especially the ones that are into affiliates.
On the right you have the payout tab that contains additional payment methods and information that you would require. Once your traffic starts coming in, you can see the stats on the reporting section, and you should be able to monitor the performance well. Now, let us take a look at Adskeeper CPM rates!
Adskeeper CPM Rates 2018
The CPM rates offered by Adskeeper is similar to what is being offered by other native ad networks like Mgid. Most of their ads are either directed to arbitrage sites or are directed towards affiliate campaigns, a substantial volume of which can be sweepstakes, apps installs and more. The CPC rates for asian and tier 3 traffic is around 1-3 cents while the CPC rates for tier 1 traffic would be around 8-10 cents, if not less. If substantial volume of your traffic is from India, you can expect the revenue to be around 1 cents per click. So, your overall widget CPM will be around 10 cents and if you're using 3 ads widgets on your website, the aggregate CPM will be around 30 dents for Indian traffic.
This might go over to $3 if you are having good volume of US and UK traffic in the mix. Also, if your traffic is converting for any specific niche, your earnings can skyrocket and you can earn huge bucks from Adskeeper. So, it is always advised to keep testing new ad networks for maximizing your overall ad revenue. We believe that our Adskeeper review is incomplete if we can't provide a CPM rate card and we are looking forward to update this section once we complete our test with one of our blogs. However, we tested Adskeeper via our native SSP- Whizzo and the CPC rates were around 2 cents. Here, as you can see, Adskeeper is one of the participating networks.  The overall Adskeeper CPM rates will be around 3 cents if you've a mix traffic, and it will increase only if you've good volume of EU traffic. Adskeeper is the go-to network for all EU trafficked websites.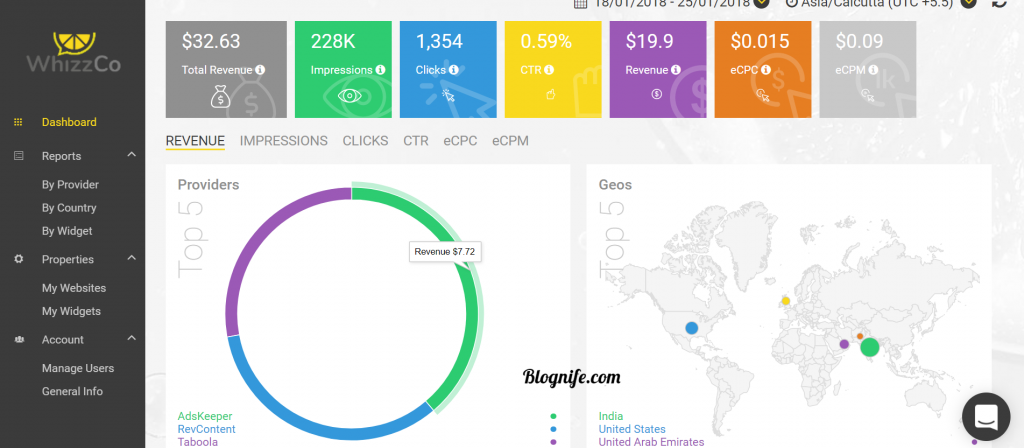 We recently got connected to Adskeeper's business development manager and was informed that the top converting geos for Adskeeper are-  Tier1, Western and Central Europe, Pacific Asia. The network primarily aims at streaming, file-sharing, torrent websites as well as viral news websites, online downloaders, converters. One of their top publishers is 4shared.com which is a file sharing and storage company.
Adskeeper Payment Proof
Now, let us take a look at the payment proof of Adskeeper. Any network which doesn't have a payment proof is likely to scam and thus we ensure that we provide a screenshot of payments on our Adskeeper review article here.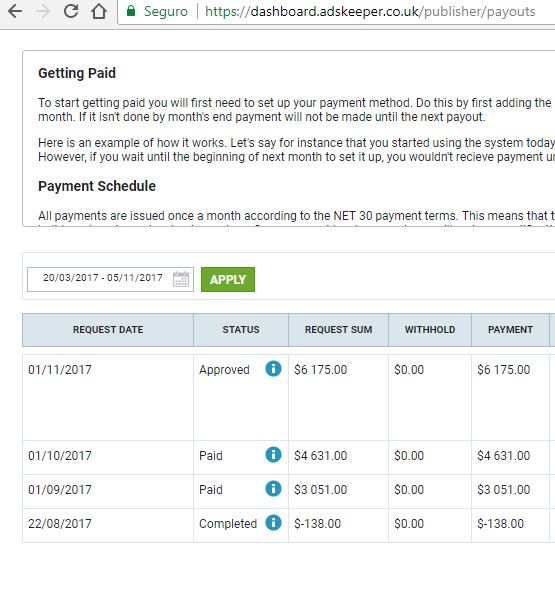 You can make good bucks with Adskeeper if you've substantial traffic coming for top geographies. Also, viral content sites can make good revenue from Adskeeper. Here, you can see the payment proof of Adskeeper. One of their publishers is earning huge bucks from them.
Adskeeper Payout Information
To start getting paid you will first need to set up your payment method. Do this by first adding the payment method; PayPal, Bank Wire transfer, etc. After that, select the preferred payment method. Make sure to do this by the end of the month. If it isn't done by month's end payment will not be made until the next payout.

Adskeeper pays on NET 30 days for a minimum payout of USD 100 via PayPal. If you're looking to withdraw funds via Wire, you may request for additional information via [email protected]
Conclusion
Overall, Adskeeper is a great network if you're planning to monetize your website with native ads. Since, these native ad networks have much lower restrictions than AdSense, you can monetize from networks like Adskeeper if you're creating viral content. While AdSense works best for niche content, native ad networks and content recommendation networks work best with viral content ads. We hope that the Adskeeper CPM rates are competitive, especially in the UK market where it dominates and can be effective in monetizing publishers inventory.  
Blognife's Recommended Monetization Partners:
Looking to Increase your Ad Revenue:
Get in touch with me for a personalised consultation and increase your ad revenue across native, display, video (instream and outstream), in-app and other verticals. I also assist in customized DFP setup, header bidding, and content creation strategy. My skype id is:
ronniedey
. Feel free to connect!