In this day and age, digitization is the norm and with it, online advertising has seen a surge in growth due to its more cost-effective and direct approach, the success of which can be measured in real time. There are numerous sophisticated tools that enable ad networks to deliver ads customized for a particular user based on the user's behaviour.
Different advertising technologies with various ad formats have come up to adequately back the publishers and advertisers. Contextual advertising is one of the earliest technologies in the industry and has proved to be an extremely viable way of website monetization. In this technology, an ad network goes through the text content on a website, zeroes in on the keywords and delivers ads that are relevant with respect to the keywords and content, location of the user and his behaviour. This way advertisers can reach a huge audience which results in great revenues for the publishers. Google AdWords is one such contextual ad network that provides highly efficient services. It must be mentioned that AdWords is mainly for advertisers. Native advertising is another advertising technology that delivers ads customized according to the form, layout and content of the website a user is on. It is the fastest growing technology providing guaranteed returns. Taboola is one of the oldest and largest native ad networks and will soon celebrate its 10th industry.
In this article, we will do a relative study of these two ad networks and try to figure out which network is better suited for a particular website or blog.
Taboola vs AdWords : Minimum Traffic Requirement
Websites need to have at least 1 million page views per month to become a publisher in the the Taboola network. The network reviews publisher registrations and asks the publishers to sign an NDA if a minimum traffic threshold is required. The ad codes are set up once all this is done.
Websites do not need a specific traffic volume to become a publisher in the AdWords network. But the sites should contain substantial quality content that does not violate AdWord's policies. An advertiser must have 100 active cookies in the AdWords remarketing list in order to incorporate the remarketing feature.
Taboola vs AdWords : Ad Quality
The ads delivered by Taboola are of top-notch quality. Taboola boasts of a robust regional advertiser base from around the globe. This ensures that the creatives and nature of the ads are varied in nature. Taboola offers various ad units such as video ads, text ads etc.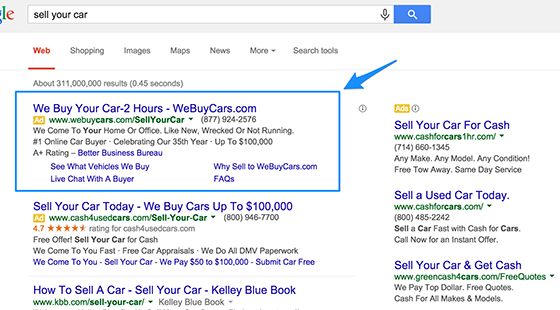 AdWords has many ad units such as text ads, banner ads, mobile app campaigns etc. Google AdWords has a Quality determination algorithm by which it determines the quality scores of all ads in its network depending on a publisher's CTR, relevance of each keyword to its ad group, landing page quality, relevance of the text on the ad and other factors. If the ad quality is good, Google rewards advertisers with higher ad ranking and lower costs. Having good quality ads is very important for the advertisers because that decreases the CPC and CPA rates.
Taboola vs AdWords : Publisher List
Some of the top international brands like Forbes, NY Times, TMZ and USA Today are publishers in the Taboola network.
Google AdWords has an unrivalled global reach and has a huge number of publishers including large corporations, medium-sized businesses and small-time users.
Taboola vs AdWords : Costs Incurred By Advertisers
Taboola's cost-per-click cost is $25–$0.35; it charges $0.75 for its network of top 30 sites.

Google AdWords is a CPC network. The average cost per click in Google AdWords is between $1 and $2 in the search network. The average CPC in the display network is under $1. Since AdWords is a contextual network, advertisers have to pay for clicks on keywords and the most expensive keywords can cost up to $50 or more. The CTR rate in the rate is 2%-3%.
Conclusion
Online advertising is progressively changing the landscape of brand marketing. Advertisers have got hold of a way to reach an unprecedented number of people and also achieve high conversion rates in a comparatively easier and direct way. The ad networks assist the advertisers in this new approach with aplomb. Contextual advertising has been holding its ground for long now, native advertising is growing very fast and is not too far behind. With respect to these two advertising technologies, Google AdWords and Taboola are two of the best options for advertisers.  These networks provide fast, secure and efficient services and are two of the most reliable ad networks. So, it is up to the advertisers to choose one network over the other depending on their specific requirements.
Editor's Pick: Tools Recommended by Blognife
This display was created using Lasso
I and my team research various ad networks and can help you increase your overall ad revenue; so you could rake in more greenbacks with the best monetization platforms. Tap into the power of the online publishing business with me. I am just a mail away, so reach out to me if you want to scale up your website revenue. mail: [email protected]