The success of an online ad campaign depends largely on user experience on the publisher website. An advertisement must be able to convey maximum brand information, keeping in mind not to hamper user experience. Many publishers and advertisers across the world are looking at pop-under advertising to ensure that users do not find the ads invasive and disruptive. When a user visits a website or blog with pop-under advertisements, the pop-under opens in a new browser window under the current active window of the user. The user gets to view the ad once he closes the active window.
This way pop-unders make sure that user experience on the publisher website is not interrupted and at the same time sufficient brand information is provided to the user. It has been found that many users think pop-under ads are less intrusive as they do not take users from their intended site. Now, most of the pop-under networks are junk, with very few campaigns and aren't adequately backed by proper technology. Of the small number of pop-under networks that generate decent revenue for publishers, PopAds and Poptm are the front runners. These are two fast, secure networks that provide efficient services and decent revenues.
In this article, we will do a comparative analysis of the two ad networks and try to understand their pros and cons.
PopAds vs Poptm : Minimum Traffic Requirement
PopAds does not levy any minimum traffic requirement for becoming a publisher. It accepts sites of all niches and grants approval within a few hours. There is no constraint with respect to the content on the sites either.
Poptm does not have any minimum traffic criterion for publisher sites. Poptm accepts all websites across any niche and with all types of content, the only criterion being a decent volume of desktop traffic as most of Poptm's ad campaigns are targeted to desktop users.
PopAds vs Poptm : Revenue Share Percentage
PopAds has not disclosed its revenue share percentage.We'll update this page once more information is available. The network has a great referral program, through which publishers earn 10% of the revenue generated by a referred publisher for a lifetime.
Poptm has a referral program through which an existing publisher earns a flat fee of $25 for every valid referral.
PopAds vs Poptm : Ad Quality
PopAds is a premium ad network by virtue of its top-notch content driven advertisements. As they result in an impressive conversion rate, publishers can earn a lot from this network. Publishers have complete freedom to choose the category of pop ads they want on their site. So if a publisher wants to stop displaying ads of a specific category, he can turn it off straight away and those ads will be replaced by ads of other categories.
Poptm has a number of ad campaigns that are of high quality. All Poptm creatives are checked multiple times a day to ensure sellability.
PopAds vs Poptm : Publisher List
PopAds is one of the largest and most popular pop-under ad networks and has many publishers across the world, mostly from the entertainment sector.
Even though Poptm is a relatively new pop-under network, it has made a name for itself in the industry. Poptm takes its image seriously and works with only quality publishers who promote quality software/products.
PopAds vs Poptm : CPM and RPM rates
PopAds offers high CPM around $2 which is a good rate for streaming, music, movies and download websites. However, the rate is not fixed and varies in accordance with a lot of factors such as country, quality of content, niche and even time and day. It is a very popular network with a global advertiser base. Thus publishers can earn a lot by partnering with this network. PopAds has a 100% fill rate.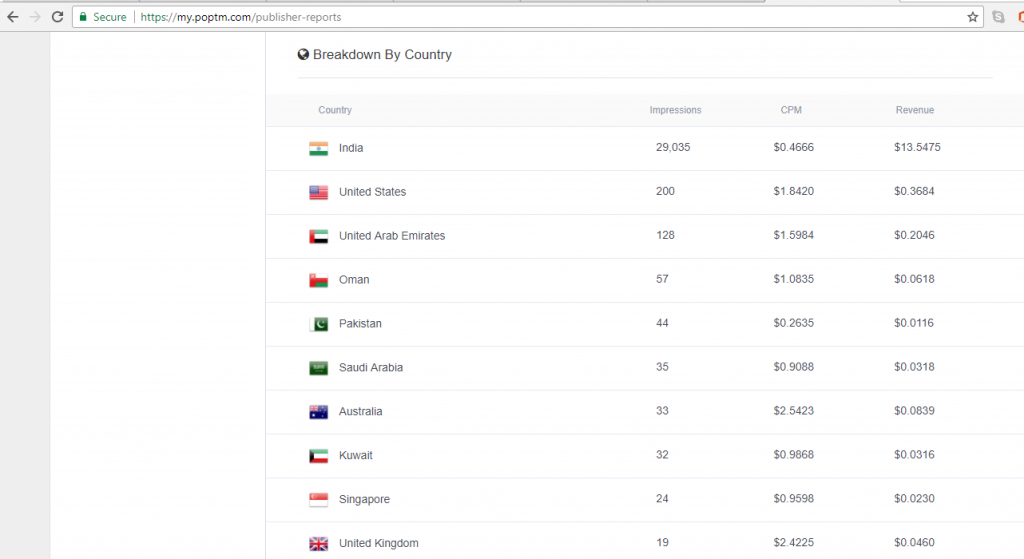 CPM rates of Poptm vary by location and are around $1 and more. The rates are higher for Indian traffic than for US or UK traffic. Poptm can prove to be a great monetization solution for Indian traffic in the right niche, something that is difficult to do with AdSense.
PopAds vs Poptm : Payments and Earnings Report
PopAds does not impose a specific time frame on publishers for withdrawal of payment. It is the only network in the market that requests daily payments for publishers. The minimum payout threshold of the Network is USD 10. The network offers a number of payment modes such as PayPal, Payza, Payoneer and Wire Transfers.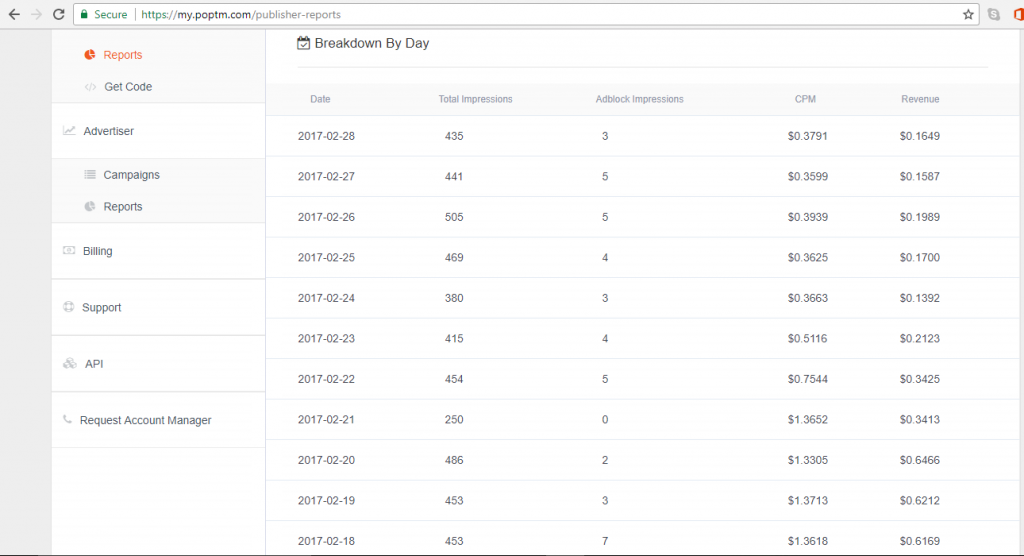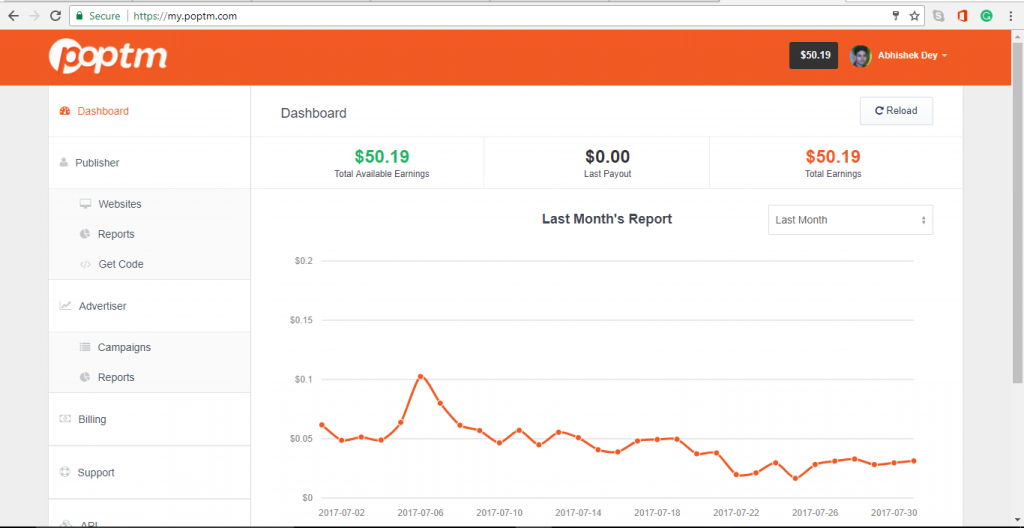 Poptm has a very fluid payment structure. The minimum payout threshold is USD 50. It pays publishers through a number of modes such as PayPal, Payza, Bitcoin.
Note: It is always advised to run multiple pop-under networks on one site if you've websites related to downloads, music, hosting etc. On a number of instances, pop-under networks fill only certain sections of your geo and thus you can get more revenue by implementing more than one pop-under advertising network.
Verdict
Pop-under advertising is a somewhat uncertain technology with respect to returns as a lot depends on the kind of niche in which the pop-under ads get displayed. While some users are okay with pop-under ads, many users find them irksome. So while pop-under advertising is here to stay and can generate high revenues, it is the responsibility of publishers to determine whether their websites or blogs are suitable for such ads. Pop-under ads work great in torrent, music, games, movies, streaming, download, wallpaper sites and can be very profitable. Also, pop-under networks give a rare chance to monetize Indian traffic at high rates. Both PopAds and Poptm are premium pop-under networks and can prove to be very useful for both publishers and marketers and when used in the right niche. We'd prefer choosing Popads out of the two.
[wpsm_offerbox button_link="https://www.popads.net/users/refer/12126″ button_text="Signup" title="Popads.net- The Best Pop-Under Network" description="The most reliable and best performing pop-under ad network for global traffic with daily payouts. " thumb="http://blognife.com/wp-content/uploads/2016/08/PopAds.net-Adsense-Alternative-Review-1-1.jpg"]
Editor's Pick: Tools Recommended by Blognife
This display was created using Lasso
I and my team research various ad networks and can help you increase your overall ad revenue; so you could rake in more greenbacks with the best monetization platforms. Tap into the power of the online publishing business with me. I am just a mail away, so reach out to me if you want to scale up your website revenue. mail: [email protected]