There are a number of in-text advertising networks that exist in the market, but there are a few networks that have impressed almost every publisher and blogger. One such network is the VigLink ad network, which is not an ordinary monetization program, but an effecting content driven commerce available online.
A Brief about the company
Viglink is an excellent ad network that transforms all outbound links on the blog into affiliate links. The best part of this network is that, all of its links are SEO friendly and does not hamper the user experience at any level. The network is backed up by Google, and it identifies all commercial products mentioned within the publisher's content. The network invigorates these terms and transforms them  into a number of revenue generating hyperlinks. The destinations of these links are determined through real time, advertiser bid auctions.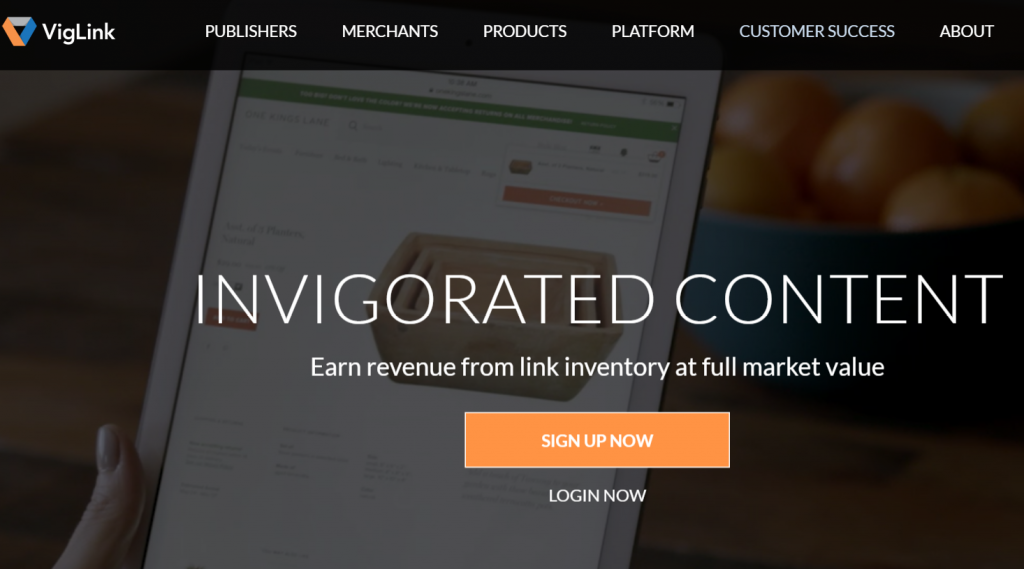 The network is being backed up with more than 1000 affiliate programs, including Apple app store, Amazon, Flipkart and so on, from where publishers could make real  money. Every time website visitors make a purchase by following any Viglink present on the publisher's website, they make money.
How does the network work?
Viglinks works pretty different compared with the other usual blog monetizing programs. The network converts the usual outgoing links in a website into affiliate links and when website users make a purchase, publishers gain referral commission through it. Publishers need not sign up for any individual affiliate account on all networks and the tracking protocols of the network take care of it. These links are generally written in Javascript codes and are thus SEO friendly, the links are compatible with AdSense as well.
Generally publishers link their product pages on a number of different sites, and make very little money when users download the product or buy it. But through Viglinks, monetizing links become easy and the income is also higher. The network does not alter the source of the links and the entire process is two way. Publishers earn from the ad network and the network makes money with the help of its publishers. It keeps 25% of the revenue generated when publisher's website visitors make purchases through the links on the site and pays the remaining 75% commission to the publishers.
Its dashboard for publishers is simple, easy to understand and is clean. Publishers are able to see their reports on a daily basis. Dashboard offers statistics about all external links clicked, it reports the number of clicks that are being monetized along with the links, and it reports the number of clicks that are already being monetized on the website. The network does everything possible for publishers to learn about the performance of their products. The dashboard does not bother publishers with a number of options and its sections are kept simple and detailed.
Requirements for a publisher to join the network.
Viglink does not demand strict traffic requirements from its websites. Any sites that have original and interesting content with good visitors and followers could register for its affiliate account. Those websites that have signed up with Cloud Fare automatic content delivery network could also make use of Viglinks, it approved other websites that do not use cloudfare as well. Approval is fast and easy for newbie publishers as well. Viglink also offers plugins for its publishers to incorporate a number of different platforms such as Type Pad, Blogger, Tumblr, phpBB and vBulletin.
Its Ad codes are based on Single JavaScript, which is easy to get integrated with the website. Publishers have to add this code above the tag of their website code. Those publishers who use the WordPress content management system could find their Ad tag in the footer.php file of their website themes. WordPress plugins are also available to add Viglink to the website.
Publishers only have to copy a single ad code so as to enable all of the products mentioned in the network. It does not accept and approve websites with controversial content such as gambling, adult content and sites with spams, malware and viruses.
Money Making Solutions from Viglinks:
VigLink is an ad network that could render excellent income for publishers who have a hardware or a software review website and reviews of paid products and services. There are three money making solutions offered by the VigLinks Ad network, and these are,
Viglink convert: This link would convert all existing links into affiliate links. If any visitor clicks on those affiliate links and make a purchase, commission gets accredited in the publisher's account. These links could also get re-affiliates with websites to earn more, such a cool offer does not exist with other websites.
Viglink Insert: This option converts all keyword references within the content into affiliate links. Viglink network has tie up with more than 30,000 retailers and 90% of the top 500 retailers have an association with the VigLink network. Therefore, these huge network of retailers would convert all possible keyword references into money making links.
Viglink Anywhere: This is an exceptional feature of VigLink that allows the publisher to make use of social media to make more money. Publishers have to create a short URL of their posts using the viglink anywhere dashboard and after creating the same, they could post it in any social networks such as Twitter and Facebook.
Advantages of using the VigLink Ad Network:
The network offers 15% commission rate for its publishers.
More than 30,000 merchants are being in contact with the network and publishers need not worry in choosing the best merchant to gain more commissions.
VigLinks codes does not alter the beauty and look of the website and would not alter the effect of link redirection, but helps publishers earn a lot of commission from these links.
Any ordinary URL at VigLink could be converted into an affiliate link.
Its Support System is Excellent, and its representatives are ready to help the publishers at all times.
VigLink Payment Structure and Payout:
There is no minimum payment threshold that has been laid by VigLink to its publishers. They do not have any minimum criteria to fulfill before taking payment as well. The network pays its publishers on a NET 60 Basis. Publishers get paid 60 days after the previous billing cycle. Payment is made through PayPal. VigLink offers referral programs for its publishers. They could earn 35% of commission earned by the referrals for one year.
Conclusion:
VigLink works best for publishers who hold a product review website. The network could be used along with other affiliate marketing networks. It offers a number of benefits for its publishers, and one excellent example is that publishers need not have to apply for any individual merchants and Viglinks works best in monetizing their website. Through this single platform, it is possible to get connected with thousands of merchants and make serious money.
Recommended List for You:
Blognife's Recommended Monetization Partners:
Looking to Increase your Ad Revenue:
Get in touch with me for a personalised consultation and increase your ad revenue across native, display, video (instream and outstream), in-app and other verticals. I also assist in customized DFP setup, header bidding, and content creation strategy. My skype id is:
ronniedey
. Feel free to connect!