Though there are a number of ways to make money online, one of the best ways to make real profits online is to create a website, publish useful information on it and monetize it with quality ads. Banner ads are getting popular these days and the booming online marketing connects advertisers with publishers with the former paying the latter for promoting their business ads online in their blogs. In this post, we are going to review eDomz– a popular pop-under and CPM ad network.
A brief about the company
eDomz.com is one of the best online Ad networks that has been in the business of diverting quality traffic to advertises since 2005. Its innovative ideas have taken contextual advertising and ad monetizing to a new level for its advertisers and publishers. Its publishers are able to realize more than one million impressions every day and its advertisers are able to reach their target audience instantly. The network also chooses its advertisers carefully, so that its publishers are able to gain more by selling out their web space.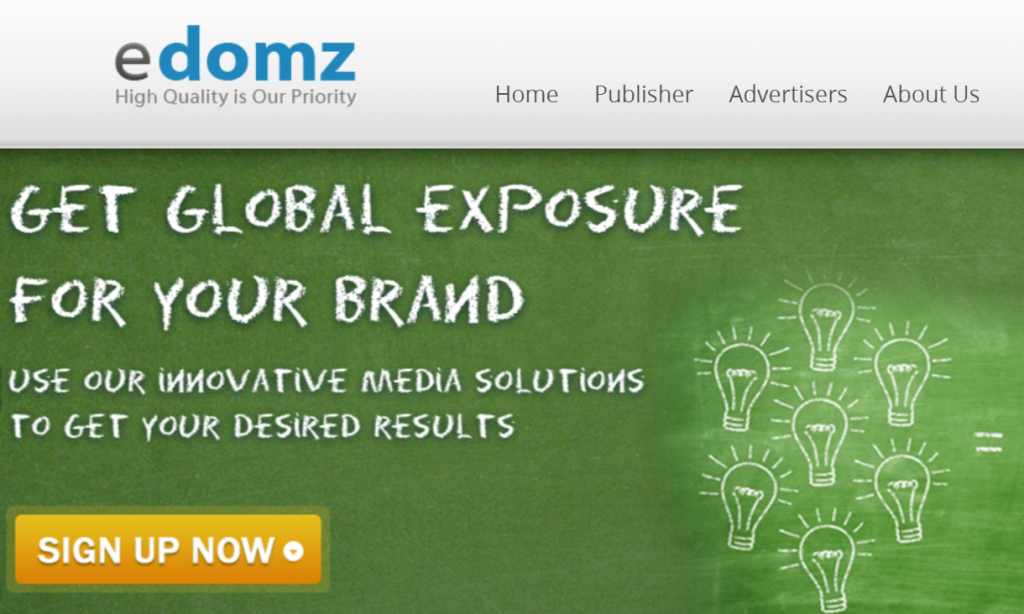 Its contextual Ads placing technology ensure that only relevant ads are shown to the visitors and helps its publishers gain more clicks and realize high conversion rates. The network shares 70% of its revenue with its publishers and is one of the highest paying cost per view (CPV) Ad network.
Requirements for publishers to join the network
The network believes that, in order to keep its advertisers and publishers happy, it needs to focus on the quality of its traffic. Publishers who attract quality traffic would gain better rates. The network expects its publishers to follow all of its regulations deiligently. Sending a good organic traffic to an advertiser's product/service would bring better conversions and profits for the advertiser. They would in turn increase CPM rates and this would reflect on the publisher's earnings.
The network does not accept websites that carry a number of redirects. Sites with a messy layout and that lacks quality content are not approved by the network. Sites with floating ads, sites that diverts traffic from exchange sites, sites that send proxy traffic and sites with content carrying viruses and malware are strictly not approved by the eDomz Ad network.
Publishers running a number of Pop Up ads on their website are also banned and the network constantly encourages its publishers to divert quality and organic traffic through major search engines to Exponate their earnings.
Incorporating eDomz code to the website
There are very few and simple steps in adding the code to the website.
Enter the Login page
Fill in user name and password fields and click Login
The User will be redirected to the stats page of the website.
Click on 'Add New Website' to add a new site and fill in all needed information about the website.
Web sites are usually approved within two business days.
All the approved sites get listed on its dashboard.
Click on generate code and Select Get codes for all of the approved sites
Copy, paste the code that is thus generated on the website before, </body>
It is important to add the correct code to its corresponding website, every website has its unique ID and it would fit in other websites.
How does the eDomz network work?
The eDomz Ad network offers CPM banner ads for its publishers that is capable of expanding sales over night. Its reputed publishers spread all over the world are capable of promoting a brand to its target audience in no time. Banner ads are promotional content of a product/service that gets displayed on a website along with embedded advertisement. These banners are attractive enough to attract the attention of the site visitors, who are tempted to click on them. Traffic is guaranteed with banner ads that are placed on publisher's sites to drive leads for the ads and publishers also earn from them.
The advertising package for Domz starts at $50 for advertisers and publishers are paid during 15-25th of a month once their minimum earnings cross $10.it also guides its publishers with the prompt placement of  these ads as placement alone could improve CTR by 40 to 50%. It places banner ads on top of the content area so as to have high CPM rates and a good chance of Ad conversion. Not more than 2 banners are included in a single page as google does not rank a page with too many ads on its top pages.
eDomz also offer pop up ads, which opens up suddenly in a new window when someone is visiting  a web page. Pop up ads are also not annoying, as viewers won't see it until they have closed their browser. Thus, making money with add-ons is easy, visitors visit the publisher's websites, they view advertiser's ads and publishers are paid. Its Cost per view model is considered far superior compared with cost per click, as in CPC publishers are paid only when someone clicks on the ad. In CPV model, when a website receives just1000 visitors a day, it is possible for a publisher to earn $4.00 to $10.00 USD every day.
CPV or Cost per view is a model where the ad network pays the website for all of its visits. Sites that enjoys visitor volume of 10,000 more could make real profits with the eDomz ad network. Pop Up and banner ads offered by the network could be placed anywhere on the website, such as header, footer, sidebar etc with the help of a widget. Its dashboard is self explanatory and is easy to understand. Clear reports pertaining to ad views, impressions, clicks and earnings are reported for every single day.
Advantages of partnering with the Ad network:
It offers Ads from some of the big brands for its publishers through its advanced algorithm and also ads based on the interests of its readers. There is a high Ad conversion rate and pop up ads are hidden under the current browser and does not clutter the website.
Publishers get assured which some of the best rates in the industry along with gaining global coverage. The network has thousands of advertisers from every corner of the world and assure 100% fill rate of the ad spaces.
Advertisements are offered from some of the leading brands of the world with high quality CPM rates and higher rates.
The network offers a number of customized tools for its publishers, which help them design the layout of their banner ads. This makes these ads fit into the website design and offer them the look that they are part of the website.
The network has an excellent referral program in place, by referring publishers it is possible to earn 10% rev share of referrals earnings.


Payment structure and payouts:
The network believes that its publishers gain what they actually deserve. They make payouts every 15 days and the minimum payout is $10. From 2013, the network has started an auto payment system and thus publishers need not request it for their pay. Payments are released between 15th to 25th of every month on the publisher's registered Payment ID must be submitted before the end of each month, otherwise you won't receive the earnings of that particular month. Its CPM account and pop up account is different and thus publishers should submit payment ID for both the accounts individually. To set up the payment id,
Login to edomz account
Click submit payment ID
A new window opens up, choose the payment method from existing methods, PayPal, AlertPay and Money Bookers.
Enter the corresponding ID for the chosen payment gateway.
Click on 'ready to request payment'
Edomz CPM and Pop-Under Rates 2016
Publishers have claimed to make as high as $3-$4 with their music, streaming, gaming sites using Edomz pop-under ad codes. However, if you're running a new or general purpose or educational blog, you should try Edomz CPM ads which can pay you got rates especially if you're not running adsense ads.
Edomz Traffic Requirement
Unlike other ad networks, Edomz doesn't require publishers to have high traffic volume. Their pop-unders are perfect for music, streaming, video sites. While the CPM banners can be tried by publishers who don't have an adsense account. Since Edomz uses AdX as one of its ad networks, you can get better rates than normal CPA display banners
Conclusion:
eDomz is an excellent ad network for webmasters and bloggers who have low traffic. It pays 70% of its advertising rates to its publishers and offers the best CPV and PM rates compared to some of the best ad networks that exist. Hope you enjoyed going through eDomz review.
Blognife's Recommended Monetization Partners:
Looking to Increase your Ad Revenue:
Get in touch with me for a personalised consultation and increase your ad revenue across native, display, video (instream and outstream), in-app and other verticals. I also assist in customized DFP setup, header bidding, and content creation strategy. My skype id is:
ronniedey
. Feel free to connect!