ExoClick is considered as one of the largest online advertising networks and ranks fourth based on the survey performed by W2Techs. It is based in Barcelona, Spain and was found in the year 2006 by Benjamin Fonzé. This advertising giant enjoys more than four billion impressions on a daily basis and is a tough rival for a number of other Ad networks.
A brief about the company:
Exoclick offers advertising services to both advertisers and publishers and offers a number of different ad formats, perhaps its strong asset. Its ads are served all over the world through mobile, web, Smart TV and Tablet. Its range of Ad formats includes in-video ads, display banners, text ads, links, mobile redirects etc, the network serve advertising agencies, traffic distribution partners as well along with its advertisers and publishers. Its advertisers gain access to a network of publishers from different niche such as entertainment, games, lifestyle, tech, dating, etc.  It targets its audience based on
Geo-location, language, OS, browser, mobile carrier and device. The Ad network offers 24/7 support for its publishers and its quality assurance team checks for fraudulent activities, and violations of guidelines both of its advertisers and publishers. Its CPM rates for tier I countries such as UK, USA, Canada, Australia is about $2/1000 impressions and the CPC rates are more than 0.10$/per click. The rates are comparatively low in Asian countries. In 2015, the company launched its API to allow third parties develop their software to automate campaign processes on its platform.
Requirements of publishers to join the network:
To be a part of the Exoclick family, the Publishers have to fill in a small registration form that includes queries on their demographics. Once this form is submitted, they will gain access to their account instantly. They are free to login with their username and password and have chosen their mode of payment. Publishers who are working as individuals have to enter their Tax number. After filling account information, publishers have to add their websites and create Ad zones. Registration on this website is easy and users need have to verify their email addresses as well.
ExoClick has an excellent user interface that is well structured and is efficient and easily understandable. The website is mobile friendly and through its mobile app, it is possible to access the account, check the details of e campaign and modify it as well. To benefit from its ad feeds, publishers have to make a minimum deposit of €200 either through Wire Transfer or PayPal. The website as adult filters that are by default not enabled, if publishers wish, they could view adult ads at box of ads by enabling the filter. The network strictly does not approve websites that contain hatred, spam and hacking, drugs and illegal content. It allows self hosted websites and deny sites that are being hosted by free hosting. It does not allow incomplete websites and sites that pays people for clicking its ads. The network's area of interests is gaming, adult, entertainment and dating. Ads are served on all devices across browsers and works perfectly with other network ads.
[wpsm_offerbox button_link="https://adbuff.com/amp/index.php?rp=2921″ button_text="Signup" title="AdBuff- High Paying CPM Network" description="AdBuff is a high paying CPM network if you've majority traffic from US, UK and Canada" thumb="http://blognife.com/wp-content/uploads/2017/01/Adbuff-AdSense-Alternative-Ad-Network-CPM-CPC-Ads-1-1-1.png"]
How does the network work?
ExoClick Ad network is based on the Exads technology that offers a number of new and advanced Ad options for advertisers to reach their target audience based on its keywords. The technology ensures advertisers that their ads are portrayed to the best audience and publishers gain the most relevant ads on their websites from advertisers. Its referral system pays 5% revenue from the referrals of publishers. Exoclick offers different ad formats to be displayed on publisher's websites, so as to ensure that these ads somehow gain the attention of millions of target audience. Publishers are able to generate good revenue through  these ad campaigns.
Ad Formats: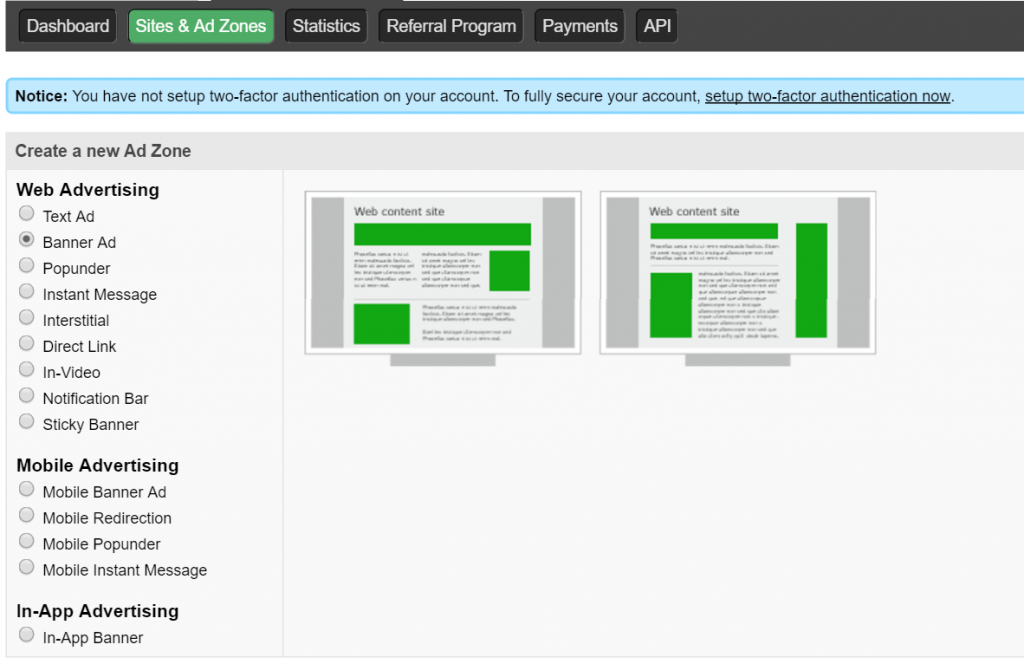 Pre roll in stream video: Videos get played automatically when a customer clicks on the video content of a website. They have excellent conversion rates and works with all major video players and are customizable with call to action options.
Sticky banner: These display banners, sticks at specific positions of a desktop screen and are available in different sizes and could get fixed at 9 positions.
Display banner: These banners are available in different sizes and are normal ads that gets placed along with the website content. Its dimensions are, 300×250, 468×60, 728×90, 250×250, 120×600, 160×600, 315×300
Propounders: dimensions of a propounder are roughly 1204×768, which gets triggered when the user clicks anywhere on the page. Propounders appear hidden behind the main window and remain unnoticed until the main browser window gets minimized and closed.
Interstitials: These are similar to propounders, but are displayed either before or after a page is opened, leaving an impression that it is part of the website the user is visiting.
Instant message: This looks more like a chat box and is displayed at the right bottom of the page, its dimensions are 250×150. Such ad formats work best for live cam products and dating sites
In-video ads: Ads get displayed in the video player, they are customizable and displays ads with attractive effects. Ad dimensions are 300×250 and 460×60 and such ads have excellent conversion rates.
Direct links: Direct links are CPC based and are used by publishers as a blind link. These ads are meant for advertisers looking for the huge volume of traffic at a cheap cost.
Text ads: Text ads are based on the CPC model and are highly efficient in connecting advertisers with their audience.
[wpsm_offerbox button_link="https://www.popads.net/users/refer/12126″ button_text="Try Now" title="Popads.net- The Best Pop-Under Network" description="The most reliable and best performing pop-under ad network for global traffic with daily payouts. " thumb="http://blognife.com/wp-content/uploads/2016/08/PopAds.net-Adsense-Alternative-Review-1-1.jpg"]
Advantages
The reach of this Ad network is tremendous and is able to attract millions of traffic easily.
Its dashboard is highly effective and easy to comprehend. It offers detailed statistics about website, time and demographic location to all the enrolled publishers.
Publishers are able to make extra income through their referral system.
Its support team helps publishers in all their steps towards generating excellent revenue from their websites.
EcoClick is 100% global.
Disadvantages
What Kind of Websites ExoClick work best with?
After reviewing few of the sites, I think ExoClick works best with celebrities, gaming, streaming and download websites. Since the ads are more tuned to software installs, the CPM rates will improve if you have a website with the niches mentioned above!
Payment structure and payout:
Exoclick pays its publishers based on three different pricing models, namely CPM, CPC and Smart CPM. Through CPC, it pays its publishers for every click on the ad. With CPM it pays for a thousand impressions made. And through Smart CPM, the system chooses the maximum CPM bid that publishers are ready to pay. The prices are bid-driven and are listed in detail in its dashboard. Publishers could check the detailed minimum price listing after registration, as it is available on their user interface.
The network makes payment weekly and pays through different modes such as PayPal, Payoneer, Bank Wire Transfer and Paxum. Minimum payout through these payment options are $20, except for Bank Wire Transfer with a minimum payout of $1000.
ExoClick CPM Rates
In order to assist publishers with the exact CPM rates I am running an ExoClick banner ad on my website and I should be able to share my CPM stats in a few days!
Update: I ran Exoclick for a day on desktop and used a 728×90 leaderboard ad unit and here is the stats, 6 ad clicks and 6 cents! Tey might have a good ad inventory over Europe but certainly their CPM rates are not suitable for Asian traffic and if you have non-streaming and non-download sites.
How ExoClick calculates Payments:
Effective Cost Per mile eCPMs is the model used to calculate the effectiveness of the campaign regardless of the pricing model used by the advertiser.
Through the pricing model CPC (cost per click) earnings are calculated as,
Click ratio (CTR) x Cost per Click (CPC) x1.000 = eCPM
Publisher earnings are calculated as
Impressions/1.000 x eCPM
Summing up:
ExoClick is one of the largest open Ad Network that serves millions of ads and impressions, connective quality advertisers with promising publishers. Their quality lies in their advertisers, potential publishers and its Exads technology that provides prompt ads which are targeted and re-targeted to target audience.
Recommended
[wpsm_offerbox button_link="http://adnow.com/?referral=174204″ button_text="Try Now" title="Adnow- Native Ad Network" description="Adnow will help you make additional revenue from your existing traffic by simply putting an ad widget anywhere on your content. Suitable for mid sized publishers and bloggers." thumb="http://blognife.com/wp-content/uploads/2016/04/Capture-1-1.jpg"]
Blognife's Recommended Monetization Partners:
Looking to Increase your Ad Revenue:
Get in touch with me for a personalised consultation and increase your ad revenue across native, display, video (instream and outstream), in-app and other verticals. I also assist in customized DFP setup, header bidding, and content creation strategy. My skype id is:
ronniedey
. Feel free to connect!